Liza Barber is the wife of Ryan Fitzpatrick, an NFL quarterback. Ryan started dating Liza after they met as undergraduate students at Harvard University. Theygot married in 2006 and have seven children.
Ryan Fitzpatrick's wife is a former college soccer player and an ardent fan of the sport. Here's more about her.
Summary of Liza Barber's Biography
Full name: Liza Barber
Gender: Female
Ethnicity: White
Nationality: America
Sexual Orientation: Straight
Marital Status: Married
Liza Barber's Husband: Ryan Fitzpatrick
Liza Barber's Children: Ruby Fitzpatrick, Maizy Fitzpatrick, Zoey Fitzpatrick, Zoey Fitzpatrick, Tate Fitzpatrick, Brady Fitzpatrick, and Jake Fitzpatrick,
Education: Valley High School, Harvard University
Liza Barber's Early Life and Background
Despite being the wife of a popular guy, Liza has successfully tucked away most of her personal information from the public. As a result, information about her birth is a thing of mystery to the public. However, it is a known fact that she grew up in the United States of America, precisely in West De Moines, Iowa, under the care of her parents.
Liza Barber is a former student of Valley High School and during her time there, she performed so well that she got a scholarship to study at the reputable Harvard University, where she subsequently graduated in 2005.
Liza Barber At A Glance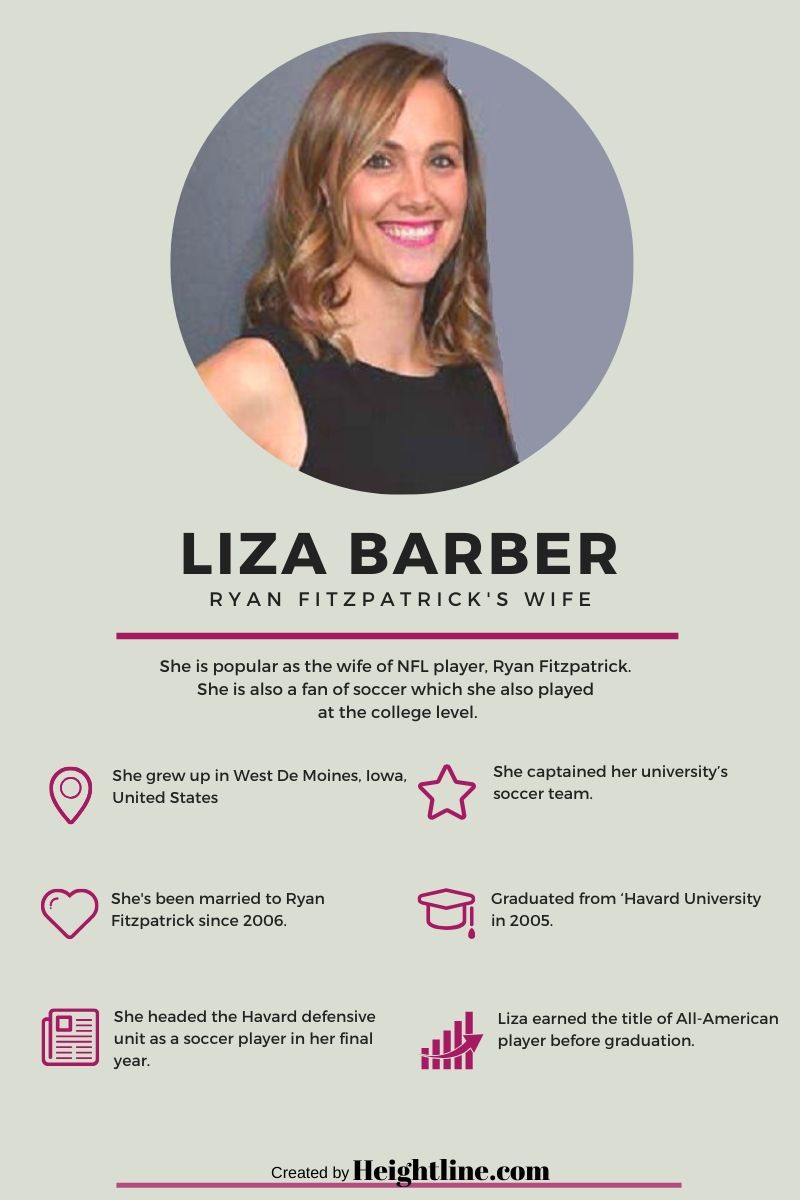 Fitzpatrick Proposed to Her at McDonald's 
Liza Barber got engaged to the quarterback player at McDonald's, where they had gone to grab some dinner. This happened during Ryan Fitzpatrick's rookie season in the NFL, just a year after they started dating. Because they were both convinced that they were meant to be together, the duo had opened a joint account.
It was from this account that Ryan took the money with which he bought an engagement ring for Liza, without her knowledge of course. He hid the ring in his car with the hopes of proposing on a later date. However, something made him change his plans. While they were out shopping, Liza purchased some things at an area Gap store but when it was time to pay, her credit card (the one linked to their joint account) was denied as a result of insufficient funds.
Not knowing what the problem could be, she told the store associate that she would check her account as soon as they got home. At that point, Ryan knew he had to pop the question sooner than he had intended.
Explaining the situation to the Los Angeles Times, he said he knew she would discover the amount of money missing from their account and had to rack his brain quickly to figure out how to propose to her. Thank goodness the ring was in the car; they eventually drove to get some chicken McNuggets for dinner at McDonald's and there, the star footballer asked Liza Barber to be his wife.
Liza Barber and Ryan Have Been Married For over A Decade
Liza got married to Ryan Fitzpatrick in the presence of their family and friends in 2006 and they have been together ever since. Born Ryan Joseph Fitzpatrick on November 24, 1982, Liza's husband, who goes by the nickname Fitzmagic, attended Highland High school and also studied economics at Harvard University. While playing college football at Harvard, he became the first quarterback in the history of the school to record more than 1,000 rushing yards in a career.
Thanks to his continued strong play, Ryan has registered his name among other super-talented professional American footballers. He has set and broken many records since he turned pro in 2005 after being drafted by the St. Louis Rams.
He left the Rams the following year and has since gone on to play for several other National Football League (NFL) teams, including Cincinnati Bengals, Buffalo Bills, Tennessee Titans, Houston Texans, New York Jets, Tampa Bay Buccaneers, and Miami Dolphins, where he currently plays as a quarterback following a 2-year contract signed in March 2019.
Even though his career is a very demanding one, Ryan still creates time to be with his wife and family. Unlike most NFL players who are married, he is always seen with his wedding band on his finger even during games. Speaking during an interview, the quarterback once said that he has a non-verbal agreement with Liza not to remove their wedding bands from their fingers. According to him, he has not seen any reason to break their agreement.
Through Their Union, Liza Barber is Now a Mom of Seven Healthy Kids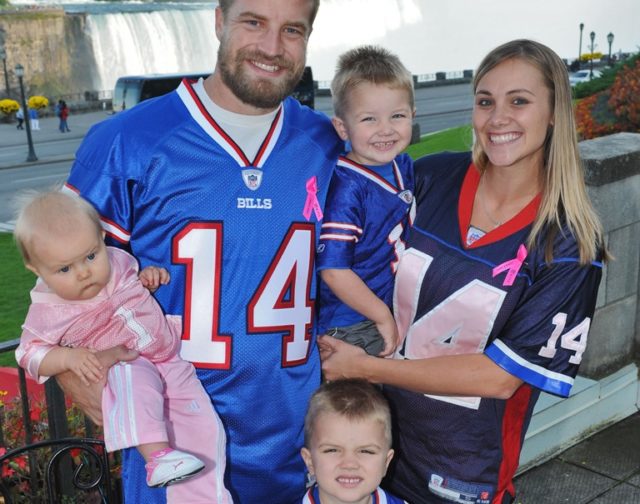 While a lot of women in her position would choose not to have many children to retain a perfect body shape, Liza loves kids so much that she has so far given birth to seven. Her children include four daughters named Ruby Fitzpatrick, Maizy Fitzpatrick, Zoey Fitzpatrick, and Zoey Fitzpatrick, as well as three sons, Tate Fitzpatrick, Brady Fitzpatrick, and Jake Fitzpatrick, who was born in January 2019.
Although some people might find it shocking that the couple decided to have a seventh child, Ryan, while speaking to New York Post before the arrival of baby Jake, noted that the birth of each child has always brought more joy into their family. According to him, each time he has another kid, it becomes more joyful and fulfilling.
Did You Know That Liza Barber is a Former Soccer Player?
During her high school days, Liza was a member of her school's soccer team. She continued playing at Harvard, representing the Harvard Crimson female soccer team in various intercollegiate varsity competitions all through her undergraduate days. She even went as far as serving as the leader of both her team and the institution's defensive unit all through her senior year in 2004. Before she graduated in 2005, she was a part of the All-American team.