Latarian Milton, nicknamed 'Hood Rat Kid', is a 23-year-old American who is infamous for being a juvenile delinquent. Latarian Milton is known for stealing a truck belonging to his grandmother in 2008 when he was only 7 and going on a road rage rampage through Palm Beach, Florida, destroying many properties in the process
Though he committed a serious crime, Latarian Milton became an internet sensation and a source of memes after he took his grandmother's car for a joyride. At the young age of seven, most people were able to view his actions in a humorous light.
Even with the amount of damage he caused, the spread of Latarian's interview at the time and the myriad of jokes that followed caused people to focus less on the source of the attention he was getting.
Despite showing remorse later for his actions and being lucky enough to escape jail time, he was again in the news for more negative press. How did it all end up? And where is Latarian Milton now?
What We Know About Latarian Milton's Background
A native of Palm Beach, Florida, Latarian Milton was born on August 30, 2000, to mother Sheneequa, his only known parent. Sheneequa gave birth to Latarian when she was sixteen years old and the only other thing known about her is that she is a chain smoker. Information about who Milton's father is or where he has been can't be found and neither has there been mention of the infamous media sensation having siblings. Milton lived with his parents for a while before moving in with his grandma, Vikkita Stratford, in Palm Beach.
He attended middle school and was able to graduate with dreams of either becoming a footballer or part of the U.S. Navy. But another bad choice made by Latarian Milton put his prospects for the future in jeopardy.
Latarian Milton's Fact Sheet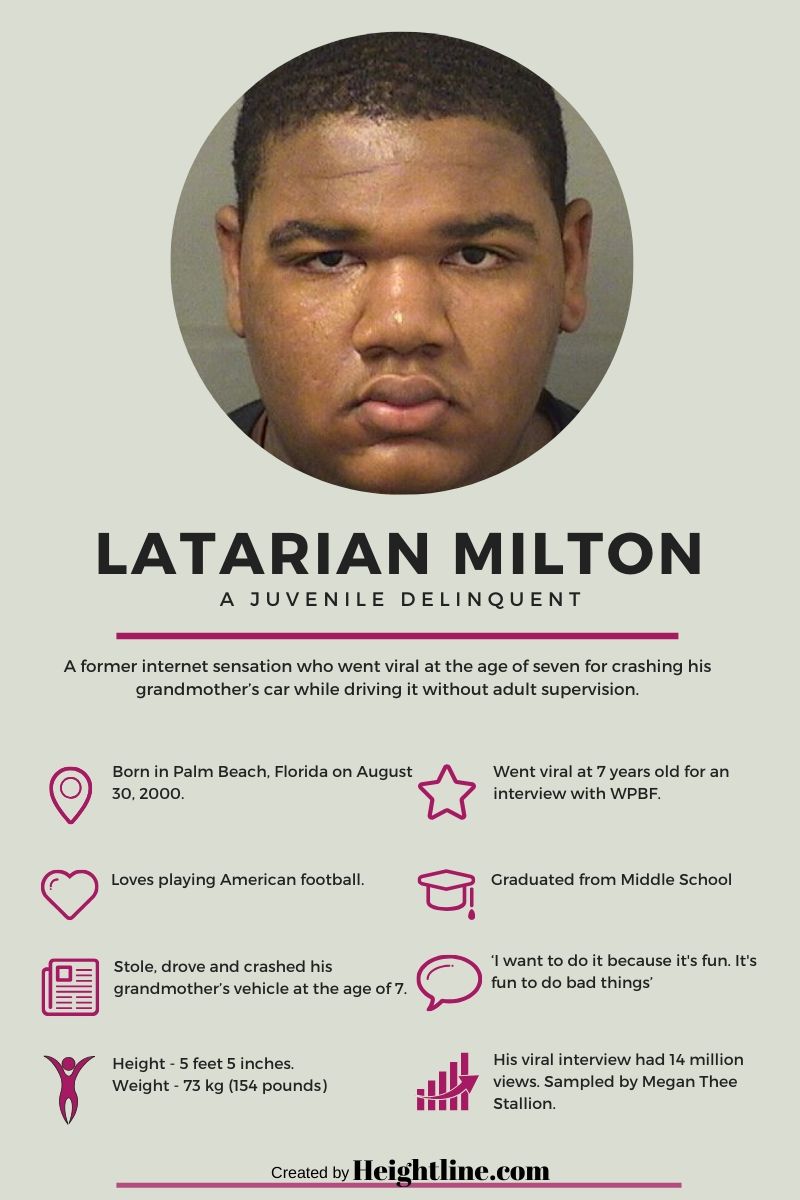 What Did He Get Arrested For?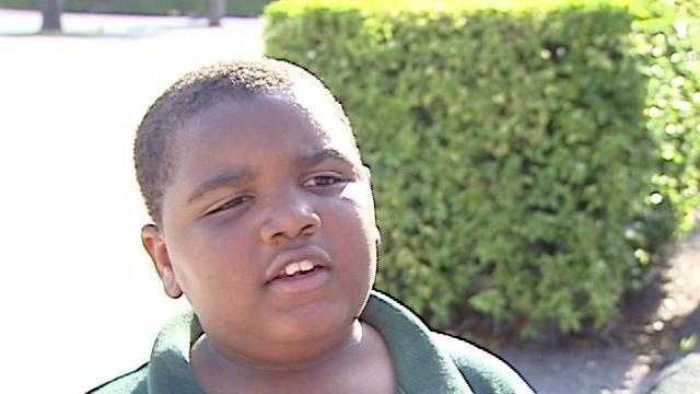 Latarian Milton's infamy began in April 2008 when he was involved in a joyride that led to property damage and a car accident. On April 27, 2008, Latarian was with his mother and grandmother at home when he asked his mother to allow his friend to come in and watch cartoons with him. His mother declined and this made Milton angry. After his mother scolded him and told him to leave the house, Milton grabbed the keys of his grandmother's Dodge Durango SUV and went on a joyride with his friend. The two friends were only seven years old at the time.
As they began driving through the streets of Palm Beach, a motorist noticed the driver of the Durango looked too short to be driving and put a call to the police about it. As the joyride progressed, Latarian Milton ran over two mailboxes, hit two parked cars at a Costco parking lot, and hit two moving cars near a Walmart. The drive would finally come to an end when Milton hit the roadside curb at the intersection of Investment Lane and Consumer Drive. The crash ended up snapping the front wheel axle of the SUV. Luckily, neither Milton nor his friend was injured.
Though he wasn't taken into custody, Milton was interviewed and asked by police why he did it. He said he wanted to do 'hood rat' things with his friend, who was smoking a cigarette while they were driving. A few days later, Milton showed remorse and apologized to those he had caused injuries. But it didn't take long before he appeared in the news again.
He was on the news soon after the first major car crash incident
Two weeks later, on May 12, 2008, Latarian Milton was with his grandmother at a Walmart store when he asked her to buy chicken wings and she refused, he got angry and took them to the cashier anyway. When his grandmother confronted him about it, he snapped and started attacking her in the store. The incident prompted child protective services to put Milton under mandatory mental health evaluation.
Later the same day, Riviera Beach police picked up Latarian at his home and took him to an area hospital for the evaluation. He was held for 72 hours while being evaluated by mental health officials. When interviewed after the incident, Vikkita stated that his behaviour was caused by watching his parent's physically and verbally abusive relationship.
What is Milton Up to Now?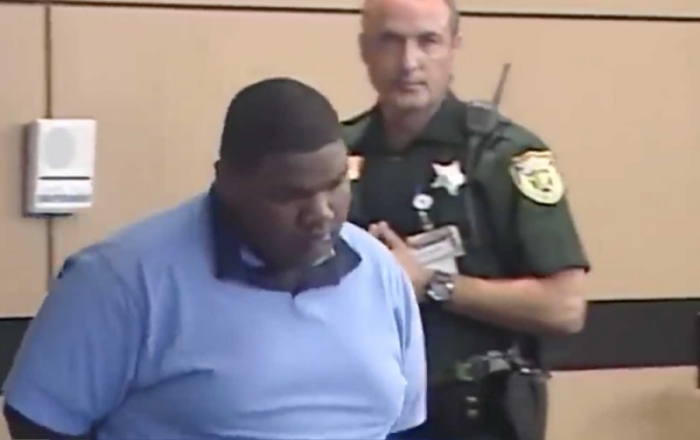 It seemed that things were finally turning around for Latarian Milton after his virality in the media. Appearing in subsequent interviews after the Walmart incident, a bigger Milton began to show signs of maturity and wanting to turn his life around for the better, having learned from his past mistakes. In 2015, Milton was fourteen years old when he finally graduated from middle school. Looking accomplished and proud of himself, he was interviewed about his prospects for the future. He stated that he plans to go to college and become a footballer. If that didn't work, then his Plan B would be to join the U.S. Navy with a focus on engineering.
All stayed silent until May 21, 2017, when a Lyft driver reported a robbery. According to him, he picked up four young guys and a girl early Sunday morning and took them to their destination at the 1500 block of Windorah Way in West Palm Beach where the girl alighted. The other occupants asked the driver to drop them off at another destination, which he refused because the Lyft service didn't work that way. It was at that point that one of the guys pulled out a handgun and struck the driver in the back of the head.
The driver got out of the car and was robbed of his jacket and wallet. According to him, Latarian Milton (who was in the front seat) got into the driver's seat and sped off with the others. He immediately reported the case to the police and gave them the number that had booked the Lyft, which turned out to be Milton's.
Latarian was arrested in the afternoon and confessed to being the getaway driver. After the arrest, he was charged to court and faced with carjacking with a firearm, burglary, and committing a felony with a firearm. Details released stated he was to be tried as an adult and was held in juvenile detention without bond on the burglary charge. He was 16 at the time of this arrest. The next hearing for his case was slated for May 26, 2017.
According to the Florida Department of Corrections website, Latarian Milton was sentenced on August 29, 2018, with a community supervision length of four years. His current status (as of February 16, 2020) is Active Suspense.