In 2019, when Forbes announced that a member of the Kardashian-Jenner family had an estimated net worth of $1 billion, not many people would have predicted it to be the youngest member of the group. Kylie Jenner had created the persona of someone who is willing to go to lengths to have the best body money could buy, so this made it somewhat of a surprise when it was found out that she also had a knack for business.
She started off in the shadows of her older sisters but has since grown into her own person, making a name for herself as a socialite, media personality, reality television star, and of course a businesswoman like other members of her family. She first came into the limelight in 2007 when she began appearing in the reality show, Keeping Up with the Kardashians. During her time on the show, she dabbled into other things and also showed glimpses of her business acumen.
In 2012, at the young age of 14, she and her older sister Kendall created a line of clothing called Kendall & Kylie through a collaboration with clothing brand PacSun. Two years later, the pair launched a shoe and handbag line for Steve Madden's Madden Girl line before Kylie herself launched her very own cosmetics line called Kylie Lip Kits in 2015. The following year, the Kylie Lip Kits line was changed to what we know today as Kylie Cosmetics, a company valued at $900 million in 2019 by Forbes.
With such an achievement of being the world's youngest billionaire in 2019, It is undeniable that Kylie Jenner's strides in the business world have brought her so much attention. Before all this, all people got to talk about was her lips augmentation among other procedures she underwent to achieve her ever-changing look. Learn more about her dramatic body change.
How Kylie Jenner's Body Has Changed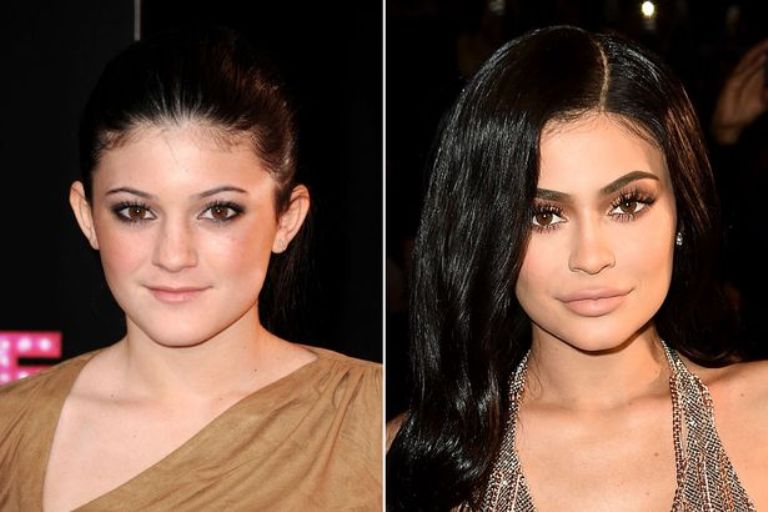 Kylie Jenner has a body to die for and as a result, is one of the most-followed people on Instagram where she frequently shares photos and videos of herself to the delight of her millions of followers. But while many people adore what she looks like today, many others have criticized her for making so many changes to her body.
It is believed that the reality star has gone under the knife a couple of times, something she has largely denied. The very first procedure which she has, however, admitted to having was a lip augmentation in 2015 to make her lips look bigger. Prior to having the surgery, Kylie said her small lips made her feel very insecure whenever she was around people. A few years later in 2018, she made the bold decision of removing the lip fillers but has since had them put back.
Following her initial lips job, it was noticed that the reality star had done some work to her nose. Despite glaring evidence, Kylie denied ever working on her nose, stating that her mother would not give her permission to do so since she was underage at the time.
After changes to the lips and nose were noticed, Kylie Jenner made further changes to her body, particularly her hips and butt. These aforementioned body parts look to have certainly undergone very obvious transformations, however, Kylie insists that she has not had any work done on those areas. According to her, whenever she gains weight, it goes to her arms and thighs and everything we get to see now is all-natural.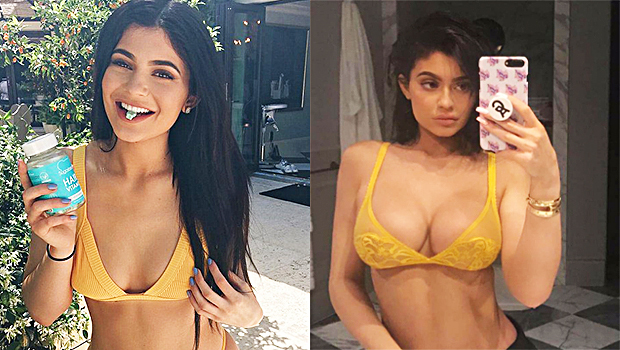 Another area where significant changes have been noticed in Kylie Jenner's body is in her breasts. It was speculated that she had undergone a boob job after there was a sudden increase in her breast size. According to the California native, however, the recent changes noticed in her breasts were also as a result of excessive weight gain, the same reason she gave for the increase in her butt and hip size. She further attributed the outward large look of the breasts to the Victoria Secret push-up bras she has since begun wearing.
The Differences in Her Body Measurements Over The Years
Looking at the picture above, it is apparent that Kylie Jenner's body looked a little bit more natural in the older photo to the left. She appeared slender with a smaller sized breast and does not seem to have the hourglass figure that she does not hold back to display on Instagram in recent times. The billionaire entrepreneur has changed drastically as her body looks totally different from what it used to be, a change she attributes to various other things other than plastic surgery.
The most visible differences in her body from the past to what it is now can be seen in the size of her breasts, butt, lips, cheeks, and hips. There are also apparent changes in her nose, eyebrow, and jawlines. Unfortunately, because Kylie was still in her teenage years when the changes to her body were allegedly made, there are no statistics available to compare what it is now to what it was. The only available stat is her weight which was 120 pounds when she was 16, but is now about 139 pounds. Her height of 5 feet 6 inches (168 cm) has also remained a constant.
The now voluptuous reality TV star and businesswoman, who insists to have never gone under the knife, has a body measurement of 38-27-36 inches (96.5-68.5-91.5 cm). Her bra size is 34 D while she wears a dress size of 8 (US) or 40 (EU) or 12 (UK) and a shoe size of 8 (US) or 38.5 (EU).