How Tall is Jennifer Lawrence? Jennifer Lawrence's height is estimated to be between 5 feet 7 1/2 inches and 5 feet 9 inches. This makes her taller than the average American woman 
All through the 2010s, Hollywood was full of many rising stars and super-talented newbies, but one actor who stood out among them all was Jennifer Lawrence. Her journey to becoming a prominent actress began in 2006 when she kicked off her professional acting career with a minor role in the TV pilot Company Town. While the show never got to see the light of day, Ms. Lawrence was still able to land small roles in other television shows before eventually being cast in her first role as a series regular on The Bill Engvall Show.
Subsequently, Jennifer appeared in her first film, Garden Party, in 2008 and two years later, she landed her breakthrough role as Ree Dolly in the independent drama Winter's Bone. Afterward, she appeared in a few other films, and in 2011, she became an internationally known actress with her first high-profile release, X-Men: First Class. Since then, she has gone on to become one of Hollywood's biggest sensations in recent times, receiving numerous awards and award nominations.
Apart from her excellent acting talent, which has set her apart from many of her colleagues, and won her the love of many people, Jennifer is also loved for being one of the most friendly Hollywood celebrities around. This has earned her a huge fan base, and consequently interest in every aspect of her life, including something as trivial as her height. However, this article will let you know how tall the actress is and also furnish you with interesting details about other aspects of her life.
10. Jennifer Lawrence's Height Is Between 5 Feet 7 1/2 Inches and 5 Feet 9 Inches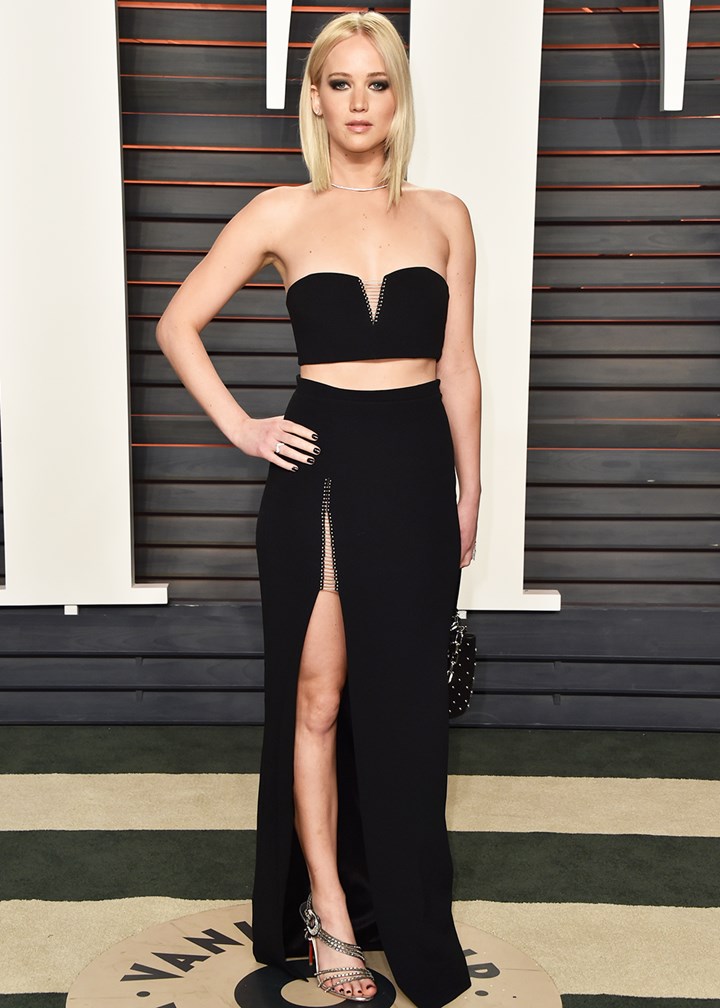 While a lot of sources claim that the actress is 5 feet 9 inches tall, it was written on her website in 2010 that her height was 5 feet 7 1/2 inches. However, in 2011, the actress herself said that she was 5 feet 9 inches tall and in 2013 she lowered the figures, saying she was like 5 feet 8 inches tall. According to a report published by the Centers for Disease Control and Prevention (CDC) in 2018, the average height among all American women aged twenty years and above is 5′ 4". So whatever the case, Jennifer is quite tall as she is well above average.
For a woman as tall as the actress, it is no surprise that Jennifer's relationship with high-heeled footwear goes back and forth from love to hate. She once told Fabulous magazine during an interview that each time she wears heels, she feels like an ogre and is unable to walk because her feet are uncomfortable. But even at that, she still cannot convince herself to stop wearing them and as a result, she cannot seem to stop falling over.
Jennifer Lawrence's height was put on full display in 2018 when she and Jodie Foster stood side by side at the Oscar Awards event to present the Best Actress trophy to the winner. She completely towered over Foster, who stepped out with crutches and is said to be 5 feet 2 inches tall. Their height difference was literally comical and this gave rise to a lot of comments on Twitter, with most people noting that the difference was probably because Miss Lawrence was wearing heels while Foster wasn't due to crutches. Heels or not though, the six to seven inches difference in the height of the two ladies is a lot.
9.The Actress Had Two Nicknames As A Child
When she was a child, Jennifer Lawrence was known by two nicknames – "Nitro" (short for nitroglycerin) and "Plays with fire." She told 60 Minutes that the former was given to her by her older brothers due to the fact that she was super hyperactive and the name still pops up even now that she is an adult.
In her 2012 profile in Rolling Stone, it was revealed that her parents called her the latter nickname because her conception was somewhat of an accident. The actress disclosed that she did not realize why her nickname was "Plays with Fire" until she became older and found out that it was because her parents played with fire and got burned. According to what Jennifer's mom said in the profile, she and her husband thought that they were done having kids, but Jennifer happened.
Jennifer Lawrence's Profile Summary
Full Name: Jennifer Shrader Lawrence (III)
Nickname: Jen, JLaw, Nitro
Date of Birth: August 15, 1990
Age: 33 Years Old
Place of Birth: Indian Hills, Jefferson County, Louisville, Kentucky, United States
Nationality: American
Height: Between 5 Feet 7 1/2 inches and 5 Feet 9 Inches
Weight: 63 kg
Other Body Measurements: Bust – 35 inches, Waist – 26 inches, Hips – 36 inches
Dress Size: 6 (US), 10 (UK), 38 (EU)
Shoe Size: 10.5 (US), 8 (UK), 41 (EU)
Hair Color: Blonde
Eye Color: Blue
Father: Gary Lawrence
Mother:  Karen Lawrence
Siblings: Ben Lawrence (Older Brother), Blaine Lawrence (Older Brother)
Husband: Cooke Maroney (2018-Present)
Children: None
Education/Schools Attended: Kammerer Middle School, Louisville
Occupation: Actress
Net Worth: $160 million
8. Jennifer Was Randomly Discovered At Age 14 
A number of Hollywood stars were scouted on the street and Jennifer happens to be one of them. At the age of 14, she went on a vacation to New York City with her mother for spring break, and while watching break dancers in Union Square, a man with a camera walked up to them and introduced himself as a modeling scout and asked if he could take a picture of Jennifer, and she obliged. Afterward, she gave the scout her mother's phone number, and surprisingly, he called later on saying that there were agents who wanted to meet her. She agreed of course.
Meanwhile, back in school, she was part of the field hockey and cheerleading teams and aspired to become a doctor in the future. But within the few minutes, she spent on the road going from the hotel room to the meeting venue, Jennifer decided she did not want to become a model, but rather, she wanted to be an actress. As a result, she made up her mind to only sign with an agency if they could allow her to audition for commercials and also act.
Unexpectedly, one of the people she met gave her a script, to audition the following day. According to Jennifer, before then, she always felt like she sucked at everything, that she could never find what she liked doing. But when she read the script, "I had that feeling like I understand this", and this was the first time in her life that she ever understood anything. Subsequently, she went back for the audition, and even though she probably sucked, according to her, she had made up her mind 100 percent that acting was what she wanted to do.
7.The Hollywood Superstar Gave Up Her Education To Pursue Acting
Making a decision about a career path might be daunting for an adult but at 14, Jennifer Lawrence was too sure she wanted to pursue an acting career to be scared. And to do this, she had to trade something very important – her education. During her 2018 interview with 60 Minutes, she revealed that her formal education ended at middle school as she had to drop out following her relocation to New York to pursue acting. Consequently, she never earned a GED or a diploma but that does not make her an illiterate as she told 60 Minutes that she was "self-educated."
Speaking with Bill Whitaker of CBS News, Jennifer talked about her decision to leave school, revealing whether or not she regrets it. She explained that she was never comfortable in school and based on that she had to convince her parents to let her stop schooling and go into acting full-time. According to her, it was so difficult explaining it, "it was just an overwhelming feeling of, 'I get this. This is what I was meant to do,'" the actress told Whitaker. Continuing, she explained that getting people to understand that when you are only 14 was even more difficult and to her parents, she was out of her mind.
Jennifer went on to state that she does not regret her choice, adding that she wanted to forge her own path. According to her, she discovered what she wanted to do and she did not want to allow anything to get in the way of her doing it. At that point, she said, even people with whom she had been friends for many years were not as important to her as her career. Thankfully, it was not long before her career skyrocketed.
6. Jennifer Lawrence Was The First Girl Born On Her Father's Side Of The Family In 50 Years
The actress was born after her parents had had two sons and decided to put an end to childbearing, but fate had other plans for the couple. Her arrival broke a 50-year-long no-female-born situation in her father's family.
Growing up in a suburb outside of Louisville, Kentucky with a lot of male presence, Jennifer became a tomboy, with her older brothers, Blaine and Ben, unwillingly sharing their clothes with her. As the actress' mother revealed in the Rolling Stone publication, she never wanted her daughter to be a diva growing up. According to her, she was okay with her being girlie as long as she was tough. As a result, JLaw became so tough as a child that she was not allowed to play with other little girls at school. "She didn't mean to hurt them," the star's mom said. "They were just making cookies, and she wanted to play ball."
Jennifer eventually started playing basketball, softball, and field hockey on her school's boys' team and was also a cheerleader for her middle school.
5. JLaw Relocated To New York With Her 19-Year-Old Brother To Pursue Acting At 14 Years Old
For months after her meeting with the model scout, while on vacation, Jennifer Lawrence begged her parents to allow her to move to New York to give acting a try, a 2012 profile on RollingStone revealed. Eventually, they gave in, allowing her to go for just six weeks. Meanwhile, her mother is a summer camp manager, and because she had to work at the camp, her brother Blaine, who was 19 at the time, was saddled with the responsibility of going with her.
On their first night in the Big Apple, the duo ate at Applebee's in Times Square. Another night, little Jennifer couldn't help calling home from their midtown hotel to report that she had seen a rat as big as their cat, Shadow, crawl out of the stove. Speaking to 60 Minutes, Jennifer described the time she spent in the city as terrifying. She recalled her parents leaving the "really crappy hotel" they were staying in and as they shut the door behind them, her brother looked at her and told her they were going to die. Blaine went on to scare her by telling her that they'd go to Duane Reade and keep washing the same plastic cups over and over until they started to mold. "We were disgusting," she added.
In the Rolling Stone report, Jennifer also revealed that living in New York was hard at first as she had no friends and as a result, was lonely. However, she occupied herself by taking online classes. Even though they had let her go, Jennifer's parents were not at peace with their decision. According to her mother, Karen, their friends thought they were crazy and they also thought they were crazy, but Jennifer's brothers told them that "this is her baseball diamond. You've gotta let her play."
Not long after, Jennifer started booking small parts and modeling jobs. She landed a Verizon commercial, portrayed the character of a victim's daughter on Cold Case, played school mascot on Monk, appeared in Not Another High School Show-a pilot that never aired, and the ball continued rolling. Subsequently, she was joined by her parents.
4. The Screen Diva Has A Tattoo She Regrets
Jennifer Lawrence debuted a new tattoo – "H2O"- during the Comic-Con weekend in July 2015. She showed the tattoo, which is inked on her hand in red color, to a reporter, telling the story behind it. "You know, I call this tattoo a watered-down rebellion because it's not like a real tattoo," she said. Continuing, the actress said she was with Liam Hemsworth's family and everyone was getting tattoos so she decided to get one too. She thought to herself that since she was always going to need to be hydrated, she should as well just ink the formula for water on her hand.
She told 60 Minutes that it was supposed to remind her to drink more water. Unfortunately, she ended up not really getting the tattoo she set out to get as there was a minor mistake in the writing of the water formula. She acknowledged that the mistake was from her because she failed to Google H2O knowing that she was a middle school drop-out. "It was 'H squared O.' So I have 'I'm an idiot' tattooed on my hand forever," she added. The actress disclosed that she did not even want to get a tattoo but she just gave in to the pressure because all her friends were getting the body art at the same time.
3. JLaw Is Married
The Oscar-winning actress started dating an art gallery director named Cooke Maroney in 2018 (they were actually first linked in June 2018). By February 2019, they were engaged, and at the time, Jennifer was spotted wearing a huge ring while they dined at an upscale French restaurant in New York City known as Raoul's.
Four months later, the Hollywood celebrity shared details of her very private relationship with her then-fiancé during an episode of the podcast Naked with Catt Sadler and also opened up about their wedding plans. Speaking with the show's host, Catt Sadler, Jennifer described Maroney as the greatest human being she has ever met, adding that he keeps getting better. When asked why she agreed to marry him, she said that she started by asking herself some basic questions like "How do I feel? Is he nice? Is he kind?" Answering these questions helped her realize that Maroney was 'The One.'
Although she was excited about getting married to the man of her dreams, Jennifer Lawrence admitted that marriage was not on her to-do list the first time she met him. This was because, according to her, she was not at a place where she could say that she was ready to get married. However, as soon as she met Cooke, she told Sadler, she wanted to marry him…they wanted to get married to each other.
Jennifer went on to call Cooke her best friend and added that she wants to legally bind him to herself forever. She was eventually able to do this in October 2019 when they got married. Dressed in a Dior dress for the special occasion, Jennifer exchanged marital vows with Cooke in Rhode Island in the presence of friends and family. The couple held a reception for their 150 guests at Belcourt of Newport, a mansion in Newport, Rhode Island, and among these guests were Kris Jenner, Adele, Ashley Olsen, Amy Schumer, and Emma Stone.
Meanwhile, on Friday, October 18, 2019, the couple hosted a rehearsal dinner during which they hosted a clambake under a white tent on Rose Island, and several celebrities were spotted attending the occasion. A month before, a picture of the duo, who have been linked since June 2018, was taken outside Manhattan Marriage Bureau, where Jennifer beamed with smiles as she came outside with her husband. They were pictured with a friend, two security guards, and a photographer, according to a report by Page Six.
2. The Hunger Games Star Has Infamously Fallen At Three Award Events
Jennifer Lawrence has fallen once at the SAG Awards and twice at The Academy Awards (aka the Oscars). She had her first fall during the 2013 edition of the SAG Awards when her dress got caught stuck either under a chair or a fellow attendee's foot. Also, in the same year, she recorded her first Oscars fall the night of the 85th edition of the award show.
Dressed in a Dior dress, the then-23-years-old actress was so nervous that she infamously tripped on the very first step while she was walking up the stairs to the stage to receive her first Academy Award for the best actress for her performance in "Silver Linings Playbook". Thankfully, she made a quick recovery and laughed off the incident. Upon making it to the stage, Jennifer was greeted with a standing ovation but she told the audience they were only doing that because of the fall, adding that she felt very embarrassed.
Backstage, reporters asked her if she fell on purpose, and Jennifer jokingly responded, "absolutely," before she asked them to take a look at her dress. "I tried to walk up the stairs in this dress. They wax the stairs." Seven years after the incident, the 33-year-old reflected on what was going through her head when her name was called as the winner of her category.
She made the revelation when she came on the Absolutely Not Podcast in October 2020, saying that when they called her name, she was elated and in shock. "You kind of black out." She went further to admit that she actually couldn't remember what that moment felt like when her name was announced, and then she fell and everything was practically erased from her mind, her entire brain went blank, the actress said. But having grown older, Jennifer said, she can now look back at the incident fondly though it was very sensitive for a very long time
A year after Jennifer Lawrence had her first fall at the Oscars, she recorded her second fall, this time on the red carpet. She tripped on the traffic cone almost as soon as she arrived at the red carpet, setting Twitter abuzz. During her opening monologue, the 2014 Academy Awards host, Ellen DeGeneres, joked about Jennifer's falls, telling her that "if you win tonight, I think we should bring you the Oscar."
1. One of The Earliest Characters Jennifer Played Was A Biblical Prostitute
Years before she went pro as an actress, Jennifer was already acting in school musicals and church plays. Among the memorable roles she played was a biblical prostitute from Nineveh in a play based on Bible stories. As reported by Rolling Stone, the then-nine-year-old actress was the star of the show, which centered on the Book of Jonah.
While other little girls just stood there wearing their lipstick, Jennifer's mother told the magazine, Jennifer walked in "swinging her booty and strutting her stuff." Afterward, friends of Jennifer's family told her mom that they did not know whether or not to congratulate her because her kid was a great prostitute.