How tall is Tom Cruise? Tom Cruise's height is listed at 5 feet 7 inches (170 cm). By all standards, Tom Cruise's height can be considered to be fairly short for a man
Tom Cruise is an American actor everybody can easily identify. The Hollywood star began his career in 1981 and rose to become one of the most prominent figures in the industry. He has been able to maintain his relevance over the decades despite the controversies that steam from his association with the Church of Scientology which has left many people less eager to admire him and what he has accomplished as an entertainer.
But then, the Syracuse-born actor has built a massive legacy that's hard to erase. He remains a superstar and almost everything about him is newsworthy; from his love life to his upbringing, the family he hails from, the wealth he has accumulated, and even things as trivial as his height.
At some point over the course of his career, Tom Cruise's height was a serious topic for public discourse among moviegoers, and the actor, as you'd soon learn, was forced to address it. While he is often counted among the short actors in Hollywood, the clout Tom commands in the business, the numerous awards he has won, and the massive wealth he has acquired, have definitely compensated for what he lacks in height.
The Average American Male Is Taller Than Tom Cruise
In the 19th century, the United States and other countries in North America were the tallest in the world. But because of several factors, America witnessed a decline in the average height of its population. Even though the country is still counted amongst nations with the tallest people, countries in Europe and Central Asia now have taller citizens. You will find the tallest men in these countries and their average height is 5 feet 9½ inches (177 cm). The Netherlands takes the lead with an average height of 5 feet 11½ inches (182 cm) for its males.
The average height for men in the United States is 5 feet 9.3 inches (176 cm). As Tom Cruise's height is listed at 170 cm, it means that most men in his country are taller than him by 6 cm. However, the actor is taller than most of the men you'd find in South Asia. Here, the average height for men is 5 feet 5 inches (165 cm). More so, Tom Crusie would be described as a tall man if he was from Timor, a nation in Southeast Asia. Most of the shortest men in the world are from the country and records have it that their average height is 5 feet 3 inches (160 cm).
Most men in America might be taller than Tom but he can definitely brag about having more relevance than them in the country.
The Actor Was Very Sensitive About Playing Jack Reacher Because of His Height
An instance that proves height can be crucial in acting was the skepticism that followed the decision to have Tom Cruise play Jack Reacher in the 2012 action thriller film based on One Shot, a Lee Child's novel. Fans of the novel were quick to point out that Tom Cruise's height was inadequate for the role because Jack Reacher, as portrayed in the novel series, is 6 feet 5 inches tall and sturdy.
Fans of the novel took to social media platforms to campaign against it and Tom would later admit that he was very sensitive about playing the role because of his height. According to the actor, Lee Child made him comfortable with playing the character after he explained that Reacher's imposing physique in the novels is a metaphor for an unstoppable force, which he believes Tom was very capable of portraying.
Insisting that Tom was the perfect actor for the role, Child reportedly stated that Cruise would give life to 100 percent of Reacher and 90 percent of the height whereas another actor might get 100 percent of the height but only 90% of Reacher. However, his opinion changed two years after Jack Reacher's sequel titled Jack Reacher: Never Go Back was released in 2016. Tom also stars as Jack Reacher in Never Go Back which received mixed reviews.
His Height Has Not Affected His Career In Any Significant Negative Way
With the mixed review that followed Never Go Back, the plan for a third installment in the Jack Reacher film series was shelved. Lee Child would later reveal that there would be no more Jack Reacher movies with Tom Cruise. Adding that preparations are being made for the novel series to be adapted for a television series, Child also specified that the series wouldn't feature the famous actor.
Stressing that Tom Cruise is talented, and he enjoyed working with him, Lee admitted that the readers were right all along; that the actor didn't have the physicality for playing Jack Reacher. The size of Reacher is really important and a big part of who he is, Lee said, as he affirmed that it's the end of Tom Cruise playing the character. Despite that, it is difficult to express that Tom Cruise's height has harmed his career.
The Mission Impossible actor has played various characters in many big movies. His movies have grossed over $10.7 billion at the box office and he is one of the highest-paid actors in the world with a massive fortune currently estimated at $600 million. In addition to that, Tom has received over 100 nominations for some of the most coveted awards in the business, including three nominations for the Oscars. He has a star on the Hollywood Walk of Fame amongst other prestigious recognitions.
Tom Cruise is Not As Tall As The Average Actor in Hollywood: How Did He Come To Terms With His Height?
Most people would assert that height doesn't really matter in acting. This sentiment is based on the fact that elevator shoes and even camera angles can be used to compensate for a situation where an actor must have a certain height. Nevertheless, casting directors do consider height in assigning roles as it is easier for them to choose actors that wouldn't have them looking for ways to augment height. That being said, the height of an actor is often not a priority.
According to various sources, the average height for actors in Hollywood is 5 feet 10 inches (178 cm). This means that most of the actors are 3 inches (8 cm) taller than Tom Cruise. Despite that, the actor seems to stand taller than his co-stars in movies who are known to be taller than him. This is also the case when he makes public appearances for industry events. Because of this, it is believed that he uses heeled shoes and other measures to appear taller than he is. Given that, it has been suggested in some quarters that the actor feels insecure about his height but there is no way to authenticate that claim.
As far as we know, the measures he employs to augment his height are only necessary for his career as a huge part of being an entertainer relies on having an impressive public image. If anything, the fact that he's willing to do whatever it takes so that his height wouldn't pose significant trouble for his career means he has come to terms with not being as tall as most actors. Also, considering what he has accomplished as an actor, it'd be disturbing if he still regards his height to be a problem.
Tom Cruise vs Brad Pitt vs Kevin Hart: Who Among Them is The Tallest?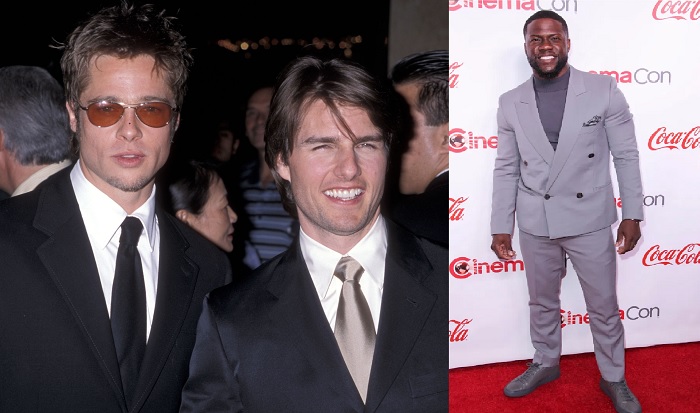 Like Tom Cruise, Brad Pitt and Kevin Hart are also celebrated Hollywood stars. More than being an actor, the former is a film producer who has received multiple coveted awards for his efforts. As a producer, he has won a Primetime Emmy, Golden Globe, and an Academy Award. He also won another Academy Award and two Golden Globe Awards for his acting. While Kevin is also an actor with several acting credits in popular productions like Think Like a Man (2012), Jumanji: Welcome to the Jungle (2017), Night School (2018), and Jumanji: The Next Level (2019), he is mostly known as a stand-up comedian.
Of the three entertainers, Brad Pitt is the tallest. The Once Upon a Time in Hollywood actor is taller than the average American man; he is 5 feet 11 inches (180 cm) tall and 4 inches (10 cm) taller than Tom Cruise. Kevin Hart is the least tall of the three and one of the first people to come to mind when one thinks of short Hollywood stars. While it is very obvious that Kevin is a short fellow, the exact measurement of his height is still up for debate. Some reports claim he is 5 feet 4 inches (163 cm) but several have insisted he is shorter than that, listing his height at 5 feet 2 inches (157.5 cm).
Tom Cruse's Height Compared To Al Pacino's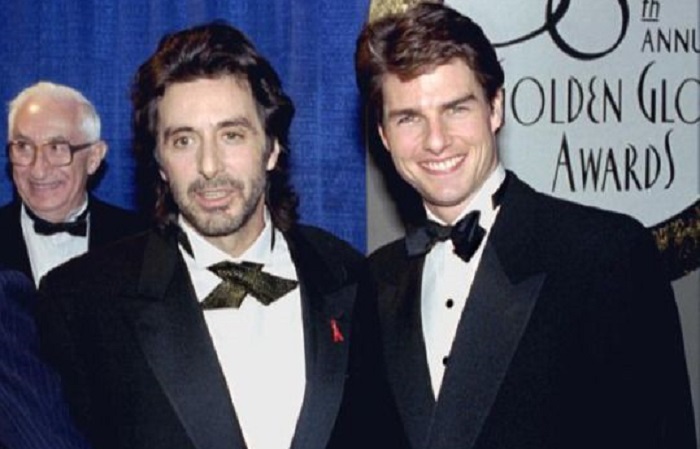 Tom Cruise isn't the only successful actor in Hollywood who isn't as tall as the average American male. There are a handful of others, including Al Pacino. The American actor and filmmaker is often counted among the most accomplished in the industry; one of the few performers to have won the Triple Crown (Academy, Emmy, and Tony Awards). Pacino rose to fame for playing Michael Corleone in The Godfather (1972) and remains active in the industry even though he is now an octogenarian.
Regarded as one of the greatest film stars of all time, Al Pacino is also known to be one of the shortest Hollywood actors. According to some reports, Al Pacino's height is 5 feet 7 inches (170 cm), which means he is exactly as tall as Tom Cruise. However, other credible platforms claim he is slightly shorter, listing his height at 5 feet 6 inches (168 m).
Is Tom Cruise Really Taller Than Mark Wahlberg and Daniel Radcliffe?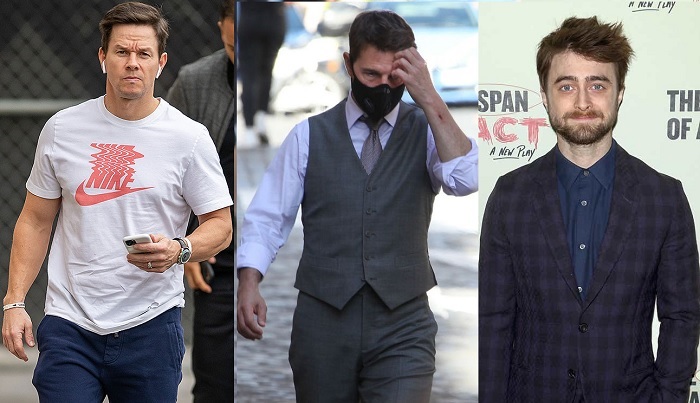 Height shouldn't discourage anyone from pursuing a career in acting as many actors are not as tall as they seem to be onscreen, including Mark Wahlberg and Daniel Radcliffe. Wahlberg has been acting since 1984 and is known for popular movies like The Fighter, The Departed, The Other Guys, Ted, and the Transformers film series. He was the highest-paid actor in the world in 2017 and has a star on the Hollywood Walk of Fame. He has further received nominations for the Oscars and Golden Globe Awards. Like Tom Cruise, Mark is an A-lister.
Daniel Radcliffe, on the other hand, is famed for playing Harry Potter in the Harry Potter film series. He is also a successful actor but is the least tall of the three. The English actor is 5 feet 5 inches (165 cm) tall, so Tom Cruise is taller than him and Mark Whalberg is taller than both of them. The Planet of the Apes actor is 5 feet 8 inches (173 cm) tall. Neither Tom, Daniel, nor Mark is taller than the average American male.
Zac Efron or Tom Cruise: Who Is Taller Between The Two Short Actors?
Zac Efron is another Hollywood actor known to be short. Like other actors aforementioned, his height has not had any negative impact on his career, at least to the best of our knowledge. Efron began acting in 2002 when he played Young Simon in an episode of Firefly. His breakthrough came with the High School Musical trilogy and since then he has been a part of popular productions like Hairspray, The Paperboy, Dirty Grandpa, The Greatest Showman, and much more.
Zac's efforts have won him many awards with numerous nominations which show that his 5 feet 8 inches (173 cm) height has been of no significance to his career. Although Zac is often described as a short actor compared to Tom Cruise, he is actually a bit taller. Yeah, Zac is an inch (3 cm) taller than Tom.
All of Tom Cruise's Ex-Wives Are Taller Than Him
It's no secret that Tom Cruise has been married and divorced thrice. His first marriage was to Mimi Rogers who introduced him to Scientology. The marriage lasted only for a few years, from 1987 to 1990. The same year his first marriage packed up, he got married to Nicole Kidman, the famous Hollywood actress from Australia. Just after a decade, the union collapsed and they went their separate ways; this was in 2001.
About half a decade later, precisely on the 18th of November 2006, Tom Cruise got married to another popular Hollywood actress, Katie Holmes. The marriage came to an end in 2012.
Given that Mimi, Nicole, and Kaite are all prominent members of Hollywood, they were seen beside Tom several times at industry events while they were married. Most times, the actor seemed to be taller or of the same height as his spouse. However, all of them are taller than him in real life. While Holmes is 5 feet 9 inches (175 cm) and Kidman is 5 feet 11 inches (180 cm), Rogers stands at a height of 5 feet 8 inches (173 cm).