Leonardo DiCaprio's movies are some of the finest Hollywood productions of the last three decades and more. The prolific actor took to acting in 1993 but it was until 1997 that he became a global phenomenon when he played his most famous role in Titanic as Jack Dawson. Many years after he began, DiCaprio has been a part of many movies and TV series as an actor and a producer. Also, he has over 200 nominations and awards to his name, including the Golden Globes and the Academy Awards.
More so, he has also recorded financial successes that have seen him make a lifetime gross total of over $2.519 billion in Box office domestically. While there are many ways of ranking a movie, we are ranking the movies of Dicaprio on the basis of their popularity and what they have made in Box office.
Leonardo Dicaprio's Best and Worst Works As an Actor 
1. Titanic (1997)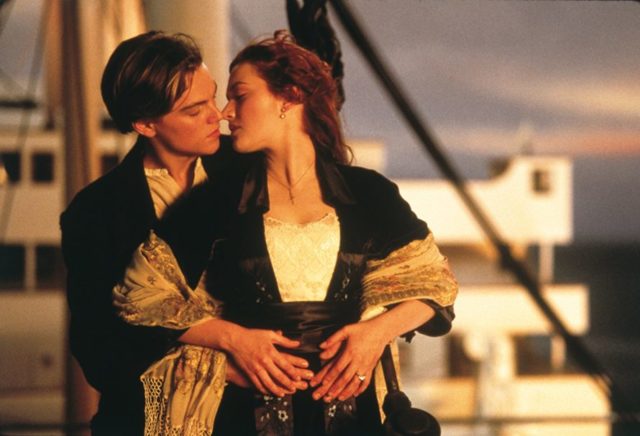 This epic romance which is directed by James Cameron is one of the early films in the successful career of Leonardo, but at the same time, it is probably his best movie yet. Drawn from the tragedy that befell the RMS Titanic, this epic love story features DiCaprio who takes the role of Jack Dawson and Kate Winslet (Rose DeWitt Bukater) who is forced into a relationship with Cal Hockley (Billy Zane), a high-class and arrogant individual.
Jack falls in love with Rose, but Cal is now very jealous and he wants to remove Jack whom he sees as a threat from the picture. Before his opportunity came, the ship hit an iceberg and it had only hours to sink completely. For his role in this movie that grossed in over $2 billion worldwide, Leonardo Dicaprio got a Golden Globe Awards nomination among other nominations and awards.
2. Inception (2010)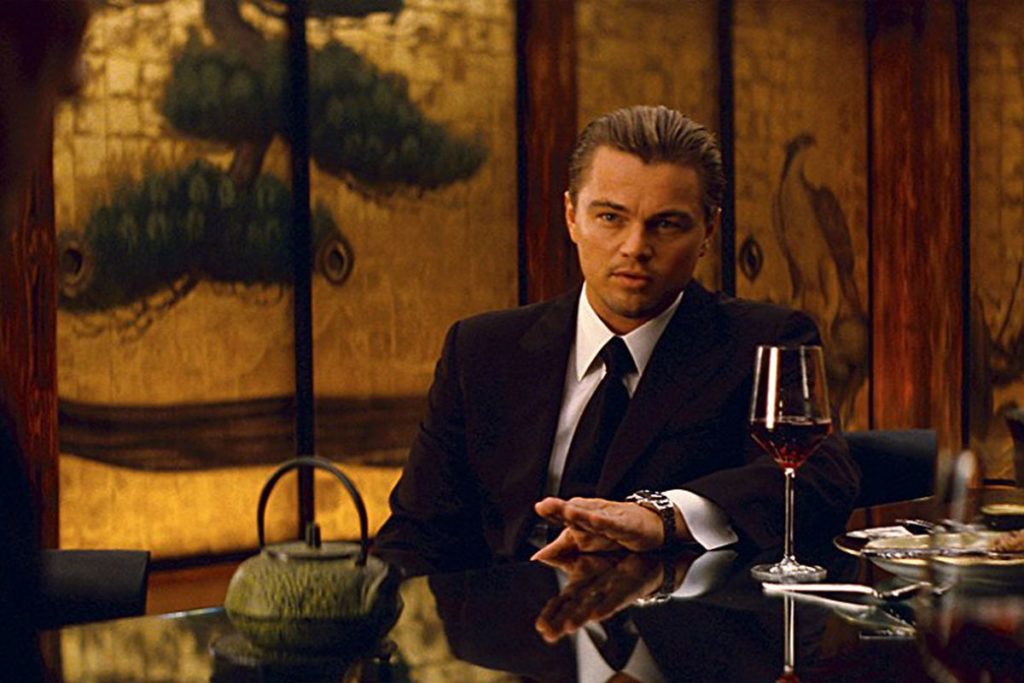 Inception is a movie that alongside its financial success, is also a favorite one among critics. In the science-fiction thriller, Dom Cobb (Leonardo DiCaprio) is a professional thief who goes into the dreams of people to con them.
Described as one of the best films of the 21st century, this Christopher Nolan directed movie made over $828 million worldwide. For his role in the movie, Dicaprio walked home with a Saturn Award nomination and a few other nominations and awards.
3. The Revenant (2015)
As directed by Alejandro González Iñárritu, this movie is partly based on Michael Punke's biographical work of the same name. The film which features other actors including Tom Hardy and Domhnall Gleeson has Leonardo DiCaprio taking the major role as Hugh Glass whose camp has been attacked. Now, he leads his people to safety.
Worldwide, the movie made over $532 million in Box office and it earned Leonardo Dicaprio his third Golden Globes award, as well as an Academy Awards, and the Screen Actors Guild Awards.
4. Django Unchained (2012)
One will not expect anything less than the best from a movie directed by Quentin Tarantino, starring stars like Jamie Foxx, Christoph Waltz, Kerry Washington, and Samuel L. Jackson. There is also Leonardo Dicaprio who takes the role of Calvin J. Candie, who owns the Candyland plantation.
The role of the actor in this movie is not the biggest of his career, but his performance was enough to earn him a Golden Globe Award nomination for Best Supporting Actor. The worldwide grossing of the film is over $425 million.
5. The Wolf of Wall Street (2013)
Among the many movies of DiCaprio, The Wolf of Wall Street is one that fans cannot forget because it brings out the actor at probably his very best. One interesting thing about this film is that it was produced by Leonardo himself.
Although it is not the movie to testify to the prowess of Martin Scorsese as a director, it has a lot to offer. Leonardo Dicaprio plays the role of Jordan Belfort in the biographical black comedy and crime film culled from the memoir of Belfort which also has the same name. DiCaprio (Belfort) is a Wall Street stockbroker, who has the idea that as a stockbroker, all he needs to do is to make money for himself. He will go on to make the fortune, but there is a price to pay.
He received many nominations for his amazing performance in the movie including the Academy Awards nomination and the British Academy Film Awards nomination. Also, the movie made over $392 million worldwide.
6. The Great Gatsby (2013)
This movie is not the most favorite Leonardo DiCaprio movie for critics as it received many mixed reviews. However, it was a success financially, racking in over $353 million in Box office worldwide from a production budget of $105 million.
The romantic drama film which is directed by Baz Luhrmann is based on the 1925 novel of F. Scott Fitzgerald. DiCaprio plays the role of Jay Gatsby, a rich man who is still in love with Daisy Buchanan portrayed by Carey Mulligan whom he lost to Tom Buchanan. He tries to win her back and so he hosts parties to be close to her. For his role in the movie, DiCaprio won a People's Choice Awards and the AACTA Awards.
7. Catch Me If You Can (2002) 
This time around, Leonardo Dicaprio portrays Frank Abagnale, a con-artist in the Steven Spielberg hit. He finds it easy to impersonate almost anyone of any profession he chooses and walks away without any problem. The movie is based on the life story of Frank Abagnale who conned people into the millions even before he turned 19. Because of how good he became, the FBI was left with no choice but to turn to him for assistance in catching check forgers.
With over $352 million in Box office worldwide, the movie got DiCaprio yet another Golden Globes nomination.
8. Shutter Island (2010)
By no means is this anywhere near the most popular Leonardo DiCaprio movies that you will see but it is still one that is great. It is a psychological thriller which was directed by Martin Scorsese.
It features Leonardo who takes the role of U.S. Marshal Edward "Teddy" Daniels. He is investigating the disappearance of one of the patients of a psychiatric facility on Shutter Island. The movie was generally favored by critics and it recorded a similar success financially, with worldwide returns of $294 million.
DiCaprio got a Scream Awards nomination and took home the Teen Choice Awards for his performance in the film.
9. The Departed (2006)
This movie was a major statement from DiCaprio telling all those who had ever doubted him (if there were any), that there was no role he couldn't execute. In what has been described as one of his most intense roles, Leonardo plays Billy Costigan who has been planted as an undercover in the crew of mob boss, Frank Costello (Jack Nicholson). In a twist of events, Costello also has a mole Colin Sullivan (Matt Damon) in the Massachusetts State Police where Leonardo works.
The movie which is one of the most memorable of Leonardo DiCaprio's movies was directed by Martin Scorsese. It earned the actor a British Academy Film Awards nomination, a Golden Globe Awards nomination, and People's Choice Awards nomination. It also won him two Satellite Awards and in Box office worldwide, The Departed made over $291 million.
10. The Aviator (2004)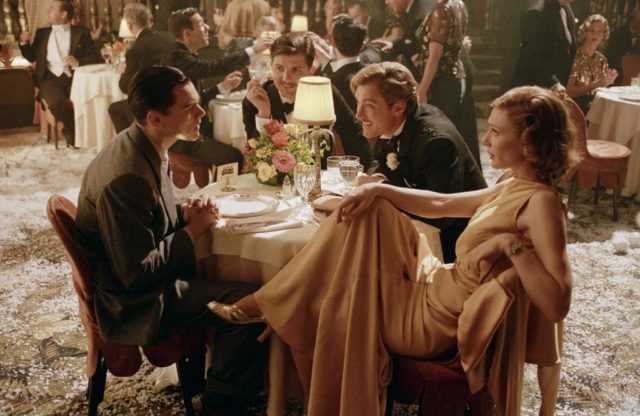 The Aviator is yet another biographical film that Leonardo Dicaprio has appeared in. The film is based on the 1993 Charles Higham book on Howard Hughes, Howard Hughes: The Secret Life. DiCaprio takes on the role of Howard Hughes, an aviator, and filmmaker who is eccentric and obsessive. He appears in the movie together with other stars like Cate Blanchett, Kate Beckinsale, John C. Reilly, and Alec Baldwin.
Even though many may want to dismiss this film, it gave him a Golden Globe Awards and also nominations for British Academy Film Awards and the Academy Awards. The movie generated $213 million worldwide.
11. Gangs of New York (2002)
You can bet that there were doubts about whether Leonardo would be able to handle this movie, but he did just that. Directed by Martin Scorsese, Leonardo DiCaprio appears in the film alongside other stars like Daniel Day-Lewis and Cameron Diaz.
He takes the role of Amsterdam Vallon who watched as his father, "Priest" Vallon (Liam Neeson) was killed by a rival gang led by William Cutting who is also known as "Bill the Butcher" (Daniel Day-Lewis). Many years later, the kid who was taken to an orphanage, returns and seeks to avenge his father. Amsterdam is ready to pay any price and reach any length in order to get the vengeance. Worldwide, the movie made $193 million in the Box office.
12. The Man in the Iron Mask (1998)
This is another very popular Leonardo Dicaprio movie in which he starred in the double roles of King Louis XIV and Philippe Bourbon. The highly fictionalized historical movie which was directed by Randall Wallace sees King Louis XIV as a leader who has lost touch with the plight of his people and is preparing for war against the Dutch Republic.
The three musketeers; Athos (John Malkovich), Porthos (Gérard Depardieu), and Aramis (Jeremy Irons) are now set to depose him but they have another Musketeer, D'Artagnan (Gabriel Byrne) to deal with before they can get to the king.
The musketeers smuggle a prisoner who has been in mask out of a remote prison and it is the identical twin brother of the king, Philippe Bourbon. It is time to depose the king. The film made over $182 million worldwide.