Knox Leon Jolie-Pitt is a 14-year-old American celebrity best known as the first biological son of Hollywood stars, Brad Pitt and Angelina Jolie. 
It must be a clear indication that you are something special when a number of renowned publications are clamouring to get exclusive rights to your first baby pictures. This was exactly the case when Knox Leon Jolie-Pitt was born as his parents; the very popular Hollywood ex-power couple, Angelina Jolie and Brad Pitt, sold his first pictures to People and Hello! magazine for a whopping $14 million.
With the young boy making history for having the costliest picture of a celebrity ever sold, it was obvious that he was destined for greatness in life. Today, Knox Leon is no longer a baby and the world is gaining deeper insight into his life story, ambitions, and dreams as he makes his way to adulthood.
The Birth and Early Life of Knox Leon Jolie-Pitt
Besides the fact of who his parents are, there is a lot to know about Knox Leon. For one, he has a twin sister named Vivienne Marcheline Jolie-Pitt. With their birth being highly anticipated, their date and even time of birth are well documented. Knox and his twin sister were born on July 12, 2008, with him arriving first at 6:27 pm and Vivienne coming a minute later at 6:28 pm.
Knox Leon couldn't have been born in a better country. Two weeks before his birth, his parents travelled to the enchanted city of Nice in France where they booked and stayed in a hotel by the seaside. In those two weeks, the paparazzi waited patiently outside the hospital for the announcement of his birth.
Knox's names are steeped in the history of his family's hierarchy. His father Brad named him Knox after his paternal grandfather while he got the name Leon from his mother's great-grandfather.
Growing up in the Jolie-Pitt household, the blonde lad, like the rest of his siblings, were not shown-off on social media as one would expect in this day and age. Their parents wanted to instead allow them to have a normal childhood while also keeping them safe from the harsh waters of the media. Because of this, he and his siblings were homeschooled. In addition to schoolwork, they were also exposed to extracurricular activities like skateboarding and taking self-defence classes.
Knox Leon Jolie-Pitt At A Glance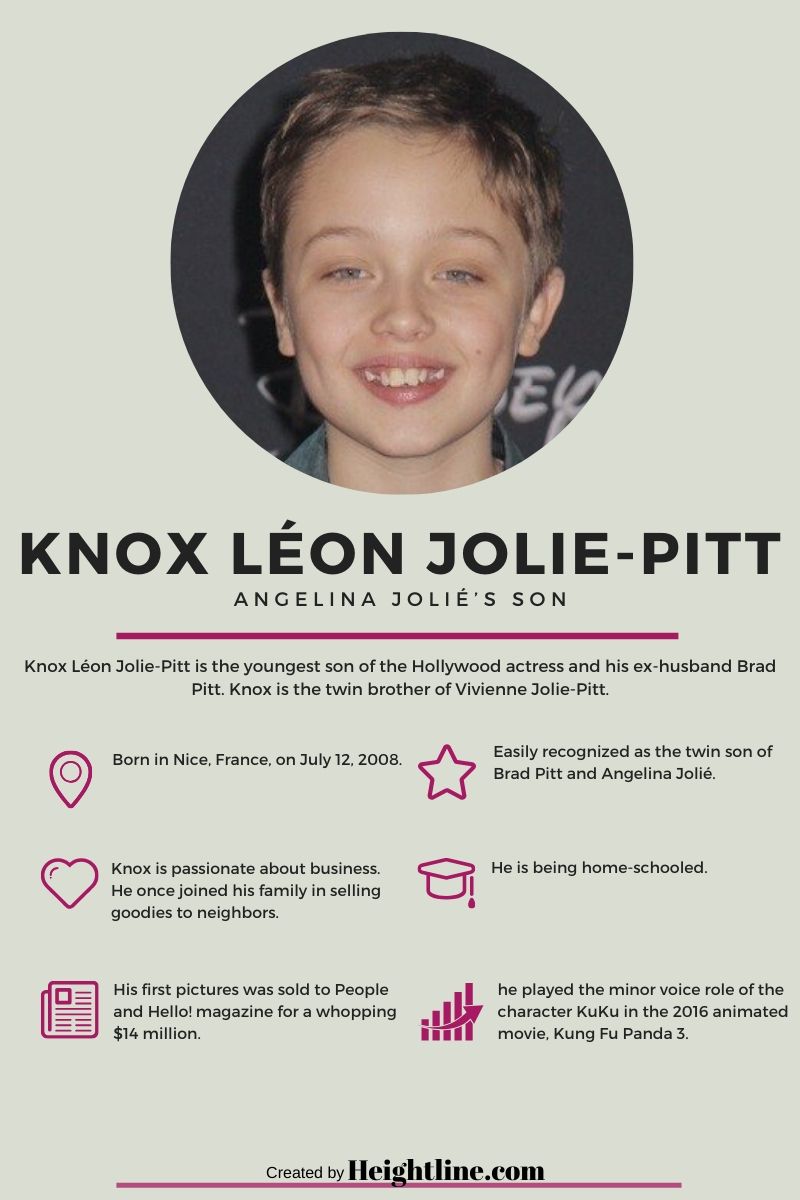 Appearances on Screen and Other Endeavours
Although it is said that Brad and Angelina do not want their kids to become actors, it seems like Knox Leon Jolie-Pitt and his twin sister may just be following in their footsteps as both kids have made cameo appearances on screen.
Knox played the minor voice role of the character KuKu in the 2016 animated movie, Kung Fu Panda 3. In addition to this, he has also done some modeling jobs. He and his sister famously modeled for Vogue magazine's November 2015 issue alongside their siblings and parents.
Despite this, however, Knox's interests appear to not lie in the entertainment industry as the young man is learning how to fly planes. Thanks to his parent's deep purses and his mother's support, he is learning the rudiments and basic techniques of flying from some of the best instructors in the country. His mother revealed that he is still having a hard time with the pedals and a few other more complex aspects of the trade so it will only be time that will tell if this is the path he will eventually take.
The Family He Comes From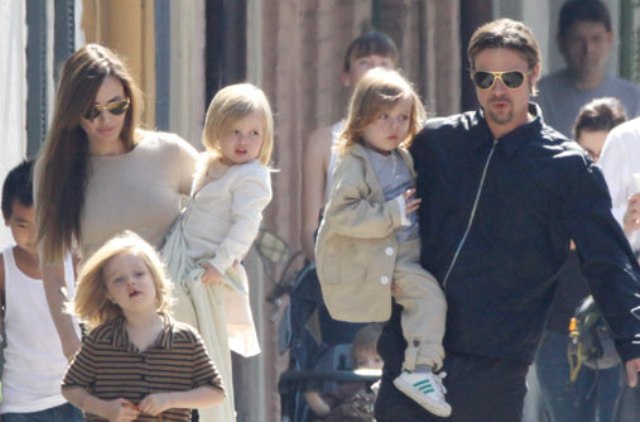 Knox Leon Jolie-Pitt's parents are undoubtedly one of the most famous names in the entertainment industry and popular culture in general. His mother Angelina has been on the big screen since 1982 when she appeared in the comedy, Lookin' To Get Out with her father Jon Voight. She went on to achieve greater fame when she played Lara Croft in Lara Croft: Tomb Raider (2001).
Brad Pitt, on the other hand, is a high profile Hollywood actor and producer who has been around since the early 1990s. Before Jolie, he was married to popular actress Jennifer Aniston. They, however, divorced in 2005, the same year he met Jolie on the set of Mr & Mrs. Smith where they both played lead roles.
After having spent close to a decade together, the couple got married in 2014 but divorced two years later. Their separation was amicable and they share legal custody of their children.
Other Interesting Things To Know About Him
His Siblings are of Different Ethnicities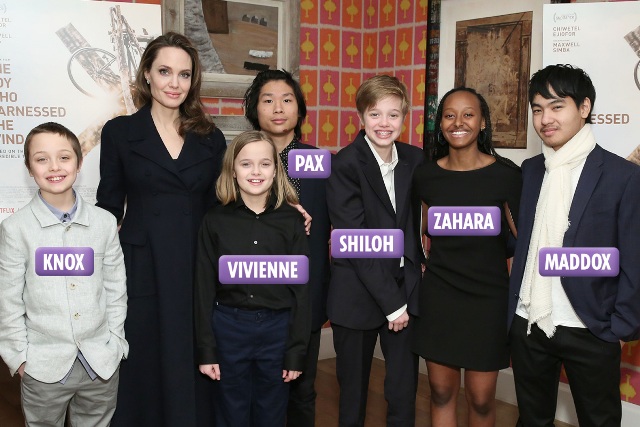 The Jolie-Pitt household feels like a mini-United Nations General Assembly meeting. This is because, alongside the couple's 3 biological kids, they have adopted three others from different countries across the globe. Knox and Vivienne's older biological sibling is a sister named Shiloh Nouvel. She was born on May 27, 2006, in Swakopmund, Namibia.
The oldest non-biological sibling of the family is a boy named Maddox Chivan who was born in Cambodia on August 5, 2001. He was adopted by Angelina from an orphanage in the country on March 10, 2002. Maddox famously played the minor role of a Zombie in the 2013 movie World War Z. He has also assisted his mother with her works during the production of the movie, First They Killed My Father, of which she served as the director. He is currently enrolled at Seoul's Yonsei University, one of Korea's most prestigious schools where he has chosen to study Biochemistry.
Following Maddox is Zahara Marley who was born in Awasa, Ethiopia, on January 8, 2005 and adopted on July 6, 2005. Like some of her other siblings, she also voiced a character in the animated movie Kung Fu Panda 3.
The last adopted child of the family is Pax Thien who was born on November 29, 2003 and adopted on March 15, 2007, from Vietnam. While Pax was adopted two years after Zahara, he is older than her. The Vietnamese born child had an uncredited role in Maleficent and also recorded some animal voices for pandas in Kung Fu Panda 3.
Knox Leon Jolie-Pitt is Multilingual
Brad and Angelina's son has a special interest in other cultures and as such, he began attending sign language classes in 2015. He has also learned a few other languages alongside his siblings. Shiloh took classes for the Cambodian language Khmer while Pax learned how to speak Vietnamese. Zahara focused on French while Maddox took German and Russian classes. Vivienne is said to have taken interest in the Arabic language.
His Sister Shiloh Prefers to be Called John
When Knox's sister Shiloh was two years old, she is said to have preferred the name John and asked her parents to call her by that name. At a very young age, the girl preferred to identify as a boy and liked to wear male clothing as well as have her hair cut rather than grow it out which would make her look more feminine.
Following her decision to identify as a boy, her parents have shown her unwavering support. They have allowed her to identify with whatever gender she is comfortable with without having any worries about what others may think of her.
Knox is a Mini-Enterpriser
Knox Leon Jolie-Pitt's older siblings have been known for their tradition of selling goodies to neighbors. Having been the youngest in the family, Knox and Vivienne joined their siblings in their mini entrepreneurial venture to sell dog treats at a local dog park in January 2019. They actually carried out the business operations on a stand they constructed at a Los Angeles dog park.
Knox Has Been Fortunate Enough To Visit Many Countries
As the son of eminent personalities in the entertainment industry, Knox Leon Jolie-Pitt has racked up many stamps in his passport despite being relatively young. He has traveled to countries such as Cambodia, England, and France, among many others with his parents and siblings.
His Maternal Grandparents and Uncle are Well-Known Actors
Knox Leon Jolie-Pitt's grandfather is veteran actor Jon Voight who has been active in Hollywood for more than five decades. Voight has made his acting brilliance evident in motion pictures and TV shows that include Midnight Cowboy, The Odessa File, Most Wanted, Enemy of the State, Pearl Harbor, National Treasure, Transformers, Pride and Glory, N.Y.P.D, Lone Star, Ray Donovan, and many others.
Angelina's father is a recipient of one Academy Award and four Golden Globe Awards. In November 2019, he was honored by United States President Donald Trump with the National Medal of Arts Award.
His maternal granny Marcheline Bertrand, on the other hand, was also a well-known actress and humanitarian before she succumbed to ovarian cancer in January 2007 at the age of 56. She is best known for appearing in films and TV series such as Ironside, Lookin' to Get Out, and The Man Who Loved Women, among others.
Following in the footsteps of his parents, Knox's uncle James Haven is also an actor and a producer who began his professional acting career in 1998. His acting credits include Stay Alive, Breaking Dawn, The Game, Original Sin, Minister's Ball, Hell's Kitchen, Deep in the Heart and CSI: Crime Scene Investigation. He served as the executive producer of the short comedy film That's Our Mary and the documentary Trudell.