JiDion is 22 years old and his real name is Jidon Adams. The American YouTuber has a penchant for taking on different monikers as part of his pranks and this has paid off as he is one of the most popular personalities on the platform at the moment.
With his channel garnering 339 million views and 4.7 million subscribers, JiDion is now a major YouTube star and is making attempts to expand his empire to other platforms such as Twitch. This particular one has been unsuccessful though as he was hit with a permanent ban from Twitch in January 2022.
JiDion's Bio
AGE: 22 Years Old
BIRTHDAY: 12th of December 2000
BIRTHPLACE: Houston, Texas
BIRTH SIGN: Sagittarius
ETHNICITY: African American
How Old is JiDion Now?
JiDion is currently 22 years old as he was born on the 12th of December 2000. His birthplace is Houston, Texas, and he has American nationality. He additionally has African American ethnicity.
There are very few details about JiDion's family background. The names of his parents are not available. It is also not known if he has any siblings.
What is JiDion's Real Name?
JiDion's real name is Jidon Adams but he is most famous as JiDion. He also has a habit of assuming different names, including the name of famous personalities when pranking people. For instance, in March 2022, JiDion pranked several students and teachers at the prestigious Harvard University by using a typewriter during classes.
Some of the teachers and students found this positively funny while others were not so impressed and threw him out of class. He wandered the campus for some time and upon happening on a group of students, introduced himself as Marquees Brownlee, the popular YouTuber who focuses on tech issues.
Is JiDion's Name Demarcus Cousins?
JiDion's name is not Demarcus Cousins as his real name is Jidon Adams. The YouTuber, however, has a close resemblance to the real DeMarcus Cousins, a famous basketball player. He has taken to pretending to be Demarcus Cousins in his pranks and vlogs. He famously did so during his Harvard trip.
It is all for humor though and in December 2021, JiDion got a chance to meet the real Demarcus Cousins at a Milwaukee Bucks game. They took pictures together and the NBA star signed an autograph for him. He thereafter shared the moment on his social media accounts.
JiDion Created His YouTube Channel at the Age of 17
JiDion first created his popular YouTube channel on the 1st of July 2018 and began posting in September 2018. These early videos did not gain much attention but he continued working on his content and hit gold when he began filming himself playing pranks on strangers.
By October 2019, he had acquired 100k subscribers and 10 million views. By June 2021, his content had been viewed 50 million times while his subscribers topped half a million.
He Became Quite Famous By the Age of 20
JiDion became quite famous by the age of 20 and he continues to soar in his YouTube dominance. His content still mostly revolves around pranks and vlogs with some of the most viewed ones including giving random strangers massages at the mall (3 million views) and asking complete strangers to marry me (4 million views).
He however continues to push the envelope. For instance, in March 2022, JiDion got a haircut whilst sitting courtside at an NBA game. The incident went viral and the video totaled not less than 7.3 million views. It is such stunts that cement his dominance in the YouTube universe.
What was JiDion's Age When He was Banned on Twitch?
JiDion was 21 years old when he was banned from Twitch. The Houston native had earlier created his Twitch channel on the 16th of February 2021 and quickly accumulated 304,503 followers. He regularly attracted thousands of viewers for each stream and was well on his way to becoming a major star on the platform. His progress was however halted when he was permanently banned in January 2022.
JiDion was permanently banned after he incited a hate raid on another Twitch star, Pokimane, on the 12th of January 2022. He made misogynistic statements toward Pokimane during her live stream. He also encouraged his fans to flock to her stream and say unkind words in her chat. Pokimane was infuriated with this and immediately reported JiDion to Twitch.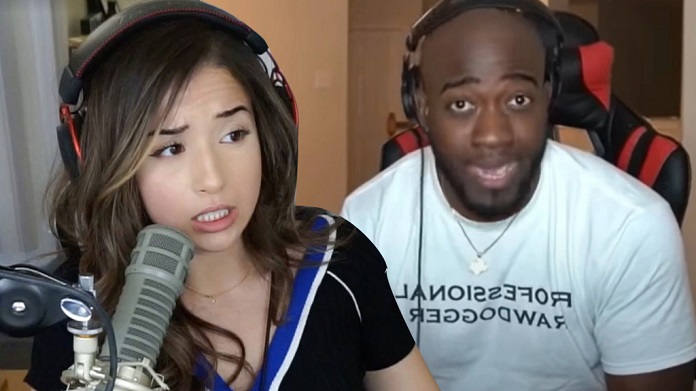 JiDion's actions were examined and he was deemed to have offended the community rules of the platform. He was initially handed a 14-day ban from Twitch but after a further review, it was found that his actions were so terrible. He was therefore handed a lifetime ban. This remains in place to date and all of JiDion's efforts to have the same rescinded have failed.
For instance, on the 3rd of April 2022, JiDion tweeted that he wanted to box with a Twitch streamer on the ground that he if won the bout, his ban would be rescinded and if he lost, he would never stream on Twitch again. Of course, his offer was not taken up and he remains banned. On a good note though, he has mended fences with Pokimane and they have even collaborated together.
I wanna Box a twitch streamer if I win Twitch has to unban me if I lose I can never stream on twitch again…

— WiDion (@Jidion6) April 3, 2022
What was JiDion's Age When He Was Arrested?
JiDion was 20 years old when he was arrested on the 11th of November 2021. The social media influencer live-streamed his arrest on Instagram and revealed that the police wanted to arrest him for arson, something he had no knowledge about. According to JiDion, he hadn't gone to the toilet for about three days and so decided to use one at an outlet of the famous pancake restaurant chain known as IHOP.
To ensure that the bathroom was not foul-smelling, he lit up some candles and went on his way. He was later arrested by cops who explained to him that arson wasn't necessarily about setting fire to property but also encompassed damaging property as a result of recklessness.
JiDion live-streamed his arrest and this caused an uproar among his many followers who immediately started trending the hashtag "Free JiDion". He was subsequently let go without any criminal charges and he tweeted his appreciation to everyone who had stood up for him.
JiDion Also Has Large Followership on Twitter and Instagram
JiDion is now one of the most well-known influencers in the United States and he has major followership on all his social media accounts. Even though he rarely posts on his Instagram account, he has 1.4 million followers there. On Twitter where he is more active, he has 327.4k followers.
JiDion usually uses his Twitter accounts to give his thoughts on general ongoing in the YouTube community and beyond. He also uses it to give fans a sneak-peek into his upcoming YouTube endeavors. JiDion also tweets about personal issues such as the death of loved ones. Also on the 27th of April 2022, he asked fans to pray for him as he was feeling ill.
JiDion Social Media Stats
YouTube: 4.7 million subscribers
Instagram: 1.4 million followers
Twitter: 327.4k followers
Twitch: 304.5k followers
He is Also a Budding Rapper and Has Several Songs to His Credit
Asides from his YouTube career, JiDion is also a budding rapper. He has not dropped any full-length songs yet but he has several short songs available on online platforms. Some of these songs serve as the intro for his videos while others serve as the soundtrack during the whole video.
Most of JiDion's songs were done in collaboration with other artists and their titles include Thick Chicks, Tyrone Cousin, I Thought It Was a Fart, No Homies Left Behind, Sibling Luving, etc.