Shiloh Jolie-Pitt is not trans, nor has she undergone any gender surgery so far. She has been a creative girl who has been exploring gender since she was two years. 
Shiloh Jolie-Pitt has been in the public eye since she was a baby and has been able to pique the interest of the media because of her gender exploration. She is a media face, entrepreneur, actress, celebrity kid, and television personality who is well known as the daughter of Angelina Jolie and Brad Pitt. Her mother is a well-known actress, famous for the movies Maleficent, Mr. and Mrs. Smith, and many more. Shiloh's father is an actor and producer, best known for Troy, Mr. and Mrs. Smith, and many others. Her parents' fame has been able to bring her to the spotlight.
What is Shiloh Jolie-Pitt's Gender? 
Shiloh Jolie-Pitt's gender is female. The celebrity kid started exploring gender when she was two years old. According to her parents, she preferred to be called John or Peter when she was two years old. In 2008, Brad Pritt revealed in an interview with Oprah Winfrey in his words, " She only wants to be called John or Peter. So it's a Peter Pan thing. So we've got to call her John." He further revealed that the names were brought up by the cartoon Peter Pan, just like every child that is engrossed in fantasy.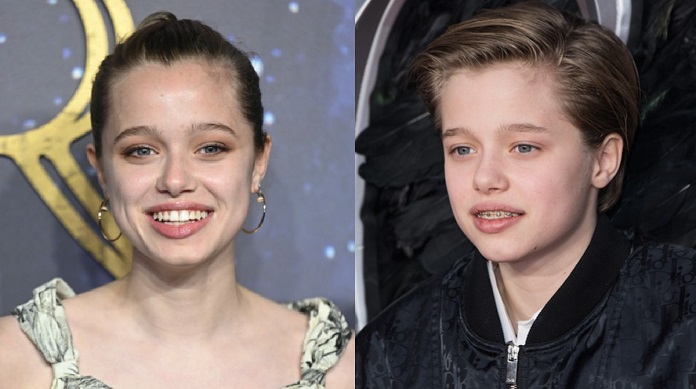 However, this did not stop some people and sources from tagging Shiloh Jolie-Pitt as the male gender. In 2010, in an interview with Vanity Fair, Angelina Jolie was questioned about her daughter's dressing, and she answered, "Shiloh we feel has Montenegro Style. It's how people dress there. She likes tracksuits, she likes suits. So it's a suit with a tie, a jacket, and slacks, or a tracksuit. She likes to dress like a boy, she wants to be a boy. So we had to cut her hair. She likes to wear boys' everything. She thinks she is one of the brothers."
Angelina Jolie further revealed in 2020, in her words, "I don't think it's for the world to interpret anything. She wanted to dress like a boy and have her hair cut like a boy, and she wanted to be called "John" for a while. Some kids wear capes and want to be Superman, and she wants to be like her brothers. It is who she is. It's been a surprise to us and it's really interesting, but there is so much more than that she is funny, sweet and pretty. But she does love a tie."
It is certain that her gender still remains female as neither she nor her family has tagged her as male. Some sources have switched her gender based on her tomboy dress and the male name that she wanted to be identified with as a child. Other things like having a haircut, colors, and hobbies also brought about the misconception. Shiloh Jolie-Pitt was just emulating those things from her brothers and father.
Shiloh Jolie-Pitt Trans Parents Have Been Of A Huge Support Since Her Gender Exploration Identity
Shiloh Jolie-Pitt's parents Angelina Jolie and Brad Pitt have been supportive of their daughter's gender exploration. When she showed interest in being addressed as John or Peter and changing her dress style, they respected her wish and addressed her accordingly. They had to give her a haircut and start dressing her like a boy. They had also been to many interviews, like that of Oprah Winfrey and Vanity Fair, where they showed their support and opinion concerning their daughter's choice.
They usually attended movie premieres with Shiloh Jolie-Pitt dressed in tuxedo suits or any other boyish attire. The child psychologist, Linda Blair, used Angelina Jolie and Brad Pitt as an example to educate parents on how to go about a child's gender exploration rather than waving it off as just a phase. The LGBT magazine The Advocate also commended both parents for their support towards their daughter.
Is Shiloh Jolie-Pitt Transitioning?
Shiloh Jolie-Pitt is not transitioning to another gender. She is seen to have changed from her tomboy dress to something that looks more feminine. In 2021, the celebrity kid set the internet in a frenzy with her dress transformation. She is seen to have grown her hair to long locks, had her ears pierced, and resorted to dressing up in girlie dresses though most of them are from her mother's closet. Prior to the premiere, she wore her mother's old Gabriela Hearst dress.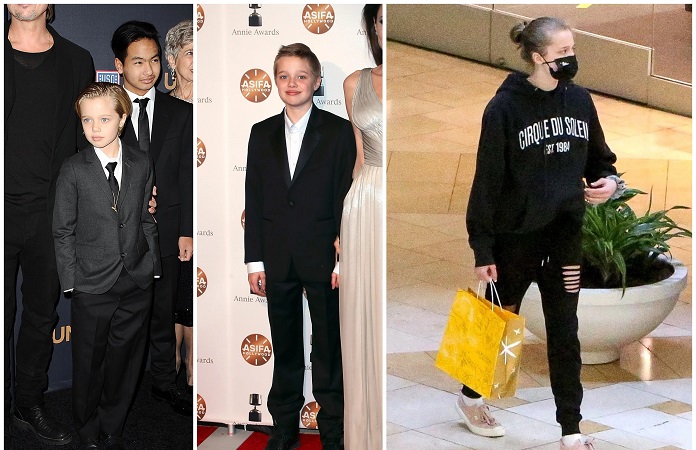 At the 2021 U.K premier of the movie Eternal, she was spotted wearing a black and white Dior gown on the red carpet. According to her mother, she asked if she could borrow the long dress, which she agreed to. Shiloh Jolie-Pitt went on to shorten the dress to above knee length and stunned in it for the movie premier instead of the big shorts, pants, and hoodies that she usually wore. On the night of the same day, she was spotted with her mother attending the movie's London premiere after-party dressed in a short black shirt dress and a colorful denim shirt paired with a trainer.
What Was Shiloh Jolie-Pitt's Surgery?
Being someone who has been in the limelight since childhood, anything about them should cause a buzz on the internet. Shiloh Jolie-Pitt had hip surgery in 2020 with her elder sister Zahara. In March 2020, Angelina Jolie stated that her two daughters underwent medical procedures that resulted in surgery but didn't reveal what it was all about. In an essay that she wrote for Time, she revealed that she had spent two months in and out of surgery.
The actress further stated that she respected her two daughters' privacy and they were aware that she was about to make their secret go viral. Shiloh Jolie-Pitt and Zahara agreed that she should talk about their surgery in an essay, which made her write about it. According to her, her daughters understood that going through medical challenges and fighting to survive and heal was something to be proud of.
Despite the fact that the actress did not specify which of her daughters underwent hip surgery, many sources pointed to Shiloh, while that of Zahara has not been revealed. Shiloh and her sister were spotted with their mother on several occasions using clutches to assist their movement. She reportedly walked with the clutches like a pro in one of the times she stepped out with her mother.
Her younger sister and other members of her family were by her side throughout the whole process. After the surgery, Shiloh Jolie-Pitt was spotted in one of her dance instructor's Youtube videos dancing to Doja Cat's Vegas. As commented by her dance instructor in the dance video, the part where she danced in the video was removed as requested by her family and lawyer as he respects her privacy.