Hanne Kim Norgaard is the ex-wife of Hollywood's A-list actor, Idris Elba. She is a makeup artist and a businesswoman who is remembered for the Make Up Your Mind To Make-Up beauty initiative.
Biography 
Kim, as she is fondly called, has no available information on her early life, family and background. Not even her birth date is available on the internet. She is most probably of a mixed ethnicity – black and Asian background. But since there is no official information on that, all we have are mere speculations. In any case, Kim has reportedly lived in five countries and is fluent in three unspecified languages.
The beautiful Amazon is most popular for her marriage to Idris Elba. Hanne Kim Norgaard was living in the UK when her paths crossed with the Hollywood star. Back then Idris was struggling to find his footing in the industry. Kim confirms that he was incredibly talented as an actor. Following that, she knew that actualizing that dream will demand a ton of sacrifice. The couple were married in 1999. Later they moved to New York where both partners were giving their talents a shot. While Idris was passionately pursuing his career, Kim was also pushing forward as a make-up artist. She did make up for serial media platforms- stage performances, TV/movies, fashion and print. Meanwhile, things took an awkward turn between the celebrity couple and they got divorced a year after the birth of their daughter Isan in 2003.
Kim's make-up hustle slacked over time but in 2008 she brought it right back with the MakeUp Your Mind To MakeUp beauty initiative. Kim worked with big names in both film and music industry. According to her professional MySpace info, she and her team had done "several special ventures" and rendered make-up services to big shots like Columbia Tri-Star. In time, she launched her own TV show on BBC. Kim has also worked with top fashion brands like Ralph Lauren, Calvin Klein, Sean Combs aka Diddy. She has also worked with NFL players and celebrities of all sorts.
See Also: Kimberly Fey Biography, Wiki, Relationship With Donnie Wahlberg, Divorce
In 2008, Hanne Kim Norgaard launched the MakeUp Your Mind To MakeUp services where her team of experts are available to render makeup services of all kinds. Kim would also organize makeup classes in Atlanta. This business offer also helped women host holiday makeup parties while stepping up their holiday looks.
Currently living in Atlanta Georgia, the celebrity makeup artist has made several public appearances with the cast of Real Housewives of Atlanta.
Hanne Kim Norgaard's Husband, Divorce and Kids
Hanne Kim Norgaard's five-year marriage to Idris Elba ended in 2003, and she has remained tight-lipped all these years about it but says she's grateful and at peace with how things turned out. Kim's personality over time has been seen to be astute and private. She is committed to not sharing details of her marriage and divorce. On the other hand without giving out too much information, Idris once said Kim could not adjust to life in New York. In essence, we could say that the demands of his acting career tore them apart.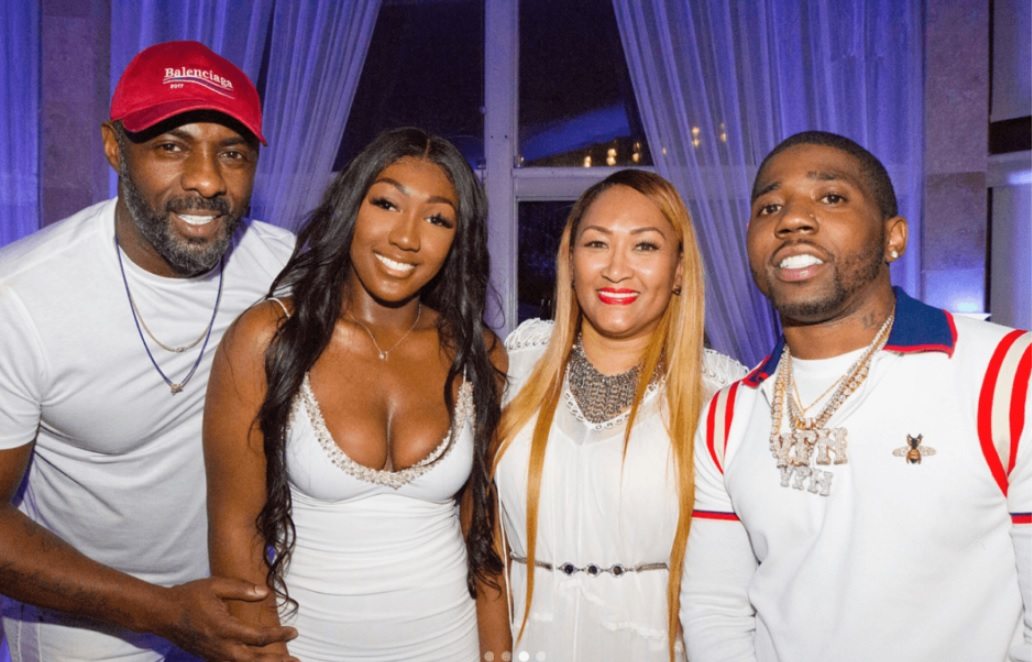 Together they have a teenage daughter, Isan Elba. During her last birthday at Park Tavern, Piedmont Park, Atlanta, the estranged couple were present and happy at the occasion. Isan has a half-brother from Idris Alba's ex-girlfriend, Naiyana Garth. Isan has always wanted to take after her father in the acting business. But after much thought recently, the black beauty intends to switch to photography and writing.
See Also: Nick Cannon's Kids, Ex-Wife And Girlfriend
After splitting from Idris Elba, Kim was single for a long time but remarried in 2013. She walked down the aisle once again with Pastor Andrew L. Friar, II. The two were married by Reverend Dr James Wade before friends and family. In a pretty romantic fashion, they rounded off the celebration with a yacht cruise. While marking their first wedding anniversary, Kim described her new husband as heaven sent… God's own special gift to her. With so much glow and joy she says she is astounded by his faith in God, "patience, understanding and confidence".
Andrew L. Friar, II is the great-grandson of COGIC founders, the governing body of the Pentecostal denomination. He is an Associate Minister of the Berean Christian Church. Together the couple runs the Heart Strong Ministries.