American singer and actress Marie Osmond has 8 children. While 3 of them are her biological children, 5 were adopted. Her first child, Stephen James Craig is a product of her marriage to her first husband, Stephen Craig while she had her two other biological children named Rachael and Matthew (who committed suicide on February 26, 2010) – with her second husband, Brian Blosil. Together with Brian, Marie adopted five more children: Jessica, Michael, Brandon, Brianna and Abigail. 
Marie Osmond's family, popularly known as The Osmonds, are a well-known show business family in the United States of America and Marie has come a long way in propagating the legacy of this family. A peculiar member of the Osmonds, Marie didn't gain fame as a member of her family's singing group.
She built her individual identity as a solo country artist and beyond singing, she is vastly admired for her works as an actress, talk show host, author, and philanthropist. Details of her career accomplishments are a story for another day but the popularity that came with it rubbed off on her personal life.
The singer, born in Ogden Utah, hails from a large family, she is the youngest and only female child of her parent's nine children. Having eight older brothers probably inspired her to build a large family of her own.
The Entertainer Has Only One Child With Her First and Current Husband, Stephen Lyle Craig
The entertainment industry is known for its high rate of failed relationships and divorce. Many would agree it is only natural an entertainer like Marie Osmond has been married thrice. What's not so common is for someone in the industry to remarry who they had divorced; this is the story of Osmond's love life. She has been married thrice to two men but none of them are her first love; neither were they whom she was first engaged to for marriage.
As she is a good-looking woman, it is expected that she must have dated several men in the past but her first known relationship was with Jeff Clayton, a fellow to whom she was engaged in earlier 1979. Nonetheless, Marie and Jeff never got married. It is said that they called off the engagement in July of the same year after they realized that marriage was a serious business and they couldn't tell if they were ready for it.
They called off the wedding but a few years later, Marie Osmond made a lifetime commitment to Stephen Lyle Craig. From what we gathered, Osmond met Craig when he was a Brigham Young University basketball player. They fell in love and soon started working towards marriage. They ultimately got married on the 26th of June 1982 but would soon part ways before they witness their fourth wedding anniversary. However, they had their only child originally named Stephen James Craig before the divorce.
Meet Stephen Blosil, The First Biological Child of Marie Osmond
Full Birth Name: Stephen James Craig
Place of Birth: Provo, Utah, USA
Date of Birth: April 20, 1983
Age: 40 Years Old
Biological Father: Stephen Lyle Craig
Wife: Claire Blosil (23 September 2011 – Present)
Occupation: Actor and Singer
Stephen is the first and only child Marie Osmond has with her first and current husband, Stephen Lyle Craig. The 40 years old was born on the 20th of April 1983; his place of birth was in Provo, Utah, and he was named Stephen James Craig. However, he would later become known as Stephen Blosil as he was adopted by Brian Blosil whom his mother married after she got divorced from her first husband in October 1985.
Stephen Blosil is mostly focused on being a family man and much isn't known about what he does for a living at the moment. He announced sometime in June 2011 that he was engaged and in September of the same year, he got married to Claire Blosil with whom he has at least three children. The oldest of eight siblings, Stephen attended Agoura High School in Agoura Hills, California, and thereafter further his education in Provo, Utah. He is often described as an actor, this is because he had a role as Brian Jessup in the 1989 TV movie, It Nearly Wasn't Christmas.
Apart from that, he has been involved in other areas of entertainment. He was seen with his mother in "The Sound of Music" and has released an album that was produced by Gary Baker.
Marie Osmond Got Married Again to Brian Blosil In 1986 and They Had Seven Children
Brian Blosil is also a part of the entertainment industry, he is a composer, producer, and a bit of an actor but is mostly known as the second husband of Marie Osmond. They were married for over two decades and their union began almost as soon as Osmond divorced her first husband. Marie and Stephen Craig divorced in October 1985 and roughly a year later, precisely on the 28th of October 1986, the singer got married to Blosil at the Jordan River Temple in Utah. But as fate would have it, their union fell apart and came to an end in March 2007.
Much wasn't known about what led to the end of their marriage but in recent times, Marie Osmond has related that she wasn't happy in the marriage. According to her, she realized she had been holding on to the marriage even though she wasn't happy when she lost her home in a fire; this was in August 2005. She described the incident as one of the most freeing things she has experienced as it dawned on her that her home is a facade to a union that has been devoid of happiness for years. In May 2007, she decided to end the marriage, and based on what she said, her children supported the move.
While the Marie Osmond and Brian Blosil marriage came to an end in 2007, they are still connected by the seven kids they had. A few years after they got married, they had their first child together, a daughter named Rachael Lauren. She was born on the 19th of August 1989. Many years later, on the 6th of June 1998, they had their second biological child named Matthew Richard.
Rachael Krueger
Full Birth Name: Rachael Lauren Blosil
Date of Birth: August 19, 1989
Age: 34 Years Old
Biological Father: Brian Blosil
Husband: Gabriel Krueger (25 December 2012 – Present)
No. of Children: Two (Rocket Jade and Wolf Krueger)
Occupation: Costume Designer and Hairstylist
Rachael Krueger is the first biological child Marie Osmond had with her second husband, Brian Blosil. She is not an entertainer like her mother but she works in the industry as a hairstylist and costume designer. Rachael has a great bond with her mother who once related that they are very similar in various ways. The older woman revealed in a 2019 interview that she and her daughter have the same personality.
Named Rachael Lauren Blosil at birth, the costume designer now goes by the named Rachael Krueger and that's because she is married to Gabriel Krueger, a fashion designer. Reports have it that the couple met while Gabriel was attending the Illinois Institute of Art. Rachael was in town to design the costume for the Donny & Marie show. The two started dating and Krueger soon proposed.
They got married on the 25th of December 2012 and are now parents to at least two children: a daughter named Rocket Jade Krueger who was born on the 14th of August 2015 and her younger brother named Wolf; he was born on the 4th of July 2019.
Matthew Richard Blosil
Full Birth Name: Mathew Richard Blosil
Date of Birth: July 6, 1999
Age: 24 Years Old
Biological Father: Brian Blosil
Occupation: Undetermined
Matthew Richard Blosil is the second biological child of Maria Osmond and her second husband, Brian Blosil. Like the rest of her kids, Maria has a great relationship with Matthew. He is not a part of the entertainment industry and it is hard to tell what career path he would settle for, but we know he is a devoted Christain who committed to a two-year church mission right after he graduated from high school at the age of 18. It was after this that he left for college and his mother is super proud of him.
In a lengthy Facebook post, Maria celebrated the man her son has become, expressing that his enthusiasm for serving people makes her want to be a better person. Matthew is still in college as of this writing; in the fullness of time, what he intends to do with his life career-wise would be revealed. But based on what his mother shared, he intends to continue building on the momentum from the mission he embarked on.
Meet The Five Children Maria and Brian Adopted
Apart from the two biological children Maria and Brian had, they adopted five children. In the order they were adopted, the five children include Jessica Marie born on the 17th of December 1987, and Michael Bryan born on the 4th of May 1991. The next child they adopted was Brandon Warren born in November 1996 followed by Brianna Patricia born on the 19th of November 1997 and then Abigail Oliver who was born on the 5th of September 2002.
Jessica Blosil
Full Name: Jessica Marie Blosil
Date of Birth: December 17, 1987
Age: 35 Years Old
Occupation: Police Officer and Counselor
Marital Status: Married to Sara (2019 – Present)
Jessica Blosil is the oldest daughter of Maria Osmond and the first child she adopted with her second husband. Jessica and Maria have a good relationship but she has not pursued a career in entertainment. Reports have it that she works as a police officer in Provo, Utah. In addition to that, she works as a counselor who guides people out of their addiction problems.
Right from her early years, Jessica has been evasive of the spotlight that came from her mother's popularity. Because of this, much isn't known about her personal life. Nonetheless, we can tell that she is a lesbian or bisexual. Sometime in June 2019, she got married to a woman named Sara. Maria witnessed the occasion and took to her Instagram page to celebrate the couple.
Michael Blosil
Full Name: Michael Bryan Blosil
Date of Birth: May 4, 1991
Died On: February 26, 2010
Cause of Death: Suicide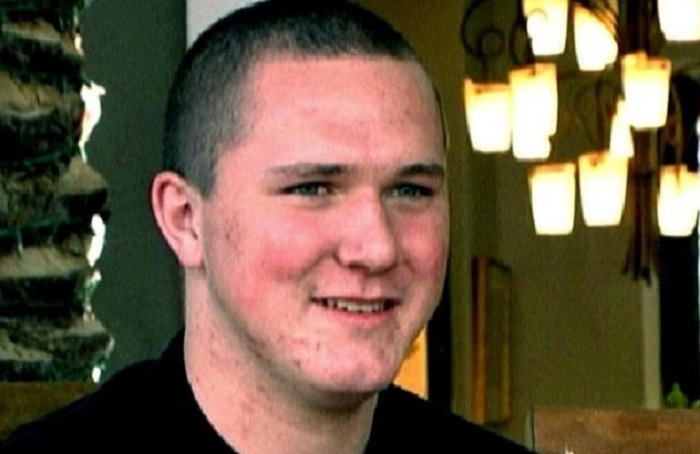 As a mother, Maria Osmond has lived through what most parents dread most, losing a child. She lost the second child she adopted on the 26th of February 2010. Michael was 18 years old when he committed suicide by jumping from the roof of his apartment in Los Angeles. He was a first-year student of the Fashion Institute of Design and Merchandising in California and his death was very hard for Maria because he called her the night he took his life. She failed to take the call as she was performing and couldn't help feeling she could have prevented his death.
Following his death, it was reported in several quarters that Michael took his life because he was struggling with his sexuality. Maria refuted this claim in an interview with Oprah Winfrey, she specified that Michael wasn't gay and divulged that he had battled with depression and substance abuse. He had his first rehab when he was only 12 years old and tried to commit suicide for the first time in 2007 after his parents' divorce. His death is probably part of the reasons his older sister became a counselor.
Brandon Blosil
Full Name: Brandon Warren Blosil
Date of Birth: November 24, 1996
Age: 26 Years Old
Occupation: Undetermined
Brandon is the third child Maria Osmond adopted with her second husband. The 26 years old has lived his life away from the exposure his mother's career affords. As such, much is not known about him and what he does for a living. Be that as it may, it's no secret that he has a good relationship with his mother. Maria often shares his pictures online to celebrate his birth anniversary.
Brianna Schwep
Full Name: Brianna Patricia Schwep (nee Blosil)
Date of Birth: November 19, 1997
Age: 25 Years Old
Occupation: Makeup-artist
Husband: Dave Schwep
No. of Children: Two Daughters (Maude and Mable Schwep)
The fourth child Marie Osmond and Brian Blosil adopted, Brianna Patricia Blosil now goes by the name Brianna Schwep as she is married to Dave Schwep, with whom she has at least two daughters named Maude and Mable Schwep. Brianna is a make-up artist, she has a great bond with her mother and they work together from time to time.
Abigail Blosil
Full Name: Abigail Olive May Blosil
Date of Birth: September 5, 2002
Age: 21 Years Old
Occupation: Undetermined
The youngest daughter of Marie Osmond and the last child she adopted with her second husband, much is yet to be learned about Abigail Blosil. She recently graduated from high school and is probably pursuing a degree in some college at the moment.
On the 4th of May 2011, over three years after her marriage to Brian Blosil packed up, Marie Osmond got married the third time to her first husband, Stephen Craig. They had a small ceremony in Las Vegas Nevada Temple to mark the occasion and she wore the same wedding dress she had worn the first time they got married.
Who Is Marie Osmond Married To?
Marie Osmond is married to Stephen Lyle Craig. They got married the first time on June 26, 1982 but eventually divorced in October 1985. Moving on, Marie married another man named Brian Blosil in 1986 but later parted ways with him in 2007. Subsequently, fate brought her back to her first husband and they remarried on May 4, 2011.​
How Many Children Does Marie Osmond Have?
The American actress has 8 children (3 biological and 5 adopted). She had her first child, Stephen James Craig, in 1983 with her first husband, Stephen Lyle Craig. Her second and third children – Rachael and Matthew (now late) were fathered by her second husband, Brian Blosil, with who she also adopted five children: Jessica, Michael, Brandon, Brianna and Abigail.
Where Does Marie Osmond's Family Live?
Most members of Marie Osmond's family live in Utah, the Mountain West sub region of the Western United States. Marie Marie herself lives in the St. George area of the state with her husband Steve Craig.
Who is Marie Osmond's Husband?
The singer's husband, Stephen Lyle Craig, is a professional basketball player who played his collegiate carrier at Brigham Young University. He came into the public eye as a result of his marriage to Marie Osmond, however, information about him is scarce.