Owing to the fact that Angie Harmon and Mark Harmon share the same last name and are both Hollywood actors, a lot of people have been curious to know if they are related. The answer is no, they are not related. 
Usually, people from the same family share the same last name but it is also not uncommon for people who have no biological relationship to bear the same family name. However, when two people in the same industry, who are also successful, have the same names, it leaves a lot of persons wondering if they share some sort of family ties. This is the case with widely celebrated Hollywood actors; Angie Harmon and Mark Harmon.
Owing to the fact they do not only bear the same last name but are also known for their roles in the crime genre, many people have been curious to know if they are related or just acting colleagues. Prompted by the actors' over thirty years age difference, some have taken to social media at different times to ask if they are father and daughter, uncle and niece, or maybe, siblings.
Angie Harmon and Mark Harmon Are Not Related
A lot of people, following some misconceptions resulting from incorrect information, believe that Angie Harmon and Mark Harmon are related, but there is nothing to prove that they have any form of familial relationship. They are both American citizens of white ethnicity who were born decades apart in different American states and have varying degrees of significance in America's professional acting world. The two have no other direct link to each other apart from being actors, so, their shared surname is simply a coincidence.
Angie Harmon Is A Native Of Texas
Angie was born Angela Michelle Harmon on the 10th of August 1972 in the highly affluent Highland Park town in central Dallas County, Texas. She is the only child of Daphne Demar (née Caravageli) and a Dallas, Texas-based hospital information network executive named Lawrence Paul "Larry" Harmon.
The actress has German and Irish roots from her father's side and is of Greek heritage from her mother's side. During an episode of the genealogy documentary series, Who Do You Think You Are?, Angie discovered that she had a German ancestor who served in the army under the military leadership of George Washington during the Revolutionary War.
As reported by Texas Monthly, Angie Harmon's parents were popular models in Dallas in the seventies. Her mother was famous for her work on the runway and her father was a regular face in Texas commercials. He was the face of Sanger-Harris, a department store chain that operated from 1961 to 1987; the face of the Kouros cologne, and the Mary Kay cosmetics man.
Angie has been married and divorced once, and is currently engaged to actor Greg Vaughan. She got engaged to her first husband, former NFL player Jason Sehorn, on March 13, 2000, on The Tonight Show with Jay Leno. The actress was appearing as a guest on the show when Leno called out her then-NFL player boyfriend as a surprise guest.
Before then, Leno asked Angie a question about her relationship life but she refused to answer. So, you can imagine the shock on her face when Sehorn came on set, walked straight up to her, went down on one knee, and popped the question. One year and a few months later, precisely on June 9, 2001, they tied the knot.
13 years later, the couple announced that they had separated and in 2016, their marriage was officially dissolved. Meanwhile, their union produced three children, all girls. The first, named Finley Faith, was born on October 14, 2003; the second, Avery Grace, was born on June 22, 2005; and the youngest named Emery Hope joined the family on December 18, 2008.
According to a source who spoke to Us Weekly at the time, distance was a major reason behind the failure of their marriage as the duo had to spend months apart. Angie spent time filming her TNT series in Hollywood while her husband lived with their kids in North Carolina. In 2017, the Law & Order actress started dating General Hospital star, Greg Vaughan, and on Christmas Day of 2019, they got engaged.
Mark Harmon Is The Son Of A Famous Sports Broadcaster In California
Going by the information on Angie's family background, it is clear that Mark Harmon is neither her sibling, uncle, nor father. The 71-year-old actor was born in Burbank, California, on September 2, 1951. He is the third and last child of his parents; Tom Harmon and Elyse Knox.
Mark's father was a famous sports broadcaster and former college football player who covered the Olympics and other major sporting events for networks such as CBS and NBC. His mother, on the other hand, was a known model, artist, fashion designer, and actress whose parents were Austrian immigrants.
The actor spoke of his parents during an interview with TV Insider. According to him, he never knew they were famous until one day when he was 8 years old and was riding in the car with his father in Ann Arbor, Michigan. The car had to stop at a crosswalk and to Mark's surprise, people who recognized his father surrounded them in a flash and were excited to see him. At that point, he said, he could recall "looking at this man I thought I knew so well and thinking, 'Who are you?'"
Mark's two older siblings are the late actress and painter Kristin Nelson, who was once married to the late singer Rick Nelson, and Kelly Harmon, the NBC Bay City Blues actress and model who was previously married to the late Automobile engineer and executive, John DeLorean.
The NCIS star attended Harvard-Westlake School where he played high school football. After he graduated, he moved on to Pierce College in Los Angeles where he finished a two-year associate degree. After his second year at Pierce, some major college football programs offered him scholarships but Mark Harmon chose the University of California, Los Angeles (UCLA) where he played as a quarterback. He was such an outstanding player that the National Football Foundation gave him an Award for All-Round Excellence in his senior year.
After two years at UCLA, Mark graduated cum laude with a B.A. in Communications in 1974. Despite being good in football, he did not think of becoming a professional football player after college, rather, he considered building a career in either law or advertising. Subsequently, he ventured into the business world, starting off as a merchandising director. However, it did not take long before he abandoned the business for acting.
In addition to his successful career, Mark Harmon also has a healthy love life. He has been married for 36 years, having tied the knot with actress Pam Dawber on March 21, 1987. Their marriage has produced two sons; Sean Thomas Harmon and Ty Christian Harmon who were born on April 25, 1988, and June 25, 1992, respectively.
Mark told TV Insider that he had a normal childhood even though his parents were famous and this was because they (his parents) "kept things real". Adopting the same method, he and his wife also raised their sons away from the spotlight and social media. As a result, they live a normal, low-profile life and are rarely seen with them in public.
Both Entertainers Have Flourishing Careers
Even though Angie Harmon and Mark Harmon have no biological attachment, they have some things in common. Both actors had parents who were in showbiz and enjoyed different levels of fame, and while Mark Harmon was a football player during his days in college, Angie also had a link to football as she was once the wife of a professional football player. Although it is not necessarily a direct connection, these are among the few interesting things that the television stars have in common.
That aside, the actors also have some things in common especially regarding the achievements they have recorded in their careers. As earlier mentioned, Angie and Mark are no strangers to a lot of people and this is as a result of the huge success they have both recorded in Hollywood following their crime-stopping roles in various American crime drama series.
Mark Harmon has been active in America's entertainment industry for more than four decades as he began his career in the early 1970s. He started his journey in the entertainment business as an actor but has since ventured into other areas such as production, directing, and voice acting.
Mark is most recognized for portraying the lead character, Leroy Jethro Gibbs, in NCIS since 2003 but besides that, he has a very intimidating list of works made for both the big and small screen, including Flamingo Road, St. Elsewhere, Reasonable Doubts, Justice League: Crisis on Two Earths, Crossfire Trail, Freaky Friday, among many others.
As a producer, Mark established a production company known as Wings Productions in 2014 to produce NCIS: New Orleans. As of 2018, he also became a producer for a new series based on the best-selling Prey novel series by John Sandford in development for CBS. Mark is also credited as the director of two episodes each of Chicago Hope in 1999 and 2000 and Boston Public in 2002.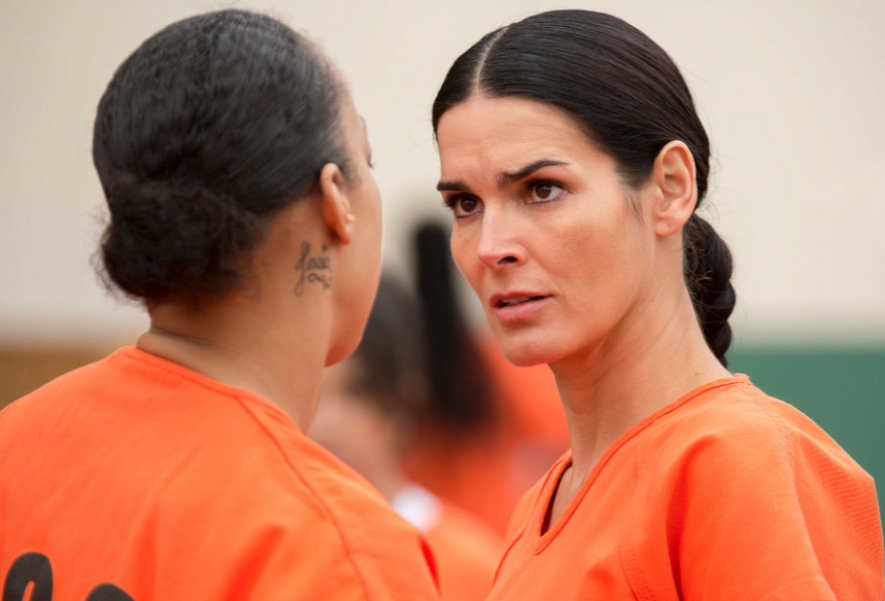 As for Angie Harmon, her acting career dates back to 1995 with some of her early works being Renegade and Baywatch Nights. She is, however, well known for the characters she portrayed in Rizzoli & Isles and Law & Order. Apart from that, her filmography has a long list of works she has appeared in both in movies and television series.
These include Agent Cody Banks, End Game where she starred alongside Cuba Gooding Jr. and James Woods, and the animated film Batman Beyond: Return of the Joker where she voiced the character of Barbara Gordon. Others are Video Voyeur: The Susan Wilson Story, Fun with Dick and Jane, Glass House: The Good Mother, Inconceivable, Women's Murder Club, Women's Murder Club, and much more.
In June 2021, Angie's amazing acting talent earned her a multi-picture development contract with Lifetime. Apart from acting, she has also tried her hands at directing. She put her directorial skills to work in the 100th episode of Rizzoli & Isles. Meanwhile, being a product of parents who are models, it is no surprise that Angie began her career in showbiz as a model.
As a fifteen-year-old Highland Park High School student, she emerged winner of Seventeen's cover model contest, beating 63,000 other contestants. Angie eventually built a successful career in modeling and has worked with several big brands such as Donna Karan, Giorgio Armani, and Calvin Klein.
She is signed with IMG Models in New York City and has graced the covers of some popular magazines such Cosmopolitan, ELLE, and Esquire. In 2008, she posed for the May issue of Allure magazine alongside four other actresses; Jill Scott, Gabrielle Union, Ana Ortiz, and Zoe McLellan.
Angie and Mark Have Won The Same Number Of Awards
Even though Mark Harmon was in the acting business for about two decades before Angie came on board, they have both received the same number of awards. Mark has been nominated for fifteen awards, including two Primetime Emmy Awards, two Golden Globe Awards, and two Viewers for Quality Television.
He was also nominated for a Screen Actors Guild Awards, one Prism Awards (which he won in 2013 for Male Performance in a Drama Series for his role in NCIS), and two People's Choice Awards (one of which he also won in 2017 for Favorite Crime Drama TV Actor).
Angie, on the other hand, has four Screen Actors Guild Award nominations all for her role in Law & Order. In 2010, she was nominated for the Women's Image Network Awards. Two years later, she won her first award, the Gracie Awards, for Outstanding Female Actor in a Leading Role in a Drama Series or Special; this was for her role in Rizzoli & Isles.
In 2014, the actress received a TV Guide Award nomination and also earned her first People's Choice Award nomination. She later won the latter in 2015 for Favorite Cable TV Actress.
Despite being staples in American crime dramas, Angie Harmon and Mark Harmon have never made an appearance on-screen together.
Key Takeaways
Angie Harmon and Mark Harmon do not have any blood relationship.
They were both born in different American states. While Angie was born in Highland Park, Texas, Mark was born in Burbank, California
Angie was born to Daphne Demar and Lawrence Paul "Larry" Harmon on the 10th of August 1972.
Mark was born on September 2, 1951, to Tom Harmon and Elyse Knox.