Google is owned by Alphabet, an American multinational technology conglomerate holding company headquartered in Mountain View, California. It was formed through a restructuring of Google on October 2, 2015. The affairs of the company are spearheaded by its founders; Larry Page and Sergey Brin.
Google LLC, formerly known as Google Inc., is a multinational American technology company specialized in the provision of internet-related products and services. It ranks among the top five companies in America's information technology sector. Google's range of products and services makes it a global household name.
The company has over 260 products and services, including artificial intelligence, email, podcast hosting, cloud computing, online advertising, hardware and software production, internet search engine, instant messaging, and language translation. Google is the most popular search engine in the world, and it generates about 85% mobile traffic.
Breakdown Of The Ownership Of Google
Larry Page and Sergey Brin are not just co-founders of Google but are also key stakeholders in the company. The duo are also controlling shareholders. They own 51% of the company's super-voting shares and about 12% of its publicly listed shares. The company's shares come in three classes: Class A shares are ordinary shares and have one vote per share, Class B are super-voting shares worth ten votes per share and cannot be traded publicly as the founders mostly own them, while Class C shares have no vote attached to them.
Google shareholders can further be grouped into two categories: institutional and individual shareholders. The company's individual shareholders are Sergey Brin, Larry Page, John Doerr, and Sundar Pichai. At the top of the institutional shareholders' list are BlackRock, Fidelity (with its affiliated entities), and the Vanguard Group.
| | | |
| --- | --- | --- |
| Name | Equities | % |
| The Vanguard Group, Inc. | 21,476,392 | 7.14% |
| Capital Research & Management Co. |  14,943,250 | 4.97% |
| Fidelity Management & Research Co. LLC |  12,134,843 | 4.03% |
| SSgA Funds Management, Inc. | 11,085,426 | 3.69% |
| T. Rowe Price Associates, Inc. (Investment Management) | 7,329,607 | 2.44% |
| BlackRock Fund Advisors |  6,956,967 | 2.31% |
| Wellington Management Co. LLP |  5,656,543 | 1.88% |
| Norges Bank Investment Management | 5,433,638 | 1.81% |
| Geode Capital Management LLC | 4,939,735 | 1.64% |
| | | |
| --- | --- | --- |
| Capital Research & Management Co. (Global Investors) | 4,000,201 | 1.33% |
Google Was Founded In 1996
Larry Page and Sergey Brin founded Google in September 1996 as Google Inc. and they hold about 14% stake of the company's public listed shares. They also have a majority of the stockholders voting power with an estimated 51% supervoting stock. Although the American computer scientists, businessmen, and internet entrepreneurs are most prominent for co-founding Google, they are also co-founders of Alphabet Inc. and co-creators of PageRank.
The Technology Company Began As A Research Project
The now extremely successful and famous Google is a brainchild of Page and Brin's Ph.D. research at Stanford University, California. The project had a third researcher named Scott Hassan who wrote most of the code for the original Google search engine. However, Hassan left the Google project before it grew into a company. Hassan branched off into robotics and founded a company called Willow Garage in 2006.
The aim of the research project that birthed Google was to find a more efficient way of analyzing the relationships among websites as opposed to traditional search engines that
classified results by counting how many times the search terms appeared on a page. Page and Brin were interested in the enormous accumulation of data on the internet and tried to understand how such data could be interpreted.
Page came up with the idea of page ranking that would be able to show the significance of a website by the number of pages and the relevance of those pages linked back to the main site. The algorithm for this initiative was called PageRank. This system would enable them to use backlinks to establish the importance or prominence of a website. In other words, the more links a website has, the better its value.
Scott Hassan helped to translate this idea into codes to enable their implementation. Once implemented, the project became known as "BackRub" and in 1998 metamorphosed into Google Inc. Page and Brin acknowledged the intellectual contributions of Scott Hassan and Alan Steremberg to the development of Google.
As Google Inc. grew, Page and Brin were joined by other computer scientists that believed in their vision. Terry Winograd and Rajeev Motwani joined them in writing the paper about PageRank and the prototype of the Google search engine, which was published in 1998 citing two other computer scientists; Héctor García-Molina and Jeff Ullman as contributors.
On 15 September 1997, the company's domain name "www.google.com" was registered and became officially incorporated on the 4th of September 1998 with its physical location at a garage that belonged to Susan Wojcicki in Menlo Park, California.
Google's Initial Funding 
Having secured a domain name and a physical site, Google's first employee was hired, a Ph.D. student at Stanford University named Craig Silverstein. Meanwhile, in August 1998 before the official incorporation of the company, Page and Brin received financial aid through an investment worth $100,000 from Andy Bechtolsheim, a co-founder of Suns Microsystems.
They also received funding from other investors, friends, and family to the tune of an estimated $1,000,000, to fund their physical site in Menlo Park. Notable among these investors were Amazon's boss Jeff Bezos, David Cheriton, a Professor of Computer Science at Stanford University, and Ram Shriram, an entrepreneur.
Investors saw great potential in Google and between the end of 1998 and early 1999, the
company received an estimated $25 million funding from Venture Capital firms: Kleiner Perkins and Sequoia Capital. At this point, Google was handling about 500,000 queries per day.
Google Began To Grow Exponentially Two Years After It Started Operations
In 2000, the company became a search engine for Yahoo, which was one of the most popular sites at the time. This led to a boom in activities on Google and by 2004, the fast-growing search engine was processing about 200 million queries per day. This teeming demand by users fast-tracked the growth and expansion of the young company.
By the year 2003, the company had relocated twice. The company later settled for a complex on lease from Silicon Graphics located at 1600 Amphitheatre Parkway Mountain View, California. The complex became known as the Googleplex, a pun on googolplex. At this stage in their operations, Google had become a universal household name and found its way into two English Dictionaries as a verb that means "to search the internet".
To effectively manage data as well as the company's overwhelming growth, Google established 11 data centers across the globe with several thousand servers in each center. These centers enabled the company to efficiently manage the enormous data that it receives on a daily basis. With more data centers came more employees to manage their workload.
At a point, the company's key investors began to have fears about how the affairs of the company were being managed because even though Page and Brin had proven themselves to be smart and intelligent, they were computer scientists and not professional businessmen. As a result, the investors saw the need to have a professional business person be in charge as the company was making progress at an explosive rate. To solve this problem, Eric Schmidt was hired as chairman and chief executive officer of the company in 2001.
Schmidt was a chief executive officer at Novell Inc (a software company) before joining
Google. While Schmidt was CEO, Page and Brin were in charge of products and technology
respectively. The trio managed the company until Page assumed the role of CEO in 2011. With this development, Schmidt became the company's executive chairman, and Brin assumed the position of director of special projects.
Google became a public company through an IPO (Initial Public Offering) on 19 August 2004, offering about 19,605,052 shares valued at $85 per share. An auction format was used to sell the shares online with Morgan Stanley and Credit Suisse serving as underwriters for the auctions.
Having achieved approximately $1.67 billion from share sales, Google's market capitalization was estimated to be more than $23 billion. After the company's initial public offering, Larry Page, Sergey Brin, and Eric Schmidt reached an agreement to work together at Google for 20 years spanning from 2004 to 2024. So with a stable capital base and efficient managerial system, Google was able to acquire other companies and expand its frontiers.
In 2006, YouTube was acquired for $1.65 billion in Google stock and DoubleClick for $3.1 billion on 11 March 2008. With the acquisition of DoubleClick, Google was able to enjoy an immense benefit from the partnerships that DoubleClick had with Web publishers and advertising agencies. In May 2012, Google swallowed the tech giant Motorola Mobility for a whopping $12.5 billion, making it its most expensive acquisition at the time.
Between 2013 and 2014, Google acquired Waze for $966 million and DeepMind Technologies for a speculated $400 million. Google saw the need to restructure its business operation having acquired other multinational companies. This restructuring led to the creation of Alphabet Inc., on 2 October 2015.
Alphabet Inc. has since its creation, transformed into a multinational conglomerate with its headquarter in Mountain View, California. It serves as a parent company to Google and some of Google's former subsidiaries. Alphabet Inc. is rated as the world's fourth-largest technology company as per revenue and one of the most valuable companies in the world. Alphabet's founders Larry Page and Sergey Brin resigned from their roles as chief executive officers in December 2019. They were replaced by Sundar Pichai, who is also the CEO of Google. Page and Brin, however, remain co-founders, employees, board members, and dominant shareholders of Alphabet Inc.
Key Takeaways
Google was founded by Larry Page and Sergey Brin in September 1996.
Larry Page and Sergey Brin are not just co-founders of Google. They are also key stakeholders and controlling shareholders of the company.
The founders are billionaires with an estimated net worth of $118.3 billion for Larry and $114.3 billion for Sergey Brin.
The giant tec. company is a brainchild of Page and Brin's Ph.D. research at Stanford University, California.
Google became a public company through an IPO (Initial Public Offering) on 19 August 2004. It has since acquired a number of companies such as Youtube, DoubleClick, Motorola Mobility, Waze, and DeepMind Technologies among other multi-national companies.
Google's restructuring gave rise to the establishment of the technology company known as Alphabet Inc. on 2 October 2015.
Scandals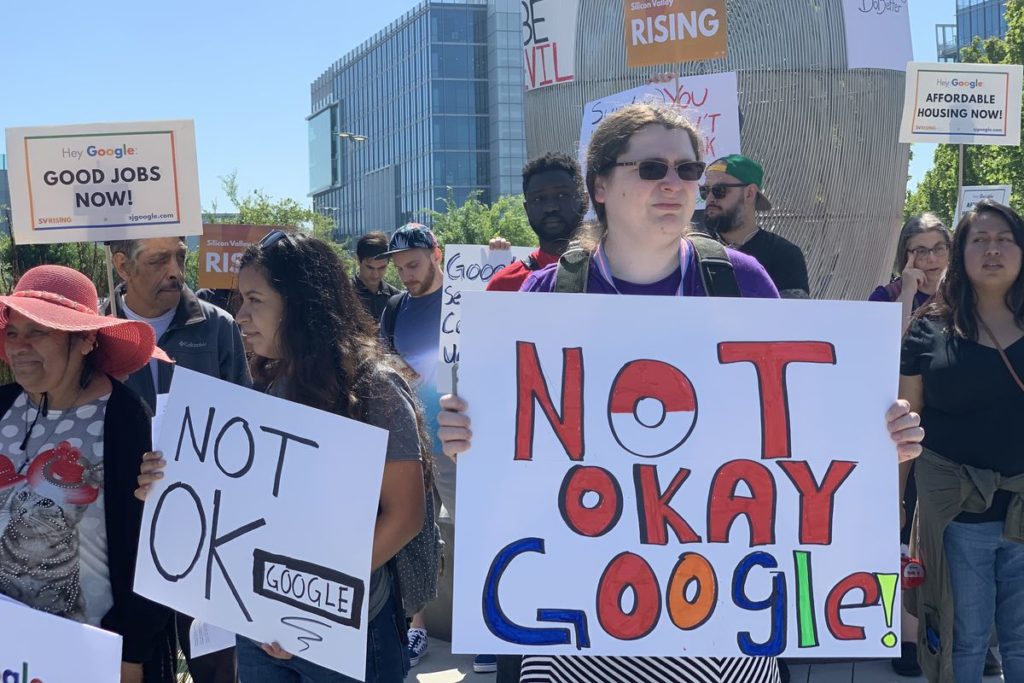 Google did not arrive at its current enviable position without scandals and oppositions. The company was slammed with a lawsuit in October 2020 in which it was accused of antitrust violations and abuse of its monopoly of the search and online advertising markets.
There have also been concerns raised by some employees challenging the company's internal workplace policies, especially regarding sexual harassment. On November 1, 2018, over 20,000 Google staff and contractors around the world organized a global walk-out in protest of the company's poor handling of complaints involving sexual harassment.
How Much Are The Founders of Google Worth?
Larry Page, with an estimated $118.3 billion fortune, is currently at number 8 on the Forbes billionaires list as of 15 August 2021, placing him among the top ten richest people in the world. Sergey Brin, on the other hand, is worth an estimated $114.3 billion and sits at number 9 on the Forbes billionaire list. He is also among the top ten richest men in the world.
Both billionaires amassed their wealth from founding and building Google into the tech giant that it has become. They have both been listed among the most 'Powerful People' and 'Richest In Tech' on the Forbes list.
What Are The Founders Up To These Days
Page and Brin stepped down from their roles as chief executive officers in December 2019. In a joint statement announcing their "retirement", they explained that the move was to allow room for a change in management. Prior to their exit from CEO duties, the billionaires had shifted their focus from internet advertising to other subsidiaries within Alphabet especially science projects. Brin is rumored to be investing time in a moonshot lab X while Page is working on a side personal project Kitty Hawk, a flying car start-up. The two billionaires are also paying closer attention to their families after "stepping down" from their roles.
Larry Page is happily married to a research scientist named Lucinda Southworth. They got married in 2007 on Necker Island in the Caribbean Island in a ceremony that was attended by about 600 celebrities and important persons, including the then President of the United States, George Bush, Oprah Winfrey, and Gavin Newsom among others. Their union has been blessed with two children. The first was born in 2009 while the second arrived in 2011.
Lucinda Southworth is the daughter of Dr. Van Roy Southworth and Cathy McLain. She was born on 24th May 1979 and has a Ph.D. in Biomedical Informatics. In case you are wondering if she is by any means related to actress and model Carrie Southworth, then wonder no more, the two are blood sisters.
On the other hand, Brin has been married twice. He got married to his first wife, Anne Wojcicki, a biotech analyst and entrepreneur, in May 2007 in the Bahamas. Together, they have two children – a son who was born in 2008 and a daughter born in 2011. Two years after, they welcomed their second child. It was announced that the couple had separated and were living apart as a result of Brin's affair with Google Glass's marketing director Amanda Rosenberg. In June 2015, their union was officially dissolved.
Brin would later get married to his current wife, Nicole Shanahan, in 2018. Nicole is a legal tech founder and together with Brin, she has a daughter who was born towards the end of 2018.