Sundar Pichai is married to Anjali Pichai. Although the exact date they got married is unknown, it is believed to be sometime in the 1990s. The couple's union has produced a son and a daughter respectively named Kavya Pichai and Kiran Pichai. 
Sundar Pichai certainly needs no introduction to anyone familiar with the key decision-makers of the tech world as the business executive serves as the Chief Executive Officer of both Google and its parent company, Alphabet Inc.
The exceptionally talented graduate of the Indian Institute of Technology Kharagpur (B.Tech) and Stanford University (MS), first became the top man at Google – the world's leading search engine and member of the Big Four technology companies in 2015.
This appointment came more than a decade after he originally joined the outfit as a materials engineer. With the company having enjoyed admirable growth under his leadership within a four-year span, Pichai was named CEO of Alphabet in 2019 in order to ensure parallel growth across all boards of the tech company.
A hugely influential man, many have become interested in his life beyond his professional life, and on the family front, Pinchai is doing well as well, his love story is equally as inspiring as his journey to the pinnacle of his career.
Sundar Pichai Met His Wife Anjali In College
Sundar's love story with his wife Anjali dates back to their time in college at the Indian Institute of Technology Kharagpur located in the eastern state of West Bengal. As one would expect of a geek, Sundar was painfully shy in school, revealed one of his friends.
He found it difficult to speak to girls even if he was sitting very close to one of them, he would not even look at them, however, that shyness disappeared when he laid eyes on Anjali for the first time. One of his friends Phani Bhushan who was his classmate and roommate revealed after Sundar became Google's CEO that he is certain the feat of becoming CEO was easier for him to achieve than declare his feeling to Anjali.
Sundar himself shared the story of how they met during a visit in January 2017 to his alma mater in India where he addressed over 3,000 students. He said it was a time when there were no smartphones and every time he wanted to see her, he would have to walk across to the girl's hostel, speak to someone at the front desk who would go into the hostel and with a loud voice say "Anjali, Sundar is here." The Google CEO described this as a very unpleasant experience.
They Had A Period of Long-Distance Relationship
The duo started out as just friends and after a while began dating. Being that they were both engineering students and studied some courses together, their initial meeting could have happened when they attended class together for the first time. When they got to their senior year in college, Sundar summoned the courage to propose to Anjali and she said yes.
Sundar Pichai and his wife, Anjali, in New York in 2002   / Bloomberg pic.twitter.com/MR5nxqhQAR

— #MaskUp 🇮🇳 (@TRSaranathan) August 11, 2015
However, the couple were about to face the most difficult moment in their relationship. After college, Sundar had to move to the United States to further his studies as he had been admitted to Stanford. Sundar was yet to be financially independent at the time and would go for as much as 6 months without speaking to Anjali due to the high cost of international phone calls which he was unable to afford. While she must have missed her fiance, Anjali perhaps did not have much to worry about or reasons to question Sundar's faithfulness to her, the painfully shy and geeky Sundar would have most likely not considered putting himself to the difficulty of speaking to other women.
After graduating from Stanford with a Master's degree in materials science and engineering, Sundar got his first job in a semiconductor firm. His first degree in IIT was in metallurgical engineering.
Anjali would later join him in the United States. Armed with a steady stream of income, Sundar was finally ready to marry the love of his life, he asked permission from Anjali's father and soon the two were married.
While the exact year they got married is not known, it is most likely to be in the late 90 or early 2000s. After their wedding, the couple decided to reside permanently in the United States.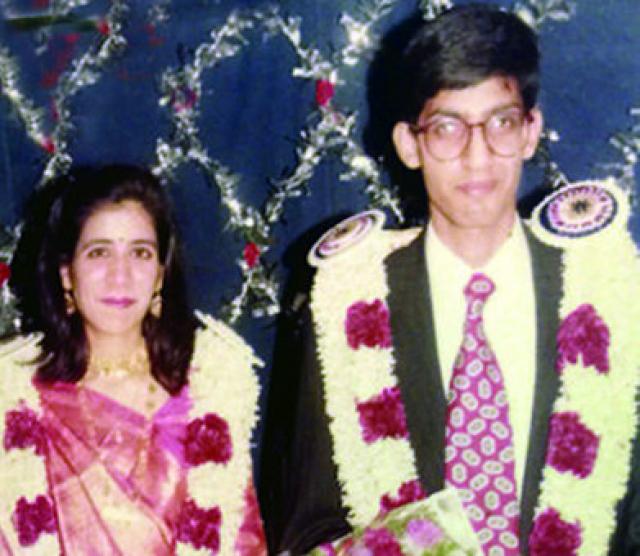 They live in Los Altos, California an upscale area of Silicon Valley in a property they bought for $6 million in 2014. They designed their contemporary home in the area with the help of architect Robert Swatt. The house which sits on about 3-acre land measures 10,000 square feet and has amenities including an infinity pool, a reflecting pond, a garage of more than 800 square feet, a gym, and a wine cellar.
Anjali Is A Business Operations Manager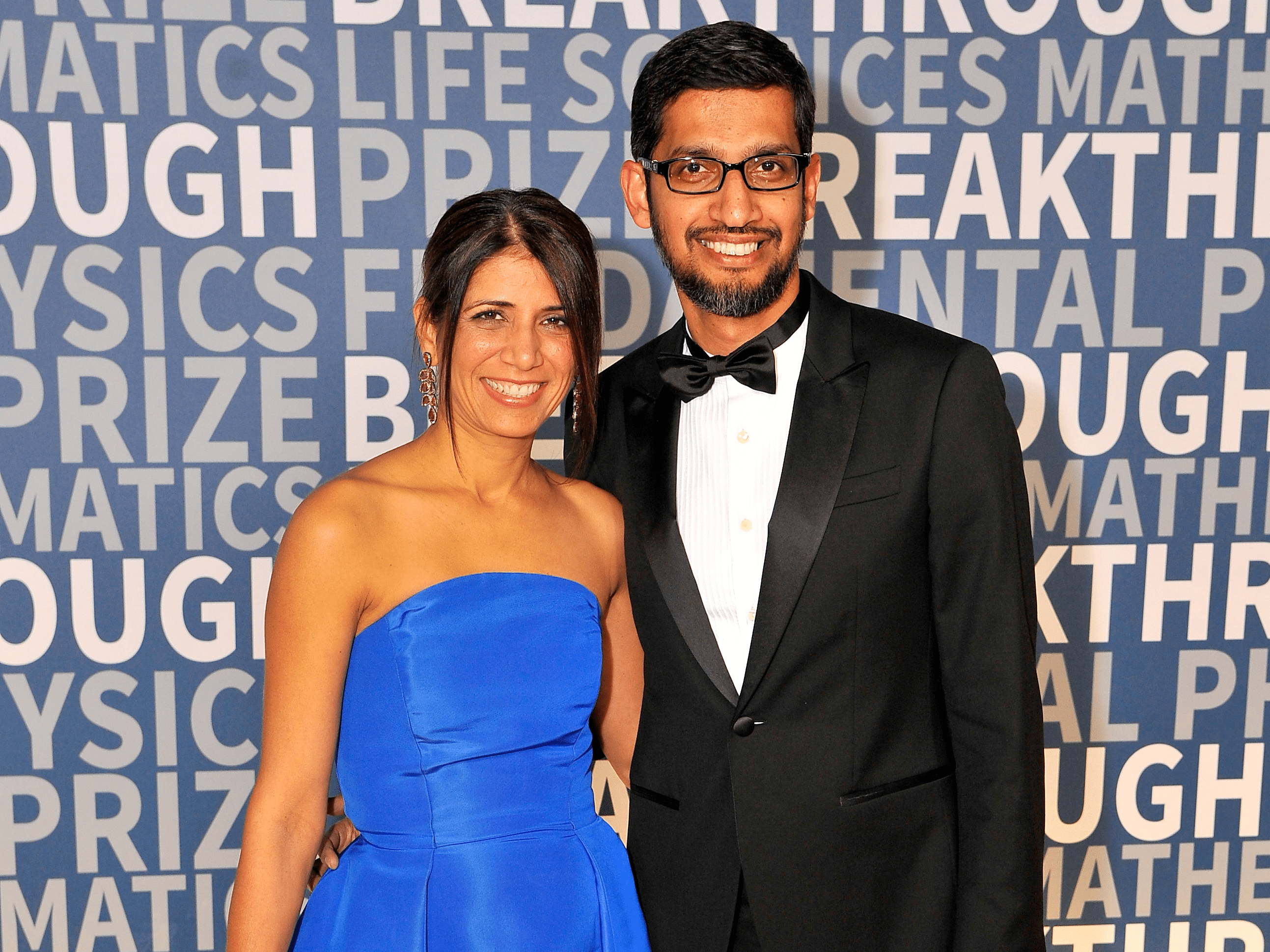 Anjali was born in Kota, Rajasthan and she studied chemical engineering at the Indian Institute of Technology Kharagpur, graduating in 1993. She was born to her father, Olaram Haryani who previously worked at Government Polytechnic College in Kota.
After Anjali's mother passed away in 2013, he remarried a 65-year-old woman named Madhuri Sharma, and together they now reside in Mumbai, India. Anjali was not the only child of her parents, she grew up with her brother, Amit Haryani who attended the Indian Institute of Technology Bombay in Powai, Mumbai. He now lives in Jersey City, New Jersey with his wife Shubhra Bhatnagar.
According to her LinkedIn profile, Anjali Pinchai in 1999 began working with Accenture, a global management consulting firm that provides strategy, digital and technological services. She worked at Accenture for three years as a Business Analyst before moving to take the position of Business Operation Manager at Intuit, a software company.
Anjali is considered a huge factor in Sundar's success. Her encouragement and his hard work have proven to be a great mix as she advised him to keep working at Google even though he had reportedly gotten offers to become the CEO of tech companies like Twitter, Yahoo, and Microsoft.
How Many Children Does Sundar Pichai Have?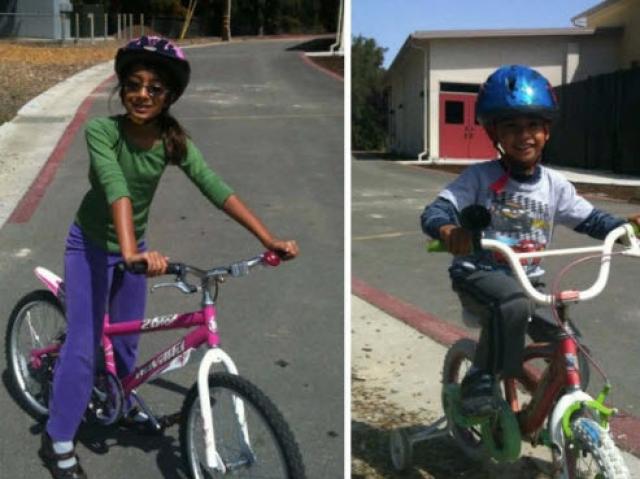 Sundar Pichai and his wife Anjali Pichai have started a family and now have two children together. It is public knowledge that they have a daughter named Kavya Pichai and a son called Kiran Pichai.
The couple are not ones to share too many details about their children as they rarely post them on social media. It is however known that they own a dog named Jeffree. Their Los Altos mansion does include separate apartments for the nannies who would definitely come in handy considering the couple's seemingly busy lifestyle.
In an interview with the New York Times, Pichai told the publication that his family has limited access to a television.
"When I come home on a Friday evening, I really do want to let go of my devices for a couple days. I haven't quite succeeded in doing that. At home, our television is not easily accessible, so that there is "activation energy" before you can easily go watch TV.
I'm genuinely conflicted, because I see what my kids learn from all this. My son is 11 years old, and he is mining Ethereum and earning money. He's getting some insight into how the world works, how commerce works.
Every generation is worried about the new technology, and feels like this time it's different. Our parents worried about Elvis Presley's influence on kids. So, I'm always asking the question, "Why would it be any different this time?" Having said that, I do realize the change that's happening now is much faster than ever before. My son still doesn't have a phone."
You can read his full interview here at the New York Times.
Sundar Pichai at a Glance:
Full Name: Pichai Sundararajan
Date of Birth: June 10, 1972 (age :95 years old)
Place of Birth: Madurai, Tamil Nadu, India
Father's Name: Regunatha Pichai
Mother's Name: Lakshmi Pichai
Wife:   Anjali Pichai (Class mate at IIT Kharagpur)
Children: 2 (Kiran Pichai, Kavya Pichai)
Nationality: India born American
Height: 1.80 metres
Sundar Pichai's Education: 
He completed schooling in Jawahar Vidyalaya, a school in Ashok Nagar, Chennai, India and completed the Class XII from Vana Vani school, situated in the campus of the Indian Institute of Technology Madras in Chennai, Tamil Nadu, India
B.Tech: IIT Kharagpur
Master of Science (MS): Stanford University
MBA:  Wharton School of the University of Pennsylvania
Hobbies: Football and Cricket