Snapchat is owned by Snap Inc., previously known as Snapchat Inc., and was founded on the 16th of September 2011 by three former students of Stanford University: Reggie Brown, Bobby Murphy, and Evan Spiegel.
Since it drew its first breath of life, Snapchat has evolved from being an app where pictures and massages are available to recipients for a short time before they disappear. It has also moved away from person-to-person photo sharing and now has features for episodic content and Snapcash which has been embraced by adult content creators. More so, it now allows private premium accounts for users to monetize their content.
While Snapchat has been involved in multiple controversies that range from spying on users to serving as a hub for revenge porn and what have you, it has continued to survive. With 293 million active daily users and an average of four billion Snaps sent every day, it is obvious that the company has something substantial to hold on to amidst the many competitors it has. A publicly-traded company, Snapchat went public in 2017 with a $25.5 billion valuation.
While competition from Instagram slowed its growth in the year that followed and saw its valuation drop, the company has picked itself up and is currently valued at $90.9 billion (2021). Its stock value soared by over 350 percent from 2020 to 2021. Expectedly, this growth had piqued people's interest in the owners of the company, with many wondering to what extent the growth has reflected in their wealth.
Snapchat Is Owned By Snap Inc., An American Social Media Company Headquartered In Santa Monica, California
Snapchat has been around for over a decade. The multimedia instant messaging app was initially released as Picaboo on the 8th of July 2011. It is owned by Snap Inc. which describes itself as a "camera and social media" company. Snap Inc. operates around the world but it has its headquarters in Santa Monica, California, U.S.
The company was founded by three classmates from a private research university in Stanford, California, Stanford University. They are Bobby Murphy, Evan Spiegel, and Reggie Brown. Apart from Snapchat which remains its major offering, the company has developed other technological products and services, including Bitmoji and Spectacles.
The latter, as its name suggests, is a line of smart glasses the company designed tailored toward recording videos on Snapchat. Bitmoji, on the other hand, is an app that allows users to design personalized stickers they can use in massaging apps. It was in July 2016 that Snap Inc. acquired the parent company of Bitmoji, Bitstrips, for $100 million.
Umm so #Snapchat CEO Evan Spiegel gave himself a $637M stock award.

He has 48.4% of the voting power – cofounder Robert Murphy holds 47.4%. That leaves only 4.2% for everyone else…

This doesn't look very good if I were an #Investor in #SNAP pic.twitter.com/BQE0HbBaWY

— Scott Levy (@FuelOnline) February 22, 2018
Originally known as Snapchat Inc., the company rebranded itself as Snap Inc. on the 24th of September 2016. It was said that this was done so that it could incorporate Spectacles as a brand under its portfolio. In November of that same year, Snap Inc. was ready to go public and thus filed documents for its stock launch with an estimated market value of $25 – $35 billion.
Before it eventually went public, Snap Inc. among other things, established an international headquarters in Soho, London; this was in January 2017. March 2017 came and the company went public with SNAP as its trading symbol. Its performance was regarded as the biggest tech debut as its price climbed by almost 50 percent and reached $30 billion in market cap.
It was said that Google offered the same amount to acquire the company in early 2016 but was refused. Its valuation after its initial public offering fell to $18.5 billion in 2018 and further dipped to $16.1 billion the following year. It climbed in 2020 to $19.4 billion and has skyrocketed to $90.9 billion as of April 2021.
How Reggie Brown, Bobby Murphy, and Evan Spiegel Developed and Launched Picaboo Which Became Snapchat In September 2011
Anyone who looks for the history of Snapchat would find that the American multimedia instant messaging app was initially released in September 2011; this is true but not where the story began. The app was first launched on the 8th of July 2011 as Picaboo on the iOs operating system. As the story goes, it was Reggie Brown that came up with the idea for Snapchat.
It is said that he was a bright student right from his high school days at McCallie School, a private school in Chattanooga, Tennessee. He was reportedly honored as a National Merit Commended Scholar and was a member of the Cum Laude Society. Brown's great grades made it possible for him to be accepted into Stanford where he presumably met Evan Spiegel and Bobby Murphy for the first time.
Sometime in 2011, while studying with a major in English, Reggie Brown was struck with the idea of having a mobile app through which users can send and receive disappearing picture messages. Convinced that his idea could amount to something meaningful, he shared it with Evan Spiegel who was his hostel mate at Stanford.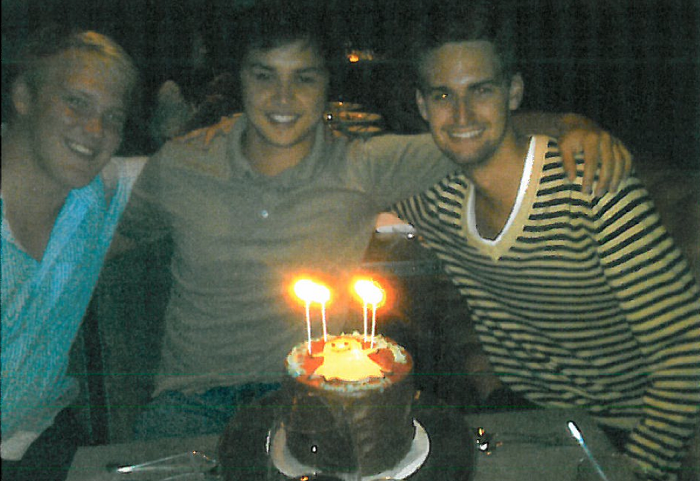 Brown went to Spiegel because he had business experience. They decided to create the app but need someone with experience in coding, this was how Bobby Murphy came in. After Reggie and Evan reached out to Boddy to serve as the coder for the projects, they reached an agreement for Bobby Murphy to be the Chief Technology Officer of the company while Evan Spiegel and Reggie Brown respectively serve as its Chief Executive and Chief Marketing Officer.
In addition to that, they decided that they would each get one-third of ownership and profit interest. These were all verbal agreements and with that, they set out to develop the app in Pacific Palisades at Evan Spiegel's father's home with Reggie designing the famous logo of the app which he fondly called Ghostface Chillah. In July 2011, the three launched Picaboo on iTunes Store but they were soon embroiled in a disagreement that saw Reggie Brown ousted from the company.
From what we gathered, they quarreled over the phone over what Reggie had contributed to the development of the app. Dissatisfied, Evan Spiegel and Bobby Murphy decided to change the passwords for the app's server and accounts. Reggie Brown wouldn't walk away without a fight; he dragged Spiegel and Bobby to court in 2013.
Reggie Brown's Lawsuit Ended In a $157.5 Million Settlement In September 2014
2013 was quite a difficult year for Snap Inc. as it had to weather several storms. Notably, the app was hacked on the 31st of December 2013 with 4.6 million usernames and phone numbers leaked on the internet. Earlier that year, precisely in February 2013, its founders, Evan Spiegel and Bobby Murphy, alongside its early investors, were dragged to court by a disgruntled Reggie Brown.
In his court documents, Brown detailed how he worked with Evan and Bobby to found the original selfie app that eventually morphed into Snapchat. He argued that he came up with the original concept for Snapchat, designed its logo, and promoted the company which he originally named Toyopa Group, LLC. To support his case, he presented several documents that chronicled his collaboration with Evan and Bobby, including an original patent filling with the signatures of the three.
While Reggie Brown insisted that he is an equal partner with Evan and Boddy, they maintained that he was an intern who ought to be grateful for the experience he gained as they worked to develop the app. But then, details of the events surrounding the project suggested otherwise. These include several notes and documents of important occasions that Reggie started keeping after he reportedly overheard Spiegel and Murphy plotting how to oust him.
To cap it all, he presented a text message from Spiegel wherein he promised to ensure that Reggie is given credit for the idea that birthed Snapchat. At the end of the day, Evan and Bobby reached an agreement with their estranged friend. It was on the 9th of September that Snapchat announced that it had settled the Reggie Brown lawsuit.
Its statement expressed that the case was settled satisfactorily and acknowledged Reggie Brown's contribution to creating and launching the app. Although the amount involved was not disclosed, it was later revealed that Snapchat paid Reggie $157.5 million. The amount was revealed in the company's February 2017 SEC public filing.
Key Takeaways
Snap Inc. headquartered in Santa Monica, Califonia is the company that owns Snapchat.
The company was founded in September 2011 by Bobby Murphy, Evan Spiegel, and Reggie Brown.
Spiegel and Murphy ousted Reggie after the app launched as Picaboo in July 2011
Reggie Brown sued Spiegel and Murphy and received $157.5 million as compensation.
Snap Inc. stock launched in March 2017; Spiegel and Murphy are its biggest individual shareholders.
Top Four Individual Shareholders of Snap Inc. and Their Net Worth
Snap Inc., the company that owns Snapchat is a public company, is not completely owned by Evan Spiegel and Bobby Murphy. Since Snap Inc.'s stock launched in 2017, several individuals and mutual funds have acquired some percentage of ownership.
1. Bobby Murphy (Chief Technology Officer of Snap Inc.)
Full Name: Robert Cornelius Murphy
No. of Shares Owned: 78,193,804
Percentage of Ownership: 4.95%
Net Worth: $14.5 Billion
Evan Spiegel and Bobby Murphy, co-founders of Snapchat pic.twitter.com/rSNLCKIp6g

— Richful Thinking (@johnjlord) March 6, 2016
The American software engineer and internet entrepreneur was born in Berkeley, California, on the 19th of January 1988. The 34 years old was named by Time magazine in 2014 as one of the 100 Most Influential People in the world. He graduated from Stanford University where he obtained his Bachelor of Science degree in Mathematical and Computational Science.
While Murphy is the last person that joined Evan Spiegel and Reggie Brown to work on creating the Snapchat app, he is now the biggest individual shareholder of the company that owns the app. As of this writing, he holds a total of 78,193,804 Snap Inc shares which represents 4.95% ownership. It is the major source of his wealth currently estimated at $4.5 billion.
2. Evan Spiegel (Director and Chief Executive Officer of Snap Inc.)
Full Name: Evan Thomas Spiegel
No. of Shares Owned: 36,581,337
Percentage of Ownership: 2.31%
Net Worth: $13.2 Billion
Evan Spiegel is an American entrepreneur who co-founded the mobile application Snapchat along with Robert Murphy. pic.twitter.com/XmV8AkmPD8

— Source Soft Solutions (@SourceSoftSol) March 4, 2014
The youngest billionaire in the world as of 2015, Evan Spiegel is famous as one of the founders of Snap Inc. He was born in Los Angeles, California on the 4th of June 1990. The 32 years old attended Crossroads School for Arts and Sciences in Santa Monica and would later proceed to Stanford University where he met Bobby Murphy and Reggie Brown with whom he launched what would become known as Snapchat.
As of September 2021, he owns 36,581,377 shares of Snap Inc. which represents 2.31% ownership and his net worth is estimated at $13.2 billion. He has served as the CEO of the company from its inception. Evan is a family man, he got married to the famous Australian model Miranda Kerr in 2015 and they are now parents to two kids named Hart and Myles Spiegel.
3. Jeremi G. (Chief Business Officer of Snap Inc.)
Full Name: Jeremi Ann Gorman
No. of Shares Owned: 1,742,830
Percentage of Ownership: 0.11%
Net Worth: Undetermined
Profile of Jeremi Gorman, Snap's chief business officer, credited with turning around Snap's ad business, which is expected to make $1.36B this year, up 30% YoY (Megan Graham/CNBC) https://t.co/SAEck5fiKQ #TechNews #TechTips pic.twitter.com/QfXXJB8Utu

— Vanuatu Tech Feed (@vanuatutech) August 5, 2019
Jeremi has been serving as the Chief Business Officer of Snap Inc. since November 2018. Before this, she worked with Amazon for over six years. She first served the company as Head of Entertainment Advertising Sales from 2012 to 2015 and then as Head of Advertising Sale, North America until June 2018 when she became the Head of Global Field Sales.
Jeremi graduated from the University of California, Los Angeles in 1999 with a Bachelor of Arts degree. In the years that followed, she worked for MonsterTRAK.com, Variety Magazine, and Yahoo respectively as a Marketing Communications Manager, Director of Sales, and Director for Advertising Sales.
4. Jared Grusd (Chief Strategy Officer Snap Inc.)

No. of Shares Owned: 1,703,143
Percentage of Ownership: 0.11%
Net Worth: Undetermined
Huffington Post Appoints Former AOL Executive Jared Grusd CEO http://t.co/y6vcMC2BBs pic.twitter.com/IQggaVgdE4

— TheWrap (@TheWrap) August 6, 2015
Jared Grusd is quite a popular figure in the American business scene. He has been the Chief Strategy Officer of Snap Inc. since November 2018 and also serves as a Senior Advisor to the CEO of the company.
Jared attended Harvard-Westlake School and later proceeded to the University of Pennsylvania where he obtained a BA degree in 1997. Thereafter, he attended the University of Chicago Law School and acquired a Doctor of Law. That's not all; he also attended Columbia Business School for his M.B.A.
Grusd has worked with some of the biggest companies in the United States, including Google, Inc. He worked with the company for over three years before he moved on to work with AOL., co-found Shake, Inc., and serve Spotify and Verison Media in various capacities.
Top Institutional Owners of Snap Inc.
| | | |
| --- | --- | --- |
| Stockholder | Shares Owned | Stake |
| T. Rowe Price Associates, Inc. | 141,249,369 | 8.93 Percent |
| T. Rowe Price | 80,358,718 | 5.08 Percent |
| Vanguard Group Inc | 60,392,107 | 3.82 Percent |
| Capital Research and Management Company | 56,241,761 | 3.56 Percent |
| Morgan Stanley – Brokerage Accounts | 54,835,225 | 3.47 Percent |
| Edgewood Management LLC | 50,449,670 | 3.19 Percent |
| Fidelity Management & Research Company LLC | 50,127,623 | 3.17 Percent |
| FMR Inc | 48,117,002 | 3.04 Percent |
| BlackRock Inc | 46,964,718 | 2.97 Percent |