Tara Lipinski's net worth is $25 million. The American celebrity built up the majority of her wealth during her days as a champion figure skater in the 90s. Her prowess on the ice helped her bag endorsement deals and tour appearances, with her earnings running into $2-$3 million per annum.
Lipinski quit figure-skating in 2002 and has since reinvented herself as a sports commentator. She is now a popular personality on NBC and earns a salary that runs into seven figures each year.
How Did Tara Lipinski's Net Worth Accrue?
Tara Lipinski made her money from endorsement deals, performance tour fees, as well as championship winnings. She has also earned a handsome sum from her broadcasting career for NBC as well as the few movies that she has featured in over the years.
Tara Lipinski Earned Tens of Thousands of Dollars for Her Olympic and World Championship Winner's Medals
One of the first ways Tara Lipinski made money was her earnings from winning various figure skating championships. Lipinski began skating as a nine-year-old in 1991, and by 1994, she had won a gold medal at the United States Olympic festival. She then went on to dominate for much of the 90s, winning numerous championships. They include the 1997 world championship as well as a gold medal at the 1998 Olympics.
The exact winner's checks that Lipinski collected from these various tournaments are not known, but United States athletes at the 1993 Olympics collected $15,000 for an Olympic gold medal. Lipinski would have therefore earned something slightly higher than that by the time she won gold in 1998.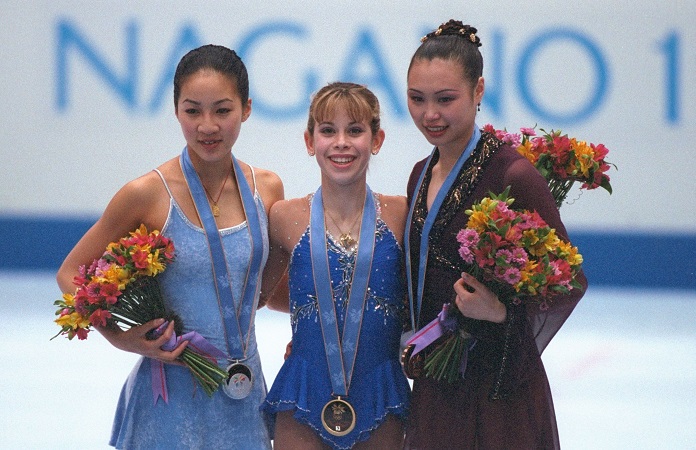 Endorsement Deals with the Likes of Chevrolet and Disney Contributed to Tara Lipinski's Net Worth
Tara Lipinski's victories as a figure skater between 1995 and 1997 made her a popular figure throughout America. By the time she won a gold medal at the Olympics, her popularity soared through the roof. Her blonde, blue-eyed looks gave her the persona of a believable all-American girl, and so, many companies tapped her to endorse their products.
Some of the companies that Tara Lipinski has endorsed over the years include Chevrolet, DKNY Kids, Minute Maid, and Campbell's Soup. She also marketed a hugely successful Olympic-themed doll for the toy maker Mattel. At the peak of her fame in the 90s, Tara Lipinski earned from $2 to $3 million per annum from endorsement deals.
Tara Lipinski Pocketed Between $12k and $20k per Single Performance on Tour
Thanks to endorsement deals and the likes, Tara Lipinski's net worth was already $12 million by the time she was 16 years old in 1998. She then made even more money when she decided to go pro that same year. From 1998 to 2002, she joined various touring ice shows such as Champions on Ice and Stars on Ice and performed with them all over America.
Some of the tours saw her stop in 90 cities, while others were in about 60 cities. In the early days, Tara Lipinski earned about $5000 for every single performance on tour. However, following her exploits as an Olympian, her fame and worth skyrocketed, and she started receiving from $12k to $20k for each performance.
Book Authorship is Also a Source of Tara Lipinski's Net Worth
Book deals also helped Tara Lipinski to build up her wealth back in the day. The former Olympic figure skater has about two books to her name. The first is her 1997 autobiography titled Tara Lipinski: Triumph on Ice. The second is Tara: An Olympic Journey, which was published in 1998.
Lipinski's exact earnings from these books are not known, but they run into 7-figures and helped her build up her $12 million net worth in 1998.
Tara Lipinski is now a Popular Commentator for NBC Sports
Tara Lipinski quit figure skating in 2002. She thereafter spent the next seven years chasing various pursuits. Her heart, however, longed to be a part of figure skating, and she decided to become a commentator for figure skating competitions. The former Olympian first volunteered her services with the U.S. Figure Skating's Streaming Service Ice Network.
She excelled in what she did, and before long, she went on to land paid commentating gigs with the likes of Universal Sports. Tara is still in broadcasting to this very day and works for NBC. She joined them in 2011 and commentates on every international figure skating competition as well as the Olympics.
Lipinski has gotten so good at broadcasting that NBC has asked her to work as a fashion and lifestyle expert and cover fancy events such as the Oscars and the Kentucky Derby. Lipinski's exact salary at NBC is not known, but given the magnitude of the work she does for them, her salary must be in the seven-figure region.
The Former Figure Skater has Appeared in Several Movies and TV Shows
Tara Lipinski has also tried her hands at acting. The Olympic gold medallist has appeared in several movies and TV series over the years, some coming as cameo appearances. Some of the movies and TV series that Tara Lipinski has appeared in over the years include Touched by an Angel, Sabrina, The Teenage Witch, The Young and the Restless, Are You Afraid of the Dark?, 7th Heaven, Family Guy, Scooby-Doo, and Guess.
Lipinski will not be among the highest-paid actress in Hollywood, but she will command a good fee for her efforts.
Tara Lipinski is the Co-Producer of the 2022 Documentary, Meddling
Tara Lipinski is not only talented in front of the camera but behind it as well. The former figure skater joined hands with her husband, Todd Kapostasy, to produce the four-part docu-series, Meddling, in 2022.
Meddling examined a scandal at the 2002 Winter Olympics, which saw the Russian team initially placed second, declared first, and topple the Canadian team. Meddling received a lot of interest from fans and praise from critics.
A Look at Tara Lipinski's Awards and Records
Tara Lipinski has won at least one award as a figure skater. She was voted Choice Female Athlete at the 1999 edition of the Teen Choice Awards. Beyond the award, she has won several championships and set many records.
Lipinski is the youngest woman to win the World Figure Skating Championship. She achieved this at the age of 14 years in 1997. She is also the youngest inductee into the United States Figure Skating Hall of Fame. She achieved this feat at the age of 24 in 2006.