The most expensive things in the world right now are affordable to some and not to others. The world is filled with countless luxurious and extravagant items often owned by the world's wealthiest and most influential individuals or organizations willing to pay a pretty penny for them.
From rare gems to fashion statements to artworks and cars, what counts as luxury cuts across multiple fields. In this article, we'll look at the world's top 25 most expensive things right now, as well as their cost and location.
25 Most Expensive Things in The World Right Now
1. International Space Station
Cost: $150 billion
Location: Space
Owner: N/A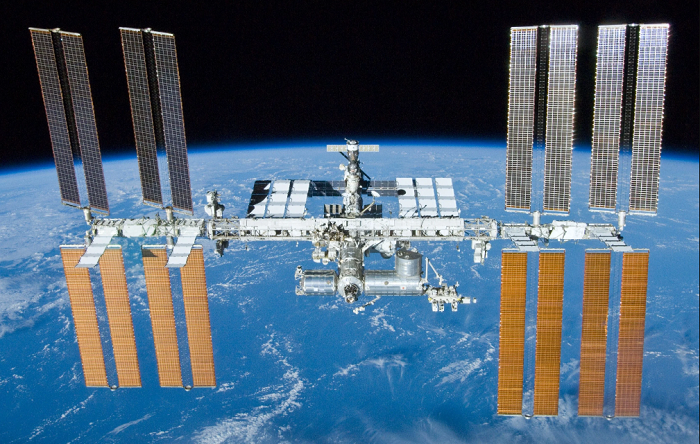 For a well-justified reason, the International Space Station (ISS) ranks as one of the world's most costly endeavors. Comprising an exceptionally intricate and advanced modular spacecraft, it has over 100 components sourced from 16 nations. Remarkably, it stands as the largest artificial object ever to be positioned in orbit, boasting a staggering weight of more than one million pounds.
With its autonomous power, life support, and communication systems, the ISS demonstrates its capacity to sustain a crew of up to six astronauts for extended periods. Nestled within an extremely inhospitable environment, the ISS resides in the void of space, devoid of breathable air and shielding against the sun's radiation. Furthermore, it faces a continual barrage of micrometeoroids and space debris, necessitating meticulous adherence to stringent safety and reliability standards in its construction.
Lastly, the expenditure linked to the launch and maintenance of the ISS remains exorbitant. The station was meticulously assembled in orbit over 12 years and demands routine upkeep and resupply missions. To put this into perspective, the cost of launching a solitary Space Shuttle mission to the ISS exceeded a staggering $450 million.
2. The Imperial State Crown
Cost: $3.7 to $6.2 billion
Location: Buckingham Palace
Owner: The British Nation (Held in trust by the King)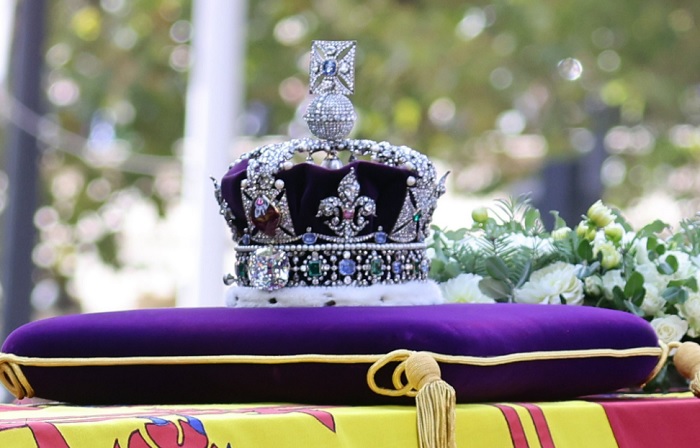 The Imperial State Crown is valued at an estimated £3 billion to £5 billion, which translates to approximately $3.7 billion to $6.2 billion, making it one of the world's most expensive crowns. Composed of gold, silver, and an array of precious stones such as diamonds, rubies, emeralds, and sapphires, it also showcases the Cullinan I diamond, renowned as one of the globe's largest and most valuable diamonds.
Originally crafted in 1937 for the coronation of King George VI, the Imperial State Crown came into the possession of Queen Elizabeth upon her ascension to the throne in 1952. She subsequently passed it to King Charles, who dons the crown during significant state ceremonies like the State Opening of Parliament. Due to its considerable weight exceeding 2.3 kilograms (5.1 pounds), King Charles refrains from wearing it for extended periods.
This iconic crown holds a revered status as a national treasure of the United Kingdom, symbolizing the rich history and authority of the nation. It is not the personal property of King Charles but rather belongs to the British populace, entrusted to the King for safekeeping on their behalf.
3. History Supreme Yacht
Cost: $4.5 billion
Location: Malaysia
Owner: Robert Kuok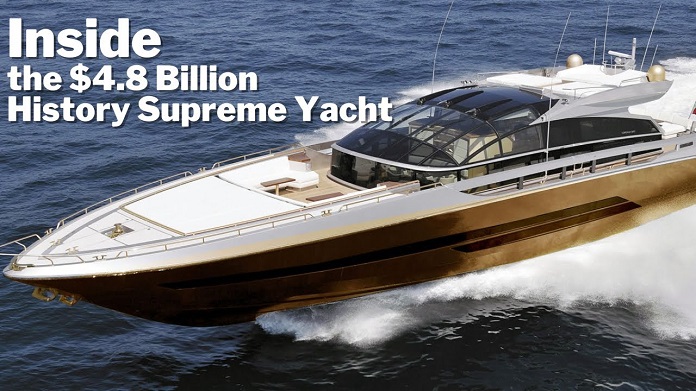 The History Supreme Yacht is considered the most expensive yacht in the world. It is estimated to have cost $4.5 billion and is owned by a Malaysian businessman, Robert Kuok, who also happens to be the founder of Shangri-La Hotels and Resorts.
The yacht is unique in design. History Supreme is made entirely of gold and platinum. Affixed to the yacht is a statue that was carved from a meteorite. It is said to be used only for special occasions and is considered the ultimate billionaire's toy.
4. Hubble Space Telescope
Cost: $2.1 billion
Location: Space
Owner: N/A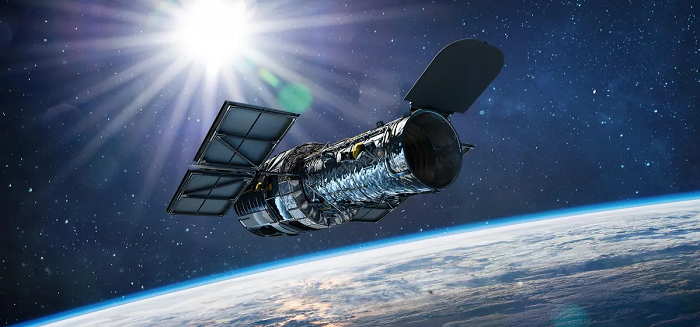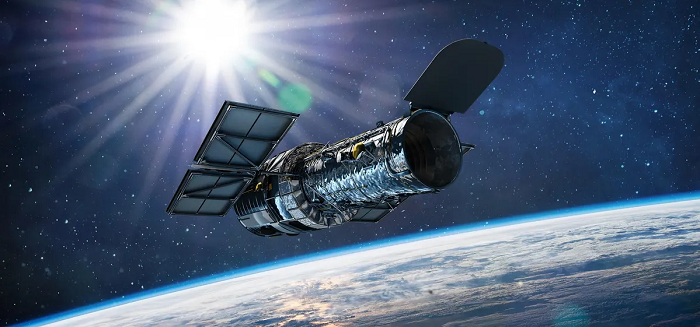 The Hubble Space Telescope is a very complex and sophisticated piece of technology. Hubble is a reflecting telescope with a primary mirror that is 2.4 meters in diameter. This makes it one of the largest telescopes in the world. It is also equipped with a variety of instruments that allow it to take images and collect data in a wide range of wavelengths, from visible light to ultraviolet and infrared light.
It was launched into space by the Space Shuttle Discovery in 1990 and was also very difficult to deploy, requiring astronauts to perform several spacewalks to install the telescope's instruments and solar panels.
5. The Antilia Mansion
Cost: $2 billion
Location: Mumbai, India
Owner: Mukesh Ambani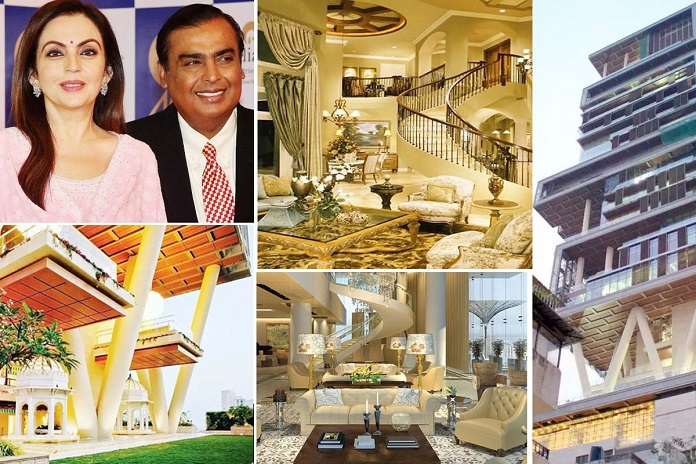 Antilia is the private residence of Indian billionaire Mukesh Ambani and his family. This opulent mansion boasts 27 stories and an expansive 400,000 square feet of space, commanding an estimated value exceeding $2 billion. It holds the distinction of ranking among the world's most exorbitant private residences. Antilia boasts an array of lavish amenities, including a helipad, a health club, a spa, a movie theater, and a sprawling six-level garage capable of housing up to 168 automobiles.
The architectural design of the structure is engineered to withstand seismic forces up to a magnitude 8 earthquake, supplemented by an array of security features. While Antilia has faced criticism for its excess and perceived disconnect from the everyday needs of the majority of Indians, it also garners admiration for its architectural grandeur and cutting-edge technological sophistication.
Antilia serves as a symbol of India's elite class, emblematic of the immense wealth and influence wielded by a select few. In a nation grappling with widespread poverty, it serves as a stark reminder that a small segment of society dwells in unimaginable luxury.
6. Villa Leopolda
Cost: $750 million
Location: France
Owner: Mikhail Prokhorov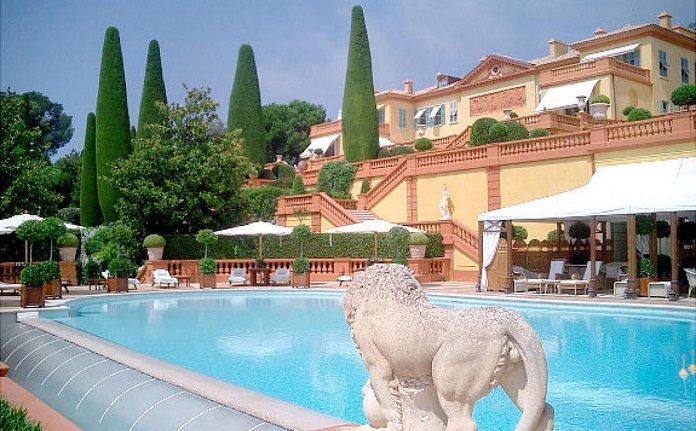 Named after King Leopold II of Belgium, who was the villa's first owner, this sprawling property is currently considered the third most expensive property in the world. In 2009, there were reports that the estate was sold for £500 million to a Russian businessman, making it the most expensive property in the world at the time.
Although it's currently third place in the world, the Villa Leopolda still holds rank as the most expensive property in Europe. The house has undergone several reconstructions by many elite builders, including American architect Ogden Codman Jr. Its previous owners include Lily Safra, the wife of Lebanese-Brazilian billionaire banker Edmund Safra, Gianni and Marella Agnelli, and Izaak and Dorothy J. Killam.
7. InterContinental Shanghai Wonderland Resort
Cost: $555 million
Location: China
Owner: Shimao Group (A Chinese Conglomerate)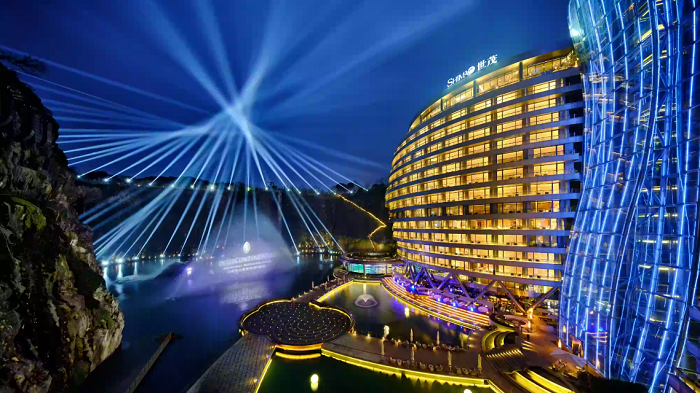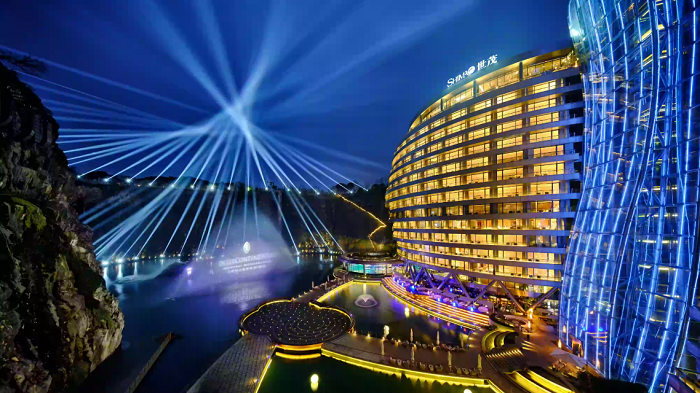 The InterContinental Shanghai Wonderland Resort is a five-star luxury hotel located in Songjiang, Shanghai, China. It is built into the side of an abandoned quarry and is considered to be one of the most unique and expensive hotels in the world.
The hotel has 18 floors, with the top two floors above ground and the remaining 16 floors underground. The hotel's lobby is located on the 17th floor and offers stunning views of the surrounding quarry.
The hotel's rooms and suites are all decorated in a modern and luxurious style. Many of the rooms have balconies that offer views of the quarry or the surrounding countryside. The hotel also has a number of restaurants and bars, as well as a spa, a fitness center, and a swimming pool.
The InterContinental Shanghai Wonderland Resort is owned and operated by Shimao Group, who invested over $555 million in its construction, making it one of the most expensive hotels in the world. The hotel was officially opened in 2018 and has quickly become one of the most popular tourist destinations in Shanghai.
8. Salvator Mundi
Cost: $450 million
Location: United States
Owner: Mohammad bin Salman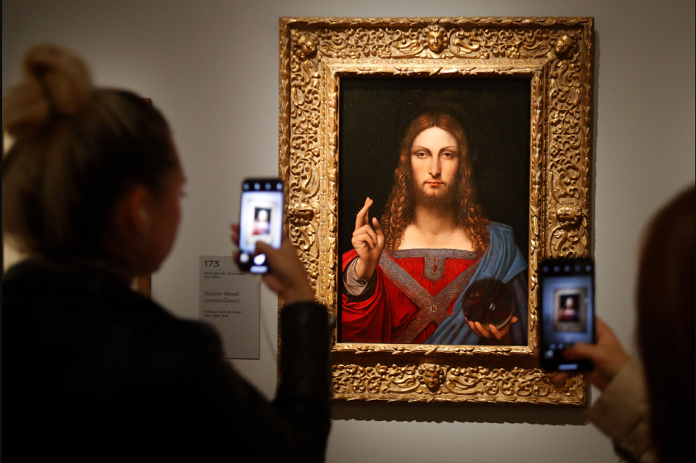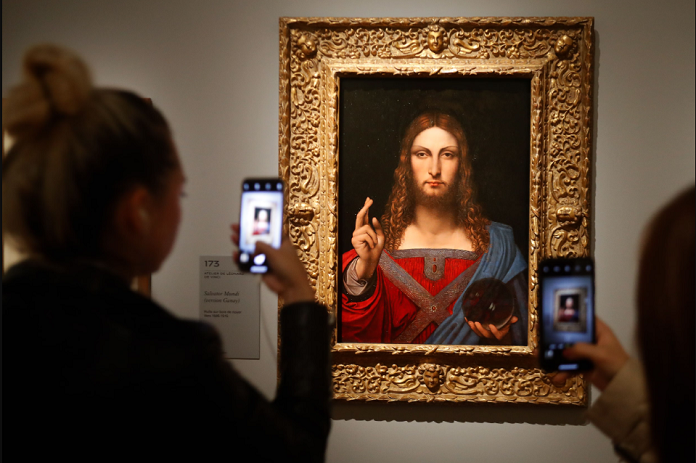 The Salvator Mundi, which translates to Savior of the World in Latin, is a renowned artwork often associated with the Italian Renaissance maestro Leonardo da Vinci. It portrays Jesus Christ as the Savior of the World, exhibiting a gesture of blessing with his right hand while cradling a crystal orb in his left, symbolizing the globe.
For centuries, the Salvator Mundi was lost to the annals of art history until its accidental rediscovery in 2005 when it was acquired at an auction for a comparably modest sum. Subsequent to this rediscovery, the painting underwent an exhaustive process of restoration and authentication to reaffirm its attribution to Leonardo da Vinci.
In a momentous event in November 2017, the painting achieved a historic milestone by fetching a staggering price of over $450 million at auction, thereby claiming the title of the most expensive painting ever sold up to that point. Remarkably, it is one of just two known paintings by Leonardo da Vinci in private possession.
9. Boeing 747-8 VIP
Cost: $403 million
Location: United States
Owner: Joseph Lau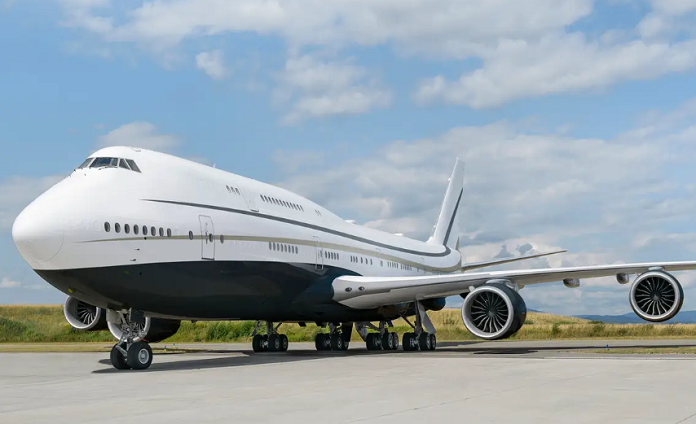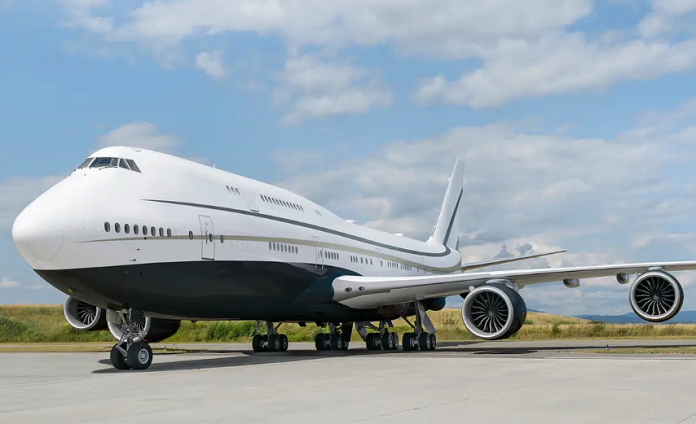 The only known owner of a Boeing 747-8 VIP is Joseph Lau, a Hong Kong billionaire. The Boeing 747-8 VIP is a custom-built version of the Boeing 747-8 Intercontinental airliner that has been converted into a private jet. It is powered by four General Electric GEnx-2B67 engines and has a range of over 8,000 nautical miles.
It is one of the largest and most luxurious private jets in the world. It can typically accommodate up to 100 passengers and has a crew of 18. It is equipped with a number of luxurious features, including a master suite with a private bathroom, a dining room, a conference room, and a theater. The plane also has a gym, a spa, and crew quarters.
The 747-8 VIP is also equipped with a number of state-of-the-art features, such as a satellite communication system, a high-speed internet connection, and a missile defense system.
10. The Card Players
Cost: $250 million
Location: Qatar
Owner: A Qatar Royal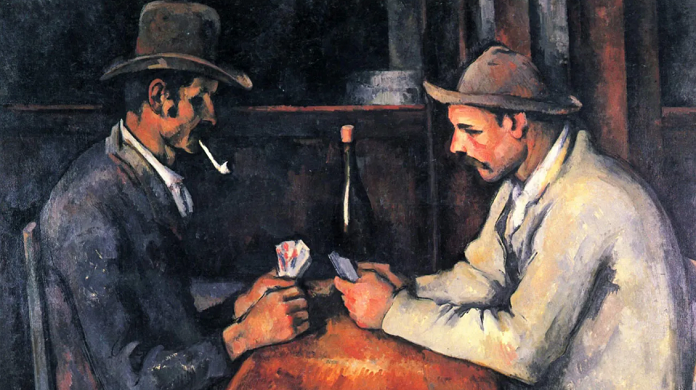 The Card Players painting by Paul Cézanne is one of the most expensive paintings ever sold. The Card Players is an oil painting series produced between 1890 and 1895 by French painter Paul Cezanne. The series consists of five paintings depicting the daily lives of commoners in the French city of Provencal in the 19th century.
The artwork was sold for $250 million to a Qatar Royal family member, making it the most expensive painting in the world. Regarded as one of Paul Cezannes' best works, The Card Players is considered a national treasure in France.
11. Pink Star Diamond
Cost: $71 million
Location: Hong Kong
Owner: Chow Tai Fook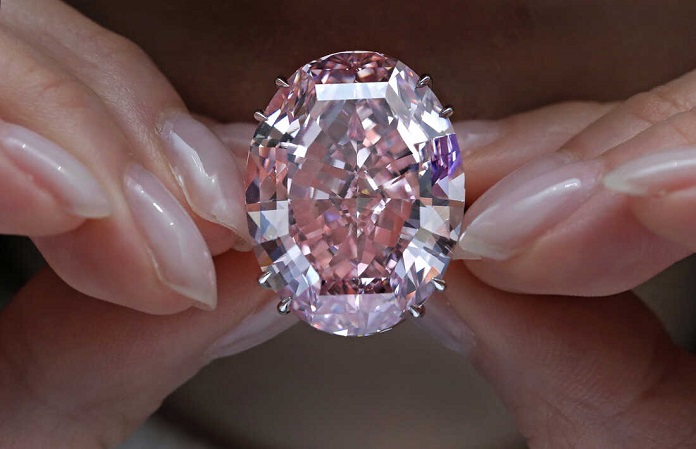 The Pink Star diamond, boasting a weight of 59.60 carats (equivalent to 11.92 grams), is the largest known diamond to achieve the Vivid Pink rating. It was mined by De Beers in 1999 in South Africa and weighed an impressive 132.5-carat in its raw form.
This extraordinary gem achieved a historic milestone by becoming the most expensive diamond ever to grace the auction stage, commanding a staggering $71.2 million in 2017. Classified as a Type IIa diamond, it is distinguished by its near-colorless purity, almost devoid of impurities. The Pink Star's vivid and intense pink coloration owes its brilliance to trace amounts of manganese within the stone.
Over a meticulous two-year span, Steinmetz Diamonds undertook the intricate task of cutting and polishing the Pink Star. The result is a mixed oval brilliant cut, characterized by a step-cut crown and a brilliant-cut pavilion, skillfully crafted to maximize the diamond's luminosity and its vibrant hue. This exquisite gem was publicly unveiled for the first time in 2003 and has since graced museum exhibitions worldwide.
12. 1963 Ferrari GTO
Cost: $70 million
Location: France
Owner: David MacNeil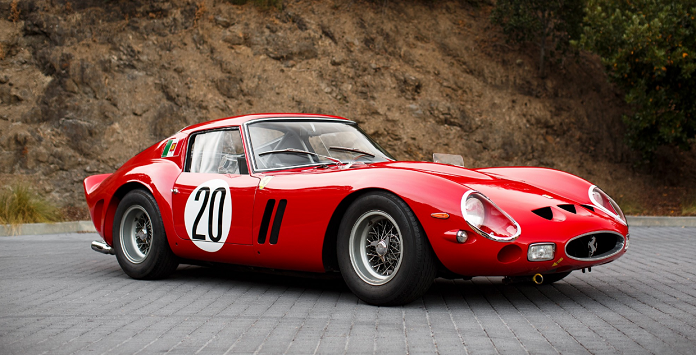 In 2018, the sale of a 1963 Ferrari GTO for $70 million shook the world. Although the 1963 Ferrari GTO no longer holds its spot as the most expensive car in the world, it is still the most expensive Ferrari presently.
The 1963 Ferrari GTO — one of only 36 that were made — was sold by German car collector Marcel Massini, the world's top collectible Ferrari expert, to David MacNeil, the founder of WeatherTech. Marcel reportedly paid $52 million for his 1963 Ferrari GTO in 2013, and it was considered the most expensive car purchase in history at the time.
13. L'Incomparable Diamond Necklace

Cost: $55 million
Location: India
Owner: Shloka Mehta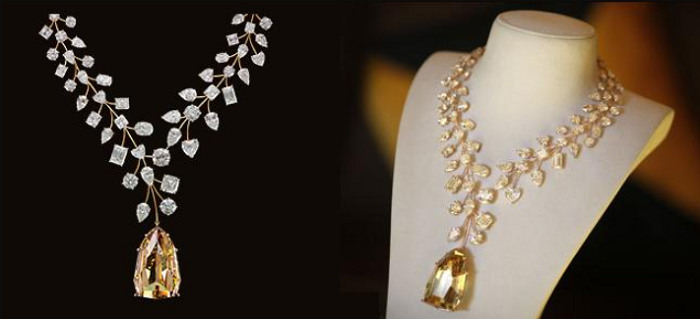 The L'Incomparable Diamond Necklace is a one-of-a-kind piece of jewelry created by Lebanese jeweler Mouawad. It is the centerpiece of the Mouawad Diamond Collection and is considered to be one of the most valuable necklaces in the world.
The necklace features a 407.48-carat yellow pear-shaped diamond, which is the largest known internally flawless diamond in the world. The diamond is surrounded by 91 white diamonds, including 35 pear-shaped diamonds and 56 brilliant-cut diamonds. The necklace is made of 18-karat gold and took over four years to design and create.
The L'Incomparable Diamond Necklace was first unveiled at the Doha Jewellery and Watch Exhibition in 2013. It was purchased by Nita Ambani, the wife of Indian billionaire Mukesh Ambani, for an estimated $55 million. Ambani gifted the necklace to her daughter-in-law, Shloka Mehta when she married her son Akash Ambani in 2019.
14. Pink Legacy Diamond (Winston Pink Legacy)
Cost: $50 million
Location: Switzerland
Owner: Harry Winston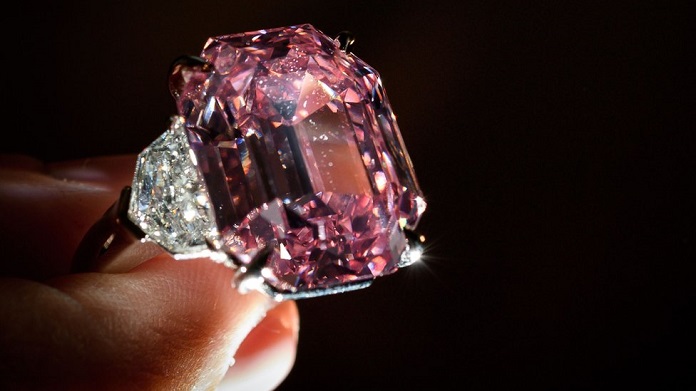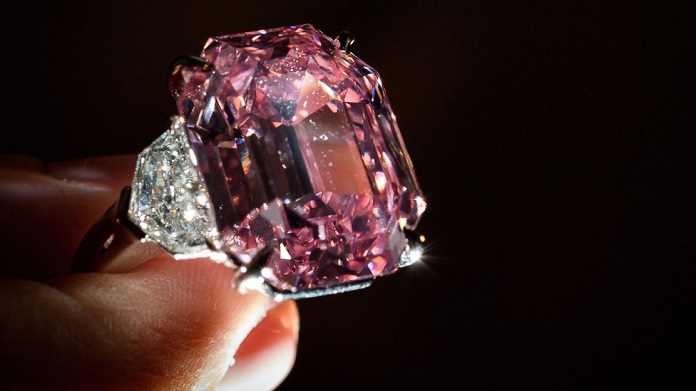 The Pink Legacy diamond, originating from South Africa around 1918, is a striking 18.96-carat fancy vivid pink gem that once belonged to the Oppenheimer family, renowned for their association with De Beers. Featuring a cut-cornered rectangular shape, it retains its original form from its initial cutting in 1920.
This exceptional gem found its new owner at a Christie's auction held in Geneva, Switzerland, in 2018, fetching a record-breaking price of 50.375 million Swiss francs ($50 million). At that time, it established a world record for the highest price per carat for a pink diamond. The distinguished buyer, Harry Winston, Inc., subsequently renamed it the Winston Pink Legacy.
15. Blue Moon of Josephine
Cost: $48.5 million
Location: Hong Kong
Owner: Undisclosed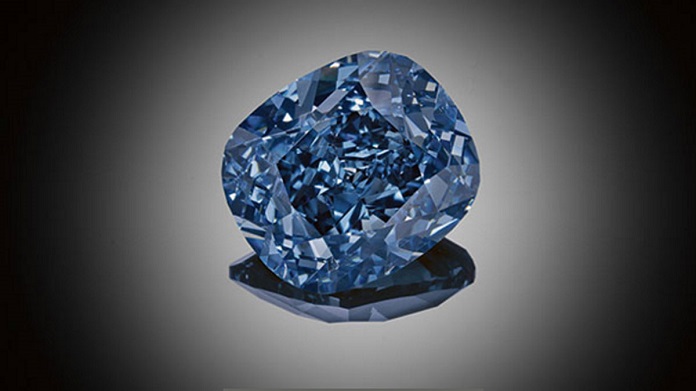 Previously known as the Blue Moon, this precious blue stone is said to be one of the largest and most expensive of its kind. Purchased by Hong Kong billionaire Joseph Lau for his then seven-year-old daughter, the diamond was later sold at a Sotheby's auction in Geneva.
For a stone as rare as The Blue Moon of Josephine, it's unsurprising that it sold for $48.5 million. The diamond weighs 12.03 carats and has an internally flawless grade, making it a highly coveted item amongst collectors. Although it hasn't been documented, the diamond is believed to have appreciated greatly since its last auction.
16. Badminton Cabinet
Cost: $36 million
Location: United Kingdom
Owner: Prinz Hans-Adam II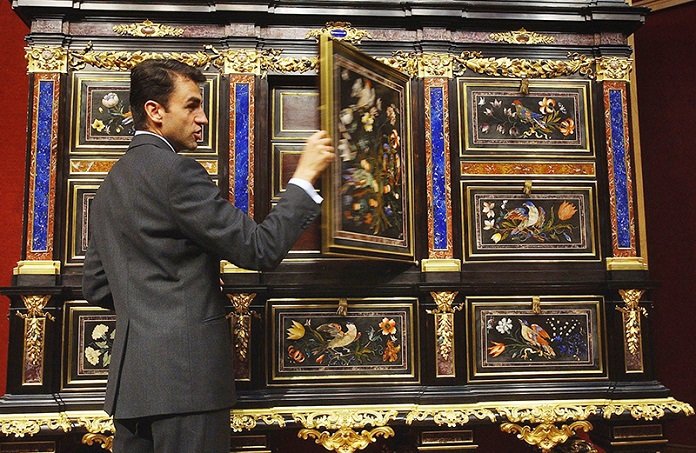 The Badminton Cabinet is a 300-year-old cabinet that sold for $36 million in the United Kingdom. The Badminton Cabinet, or Badminton Chest, has quite a rich history. The furniture piece was commissioned in 1726 by Henry Somerset, the third Duke of Beaufort. It was later sold to British museum director Dr. Johan Kraeftner, who bought it at an auction held by Christie's auction house in 2004.
The purchase was revealed to have been made on behalf of Prinz Hans-Adam II. This extraordinary piece of 18th-century furniture has set the record for the most expensive piece of furniture ever sold twice. With a frame made of ebony, rosewood, amethyst, and other precious materials, it's no surprise that this is considered one of the world's most impressive pieces of furniture.
17. Stradivarius Violin
Cost: $20 million
Location: Italy
Owner: Unknown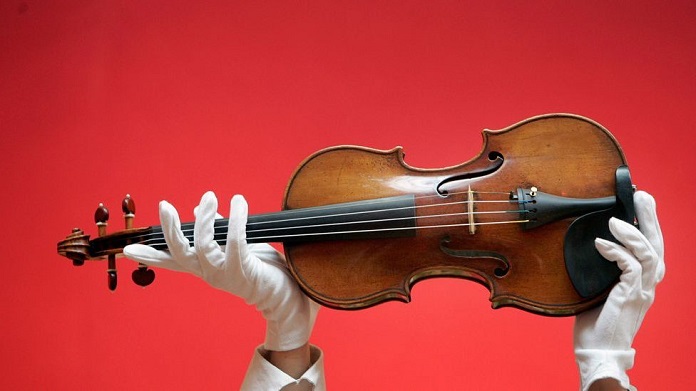 The Stradivarius Violin, also called the Messiah violin, is estimated to have a value of $20 million. Although it does not hold the proper record for the most expensive violin in the world—the Vieuxtemps by Guarneri del Gesù holds that record—it is valued to be the most expensive violin in the world.
Made in 1716, celebrity violinists like Cho-Liang Lin, Nathan Milstein, and Joseph Joachim have played the Messiah Stradivarius. It is currently on exhibition at the Ashmolean Museum in Oxford. The violin is one of only 600 violins made by the legendary Italian luthier Antonio Stradivari, making it highly coveted by musicians and collectors.
18. Bugatti La Voiture Noire
Cost: $19 million
Location: France
Owner: Ferdinand Piëch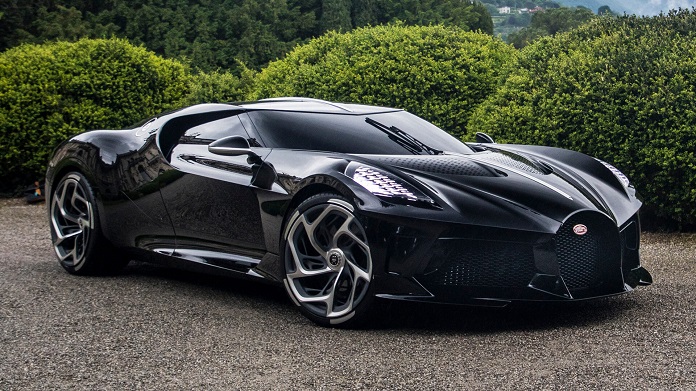 The La Voiture Noire, which translates to The Black Car in English, was first unveiled at the 2019 Geneva Motor Show. It is a one-off hypercar that is inspired by the Bugatti Type 57 SC Atlantic, a rare and expensive car that was produced from 1936 to 1938. The La Voiture Noire is powered by an 8.0-liter quad-turbocharged W16 engine that produces 1,479 horsepower.
The Bugatti La Voiture Noire is worth $19 million. Owned by former Volkswagen Group Chairman Ferdinand Piëch, this car is a formidable competitor as one of the most expensive cars in the world. It is a one-of-a-kind vehicle, one that is especially sought after by luxury car collectors.
19. Diamond Panther Bracelet
Cost: $12.4 million
Location: Switzerland
Owner: Mohamed Al Fayed
The Diamond Panther Bracelet was given to Wallis Simpson, the Duchess of Windsor, by King Edward VIII in 1937, shortly before his abdication. It is a Cartier bracelet made of onyx, white gold, and diamonds, with a panther motif. The panther is a symbol of strength, power, and independence, and it is thought that Edward VIII chose this bracelet for Simpson as a way to express his admiration and love for her.
The Diamond Panther Bracelet sold for $12.4 million at an auction in Switzerland. It is currently in the private collection of Egyptian businessman Mohamed Al Fayed in 1987.
20. Maybach Exelero
Cost: $8 million
Location: Germany
Owner: Mechatronik
The Maybach Exelero is a one-off high-performance sports car commissioned by Fulda Reifenwerke, a German tire manufacturer, to test its new generation of high-performance tires. It was made by Stola (now part of Blutec) in collaboration with DaimlerChrysler. It was unveiled at the Tempodrom in Berlin in 2005.
The Exelero is powered by a twin-turbo V12 engine made by the defunct Maybach (now a part of the Mercedes-Benz division of Daimler AG) and mounted at 60º. Each cylinder has 3 valves and a compression ratio of 9.2:1. The engine produces 700 PS (690 hp; 515 kW) at 5000 rpm and 752 ft⋅lb (1,020 N⋅m) of torque at 2500 rpm. It is mated to a 5G-Tronic automatic transmission. The Exelero has a theoretical top speed of 351 km/h (218 mph) and a 0-100 km/h (0-62 mph) acceleration time of 4.4 seconds.
The Maybach Exelero is currently owned by Mechatronik, a German automotive engineering company. Mechatronik acquired the car in 2011 from the original owner, Fulda Tyres
21. Richard Mille RM 56-02 Tourbillon Sapphire
Cost: $2.2 million
Location: Switzerland
Owner: Sultan Muhammad V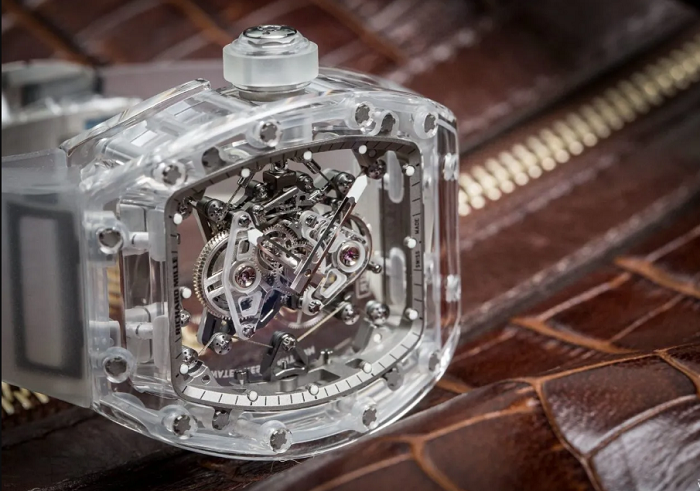 The Richard Mille RM 56-02 Tourbillon Sapphire is a limited edition high-end luxury watch that is known for its innovative design and construction. It is made with a variety of high-tech materials, including sapphire crystal, titanium, and carbon fiber. The case of the watch is made of sapphire crystal,
It works with the tourbillon movement, which is a type of watch movement that is known for its accuracy and precision. The tourbillon movement is suspended in the case of the watch by a cable, which helps to isolate it from shocks and vibrations.
It is owned by the former king of Malaysia, Sultan Muhammad V of Kelantan, and is currently limited to only 10 pieces in the world.
22. Hermes Kelly Bag
Cost: $2 million
Location: France
Owner: Undisclosed
The Hermes Kelly Bag is one of the world's most expensive handbags. With its Birkin counterparts, these bags are a celebrity rave. There are about 120,000 pieces of these Hermes bags produced yearly, so there is no single owner of the Hermes Kelly bag, but still, these bags are said to be a collector's item for luxury fashion accessories.
Named after Grace Kelly, who famously used it to hide her pregnancy from the paparazzi, the Hermes Kelly set a new record for any handbag sold at auction in Europe. This happened at a Sotheby's Paris sale in September 2022 when a Hermès Himalayan Kelly 25 was sold for over $345,000 in September 2022. With its ever-increasing popularity, there's no doubt that the value of these bags will continue to skyrocket over the coming years.
23. Gryphon Audio Kodo Loudspeaker
Cost: $450,000
Location: Denmark
Owner: Undisclosed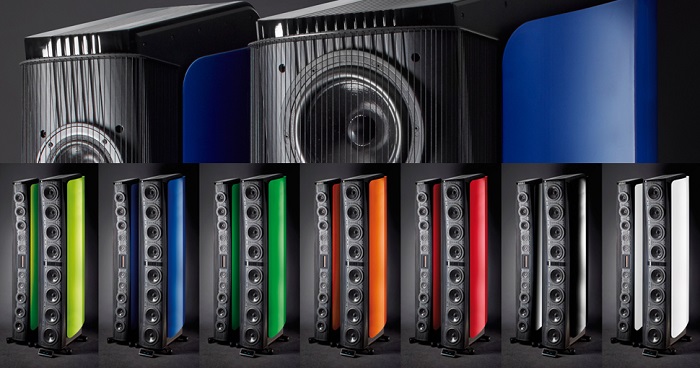 The Gryphon Audio Kodo Loudspeaker is a high-end audio system that costs $450,000 in Denmark. Regarded as one of the most expensive loudspeakers in the world, the system is handmade and uses the highest quality materials, resulting in unmatched sound quality.
24. Amazon Kindle Oasis
Cost: $250,000
Location: United States
Owner: Jeff Bezos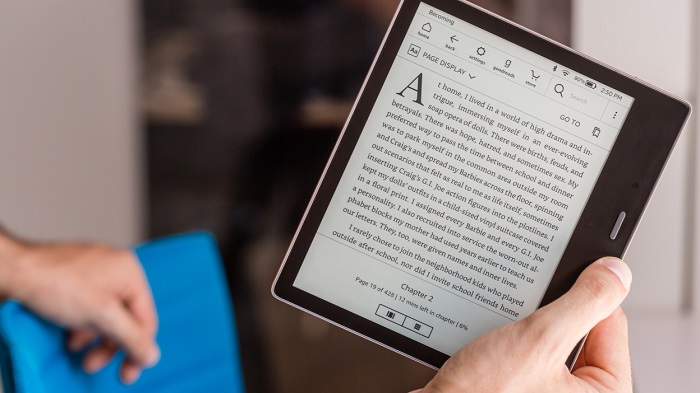 The Amazon Kindle Oasis is a rare edition of the popular ebook reader that costs $250,000 in the United States. It is owned by Jeff Bezos, the founder of Amazon, and is considered a collector's item for tech enthusiasts. The Kindle Oasis is encrusted with diamonds and has a gold-plated back, making it a luxurious and exclusive gadget.
25. Tesla Model S
Cost: $157,000
Location: United States
Owner: Elon Musk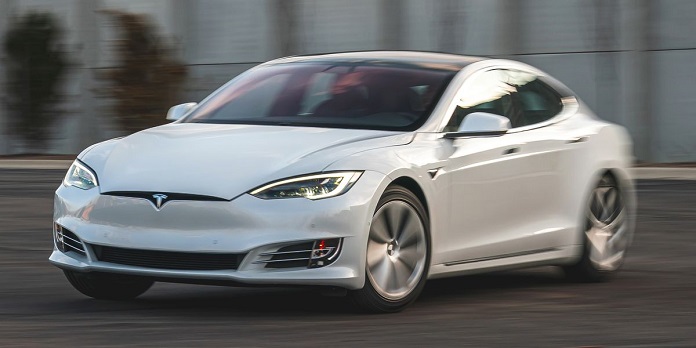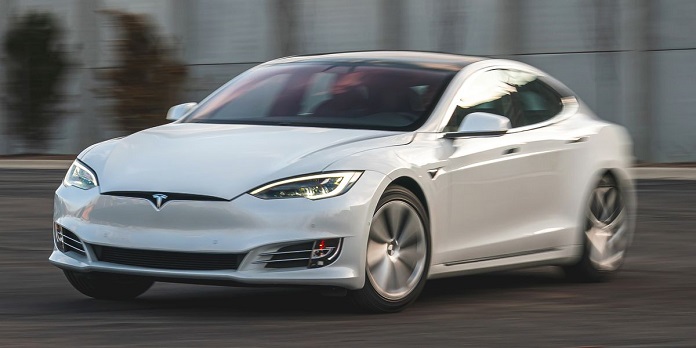 The Tesla Model S is an electric car that costs $157,000 in the United States. It is owned by Elon Musk, the founder of Tesla, and is considered one of the world's most luxurious and eco-friendly vehicles. The car has a range of up to 400 miles per charge and is equipped with advanced technological features.