In a time and age when social media is almost at the forefront of everything, there are a couple of faces that anyone who spends time on the internet cannot miss in a crowded room. This could be because these people have become social media personalities while in other cases it is because their images have been used as memes so much so that almost everyone can point out who they are. Phil Swift is one such person who certainly qualifies in the latter category.
The web sensation is a businessman who has been around since the 1980s thanks to his association with Flex Seal products which he is a co-owner of and serves as its spokesperson. Thanks to the internet, however, the American has been able to achieve a different level of fame, becoming somewhat of a pop culture icon thanks to his work for the company.
Who Is Phil Swift?
As mentioned above, Phil Swift is a businessman who is the co-founder of the Flex Seal family of products. He is also the spokesperson for the company. Swift, who was born Philip Swift on the 3rd of March 1944 in his hometown of New York, USA, is famous for the different advertising campaigns that he has been part of for his company. It is these ad campaigns that attracted attention to his products while also making him a point of interest on social media.
Before becoming the man who he is today that can afford to live a lavish lifestyle thanks to his work, Swift was brought up in a poor home alongside two brothers; Rick and Alan. Only very little is known about Rick while Alan, on the other hand, is whom Phil co-founded Flex Seal with.
By the early 1980s, Phil Swift launched himself into the marketing and direct sales market. He began by starting the company Swift Response with his brother Alan, who is also into the marketing and direct sales industry. Together, the pair have successfully sold thousands of specialty products and has promoted many others. They were able to be very successful at what they were doing thanks to their ability to use humor to market a product.
In 2017, Phil Swift gained wider fame after a video was posted on YouTube by Jon Tron centering on Flex Seal infomercials from the past. The video went viral and garnered more than 40 million views, prompting the publisher of the video to release a second part that featured Swift himself. It was as a result of this feature that Swift memes were created and other myths about his products were launched.
Phil Swift's Fact Sheet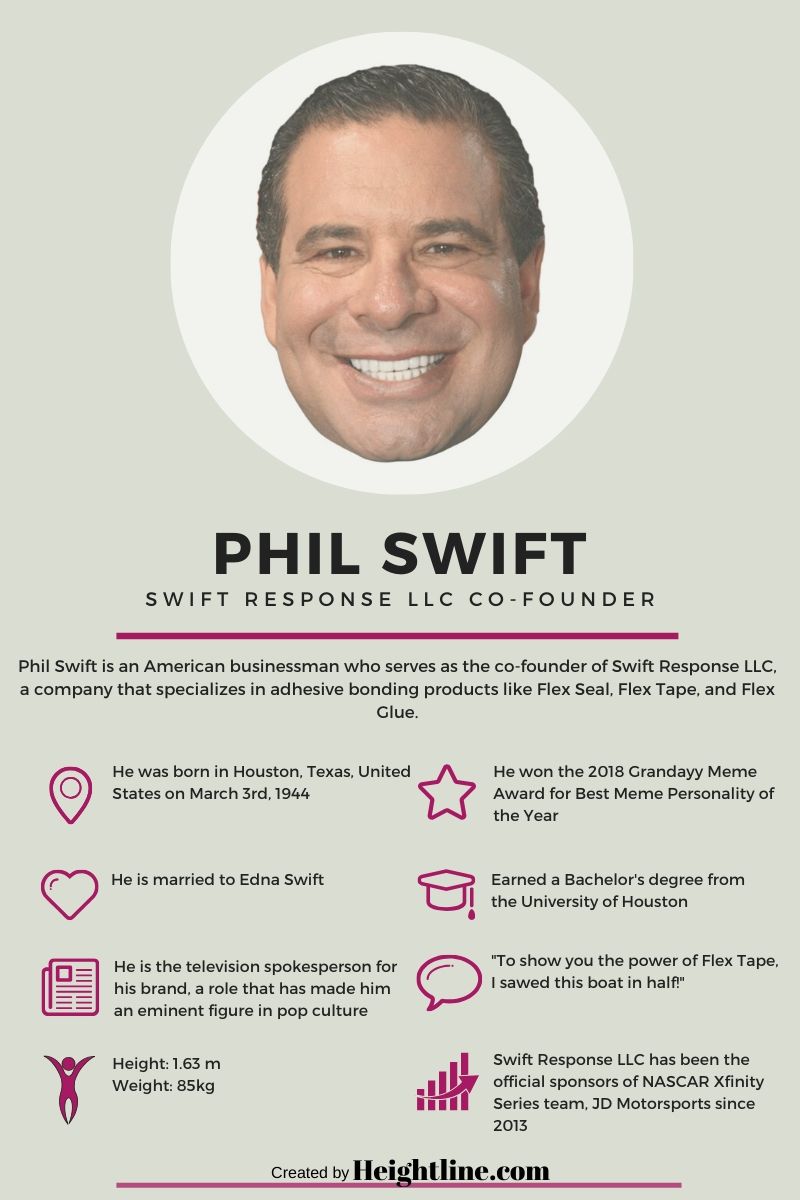 Other Things You Should Know About Him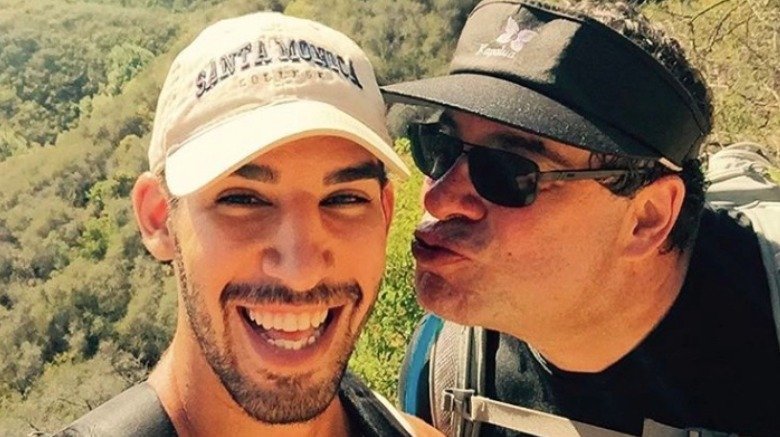 1. Even though it is known that Phil Swift has been married in the past, there is no information available on his wife. In regards to his children, it is known that he has two daughters and a son who is a music producer, Nic Swift.
2. Swift is not the tallest man out there as he only stands at a height of 5 feet 6 inches, 3 inches shorter than the reported average height of men in the United States.
3. Thanks to his outstanding work over the years in making great ad campaigns for the products of his Flex Seal company, Phil Swift has been able to amass himself quite a healthy net worth. It is reported that the businessman has a net worth that is estimated to be between $10 and $15 million.
Fact Check: Is He Dead as Rumoured?
The internet has announced so many celebrity deaths in the past even when such people are very much still alive. Phil Swift has unfortunately found himself in this class as there have been rumors in the past that the man had died; first in 2011 and then in 2018.
The first time news falsely circulated about his death was when the website channel5 published it. The site claimed Phil was gunned down at the corner of Ebony Street and Lindo's Alley while he was walking his dog. The second time, in 2018, was done by prank website Channel45news which announced that the Flex Tape creator received poisoned cookies from a fan which led to his slow death.
Contrary to these reports, Phil Swift was never in any danger and did not die at any of the times published. While he may no longer be as active as he used to be due to his age, the businessman appears to be in good health and very much alive. A fact to this is that he continues to share content and interact with other people on his social media pages.