Lebron James' height is 6 feet 9 inches (2.06 m) and he weighs 250 lb (113 kg).
LeBron James is one of the most successful athletes in the world. If you are a basketball fan, then it is only natural that you have heard the name. He currently plays for the Los Angeles Lakers of the National Basketball Association (NBA) as a forward. As he has been nicknamed, King James has established himself as one of the greatest basketball players of all time and indeed one of the most accomplished athletes of his generation. His meteoric rise can be traced back to his days in high school but things have not always been smooth-sailing for the NBA Star. James endured a rough childhood and is now committed to helping kids from his hometown, Akron, Ohio, and across the United States.
The four-time NBA champion's accomplishments in basketball are as tall as he stands and simply too many to count. It dates back to his high school days when he was named Ohio Mr. Basketball, consecutively from 2001 to 2003. He also made history as the first player in junior high school to be named Gatorade National Player of the Year; this was in 2002 and he received the honor again the following year. Among other awards and recognition he got during his high school career, he was the 2003 Naismith Prep Player of the Year 2003 and Mr. Basketball USA in 2002 and 2003. LeBron has kept up with the superb highlights of his days as a basketball player in high school all through his professional career. While he is clearly a talented and skillful player, it wouldn't be wrong for one to suggest that his height has helped his career.
Profile Summary of LeBron James
Full Name: LeBron Raymone James Sr.
Nationality: American
Place of Birth: Akron, Ohio, U.S
Date of Birth: December 30, 1984
Age: 38 Years Old
Education: St. Vincent-St. Mary High School
Occupation: Basketball Player, Media Personality, and Businessman
Net Worth: $500 Million
Mother: Gloria Marie James
Biological Father: Anthony McClelland
Siblings: Aaron McClelland Gamble

(half brother)

Marital Status: Married
Wife: Savannah Brinson (2013 – Present)
Children:

 

Bronny James, Bryce Maximus James, and Zhuri James

Weight: 250 lb (113 kg)
Shoe Size: 15 (US)
Wingspan: 2.14 m
Height: 6 feet 9 inches (2.06 m)
10. LeBron James' Height Is 6 Feet 9 Inches and He Is Slightly Taller Than The Average NBA Player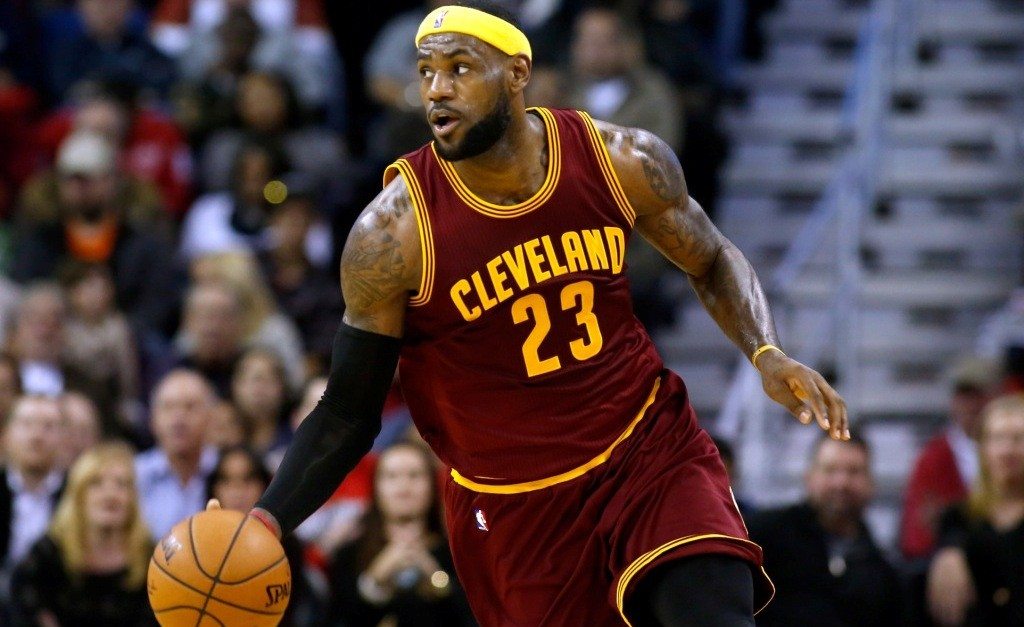 LeBron James is a very tall man; he stands at 6 feet 9 inches (2.06 m). Height is important in basketball and it is clear that James has enjoyed this advantage in his career. Nevertheless, he is only slightly taller than the average basketball player in the NBA. Most NBA players are almost of the same height as LeBron.
It is said that the average height of players in the league is 6 feet 7 inches (2.01 m). As such, James is only 2 inches (0.05 m) taller than most of the players in the NBA. The small forward often compared to Michael Jordan in debates over the greatest basketball player of all time also towers above most men in the United States of America and the world at large. In the United States, the average height for men is 5 feet 9 inches (1.75 m). In essence, James is 1 foot (0.31 m) taller than most of the men in his country.
More so, he is taller than most men in the world. While the height of adult men differs across the world, men from the Netherlands are said to be the tallest in the world and their average height is 5 feet 11½ inches (182 cm). Men in South Asia countries would literally look up to LeBron James.
NBA Lists His Weight at 250 lb (113 kg) But It Has Been Rumored That He Weighs More than That
Credible platforms like the website of the NBA and that of LeBron's current team, the Los Angeles Lakers, listed the small forward's weight at 250 pounds. For people who are not very tall, the weight would be unacceptable and they might be described as overweight. But for James, the weight is normal, if not perfect for his height. His body mass index is alright.
However, it was once rumored that the player weighed as much as 280 pounds. This was after he returned following the first major injury of his professional career, a groin injury that saw him miss 17 consecutive games. It was claimed that the injury altered the conditioning program that had helped him stay in shape. Commenting on this, Travelle Gaines, an NBA trainer, guessed that LeBron should be close to 260 pounds.
In all, the claims that he packed up significant pounds were never substantiated. His weight is largely believed to be 250 pounds and LeBron made fun of the rumor in one of his interviews as shown in the video footage below.
LeBron goes with a baseball reference to say where he is physically (close to before the injury) and ends with a little zinger about his weight. pic.twitter.com/Z0w7kPHf05

— Tania Ganguli (@taniaganguli) February 20, 2019
3. LeBron Was Born to a 16-Years-Old Mother and Was Raised Without His Biological Father
While many people have definitely had fantasies about attaining LeBron James' status in life, they surely wouldn't desire anything about the challenges he faced in his early life. His mother, Gloria Marie James had him when she was only 16 years old. Anthony McClelland was his biological father and a casual boyfriend to Gloria who lived in an apartment with her grandmother, her mother, and two brothers. Anthony wasn't the kind of man you'd expect to take on the responsibilities of being a father; so, LeBron was solely cared for by his mother with the help of his grandmom and great grandmom.
But as fate would have it, Gloria lost her grandmom in 1985, not too long after she had LeBron on the 30th of December 1984. Roughly six months after she lost her grandmom, she lost her mother as well. With that, she became completely responsible for not only LeBron but for her two brothers. They struggled to survive and James recalled he moved from apartment to apartment about six times in a certain year. As Gloria puts it, she wouldn't wish some of the things they went through to her worst enemy.
4. He Has No Relationship With His Biological Father, Anthony McClelland
It is not a secret that the famous basketball player was raised without his biological father, just as it is common knowledge he has not had any form of relationship with the man. Based on what has been reported on several quarters, Anthony McClellan had so many run-ins with the law that kept him away from his son. This does not mean he had any interest in being a father as he was not involved in LeBron James' life in any way.
According to reports, Anthony McClellan attempted to establish a relationship with LeBron sometime in 2002. It is said that he was yet again imprisoned thereafter and nothing significant came out of the effort. As far as we can tell, the NBA star holds nothing against Anthony for not being there for him. In fact, he appreciates the man for being an absent father; for him, it is part of the factors that have molded his life into what he has become.
While it is now believed that Anthony McClellan is the biological father of LeBron James, it is worth noting that a Lawyer named Bruce Stovell once dragged James to court alleging he's the biological father of the NBA player. A DNA test proved otherwise but people think that Bruce and LeBron look alike a great deal.
5. Frank Walker Served a Father Figure to LeBron James and Introduced Him to Basketball
Because of the hardship LeBron and his mother faced, which saw them move from home to home, Gloria opted for letting James live with Frank Walker. It was a decision that became a defining moment in LeBron's life. Frank Walker was a local youth football coach. LeBron's mom wanted him to have some level of stability, so she allowed him to move in and live with Walker's family. James' academic performance improved as soon as he moved in with the Walkers. In addition to that, he took to playing basketball.
LeBron thinks highly of Frank Walker who offered to take him in after he learned of how his mother had been struggling to make ends meet. The NBA legend once asserted that he would never forget what the Walkers did for him. Adding that Frank doesn't get the recognition he deserves, James confirmed that the man didn't only feed and shelter him but also introduced him to basketball. Frank said he thought of James as a natural. According to him, it was obvious that James was gifted as he was quick to learn and imbibe whatever he was taught.
6. Football Was The First Sport The NBA Star Played
Given the extent of LeBron James' accomplishments as a basketball player, it is hard to imagine that it wasn't his first sport of choice. Yeah, the man regarded as the greatest basketball player of all time in some quarters first played American football before he was introduced to basketball. Frank Walker, the same man that introduced him to basketball, was his football coach at St. Vincent-St Mary High School, a private Catholic school with mostly white students. James played for the school's team as a wide receiver. He played for three years and was also good at the sport.
During his sophomore year, he received the first-team all-state honor. Reports have it that he also helped his team to reach the state's semifinals in his junior year. But as fate would have it, he didn't get to play football in his senior year as he sustained a wrist injury in a basketball game that sidelined him. It is widely held that LeBron James would have played in the National Football League had he continued playing football. He was so good he gained the attention of Division I programs who wanted to have him play college football with them.
7. LeBron James Never Played College Basketball

Most NBA players go through high school and college basketball before they join the league. This is mainly because of the draft eligibility rule that requires players to be at least 19 years old before they enter the NBA. What this has meant is that most NBA players spent a year or two playing college basketball before they can join the league.
As the age requirement only came to be two years after LeBron was drafted, he had the option to disregard playing basketball in college and didn't hesitate to do so. The NBA star thinks college basketball is a faulty system that doesn't benefit NBA aspirants in any way. He once publicly proclaimed that the NCAA is corrupt, arguing that they exploit young talents with the guise of free education.
He was drafted right after high school by the Cleveland Cavaliers. Given the massive prestigious recognition he garnered as a high school basketball player, it was no surprise that he was the first player selected overall in the 2003 NBA draft: many had anticipated and predicted it.
8. King James Is the Only Player that Has Won NBA Championship With Three Different Teams
LeBron James or Michael Jordan, who is the greatest basketball player ever? While this is still up for debate, no one would disagree the small forward is an exceptional player. He has dominated the sport right from high school and has not relented ever since. Among the numerous ways he has distinguished himself from other players in the history of the NBA, LeBron is the only player that has won the NBA championship with three different teams. This means he has won the coveted title with all the teams he has played for thus far.
As hinted earlier, he began his career with the Cleveland Cavaliers in 2003 and played for the side until 2010. Although he attained so many personal feats, he didn't win the championship through these years. In 2010, he joined the Miami Heat and played for the side until 2014. With the team, he won his first and second championships, consecutively in 2012 and 2013. LeBron returned to the Cleveland Cavaliers for a second stint in 2014 and in 2016 he won his third NBA championship with the team. His next and current team is the Los Angeles Lakers; LeBron joined the franchise in 2018 and won his fourth championship with the team in 2020.
The NBA Rookie of the year 2004 is a four-time NBA Finals MVP and has also been named the league's most valuable player four times. He is a 17-times NBA All-Star, three-time NBA All-Star Game MVP, and has been named to All-NBA First Team 13 times. All of these are only a few of the highlights of his career.
9. He's the First Player In NBA History To Accrue $1 Billion In Earnings Whilst Still an Active Player
With great power comes great responsibility and with LeBron James' caliber of skills in any sport comes massive financial rewards. You don't need to be told that he is one of the highest-paid players in the league and indeed among all the athletes scattered across the globe. His 4-year rookie contract was worth over $18.7 million and he earned over $4.6 million on average, yearly.
Thereafter, he renewed his contract with the Cleveland Cavaliers for another four years. This time, the deal was worth $60.3 million and his yearly average salary was over $15 million. His next contract saw his average salary increase to over $18.3 million and the trend continued to the point that he now commands an average salary of over $38.3 million yearly. With all of his sources of income factored in, he is the first NBA player to make $1 billion in earnings while still playing basketball.
10. LeBron James' Net Worth Is Currently Estimated at $500 Million
In all, King James has earned close to $400 million in playing salary since he joined the league. Disregarding this, he has made much more money from endorsement deals. Being one of the most accomplished and celebrated athletes in the world, it is only natural that multiple popular brands have partnered with him to promote their products and services.
While Nike is his biggest endorsement partner, he has endorsement deals with GMC, PepsiCo, Beats, AT&T, Walmart, and much more. From licensing and media, endorsement deals, and his merchandise, he pocketed as much as $700 million. As such, it is not difficult to see how he made his massive fortune estimated at $500 million at the moment.