Khalyla Kuhn is an American social media personality and podcaster best known as the wife of popular stand-up comedian Bobby Lee.
Oftentimes, we hear and see people who get married to rich and powerful celebrities. While some are equally successful in their own right, others are said to have married them not because of love but for their wealth. Khalyla Kuhn falls under the last category; she has been variously accused of marrying Bobby Lee because of his wealth and fame.
Kuhn, on the other hand, has not bothered much to defend herself with claims of loving Lee genuinely, and her sentiments have caused many people to wave their gold digger placards directly to her face. Although there was a time she openly admitted that they'd divorce if Bobby Lee is poor because he wouldn't know how to show her love.
It wouldn't be completely wrong for anyone to assert that Khalyla Kuhn is one of those who attained celebrity status only because of their connection to a famous person. She is majorly known for being the beautiful wife of American actor and comedian, Bobby Lee.
Kuhn came into limelight after marrying the famous actor. Nevertheless, nothing much is known about her. However, we have taken our time to dig up the following six steaming facts about the controversy-stirring lady.
Summary of Khalyla Kuhn's Biography
Full name: Khalyla Shangra Kuhn
Gender: Female
Date of birth: 31st October 1984
Khalyla Kuhn's Age:38 Years Old

Ethnicity: Mixed
Nationality: American
Zodiac Sign: Scorpio
Sexual Orientation: Straight
Marital Status: Married
Khalyla Kuhn's Husband: Robert Young Lee, Jr.
Khalyla Kuhn's Parents: Marites Kuhn (mother)
Siblings: Julianna Kuhn (younger sister)
Khalyla Kuhn's Height in Inches: 66
Khalyla Kuhn's Height in Centimetres: 167.6
Khalyla Kuhn's Weight: 57kg
Famous for: Being the wife of Bobby Lee
Khalyla Kuhn's Instagram: khalamityk
Twitter: Khalyla
1. She Was Raised By A Single Mother
A lot of details about Khun's background are quite hazy; like her date of birth, which is known to be just 1984. It's safer to assert, however, that her age is best known to her. Another fact with little details about Khun's life is the fact that she was raised by a single mom. Her mother, Marites Kuhn raised her solely alongside her younger sister named Julianna Kuhn.
Her father never seemed to have been in the picture and this could be the reason why Khalyla originally denied being of Egyptian descent as it is where her dad is from, but she can't be blamed. Kuhn's intentional denial of her patriarchal roots could have been influenced by the difficulties she had to endure due to growing up without a father figure.
2. Khalyla Kuhn is of Mixed Heritage
We all know that Khalyla is of Filipino descent, albeit she is an American citizen. However, it has been recently exposed that she has Egyptian blood flowing in her vein. Yes! Khalyla Kuhn is half Egyptian and half Filipino. In typical Khun fashion, she tried denying this fact at first, saying she was just French but later owned up.
3. Khun is Not One to Hide Her Appetite for Money
Khalyla Kuhn never fails to let anyone who cares to know how much she loves money and luxury. If it's fancy dresses, expensive jewelry, cars, and accessories, you can count her in. Her husband Bobby Lee could care less, but his fans ain't taking this too well. Fans accused her of using Bobby as a ladder to fame and wealth, saying she only married him for money.
As they were so much on her case, she took to her Twitter handle to rebuff the ugly accusations. Kuhn reminded everyone that she had a good job, a nice beach house, and a comfortable but humble life before Bobby came into the picture. She went as far as specifying that she has been self-sufficient since she was 17.
I had a good job, a nice home by the beach, amazing friends, a humble but comfortable life, all carved out before I met Bobby. I've been self sufficient since I was 17. Yet, all of who I am has been reduced to a 40 second clip taken out of context. Ok internet, you win, I'm 💔.

— Khalyla (@Khalamityk) March 14, 2018
4. She is a Very Smart and Career-Driven Woman
Yes, she loves to spend money but she is equally a smart lady who is dedicated to making money as well. Being self-sufficient from the age of 17, Kuhn has learned a thing or two about how to make money. A graduate of Biochemistry, Kuhn once worked as a tutor for students studying anatomy, physiology, and microbiology.
While many are quick to dismiss her as a gold-digger, it is important to note that her husband Bobby created the uber-popular podcast, TigerBelly Show, with much help from her. The podcast has amassed quite a larger number of viewers. Additionally, Lady Kuhn is a cast on Mad TV. A little birdy once claimed that she earns as much as $200,000 annually and that her husband is worth at least a million dollars.
5. Her Relationship with Bobby Lee Is An Interesting One
Although Khalyla Kuhn has kept almost everything about her personal life a secret, the only thing about her that seems to be all in our faces is her relationship with Bobby Lee. The duo has pictures of their lovey-dovey moments littered all over the internet. Bobby and Khalyla met through the Tinder dating app. They had good chemistry and soon began dating. Years later, they tied the knot in a Church in New York; that was in August 2016.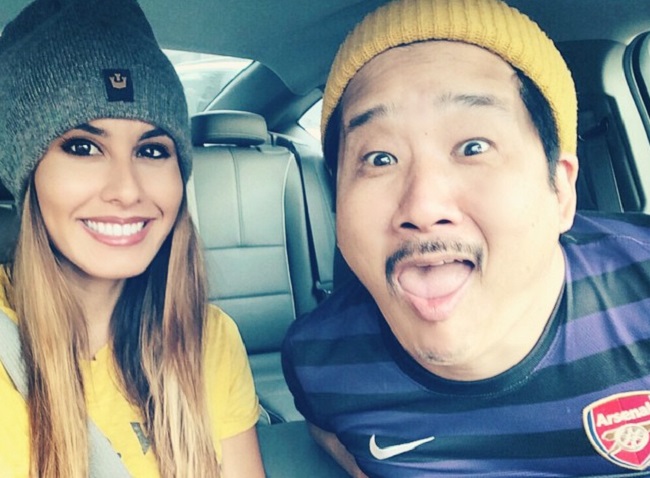 The couple has lived happily ever after, though their relationship has been confronted by several scandals and controversies. Certain misconstrued statements during their podcast talks have given their fans cause to raise doubts about their relationship. First was the gold-digging issue, which made everyone believe that she was with Bobby just for his money. Then, there was another about her saying she didn't want a monogamous relationship with him.
Bobby's fans became confused at this point. Did that mean that she was attracted to other men? Did she intend to cheat on him? She even brags about her past fling with some Spanish soccer player. And to think that she calls Bobby her first "lesbian boyfriend." The couple's life could sure make for a good reality TV plot, but maybe it could all just be a stunt by the two to keep their podcast intriguing.
6. Khalyla Kuhn Is a Cynophilist
Khalyla has a thing for dogs; she loves dogs and also has one named Gobitron. You would hardly escape photos of her cutie dogs while scrolling down her Instagram page. She calls them her babies. She even dedicates her time to rescuing stray dogs and cats and helping them find a new home.