Tracey Stewart (originally known as Tracy McShane) is an American former veterinary technician, animal rights advocate, author, and graphic designer. She is best known as the spouse of Jon Stewart, the celebrated comedian who has also thrived as a writer, producer, director, and actor.
Not every woman married to a rich, famous, and prominent man in the entertainment industry creates a career for herself, let alone a successful one. Considering the height Tracey's husband has attained as an entertainer, it's easy for her to dwell in the shadows of his career exploits and popularity.
Though she is not typically involved in showbiz and is largely known as Jon Stewart's wife, Tracey has been able to build her own identity away from that of her famous partner.
Over the years that Tracey has been married to Jon, the media and indeed the public at large, have mostly regarded her as a wife and a mother, but there's more to the woman than what meets the eye: several fun facts worth knowing. For instance, she was arrested in 2005 for driving with a suspended license.
Tracey began her career as a graphic designer and is a vegetarian who is very passionate about promoting animal rights. This inspired her to write a book titled "Do Unto Animals". In addition to that, she partnered with her husband to purchase a farm that provides safety and protection for abused animals.
Tracey McShane's Life Before She Met Her Husband and What She Does for a Living
Birth Name: Tracey Lynn McShane
Place of Birth: Philadelphia, Pennsylvania
Date of Birth: August 6, 1967
Age: 55 Years Old
Born on the 6th of August 1967, in Philadelphia, Pennsylvania, Tracey Stewart originally known as Tracey Lynn McShane is mostly known as Jon Stewart's wife. But beyond that, she has a lot of things going for her. The former veterinary technician is the founder of Moomah The Magazine and the vice president of The Portrait Project, a non-profit organization that connects children across the globe through arts.
Tracey spends most of her time and resource on caring for animals and advocating for their rights. This saw her become a published author of a book titled Do Unto Animals: A Friendly Guide to How Animals Live, and How We Can Make Their Lives Better in 2015. 
Much of her life before her marriage to Jon dragged her into the limelight is yet to be learned. As such, details of her upbringing, the family she hails from, and what not are sketchy. According to several reports, before she met and subsequently got married to Jon, Tracey McShane schooled at California College of Arts and Crafts.
She also attended Drexel University where she obtained a degree in graphic design and business. Thereafter, she began working as a graphics designer and this went on until her husband, Jon Stewart, took up the "Daily Show" job.
Reports have it that after Jon was named the host of the show, Tracey went back to school to become a veterinarian. This was obviously inspired by her love for animals but Tracey would later disclose that Jon had a hand in it. It happened that she had held and left several jobs over time because they weren't meaningful to her: she had always nurtured dreams about becoming a veterinarian.
So when she began dating Jon and he noticed she wasn't enthusiastic about her work that revolved around design, he suggested she returned to school and study veterinary. This would become the little nudge Tracey needed all along as she had been toying with the idea and talking herself out of it.
Among other things, she would work for the Bronx Zoo after acquiring her degree in veterinary science. While she had moved from job to job before she returned to school, Tracey is now mostly committed to activities that revolve around animals.
She is a prominent supporter of Farm Sanctuary, a nonprofit, animal protection organization. In addition to that, she cares for the many rescued animals that live in the $4 million, New Jersey farm she purchased with her husband.
She Met Jon Stewart On a Blind Date In 1996
Many marriages began with blind dates and so it was for Tracey and Jon. The couple first met on a blind date arranged by a mutual friend in 1996. Interestingly, it was the first time each of them would go on a blind date. This came just after Tracey pulled out of a seven-year relationship, so she was understandably reluctant about going on a date. She eventually went for the date and the two met at a Mexican restaurant: it marked the beginning of their relationship that has witnessed over two decades.
While Jon is yet to begin hosting The Daily Show which would become the hallmark of his career, he was already a popular figure in showbiz when he met Tracey. Notably, he had hosted MTV's You Wrote It, You Watch It and had developed The Jon Stewart Show which was an instant hit. Also, he has pulled off a few big-screen projects. In fact, it was the production assistant on his 1997 romantic comedy film, Wishful Thinking, that arranged the date between him and the woman who would become his wife.
Tracey wouldn't regret going for the blind date as she liked Jon, became very fond of him, and they started dating soon after. Roughly two years after they began dating, they were convinced they were meant to be together, so they took the relationship to the next level.
Jon Proposed Through a New York Times Crossword Puzzle And They Got Married In 2000
Being famous can make life easier, especially for someone that wants to propose marriage to his lover via the puzzle New York Times normally features in its publication. Few years after they started dating, the comedian proposed to Tracey through a crossword created specifically for Jon by the New York Times puzzle editor, Will Shortz.
Tracey solved the puzzle and accepted Jon's proposal, so they started making preparations for becoming an official couple. They eventually got married in November 2000 and have remained together ever since with no reports about any marital crisis. At this point, Jon had become the host of The Daily Show and his popularity had attained a zenith level. Naturally, it rubbed off on his wife and gained her a lot of attention despite the couple's efforts to have a quiet private life.
Born on the 28th of November 1962 in New York, Jon Stewart's birth name is Jonathan Stuart Leibowitz. Raised in a Jewish family in New Jersey, Jon became irreligious as an adult. Because of this, the fact that he officially changed his name to Jon Stewart after he got married to Tracey was criticized as a bid to alienate his Jewish heritage as reflected in his birth name. Tracey also changed her name to Tracey Stewart, this was in June 2001.
How Much More Famous Did Tracey McShane Become as Jon Stewart's Wife?
For someone who was not known to the public in any way before she got married to Jon, Tracey owes her fame to her marriage. Nevertheless, it is imperative to point out that she has not involved herself in any form of clout chasing.
First, she naturally gained the attention of the public as the romantic partner of a famous comedian, and then over the years, her endeavors as an animal rights activist continue to drag her into the limelight, even as she is fond of evading publicity. Her book about the well-being of animals gained her a lot of attention as Jon promoted it on his show. Also, Tracey made headlines when she got arrested for driving with a suspended license.
In all, Tracey Mcshane has lived her life away from the shadows of Jon Stewart's fame. Even as she has been very supportive of her husband and what he does, she has refrained from validating her essence as the "woman behind a successful man". Tracey has not only pursued her own dreams but has been making positive contributions to the world through it.
The Couple Had A Hard Time Getting Pregnant But Are Parents to Two Children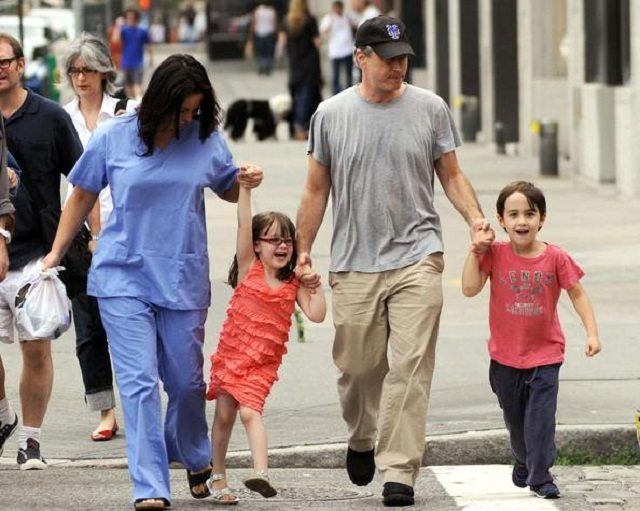 Many might have assumed the couple wasn't ready for kids as they were married for three years before they welcomed their first child, but Tracey Mcshane disclosed in an interview that it was not the case. According to her, they had trouble having kids and it took a couple of years before they got pregnant.
Tracey and Jon Stewart are now parents to two adorable kids: a boy and a girl respectively named Nathan Thomas Stewart and Maggie Rose Stewart.
Nathan Thomas Stewart
Date of Birth: July 3, 2004
Age: 18 Years Old
Occupation: Undetermined
Aside from her overwhelming love for animals and being the wife of a successful, famous comedian, Tracey is also a proud mother of two beautiful kids. Her first child Nathan Thomas Stewart was born in July 2004. As a kid, he was spotted several times in public with his parents but Nathan has grown into an adult now and it's pretty hard to tell what he has been up to.
Maggie Rose Stewart
Date of Birth: February 5, 2006
Age: 17 Years Old
Occupation: Undetermined
Barely two years after Tracey had her first child, she had her second named Maggie. In an article for The Huffington Post, Jon Stewart's wife related that she focused on nurturing empathetic and generous feelings towards others in her daughter. According to her, she taught Maggie to stand up for people who are being wrongfully attacked. Tracey ultimately called for the girl child to be raised in a manner that wouldn't limit their options in life.
Like her older brother, it is hard to tell what Maggie is up to but she is presumably in high school and would undoubtedly receive the full support of her parents in whatever she decides to do with her life as an adult.
Motherhood Inspired Tracey Mcshane to Found Moomah
When she became pregnant after years of trying to have kids, Tracey was super excited but was soon overwhelmed by the fact that she knew little about being a mother. She was told she would be fine but didn't realize that motherhood would change her life in many ways. Tracy gave birth to her first child and could no longer hang out where she liked as her baby might cry and disturb others.
With that, she envisioned a cafe that would serve as a perfect space for parents and their children. The result was Moomah, a place for parents to meet, have some healthy food and wine, and casually talk if they want to while their kids explore the children's enrichment center also provided. Although the cafe was later shut down, it was what morphed into Moomah The Magazine.
Here's Why Oprah Referred to Tracey's Marriage to Jon as The Real Deal
It's no secret that celebrity marriages often end in a divorce. Tracey and Jon's looks certain to be an exception and even Oprah Winfrey thinks so. Why the billionaire expressed that the two are admirable as a couple is not far-fetched: apart from genuinely loving each other, they have been very supportive and equally committed to building their family. For instance, it's known that part of the reasons Jon left The Daily Show was because; he wanted to spend more time with his wife and kids.
It was also reported sometime in 2017 that the comedian turned down a Netflix offer that would have earned him $50 million a year. He didn't want to return to work as he feared it would ruin the stable family he has built over the years with Tracey. Clearly, what Jon has with Tracey is important to him as much as it is to her. Oprah echoed this sentiment in an episode of the Oprah Winfrey Show that had Jon as a guest, describing the marriage between Jon and Tracey as "the real deal".
Oprah related that she visited Jon's home for business and couldn't help but notice that the comedian was deeply in love with Tracey and that she loves him just as much. According to Oprah, she felt a passionate warmth of intimacy between the two from the way they looked at each other and the way they looked at their son, Nate. In Oprah's words, it "was one of the sweetest, most-endearing things" she had ever witnessed in a couple.