Cristina Greeven Cuomo is the wife of Chris Cuomo, the award-winning American journalist and CNN anchor. Cristina Greeven Cuomo is an American wellness/fitness devotee and founder of Purist magazine. She was born on the 12th of January 1970 and is presently 53 years old. 
Cristina Greeven Cuomo is a rare combination of beauty, brilliance, and poise. She has had a robust career in the media as an editor with a sterling track record. She founded the Purist magazine (print and online editions) in 2017 and has used the platform to touch, inspire, and change many lives. The media personality has a way with words, which is evident in the plethora of writings she has done over the years. In addition to her career, Cristina is greatly admired by many for the family she has built over the years with her significant other, Chris Cuomo.
Cristina Greeven Cuomo Biography and Profile Summary
Age/Date of Birth:

53 years old (January 12, 1970)
Height:

5 feet 8 inches (1.72 m)
Ethnicity/Race:

Brazilian- German decent
Nationality:
American
Husband or Boyfriend:
Chris Cuomo (m. 2001)
Parents:
Father: Rainer Greeven
Mother: Regina Greeven,
Net Worth:
$3 million
Cristina Greeven Has Roots In Latin America and Europe
Born on the 12th of January 1970, Cristina grew up in New York and Southampton, United States even though her parents (Rainer and Regina Greeven) are of Brazilian and German descent. Cristina enjoys a close relationship with her parents even to date as she is fond of posting their pictures on social media with really lovely captions.
Cristina grew up with a great affinity for writing. She attended an all-girls school in the upper East side of Manhattan called Chapin School before proceeding to Cornell University where she graduated in 1992 with a Bachelor of Arts degree after which she began to work as an editor.
Cristina Is The Founder of a wellness magazine called Purist
Cristina Greeven Cuomo worked as an Editor-in-Chief and publisher of 'Manhattan' a lifestyle magazine for seven years and then 'Beach'. Both of the magazines were published by 'Modern Luxury'. Sadly, Cristina lost her position alongside the majority of the company's employees when it downsized in 2016.
Before her work as an editor, she also worked as the 'Creative Content Chief' for 'Plum Network' and served as the Editorial Director of 'Gotham and Hamptons Magazines at Niche Media Holdings, LLC. She was also a Vice-Chairman at Niche Media LLC before her collaboration with Jason Binn to launch all its publications in 2001.
In 2017, Cristina began to work on her own magazine. Not wanting to invest her energy into building up somebody else's dream, she founded the print and online magazine called 'Purist'. Speaking about her motivation and aim for starting the magazine, Cristina reveals that growing up in New York stimulated her academic mind and Southampton fed her exploratory soul but when she began to have children, she discovered 'the world of wellness'.
She believes that our environment has become toxic from pollution and politics and as people seek inspiration in their good health and lives, the 'Purist' magazine offers a place to refine and define the life they seek. In her words, the magazine offers "strength, equilibrium, peace of mind, lots of laughter and loads of love".
During the Coronavirus pandemic, Cristina through her website encouraged her readers to share methods they had discovered in battling the virus as communication and sharing stories was the way to achieve freedom and fear and stay strong. Her husband Chris revealed to The New York Times in a 2018 interview that she runs the business from home.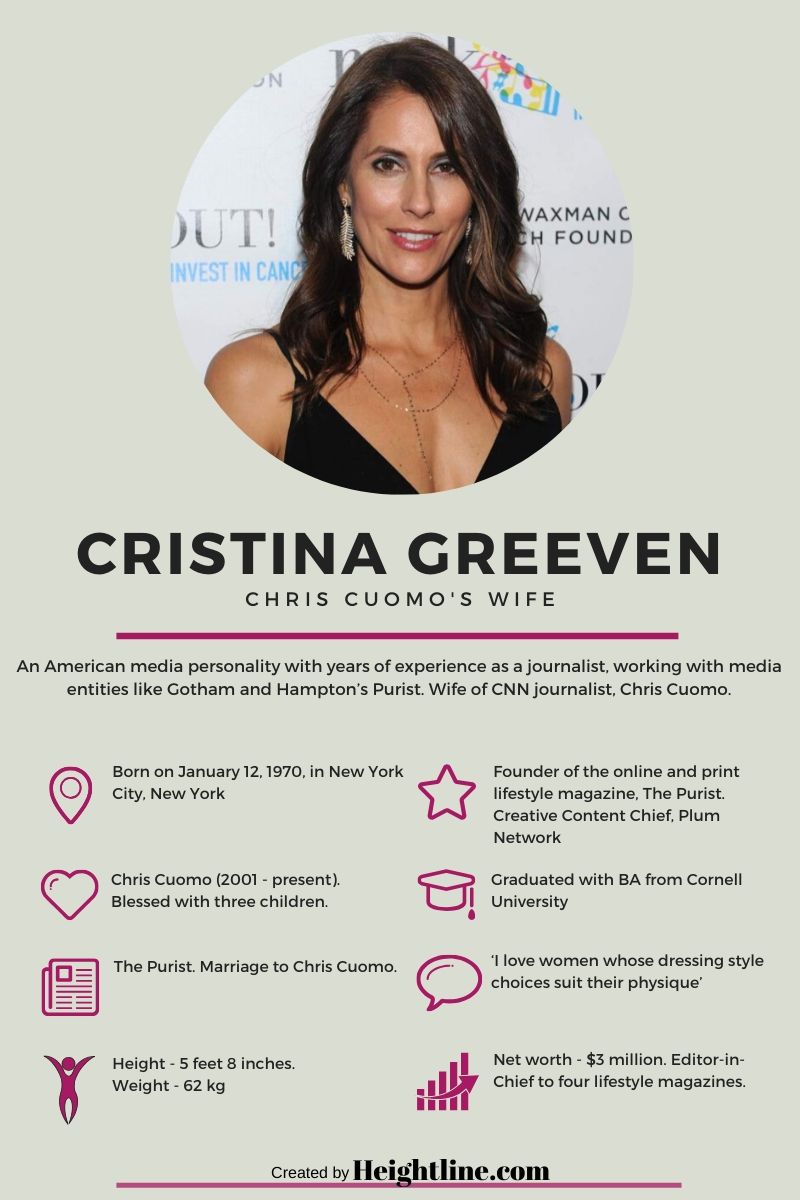 How Long Has Chris Cuomo Been Married To Wife Cristina?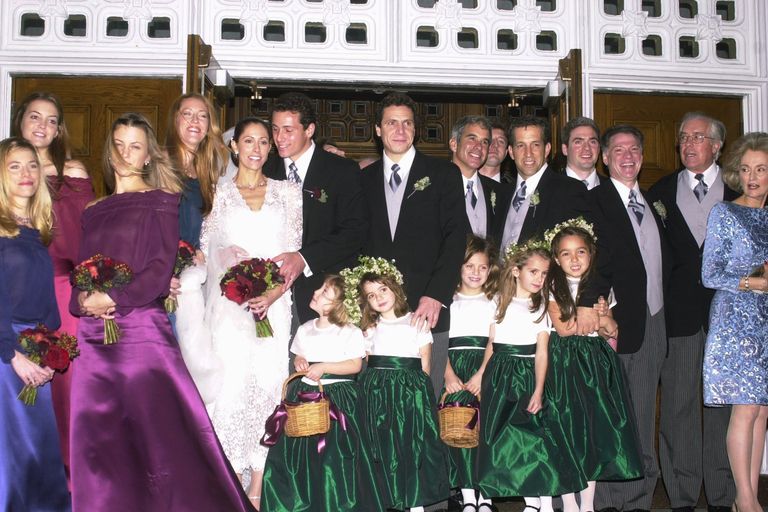 Their influence may not be as large as the Kennedy's and Bush's but the Cuomo family is not just your average American family, thus when Chris was getting married in 2001, it was a big deal. The "hunky youngest son" of New York's former governor, as NY Daily News who covered the event put it, was getting married and it had to be a big deal.
The wedding was held on the 24th of November of the said year and took place at Sacred Hearts of Jesus and Mary Catholic Church in Southampton, Long Island. They have since stayed married, making their marriage over 20 solid years strong. Their marriage came after they had dated for about two years.
Cuomo, at the time, had already begun his illustrious journalism career and was working for the ABC while Cristina was an editor for the Manhattan File magazine, while she was dating Chris, she included him in her magazine's Top 100 Most Eligible Bachelors list. They were both 31 years old when they got married.
As expected, Cristina and Chris' wedding was an eventful one but not without a little hold-your-breath moment for their families and guests. Cristina was 30 minutes late to the ceremony and when reporters approached Chris' now-late father Mario Cuomo to ask what going on, he added humour to his reply, telling the media that they would have a field day should Cristina not show up.
However, Cristina's lateness did not mean that she was hesitant about marrying Chris, she was in fact taking time to look perfect. When she did arrive at the church at 3.30 pm, she was looking gorgeous in a glorious Oscar de la Renta gown with three-quarter fluted sleeves, upon first glance, guests would have most likely forgiven her lateness.
She also had a tulle veil over her low-bun hair and a lovely bouquet of red roses to accompany her. Her father-in-law told the media that he thought that their love was made in heaven and if that was not the case "it's certainly made in the vicinity near heaven." The former governor said that this was because they were "both bright, sincere and intelligent people."
To walk Cristina down the aisle and exiting with her from the limo she came in was her father Rainer Greeven, an attorney. Her mother who had arrived at the event a few minutes before her donned a short pale blue Oscar de la Renta gown.
Serving as flower girls at the event were the groom's brother Andrew Cuomo's three daughters who wore white and green dresses. The men in the family all donned black tuxedoes with matching ties and grey vests. Guests at the wedding included Diane Sawyer, Lisa Ling, Lori Singer, Bill Modell, and his wife, Shelby.
Since their marriage in 2001, Chris and his wife Cristina have remained together, supporting each other through their careers. Just in case you were not in the know, Chris Cuomo is a decorated TV presenter and journalist, now best known for his time with CNN.
Cristina has been wise enough to stay away from controversies stirred up by her husband's comments. Sometime in August 2019 when a video of him spewing profanity-laced insults made the rounds after a man called him 'Fredo' which is the same as the n-word for Italian-Americans, Cristina opted not to respond and was instead focused on promoting a symposium which her magazine was set to host in East Hampton.
Cristina Cuomo Sparked Controversy For Using Bleach Bath To Treat Coronavirus
Like every other family, the Cuomo family sure have their own fair share of life's issues, however, 2020 was particularly a tough year for the family as they were badly hit by the ravaging coronavirus pandemic. The first person to contract the virus in the family was the patriarch Chris Cuomo.
He revealed that he had tested positive for Covid 19 and had been in quarantine in his basement away from his family in March 2020. The journalist made the revelation in a Twitter post and said that his greatest fear was infecting his family and how it would make him feel worse than being sick with the virus itself. While in quarantine, Cuomo worked from his house and tapped his shows from his basement.
— Christopher C. Cuomo (@ChrisCuomo) March 31, 2020
Unfortunately, what Cuomo feared most happened as he announced that his wife was the latest person to get infected with the virus just two weeks after he did. Cuomo said on CNN how he was deeply heartbroken about his wife's infection.
Cristina who is very active on Instagram took to the platform to chronicle her experience with the virus. She initially did not think that she had contracted the virus but became sure after having what seemed like a sinus-infection and lost her sense of taste and smell.
Cristina revealed that she was using natural remedies to treat the virus, but this was met with backlash. She said that she added a small amount, about half a cup of Clorox to her bathing water to treat the virus, this she said would "combat the radiation and metals in my system and oxygenate it."
Additionally, she said that she used a body-charger to send electrical frequencies through her body to oxygenate her blood and stimulate the healthy production of blood cells which would strengthen her immune system. This was met with heavy criticisms as bleach is scientifically proven to be a corrosive substance that is unsafe for the skin.
I can't decide which is more absurd, "The Body Charger that transfers energy, breaks up, and pulls out the low frequency while replacing with a higher rate" or the "PEMF (pulsed electromagnetic field) machine, which optimizes the ability of cells to start healing." #privilege

— tracey gratch ???? (@ibd_reporter) April 23, 2020
Despite the criticisms, Cristina continued to chronicle her remedies on her wellness website. Ultimately, she and her husband recovered from the deadly infection.
How Many Children Does Chris Cuomo Have With His Wife?
Chris and Cristina Cuomo are proud parents to three kids, two daughters Bella and Caroline, and a son named Mario. The couple frequently posts about their kids and a trip to their respective Instagram page shows that the family indulges in a lot of fun outdoor activities.
Cristina once revealed that they take their children to their home on Long Island on the weekends so they can be out in nature and 'run wild' which is difficult to do living in New York. Some of their outdoor activities include surfing, skiing, yoga, and just playing by the beach.
Name: Bella Cuomo
Bella Cuomo is Chris and Cristina's oldest child. She was born in 2003. Thanks to her mom's frequent Instagram posts featuring her, their followers have a glimpse into what she is like.
For starters, Bella seems to be very outspoken, an unsurprising quality for a daughter of an ace journalist. Her mother once posted about her getting detained in her high school for joining a march with some of her schoolmates to protest gun violence in response to the Marjory Stoneham Douglas mass shooting that happened in February 2018.
Bella alongside thousands of other students walked down to a certain presidential tower during the peaceful protest. Detention is not something parents are proud of but Cristina was boldly behind her daughter and said she could not understand why she had to be detained for protesting peacefully.
In addition to her fighting spirit, there is also a fun side to Bella Cuomo. She has got acting and singing skills and she does a lot of theater in high school, so do not be surprised when you spot her in a Netflix hit.
She has been part of stage productions of Chicago and Mary Poppins. Bella has showcased her vocal ability on Tik Tok where she has over 340 K followers, there are also a few clips of her singing off to popular songs on her mom's IG, little wonder why the New York Post dubbed her "the coolest Cuomo."
Name: Mario Cuomo Jr.
As you might have already guessed, Mario is named after his later grandfather and former New York State Governor Mario Matthew Cuomo. When Mario Jr was 10 years old in 2016, his father spoke about his experience parenting him in a feature piece with CNN.
He revealed that his son is introverted and sensitive, a complete opposite of his demanding and domineering personality and that he had to readjust his parenting style in order to build a relationship with his son. The journalist admitted that the process changed his life.
These days, Mario seems to have toughened up, he now has a black belt in karate after undergoing 6 years of training under the tutelage of karate master, senpai Chadwick Simon. Sorry bullies… His mom Cristina took to Instagram to celebrate the accomplishment.
Mario Jr. was the only Cuomo kid to get infected with the Covid 19, the family announced on April 22, 2020, it was after his infection that his mom began to make headlines with her controversial bleach bath formula. About a month later, Mario Jr had recovered from the viral infection.
Name: Carolina Cuomo
The youngest Cuomo kid, a daughter named Carolina was born in 2009. Her father announced that they were expecting her on the set of Good Morning America, he was serving as the host of the popular show at the time.
She is fondly called Cha Cha. Though it remains unclear whether or not she would go professional with it, Cha Cha is actively involved in gymnastics at her school. Her mother once revealed in one of her Instagram posts that Cha Cha had emerged first place, third overall, at her Manhattan Classic Gymnastics meet.
Profile Summary
First Name:
Cristina
Last Name:
Cuomo
Also Known As:

Cristina
Sex/Gender:

Female
Profession:

Editor
Famous For:
Purist Magazine
Colleges/Universities Attended:

Cornell University
Educational Qualifications:

N/A
Religion:

Christianity
Birthday & Zodiac

Age/Date of Birth:

53 years old (January 12, 1970)
Zodiac Sign:
Capricorn
Birth Place:

New York , USA
Nationality:
American
Ethnicity/Race:

Brazilian- German decent
Country of Residence:

United States of America (USA)
Physical Attributes

Height:

5 feet 8 inches (1.72 m)
Weight:

65 kilograms (143 lbs)
Eye Colour:

Hazel
Hair Color:

Blonde
Other Body Measurements:

N/A
Relationships

Marital Status:

Married
Spouse/Partner:

Chris Cuomo (m. 2001)
Family and Relatives

Father:

Rainer Greeven
Mother:
Regina Greeven
Children:

3 children - Bella Cuomo,
Carolina Regina Cuomo,
Mario Cuomo
Siblings:
Andrea Greeven Douzet
Other Relatives:

Andrew Cuomo- Brother in-law
Net Worth
Estimated Net Worth:

$3 million
Salary:
N/A
Source of Wealth:

Professional Career