The United States of America is great for so many reasons, including the fact that it is home to the largest number of billionaires in the world. Top on the list of these heavyweights is the highly-respected Jeff Bezos; a serial entrepreneur and investor best known as the founder of Amazon. Jeff is the owner of some of the best-performing companies in the world right now. He currently occupies an enviable position on Forbes' list; the business tycoon was named the wealthiest man in the popular business magazine's list of billionaires in the world as published in 2019.
Jeff also holds the record as the first man in modern history to hit the centibillionaire mark on Forbes Wealth index after his fortune skyrocketed to a jaw-dropping $150 billion in July 2018. Over the years, the internet entrepreneur has spearheaded the establishment of several companies with diverse interests in e-commerce, aerospace, media, grocery, web services, and other lucrative sectors in the competitive market. He has a robust and intimidating resume in business matters and all the credit goes to his insane technological expertise, involvement in scientific ventures, and a quest for greatness even in the face of challenges.
The Early Life and Education of Jeff Bezos
The business tycoon's life began on the 12th day of January 1964, in Albuquerque, New Mexico, U.S. Jeff's full name is Jeffrey Preston Jorgensen and the names of his parents are Ted Jorgensen (father) and Jacklyn Jorgensen (mother). His dad was a bike store owner while his mom was a seventeen-year-old high school student at the time of his birth.
Jacklyn and Ted ended their marriage when Jeff was still very young. Subsequently, Jacklyn got married to an American engineer with Cuban roots in the year 1968. Jacklyn's second husband Miguel Bezos later adopted Jeff who was only 4 years old and with that, the lad changed his surname to Bezos. The Bezos family would later relocate to Houston, Texas, where Jeff was enrolled at River Oaks Elementary School by Miguel who was working at Exxon.
Jeff was tutored at River Oaks from fourth to sixth grade and later at Miami Palmetto High School after his family relocated to Miami, Florida. Before he graduated from high school, Jeff Bezos spent some time at the University of Florida for his Student Science Training Program. He eventually completed his high school studies as a National Merit Scholar, valedictorian, and the winner of a Silver Knight Award (1982).
Bezos holds a B.Sc in engineering, electrical engineering, and computer science from Princeton University. He graduated from college summa cum laude in the year 1986 with an impressive 4.2-grade point average. During his days at Princeton, he served as the leader of the university's body called Students for the Exploration and Development of Space. Jeff was also a member of the engineering honor societies Tau Beta Pi and Phi Beta Kappa. He was highly respected for his technological proficiency.
Career Years Before Founding Amazon
It's no surprise that Jeff Bezos occupies an enviable position on the list of history's most notable investors, from past to present. He has one of the most fascinating career backgrounds, one that proves anyone can rise to the top. More interesting is the fact that Jeff started small (in his garage) after investing a couple of years in a slew of American firms.
It is worthy to note that the Amazon boss began nurturing an interest in technology and business at a very young age. As a business-minded youth, Bezos kept himself busy with meaningful activities during summers at his maternal family's ranch near Cotulla, Texas. He also made some money as a high school student working at the elite American fast-food company McDonald's. He served as a short-order line cook.
Jeff Bezos had his first work experience at a fintech telecommunication firm called Fitel. While there, he invested his expertise in setting up a network for international trade for the company. Because of this and other contributions he made, he was promoted to serve as the director of customer services and head of development. He left Fitel after some time and later worked with notable firms like Andersen Consulting, Bell Labs, and Intel.
The serial entrepreneur also spent some years in the banking sector, precisely with the Iowa-headquartered financial organization, Bankers Trust. He served as the bank's product manager before leaving in 1990; that was after two productive years. Bezos' next stop was at the newly-founded multinational investment management firm D. E. Shaw & Co. He left after four years but not before he rose to become the company's senior vice-president.
How Jeff Bezos Founded Amazon
Jeff Bezos is perhaps the most diversified and smartest businessman of our time. As stated earlier, he owns several business platforms through which he has been able to build a massive empire for himself. The Albuquerque-born investor didn't just explore the business world, he reinvented and reshaped the idea of investment; coming up with new ways to accumulate wealth.
His wealth and success are linked to his multiple income streams which include Amazon, Blue Origin, The Washington Post, and other ventures. The business mogul's journey towards financial freedom began with Amazon, the platform through which he made a fortune that made it possible for him to diversify. Let's take a look at how it all began.
Did You Know That Amazon Began As Cadabra?
The idea of setting up an online bookstore was conceived by Jeff for the first time in late 1993. To make this happen, Bezos resigned from D. E. Shaw and began to work on his business plan precisely on the 5th of July 1994, in his garage. He had made a rough sketch of the plan earlier while traveling to Seattle from New York.
Jeff's company was originally named Cadabra but at some point, he decided to switch Cadabra for the South American River, Amazon. Part of his reasons was that Amazon starts with the letter "A". Bezos' first investment in Amazon was made with about $300,000 his parents gave him. He would take the company public with an initial public offering (IPO) three years later, insisting that larger American book retailers would soon be taken over by online bookstores.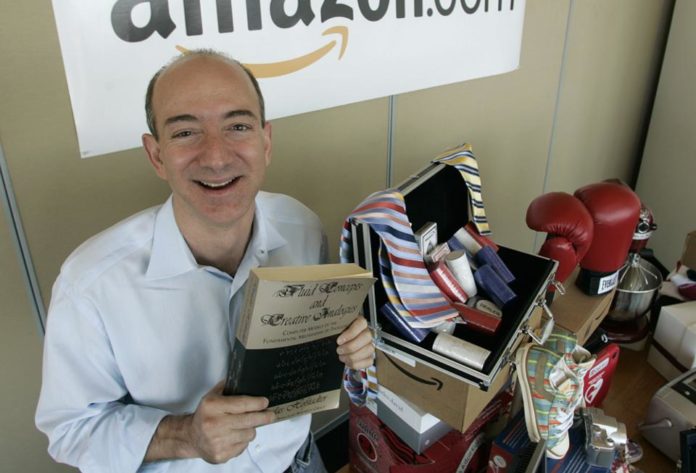 Four years after the bookstore was launched, Jeff branched into the online sale of videos and music. He had always wanted to diversify his business and trade on consumer goods. To have some level of control over the market, he would buy smaller business rivals with the $54 million Amazon made during its equity offering in 1997. With the $2 billion Bezos borrowed from banks in 2000, he was able to launch Amazon Web Services. The company, however, fell into financial distress two years later and nearly went bankrupt; this led Jeff to retrench 14% of his workforce and shut down some of his distribution centers.
Amazon bounced back in 2003, making a profit of $400 million from sales. This development gave rise to the establishment of the Amazon Kindle in November 2007. Six years later, Jeff Bezos hit a massive contract worth $600 million on behalf of Amazon Web Services with the Central Intelligence Agency (CIA) and his company was listed as the largest online shopping retailer across the globe.
The Expansion of Amazon and Its Subsidiaries
In May 2016, the businessman sold over 1 million shares of his holdings in Amazon for $671 million and later, another million of his shares from Amazon stock for a whopping $756.7 million. He went ahead to hire about one hundred and thirty thousand new workers in 2017 at Amazon's distribution centers. By January 2018, Jeff's Amazon stock holdings had gone up to over $109 billion, which gave rise to the sale of more stocks for the establishment of other business ventures, particularly Blue Origin.
After reporting its highest quarterly earnings of $2 billion on the 1st of February 2018, Jeff sent off the company's global senior vice president Amit Agarwal to India the next month; he was to start-up operations there.
A few days after Amit was despatched to India, Jeff was accused by Donald Trump of engaging in practices that militate against having a competitive business environment. It is believed that this made Jeff's fortune to fall by $10.7 billion and his company's share price by 9%. Nonetheless, the Amazon boss recovered his loss weeks later.
As of February 2020, Amazon is listed as the parent organization of the following enterprises:
Whole Foods (Acquired for $13.7 billion in 2017)
Zappos (Acquired in 2009 for $1.2 billion)
A9.com (Created in 2003 by Amazon.com)
Alexa Internet (Bought for $250 million in stock in 1999)
Amazon Game Studios (Founded on August 7, 2012)
AbeBooks
Amazon Lab126
Amazon Publishing (Launched in 2009)
Amazon Robotics
Amazon Studios (Launched in late 2010)
Amazon Air (Founded in 2015)
IMDb (Launched on October 17, 1990)
Amazon Books
Amazon Logistics, Inc.
Amazon.com Services
Book Depository (Acquired in 2011)
Audible
Goodreads
Graphiq
Ring
Body Labs
Souq.com (Acquired for $580 million)
Twitch Interactive
Woot
AWS
What Is Jeff Bezos' Blue Origin All About?
The internet and aerospace entrepreneur founded Bule Origin with a purpose in mind: to protect and preserve earth's natural resources. The human spaceflight company was founded in September 2000 but it kept a low profile until six years later when it was reported that Bezos had acquired a vast land in West Texas for the company's launch and testing of facilities.
Among other things, Jeff is hopeful that Blue Origin would reduce the price of space travel, offer a high level of safety for extraterrestrial movement, and as well see to the development of human life in the orbit. Blue Origin successfully tested its new orbital space vehicle called New Shepard in November 2015.
It's time to go back to the Moon, this time to stay. @LockheedMartin @northropgrumman @DraperLab @blueorigin #gradatimferociter pic.twitter.com/SMEUdriJhh

— Jeff Bezos (@JeffBezos) October 22, 2019
The facility was visited by journalists in 2016 and their visit was followed by New Shepard's successful spaceflight and landing of dummies in December 2017. It was announced a year later that the price of human spaceflight tickets with Blue Origin will cost around $200,000 and $300,000 per person, and that New Shepard would start conveying humans into sub-orbital space by 2018, precisely in November. Blue Origin is financed by the investor through Amazon stock which he sells for at least $1 billion annually.
How He Became The Owner of The Washington Post
Jeff Bezos became the owner of the American daily newspaper in October 2013 when he acquired it from the Graham family for $250 million. The newspaper is being managed by a holding company called Nash Holdings. It was established by the Amazon boss for the smooth running of the newspaper.
Three years after its acquisition, The Washington Post was impressively transformed into a tech and media company through a massive reconstruction of its analytics software, digital media, and mobile programs. Bezos has been accused of influencing the paper's content on several occasions, a claim he vehemently denies. Nevertheless, the newspaper has witnessed a tremendous increase in the number of online readers since Jeff purchased it.
Jeff Bezos' Awards and Special Recognition
It is hardly a surprise that Jeff Bezos has been honored with numerous awards and special recognition for his achievements in the business world and beyond. The media proprietor earned his first recognition in 1999 when he was named Person of the Year by Time and since then, he has bagged many prestigious recognitions; here's a list of the most notable among them:
The best-performing Chief Executive Officer in the world (2014; by Harvard Business Review).
Jeff Bezos won a $250,000 prize for emerging the winner of the Heinlein Prize for Advances in Space Commercialization in September 2016.
Businessperson of the Year (2012; by Fortune).
In 2008, Carnegie Mellon University conferred an honorary doctorate in science and technology on Jeff.
Selected as a member of America's best leaders (2008; by U.S. News & World Report).
Bezos received the Buzz Aldrin Space Exploration Award in March 2018 for his work with Blue Origin.
The Innovation Award from The Economist in 2011 for the Amazon Kindle.
He became a member of the National Academy of Engineering in February 2018.
One of the 100 most influential people on the planet (2018; Time magazine).
Jeff bagged Germany's Axel Springer Award in 2018.
How The Entrepreneur's Wealth Increased Over The Years
Jeff Bezos hit the millionaire mark for the first time in 1997 after raising $54 million through his company's initial public offering (IPO). Not long after that, he became a billionaire. As you will easily find, he made Forbes' billionaires list for the first time in 1999 with a net worth estimated at $10.1 billion. But then, the value of his wealth nosedived to $1.5 billion in the next few years and increased to $2.5 billion after some time.
From 2005 to 2007, Jeff Bezos' net worth was around $8.7 billion. His wealth was hit by an economic recession that again saw his fortune shrink to $6.8 billion. The businessman bounced back in 2010 and his value climbed to a jaw-dropping $12.6 billion. Four years later, his net worth skyrocketed to $30.5 billion and again jumped to $50.3 billion the next year, making him one of the ten richest men in the world.
By March 2016, Jeff's net worth was pegged at $45.2 billion and subsequently $66.5 billion. With that, he became the third richest person in the world. Bezos unseated Bill Gates as the richest person in July 2017 following a sporadic increase in his company's share price. He was eventually listed as the wealthiest person in the world on the 6th of March 2018 with a net worth of $112 billion, ahead of Bill Gates ($90 billion) and Warren Buffett ($84 billion).
As of February 2020, he has a net worth that has been fluctuating around $129 billion. The e-commerce guru competes with Bill Gates and Bernard Arnault for the top spot in the billionaire's list. Arnault is a French business mogul admired for being an avid art collector. He is best known as the chairman and CEO of LVMH which prides itself as the biggest luxury-goods company in the world.
A Look At How The Wealthiest Man Spends His Money
Jeff Bezos does not only spend his money on Blue Origin and other business investments. He also pours his fortune on other relevant things that are beneficial to him and the society at large. It is worthy to note that Bezos makes his investments through The Bezos Expeditions, his venture capital channel where he has stakes worth at least $880 million. If you have been wondering what Jeff spends his money on, below are answers.
1. Investments
Through Bezos Expeditions, Jeff Bezos has invested his money in various businesses. It is known that he has invested in popular establishments like Twitter, Business Insider, Basecamp, Workday, Airbnb, Uber, and Google. To the best of our knowledge, he made his first investment with Google in 1998 with the sum of $250,000.
We're investing $1.5 billion in our new air hub to get you your packages faster. Three million square feet, and it's going to create 2,000 jobs. And if you're guessing that driving a front loader was fun, you're right! #amazon #prime pic.twitter.com/Cud4orKrC4

— Jeff Bezos (@JeffBezos) May 14, 2019
He has also invested in a couple of firms in the health sector such as ZocDoc, Grail Haven, Juno Therapeutics, and Unity Biotechnology, a research institute that works on finding how to stop or slow aging.
2. Philanthropic Gestures
Jeff Bezos has shown solidarity and support to numerous organizations in the name of charity. In March 2017, Seattle's Fred Hutchinson Cancer Research Center received $35 million from the investor. He also donated $1 million to the Reporters Committee for Freedom of the Press in 2018. In 2012, the investor extended his philanthropic benevolence to Amazon's political action committee (PAC) which has supported both Republicans and Democrats financially.
The Woodland Park Zoological Society, Teach for America, New York University Langone Hospital — Brooklyn, Long Now Foundation, Oprah Winfrey Leadership Academy, as well as Aspen University all received funds through the Bezos Family Foundation in 2017. Earlier, the Amazon boss gave the Washington United for Marriage $2.5 million, $2.7 million to the University of Washington Foundation and Princeton University received $15 million.
Impressively, Bezos parted with $33 million which has been dedicated to awarding college scholarships to undocumented immigrants in the United States. In 2015 and through the Bezos Expeditions, Jeff funded the retrieval of two Saturn V first-stage Rocketdyne F-1 engines from the bottom of the Atlantic Ocean. Also, a nonpartisan movement received a $10 million donation from him in September 2018.
3. Vacations
Bezos has traveled to choice destinations in the world on several occasions for vacations. In 2017, he was seen having a good time in Rome, Italy with his parents, wife, siblings, and their spouses. Jeff has also been to Norway on an exotic vacation; he posted a video of himself dog-sledding above the Arctic Circle online.
4. Exotic Food and Real Estate
Jeff Bezos is not only famous for his aggressive business mindset; he also has a reputation for feeding on high-end healthy food such as roasted iguana and octopus.
The wealthiest man in the world has at least six luxurious homes across the United States of America. His properties are scattered across New York City, Texas, California, and  Washington D.C. Jeff owns two homes in Medina, Washington that span 5.3 acres. From what we gathered, one of them is an 8,300-square-foot mansion with four-bathroom and five-bedroom that reportedly cost $53 million. The other is a 20,600-square-foot stately home that he bought for $10 million in 1998.
His home in Washington D.C, a 27,000-square-foot mansion was acquired with $23 million and recently renovated with $12 million. The serial entrepreneur also owns a luxury home worth about $25 million in Beverly Hills, California; the property spans 2.03-acre. In addition to that, he owns 3 adjoining apartments that include a penthouse in Manhattan, New York. The three massive structures were purchased in June 2019 for $80 million.
In February 2020, it was reported that Bezos forked out $165 million to purchase another property, the Warner Estate in Beverly Hills, Los Angeles.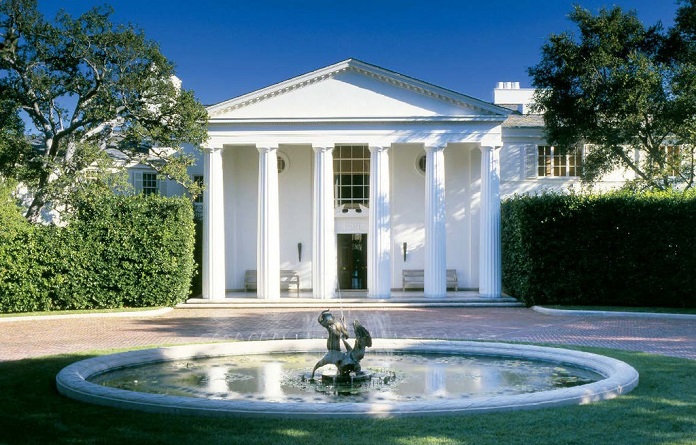 Facts About Jeff Bezos' Divorce Settlement
Jeff Bezos' divorce from his wife of many years reduced his wealth in 2019. The businessman paid out 25% of his Amazon shares to his ex-wife MacKenzie Sheri Bezos. MacKenzie's divorce settlement valued at $36 billion skyrocketed her to the third spot on the list of world's richest women. It also holds the record as the biggest divorce settlement in history.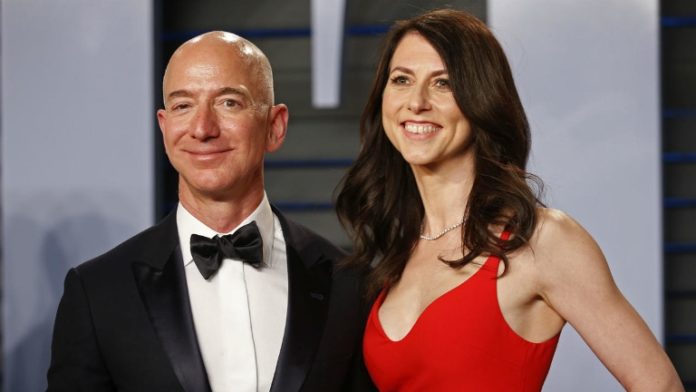 Mackenzie is an author, she got married to Jeff in 1993, a year before Amazon was launched. The couple divorced in 2019; they are parents to three boys and a girl adopted from China. Sheri is a graduate of Princeton University. She met Bezos in 1992 while working as a research associate for him at D. E. Shaw. Following the expensive divorce, she has pledged to donate at least half of her fortune to charitable causes.