Emily Compagno is a 44-year-old American TV show host, former NFL cheerleader for the Raiderettes, and attorney best known for her work on the FOX news program Fox and Friends.
Emily Compagno is a lady with an interesting mix of interests – law, sports, and journalism. She began to gain more visibility after making regular appearances as a contributor on the FOX news program Fox and Friends. The media presence that she has received in recent times has made many become more interested in what goes on even beyond her professional life.
We take you through all of the things worth knowing about the television reporter who wears many hats.
Summary of Emily Compagno's Biography
Full name: Emily Rose Compagno 
Gender: Female
Date of birth: November 8, 1979 
Emily Compagno's Age: 44 Years Old

Ethnicity: Mixed (White, Italian, German) 
Nationality: American
Zodiac Sign:  Scorpio
Sexual Orientation: Straight
Religion: Christianity
Education: 

University of Washington (BA); University of San Francisco School of Law (JD)

Marital Status: Married
Emily Compagno's Husband: Peter Reilly 
Emily Compagno's Parents: John Compagno and Katherine Bertsch
Siblings: Natalie and Julietta 
Emily Compagno's Height in Inches: 66.5
Emily Compagno's Height in Centimetres: 169
Emily Compagno's Weight: 55kgs
Emily Compagno's Net worth: $2 
Famous for: Her work on Fox
Emily Compagno's Instagram: realemilycompagno
Twitter: @EmilyCompagno
Background and Early Life
Emily Compagno was born on the 8th of November 1979 in Oak Knoll, California, to a father of Italian descent named John Compagno and a mother of German descent named Katherine (née Bertsch). Her parents would come to raise her in El Cerrito – a city Contra Costa County, also in California. Compagno was not raised alone but alongside her two sisters named Natalie Compagno and Julietta Compagno.
While not much is available publicly about Emily's parents, it has come to light that her great-grandfather was a World War II veteran, but he was not just an ordinary one; he served efficiently to earn a Silver Star which is rated as the third-highest personal decoration for valor in combat – this leaves little to wonder about where Emily got her athletic traits from.
Education and Legal Career
For college, Emily Compagno chose to attend the University of Washington where she earned her Bachelor of Arts in Political Science. During her college years, the adventurous Emily was active in extra-curricular activities; she was a U.S. Air Force Reserve Officer Training Corps' Cadet and got to receive the Quarter Award – an achievement that would have made her great grandfather proud.
Her next academic qualification came in 2006 when she earned a Juris Doctor from the University of San Francisco School of Law. She aced her California bar exams and began working as a criminal attorney in San Fransico. To gain experiential knowledge of the legal profession, Compagno served as a Senior Judge Judicial Extern at the United States Court of Appeals for the Ninth Circuit under circuit Judge, John T. Noonan.
For periods between 2010 and 2014, Emily Compagno worked at the Social Security Administration as a federal managing attorney. Her legal profession has also taken her beyond the shores of America as she has held legal positions in countries such as Brazil and South Africa.
Emily Compagno's Fact Sheet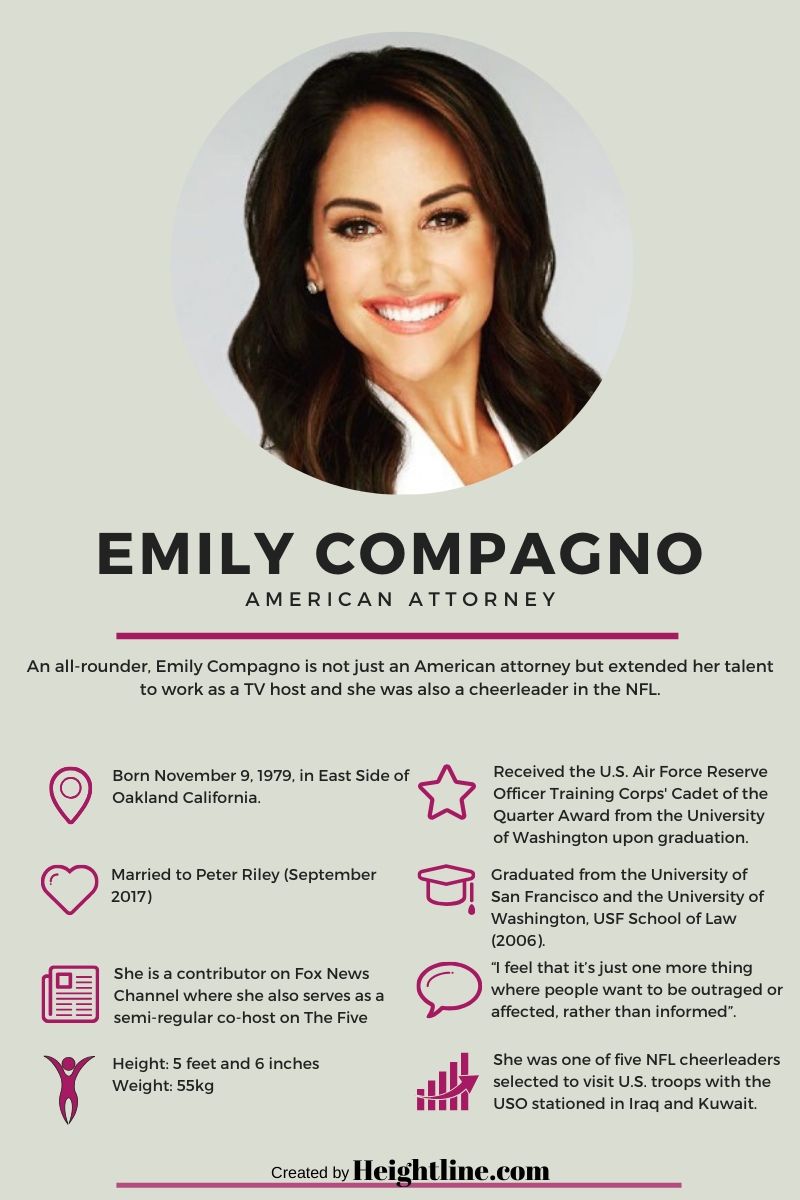 Cheerleading Exploits
Emily Compagno's passion for cheerleading can be traced back to when she was three years old; a time when she developed a strong passion for dancing. As she grew, Emily did not let her legal profession rob her of her passion for dancing.
She began cheerleading in school and continued even after earning her law degree. At the time when she began her law career, Emily was also serving as the captain of the cheerleading squad of the NFL's Oakland Raiders named the Raiderettes.
Compagno often takes everything she does up one notch and cheerleading was no exception. When the NFL was in need of cheerleaders to promote the football brand in China, Emily was among the 5 ladies chosen. The task saw her travel to cities in China where the NFL would later launch their brand.
Also as an NFL Ambassador, Emily got to visit army troops in Kuwait and Iraq. Her exploits in cheerleading have seen her get featured in top sports magazines, including Sports Illustrated and Maxim.
Thriving TV Career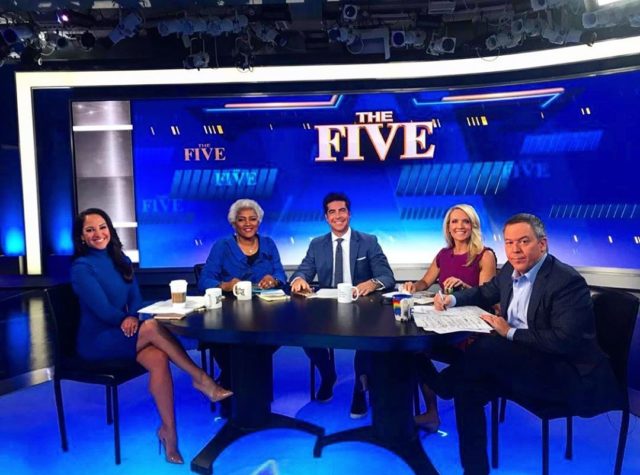 With a wealth of experience in law and cheerleading, Emily Compagno's next aim was to get on TV and share what she'd learned from these fields. Slowly, she eased herself into the world of TV reporting by first appearing as a guest contributor, especially on legal matters.
Fast forward to 2018 and Fox had made her a correspondent, as well as a fill-in anchor for their popular news programs Fox & Friends and Fox & Friends First. Eventually, she added sports reporting to her repertoire where her experience while working with the NFL came in handy. She's covered PAC-12 sporting events, as well as contributed to sports magazines.
Emily Compagno's Sisters Equally Lead Successful Careers
One of her sisters, Natalie Compagno is an avid traveler who has been to no less than 85 countries; she contributes articles to international travel journals. She is also known to own a popular travel bookstore in Los Angeles.
Her other sister, Julietta Compagno Skoog is more of a social worker; she aids parents to raise their kids through her organization called Sproutable. Both of Compagno's sisters are married; Julietta's husband is named Jon Skoog and with him, she shares two daughters named Josephine Harper Skoog and Violet Avery Skoog.
Is Emily Compagno Married?
For long, many wondered whether or not Emily Compagno was married until 2017 when she posted a photo of her husband's ring on Twitter. In the post, she joked about how she'd only been married for just a day and her husband was already forgetting his wedding ring.
She made this post on the 15th of September 2017, leading many to infer that the legal and sports business analyst got married on the 14th of September 2017. While Emily's marital status is now public knowledge, almost nothing is publicly known about her husband except that his name is Peter Reilly and that he is a real estate agent.
Reports has it that the duo have known each other since they were teenagers. They reportedly met in Seattle at the time and became friends before they eventually started dating.
The couple tied the knot in a hotel in Ravello, Italy, and they now live in Seattle, Washington. They also own another house in San Francisco Bay.
How Tall is Emily Compagno?
Emily Compagno is 5 feet 6 inches or 169 cm tall. She also weighs 121 pounds or 55 kg
Who is Emily Compagno's Husband Peter Reilly? 
Emily Compagno's husband, Peter Reilly, is said to be a real estate agent. Other than this, nothing else is known about him.
How Old is Emily Compagno?
Emily Compagno is 53 years old. She was born on the 8th of November 1979 in Oak Knoll, California.
What is Emily Compagno's Net Worth?
The attorney, TV host, and former National Football League (NFL) cheerleader  has an estimated net worth of $2 million.
How Many Children Does Emily Compagno Have?
Although Emily has been married since 2017, she is yet to have children.