In July 2017, Chip Hailstone was sentenced to 15 months in prison for "two counts of perjury and making false statements to police," Chip served time at the Anchorage Correctional Complex, this incident was followed by a three-year probationary period.
It will be recalled that a few years earlier in 2011, Chip claimed that an Alaskan state trooper physically assaulted his daughter Tinmaiq, who was just 17 years old at the time.
Thankfully he is now out of prison and is now back with his family and can be seen on Social media hanging out with friends, family as well as his fellow castmates.
Chip Hailstone once held sway as one of the most fascinating and intriguing people on American television. This was due to his featuring on the National Geographic series, Life Below Zero, which documented him and his family's survival in the Alaskan wilderness; hunting the wild for food while avoiding being killed by wild animals.
Hailstone and his family, who are one of the six families that appear on the show, remained a major attraction on Life Below Zero for the better part of a decade.
He, however, ended up leaving the show after running into serious legal trouble which he had to pay a steep price for.
The Real Reason Chip Hailstone Went To Jail And Her Legal Troubles
Chip Hailstone's travails with the law can be traced back to July 2011 when two of his children, Jon and Tinmiaq, got involved in a brawl with some people. Several weapons were brandished in the course of the fight, prompting law enforcement to be called. The cops went on to arrest Jon and take him to jail.
Hailstone, alongside his wife and Tinmiaq subsequently visited the police station where they confronted an officer who grabbed Tinmiaq by the arm.
Her father interpreted this as physical assault and made a formal accusation against the officer. He also claimed that one of the villagers had pointed a rifle at his daughter.
These claims were later disproved and Hailstone was charged with two counts of perjury and two counts of providing false information.
His trial was concluded in November 2012 and he was sentenced to 15 months in jail and given 3-years probation.
Chip Hailstone, however, maintained his innocence and launched a series of appeals. These appeals were finally disposed of in 2017 and his sentence was upheld. The TV star had no option but to spend the bulk of 2018 in jail.
This caused him to miss a large portion of that year's show. His wife and children also missed him terribly but had to forge on without him.
What is Chip Hailstone Doing Now?
As mentioned earlier, Hailstone's incarceration is now over and he is now back with his family. The famed hunter has also recommenced his normal routine as he can be seen on Life Below Zero each week.
A scroll through his Twitter feed would reveal recent pictures of him hanging out with family as well as his fellow castmates.
Chip currently lives with his family on the Kobuk River, a periglacial river located in the north-western area of Alaska in the United States.
He is a skilled hunter, proficient with a bow and arrow as well as a rifle, and can also use his bare hands too when the need arises.
Where Is Chip Hailstone Originally From and Why Did He Move to Alaska?
Chip Hailstone, whose real name is Edward V. Hailstone, was born on the 8th of March 1969 in Kalispell, Montana. Very little is known about his early and formative years apart from that he was raised by his parents; Daniel Franklin and Mary in Kalispell, and regularly indulged in fishing and hunting.
He also acquired craft-making skills at a young age not knowing that all this would prove pivotal to his future endeavors.
In the year 1988, a 19-year-old Hailstone visited Alaska for some taste of adventure. He initially planned to stay there temporarily but was soon enchanted by the sheer beauty of the Alaskan wilderness. He, therefore, settled down near the Kobuk River in Noorvik and commenced a subsistence lifestyle.
After some years of living in Noorvik, Hailstone became acquainted with a lady named Agnes, a native of Alaska and a member of the Inupiaq tribe. Agnes, who was born in the year 1972, has spent the entirety of her life in Alaska and is equally a skilled hunter like Hailstone.
The pair went on to become good friends before becoming lovers and then getting married. While the exact date of their nuptials is not public knowledge, we can surmise by the age of their children that they most likely tied the knot in the mid-90s.
Chip Hailstone and Agnes now have a total of five daughters; Tinmiaq, Iriqtaq, Mary, Caroline, and Qutan.
Chip further serves as a stepfather to Agnes' two sons, Douglas and Jon, from a previous marriage. Like their parents, both boys are fulltime hunters and also have their own families.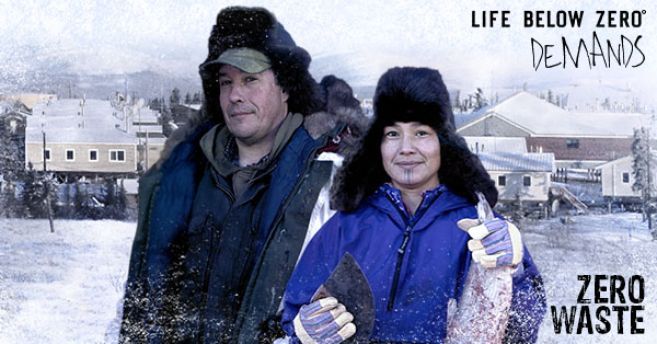 Finding Fame on Life Below Zero
Chip Hailstone and his entire family all feature on the popular Nat Geo show, Life Before Zero. The show basically follows the activities of the family, as well as other cast members, as they survive in the frigid Alaskan wilderness using only the barest of tools and amenities. Hailstone and his family fish and hunt the animals that they consume.
They also utilize the non-edible part of their game to make arts and crafts which they subsequently barter for a living. Additionally, the family also embark on seasonal migration in order to get the best that the wild has to offer, and all this is captured on the series.
Life Below Zero debuted in May 2013 and has consistently received high ratings. It has also scored not less than four Emmy awards. Asides the Hailstones, other cast members of the show are Sue Aikens, Glenn Villeneuve, Jessie Holmes, Andy Bassich, Erik Salitan, and Ricko DeWilde.
Jessie Holmes, the star of Life Below Zero, stopped into Noorvik for the Kobuk 440.
I met him at Iditarod, was at his best both times. pic.twitter.com/8lvW8mxYcw

— Chip Hailstone (@HailstoneChip) May 31, 2019