Sarah Magusara is a popular vlogger and lip-syncing sensation who is making waves with her eponymous account on TikTok. She enjoys the attention of millions of fans on the platform and also has a presence on Instagram and YouTube
When it comes to social media success, there are many paths to follow to attain your goals. For some folks, it happens on Instagram while some others find their forte on YouTube. Many more find their success on a myriad of other social media platforms. In the case of Sarah Magusara, she started on Instagram but found resounding success on TikTok, the app formerly known as Musical.ly.
Back in 2014, Magusara began uploading pictures of her daily life on Instagram. However, with inspiration from the likes of A1saud, TheyLoveArii, Kevin Bojorquez, and Jelina, she launched an eponymous account on TikTok and started sharing her own videos. Soon enough, her lip syncs and vlog posts began drawing increased attention. This article bares it all; revealing all you need to know about the Queen of TikTok, including her recent revelations about a baby.
Who is Sarah Magusara?

Born in Brisbane, Queensland, Australia, on August 22, 2001. Sarah Magusara identifies as a Filipino by ancestry. Although the TikTok bigwig doesn't seem to be a private person, she has managed to keep details of her early life off the radar. More so, there are no details about her early education, parents, or what they do for a living. Nevertheless, we know she has a sister named Giselle Magusara.
From the very start, Magusara's passion and skill can be seen in her videos and the numerous uploads she puts on TikTok. A bulk of the content shows her dancing. One thing she has, however, let her fans in on is her passion for performance. In October 2014, at the age of thirteen, Magusara began giving Instagram users a peek into her personal life by uploading pictures on the app.
Five years later, her efforts have paid off incredibly. From a following of 300k, Magusara now boasts of more than twice that number. Since she joined the video-sharing platform, YouTube in 2016, her eponymous channel features her dance videos and has garnered over 98k subscribers. Her slow-motion challenge uploaded in 2017 garnered about 700k views.
Although YouTube and Instagram have paid off big time, neither comes close to the successes Sarah Magusara has recorded on TikTok. Formerly called Musical.ly, TikTok was launched in 2017 by ByteDance. The platform enables users to share short-form mobile videos. Magusara has taken this opportunity and turned it into a money-spinning machine and a launching pad for her influence. A quick run through her content reveals a rich blend of creativity inspired by the works of other social media influencers such as A1saud, TheyLoveArii, Kevin Bojorquez, and Jelina. As of the time of this writing, Sarah Magusara commands a following of 8.1 million on TikTok. Asides from her social media exploits, there's more to know about the Queen of TikTok.
Sarah Magusara's Fact Sheet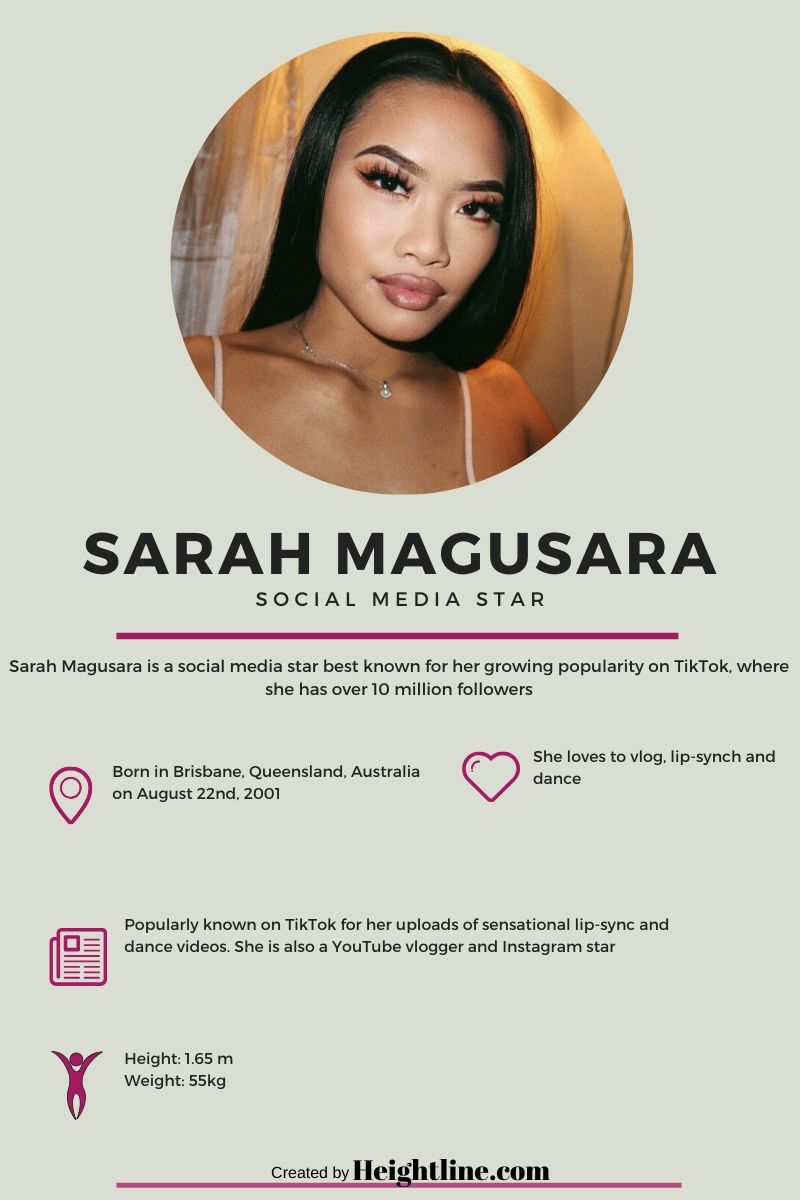 Sarah Magusara's Net Worth and Career Earnings
As of 2019, sources put Sarah Magusara's net worth at a range between $1 Million and $5 Million. As yet, it is uncertain how much she earns from her social media ventures. What's not a secret, however, is the fact that she earns a sizeable amount from endorsement deals, publicity campaigns, and brand ambassadorships.
Meet The Man in Her Life

There have been numerous speculations about the identity of the man in her life. Nevertheless, Magusara has remained notoriously silent until recently. Her social media accounts, Instagram especially, show her with a mystery man who we believe is her boyfriend. More so, Magusara announced in May 2019, that she was pregnant with her first child. An Instagram post dated October 1, 2019, showed a smiling Magusara clutching her baby girl; Zamira Rose Magusara-Warbrick. According to sources, Magusara gave birth on September 17, 2019.
Height, Weight, and Body Features
Now over eighteen, Sarah Magusara maintains a voluptuous build. She stands at 5 feet 3 inches (1.60 meters) in height and weighs 123 lbs (53 kg). She has dark brown hair and eyes of the same color. Her bust, waist, and hips measure 32-25-35 inches respectively. She wears shoes of size 5 (UK) but there are no details of her bra size. When that goes public, we'll put it all out.
Social Media Presence
Sarah Magusara is active on several social media platforms. She operates accounts on Facebook, Twitter, Instagram, PIKDO, and of course TikTok. On Facebook, she has a following of 52,092. On Instagram, she has over 1 million followers while her YouTube and Tiktok accounts have followers of 222k and 11.2 million respectively.