Age/Date of Birth:

30 years old (April 23, 1992)
Height:

2feet, 8inches(0.86 m)
Ethnicity/Race:

White
Nationality:
Canadian
Wife or Girlfriend:
N/A
Parents:
Mother: Barbara
Father: Devon Berwick
Net Worth:
$1.6 million
People with disabilities are among the most marginalized people in the world. The World Health Organization, which says that over one billion people in the world today have some form of disability, views it as a human rights issue because disabled people usually have poorer health, lower educational achievements, almost zero economic participation, and higher rates of poverty than those without a disability. Due to this, it is almost natural that a person with a disability will be living off whatever aid is provided to them by the government or other people in order for them to survive.
While this remains largely true, people like Ricky Berwick, who is suffering from a condition that has left him deformed from birth and is aided with a motorized wheelchair to move around, are among the few to have not allowed their disability to stop them from making a living for themselves as they also inspire others to do so.
Arguably one of the kings of social media regarding comedic content, Berwick has been able to live life on his own terms, thanks to his ability to entertain people across Twitter, Facebook, Instagram, and YouTube. His followership base runs into millions on all these platforms, where he often posts funny short videos and memes from the clips he produces. These memes have since grown in popularity, making him one of the most popular faces used as a meme on the internet.
Ricky Berwick's Fact Card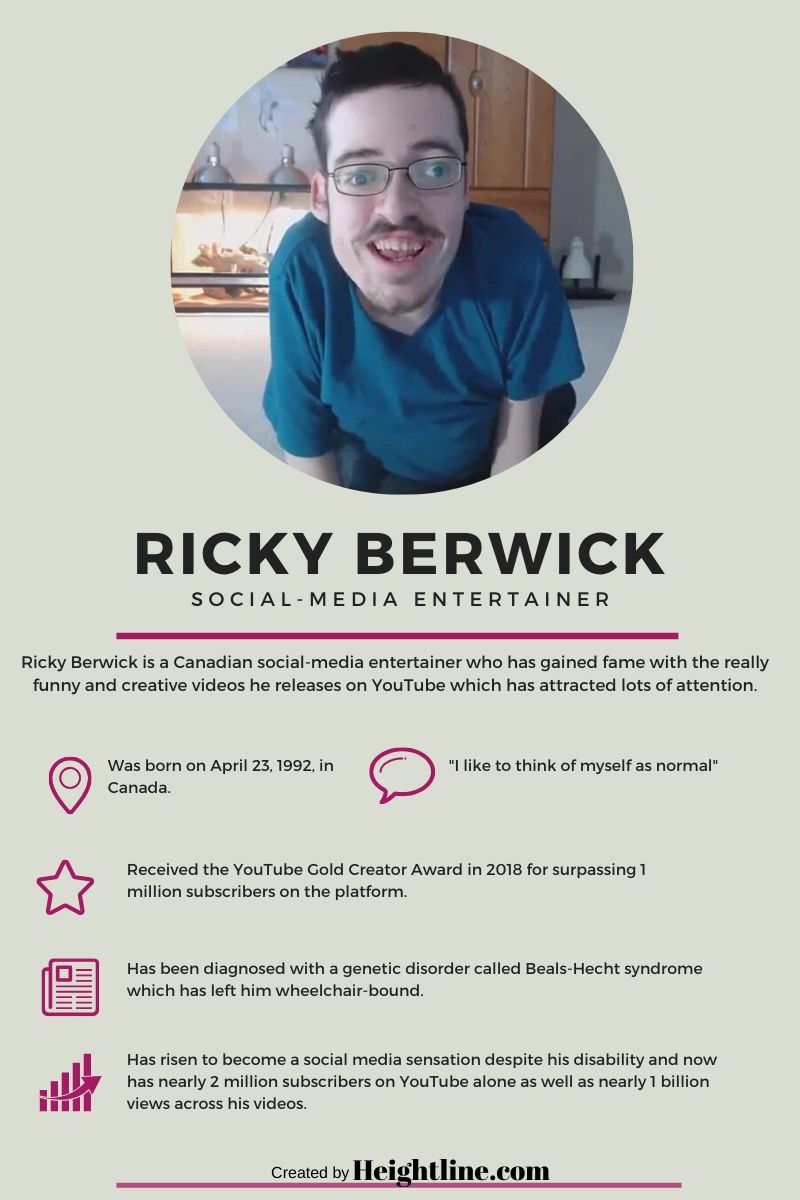 Ricky Berwick Was Born 30 Years Ago in Kitchener, Ontario
Ricky Berwick is a native of Canada. He was welcomed into the world on the 23rd of April 1992 in the southeastern Ontario city of Kitchener in Canada. The parents of the social media star have been identified to be Barbara and Devon Berwick. Their ancestry is British Scottish. Other than their names and ethnic origins, nothing else is known about his parents, who have at certain times appeared in some of his videos in the past. More than anyone else, his mother is better known by his fans as she always tries to give him advice about one thing or the other.
As is the case with information about his parents, very little is known about the childhood and wider family of the man who always records himself doing crazy stuff to share on social media. This is because, as he has revealed, Berwick is not a fan of interviews and is not quite ready to let personal details about him or his family become public knowledge.
He Suffers From Beals-Hecht Syndrome
As you might have already noticed, Ricky Berwick was born with a disability. He suffers from a genetic disorder that has been identified as Beals-Hecht syndrome or congenital contractural arachnodactyly. The condition, which can be referred to as Beals Syndrome, is caused by a defect in fibrillin as in Marfan syndrome (a mutation in the FBN2 gene on chromosome 5q23). It is usually inherited from a parent in an autosomal dominant pattern or maybe as a result of new mutations in the FBN2 gene.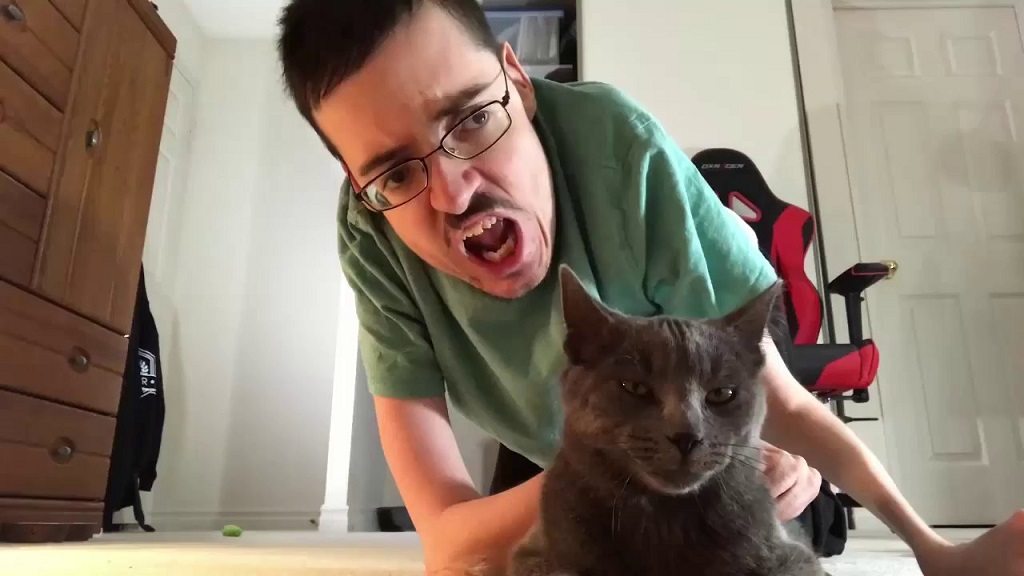 Beals Syndrome is quite rare. While the number of people suffering from the disease globally is not known, it is assumed that it affects less than one baby in every 10,000 births each year. The genetic disorder causes the sufferer to have very little control and movement of the arms, legs, and fingers. Those affected are further known to be skinny while they have long toes and fingers as well as crumbled ears. The disorder may also be mild or severe in the patient.
In Ricky Berwick's case, the disorder can be considered to be severe. His body is a little deformed, and he is unable to fully extend his joints. He also has a hump on his back.
How He Launched His Social Media Career
What brought Ricky Berwick to the limelight is his social media activities, most especially on YouTube, where he has close to three million subscribers. While most of the videos on the channel are less than 30 seconds long, there are some that are much longer.
Berwick's channel on the video-sharing platform was launched on May 9, 2007. Over a decade later, by 2018 to be precise, the channel had garnered more than 122 million views on thousands of videos that he makes daily with the simple aim of providing great entertainment. His views have since skyrocketed, by 2021, he had garnered close to 1 billion views.
Ricky Berwick also has a huge following on Twitter, where he shares his videos and materials with his followers. On the platform, he has more than 400 thousand followers and has shared thousands of videos and pictures. He describes himself there as "your not so normal video entertainer… AND your god."
Instagram is also another great platform that the comedic video maker who is famous for sticking out his tongue is using to spread his work. He has over 780 thousand followers on the platform, while on Facebook, he has over 1,500,000 followers.
Ricky Berwick's Net Worth Is Estimated At Around $1.6 Million
From the videos he posts online each day, Ricky Berwick averages daily views of around 400 thousand. This translates to an estimated income of about $700 every day from ads. Add it all up, and you would see that Berwick has estimated annual earnings of over $250,000.
In addition to making videos and posting them online, Berwick is also an entrepreneur. He often promotes his merchandise which is sold on Fanfiber. He sells things such as his Ricky T-Shirt, Ricky Berwick T-Shirt, Ricky Tongue T-Shirt, and Your God T-Shirt. He also sells things like Ricky Hoodie, Ricky Berwick Hoodie, Ricky Tongue Hoodie, and Your God Hoodie. His merchandise goes for between $27 and $49.
Thanks to all of these endeavors on social media, where he has garnered millions of followers across all platforms and has been able to sell a good number of his products, Ricky Berwick has something to smile about. While there are various reports of what his net worth is, our calculations point it to be in the region of $1.6 million. With such wealth, the disabled social media sensation can be able to afford himself a life that many other people who have a disability would wish that they have.
Profile Summary
First Name:
Ricky
Last Name:
Berwick
Also Known As:

Ricky
Sex/Gender:

Male
Profession:

Actor and Comedian
Famous For:
Tosh. 0: Ricky Berwick (2017), Jablinski Games: LETS PLAY BRUTAL LEGEND!
Colleges/Universities Attended:

N/A
Educational Qualifications:

N/A
Religion:

Christianity
Birthday & Zodiac

Age/Date of Birth:

30 years old (April 23, 1992)
Zodiac Sign:
Taurus
Birth Place:

Canada
Nationality:
Canadian
Ethnicity/Race:

White
Country of Residence:

Canada
Physical Attributes

Height:

2 feet, 8 inches (0.86 m)
Weight:

56 kg (123 lbs)
Eye Colour:

Dark Brown
Hair Color:

Dark Brown
Other Body Measurements:

N/A
Relationships

Marital Status:

Not Married
Spouse/Partner:

N/A
Family and Relatives

Father:

Devon Berwick
Mother:
Barbara
Children:

N/A
Siblings:
N/A
Other Relatives:

N/A
Net Worth
Estimated Net Worth:

$1.6 million
Salary:
N/A
Source of Wealth:

Youtube channel, Acting career