Ricky Berwick is arguably one of the social media kings at the moment when it comes to comic entertainment. He has established himself on social platforms including Twitter, Instagram, and YouTube.
One thing that's really interesting is how his life seems really fascinating that a lot of people want to know almost all there is about the star. Here is all you need to know about Ricky Berwick:
Ricky Berwick Wiki
It was on April 23, 1992, that Ricky Berwick was born. That was in Canada and his parents are Barbara and Devon Berwick. There is very little that is known about the man who always records himself doing crazy stuff to share on social media. This is because as he has revealed, he is completely not a fan of interviews and he is not ready to let anything about his childhood or family slip out.
What has brought him to the limelight though, is his social media activities, most especially his YouTube where he has as much as close to a million subscribers. His Channel, which makes use of his name, began on May 9, 2007. By 2018, the channel has grown to have more than 122 million views and it features thousands of videos that he makes daily with the simple aim of providing great entertainment. The channel has videos that are mostly less than 30 seconds long, but there are some that are much longer.
See Also: Cherry Crush Bio, Age, Height, Facts And Family Life Of The YouTube Star
He is also having a very good show on Twitter where he is sharing his videos and materials to followers. On the platform, Ricky has close to 200 thousand followers and thousands of videos and pictures. He describes himself there as "your not so normal video entertainer… AND your god."
Instagram is also another great platform that Ricky Berwick is using to spread his entertainment. Although he doesn't have a massive followership on the platform, he has over 2000 followers.
On Facebook, the comic YouTuber who is famous for sticking out his tongue has over a million followers. He shares his videos as well as promotes his wears on this platform just as he does on others.
Quick Facts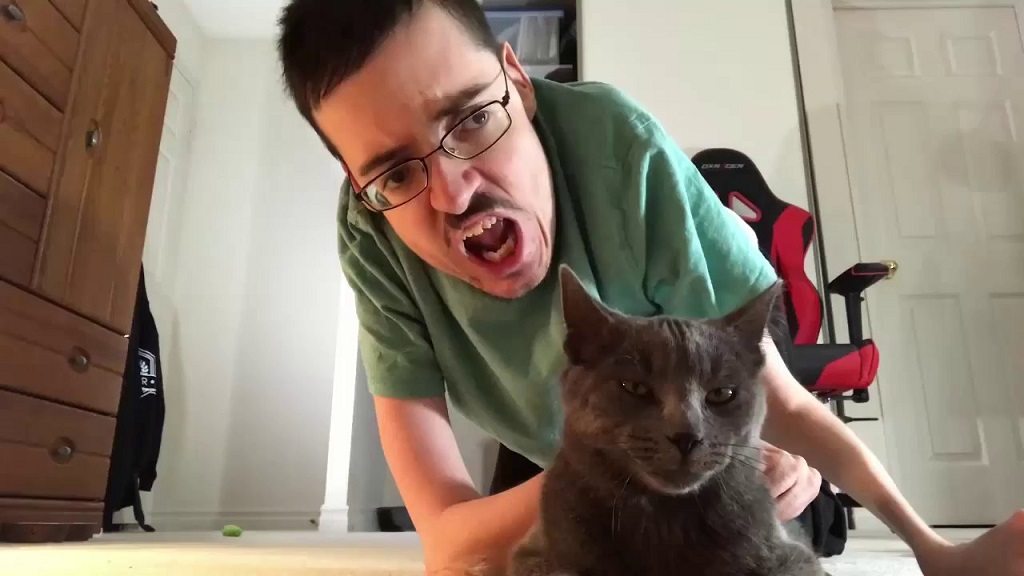 His Cats
He has quite a number of cats and they seem to be among his best friends.
Business
Apart from being a social media personality, he is also an entrepreneur who has his merchandise sold on Fanfiber. The celebrity sells things such as his Ricky T-Shirt, Ricky Berwick T-Shirt, Ricky Tongue T-Shirt, and Your God T-Shirt. He also sells things like Ricky Hoodie, Ricky Berwick Hoodie, Ricky Tongue Hoodie, and Your God Hoodie. His Merchandise goes for between 27.13 dollars to 49.33 dollars.
Social Media
He has a combined followership that runs into millions on the entire social media comprising of Twitter, YouTube, Facebook and Instagram. Apart from the very short videos that he distributes, there are also many memes that he makes or is made from his clips.
Condition
He has been suffering from a condition that has left him deformed from birth. Because of that, he makes use of a motorized wheelchair.
Net Worth
Considering the effort and time he is putting daily into all he does, one will expect that the man has a great net worth. While his exact worth is still unknown, he is said to be making as much as hundreds of thousands of dollars annually from his YouTube channel. He may probably be earning much more if one considers the sale of his merchandise.
Memes
Ricky is one of the most popular faces used as memes, as such, it is very difficult for anyone not to have previously seen him.
Favourite Superhero
Even though he wears both Spiderman and Batman's costumes, his favourite superhero is Spiderman.
What Disability or Disease Does He have?
Looking at the disability of Ricky Berwick, it is easy to state that it is as a result of a genetic disorder. This is because as pointed out earlier, he was born that way. The disease or condition that the star is suffering from is known as the Beals-Hecht syndrome.
The condition which is also referred to as Beals Syndrom is a rare genetic disorder that causes one to have long toes and fingers and makes the muscles to contract. Because of this, one will not be able to have straight muscles. It affects mostly areas such as the hips, elbows, knees, and ankles. The disorder may be mild or severe as in the case of Ricky Berwick.
The number of people suffering from this Beals-Hecht syndrome globally is still not known, it is assumed that it affects less than a person in every 10,000 births each year.