Standing at a height of 6′ 1″ (1.85 m), Barack Obama is very much taller than the average American male that is 5 feet 9 inches tall. Obama is not just the first African-American president; he is also one of the tallest presidents the country has ever had, though Abraham Lincoln remains the tallest so far at 6 foot 4 inches (193 cm) tall.
The presidency of Barack Obama would remain one of the most memorable ones in the history of the United States; at least for being the first African-American leader of the country. Barack was the 44th president of the United States and he served from 2009 to 2017. His first political office was as an Illinois State senator.
Under the Democratic Party, Obama defeated Republican presidential candidate John McCain. He was named America's 44th president on November 4, 2008, and held on to the office until 2017. In addition to his intellectual and political decisions that contributed to the growth of the country, he is also remembered for being a stylish leader. What role did his height play in that and how tall is he compared to other US presidents? These and more you will find about Barack Obama's height as you read further.
How Tall Is Barack Obama?
Barack Obama is 6′ 1″ (1.85 m) tall, which is above the average American male height of 5 feet 9 inches.
For someone as tall as he is, it is almost natural for Obama to have a special likeness for some sports where his height is well appreciated. Take basketball, for example, 6'1″ is usually desired for a point guard. But if skilled in the game, 6'1" can also occupy the position of a shooting guard.
Back in his years as a student, Obama played basketball and was popularly known as "O'Bomber" for his skills in the game. He was known to play on both the J.V. and varsity teams at Hawaii's Punahou School. He also played the game during his college years at Occidental College and even won a state championship in 1979.
Even while serving as the president of the United States, Obama never left his favorite game. He was captured taking a left-handed jump shot on the White House basketball court in 2009.
Barack Obama's height is the same as Rajon Rondo's, Kevin Johnson's, K.C Jones and Bill Sharman's who are often counted among NBA's finest players. There are rumors about the former US president wearing elevator shoes, but these claims have not been confirmed.
Barack Obama's Height Compared To Other US Presidents
Obama is not just the first African-American president; he is also one of the tallest presidents the country has ever had. At 6 feet 1 inch, Obama's height is above the average American president's height of 5 feet 10.7 inches.
While Abraham Lincoln, the US sixteenth president remains the tallest with a height of 6 ft 4 inches, Obama comes 10th in the list after the likes of George H. W. Bush, Franklin D. Roosevelt, George Washington, and Chester Arthur who were all 6'2″. Thomas Jefferson the 3rd president was 6 ft 2 1⁄2 while Donald Trump is 6 ft 3 inches.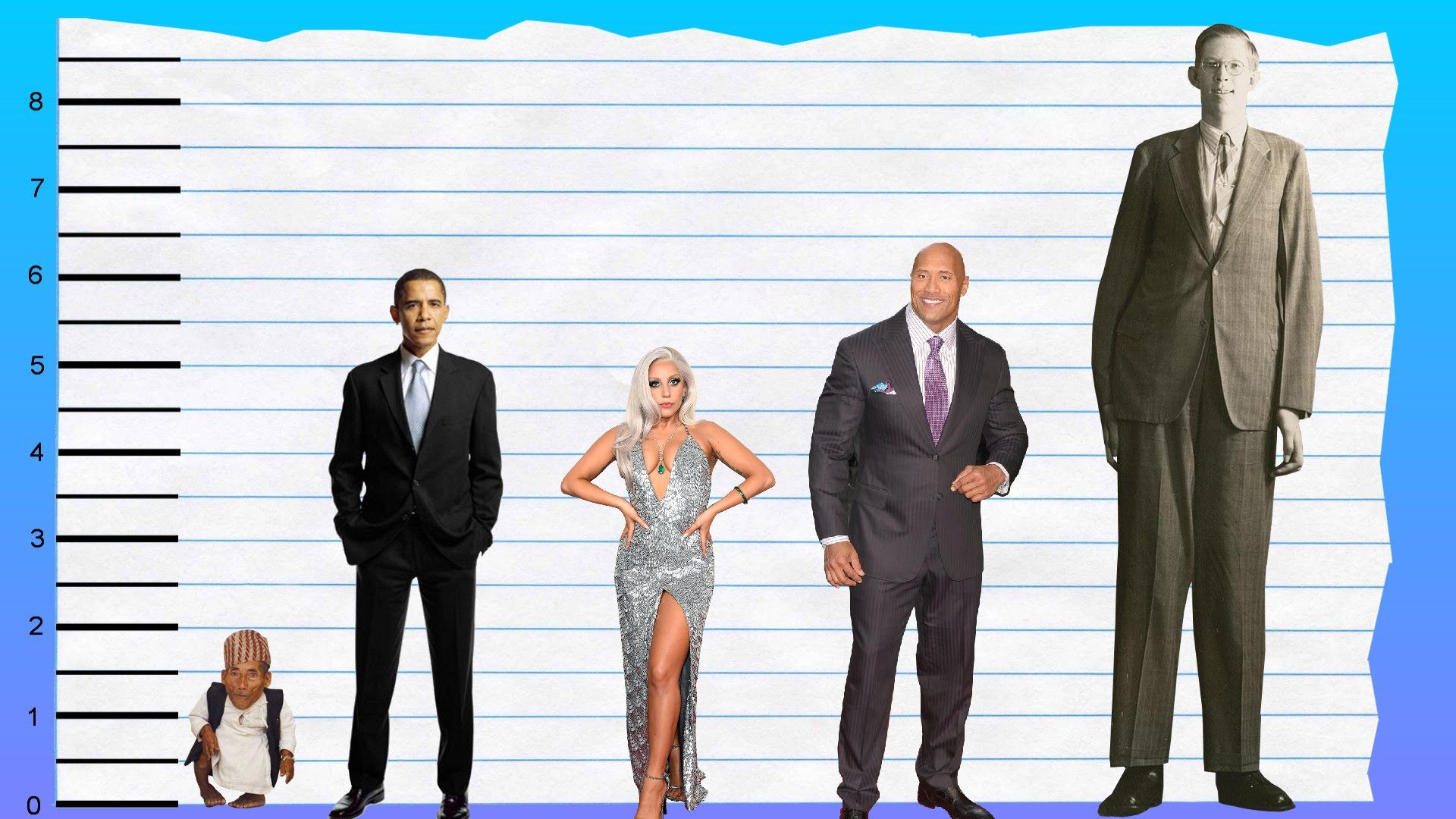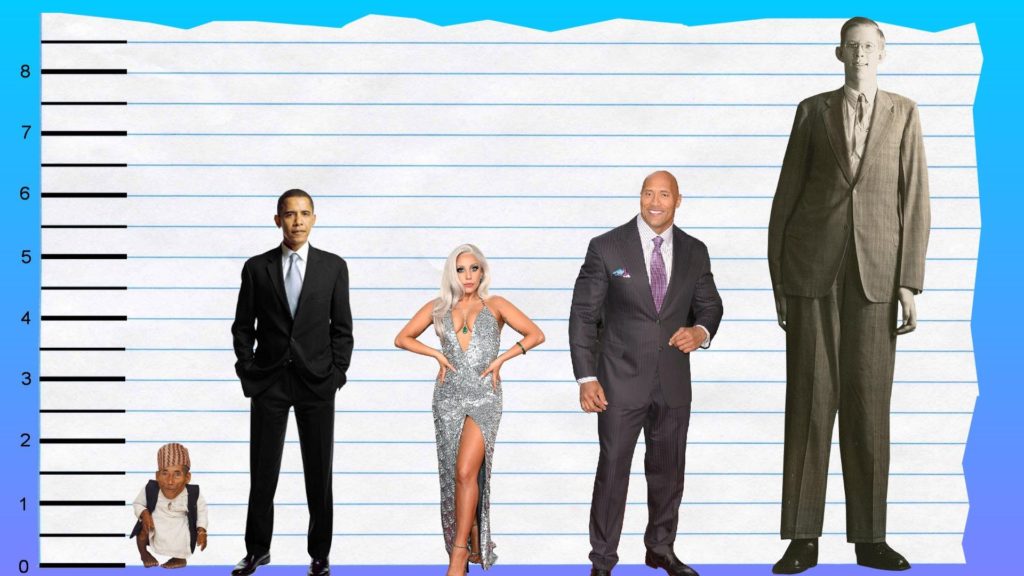 After Obama comes those who were 6 feet tall like James Monroe, James A. Garfield, and Gerald Ford. The least tall so far are Martin Van Buren and Benjamin Harrison who were both 5'6″. There is also James Madison; he was 5'4″. There are a lot of other famous personalities who stand as tall as the former president of the United States of America. Leonardo DiCaprio, Keanu Reeves, Justin Timberlake, and Cristiano Ronaldo are all as tall as Barack.
Key Takeaways:
Abraham Lincoln was the tallest president at 6 foot 4 inches (193 cm) tall.
James Madison was the shortest president at 5 foot 4 inches (163 cm) tall.
The average height of the first 44 presidents is 5 foot 11 inches (180 cm) tall.
How Tall Is Obama Compared to His Wife and Kids?
One thing you will always remember Obama and his wife for is their constant public display of love and support for each other. In addition to being actively involved in her husband's political life, Michelle is well known to be a sports enthusiast. Obama's wife is 5 feet 11 inches tall, her husband is slightly taller than her.
Looking at the two together, you would easily think the former First Lady is of the same height as her husband. This is probably because the woman knows how best to accentuate her looks. She has a very intimidating body structure with shapely legs and a slim waist, perfectly complementing her husband's figure.
Obama was 27 years old when he first met Michelle LaVaughn Robinson, and they got married on October 3, 1992. The couple is blessed with two beautiful daughters who happen to be a replica of them. Clearly, genes play an important role in determining heights, the Obamas are a good example.
Their daughter Malia Ann Obama, born on the 4th of July 1998, became 6 feet 1 inch tall when she turned 21 years old. When she was 13 years old, the former president joked about his daughter's height, saying she would still be his daughter no matter how tall she grows. Obama's youngest child Natasha (Sasha) is 5 feet 9 inches tall. She was born on June 10, 2001.
Obama's Weight, Fitness Routine, and Struggle With Smoking
Obama is probably the fittest president in the history of the United States of America. During his time as president, issues about his weight became quite controversial that Mitch McConnell, the Senate minority leader, planned to call on Congress to convene a bipartisan panel to investigate his weight which at that time was around 179.9 pounds.
There were even calls by the then Senate Republican whip, Jon Kyl, for Obama to resign on claims that he "has no weight of any kind". However, a medical report released in 2016 showed that Obama weighed 175 pounds (79 kg), thanks to his adherence to a healthy diet and a consistent exercise program.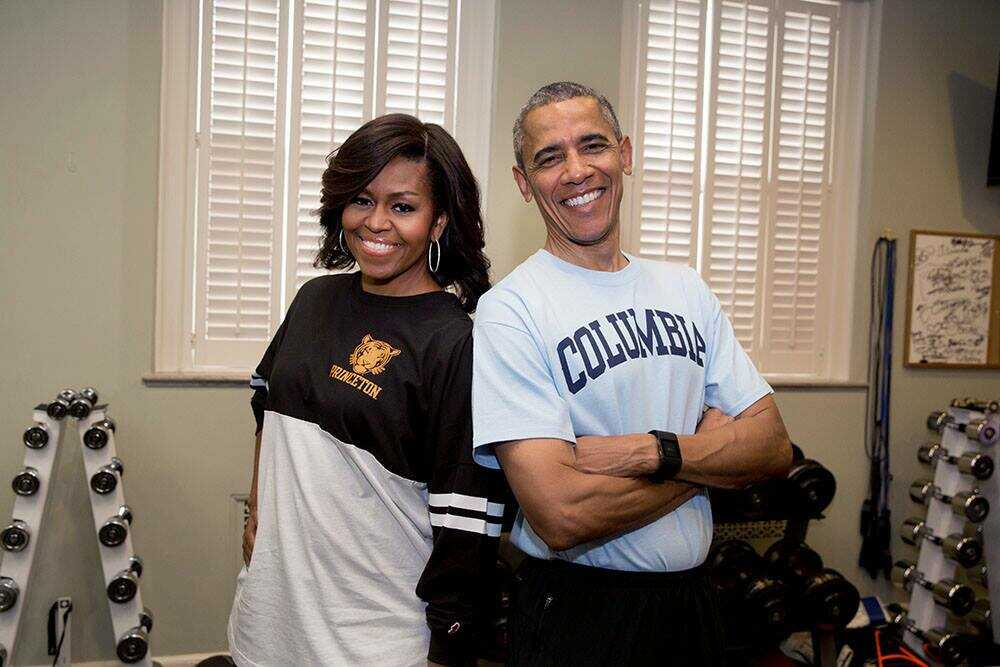 His strict adherence to a healthy lifestyle gave him an improved lean body mass. Obama exercises daily, incorporating aerobics fitness and resistance weight training into his routine. He told Men's Health magazine in October 2008 that he works out for 45 minutes six days a week. His daily workout consists of a treadmill run and resistance training which he alternates between strength and cardio sessions. Occasionally, he does plyometric and ab exercises. Barack plays sports like golf, basketball, and boxing.
Although he struggled to quit smoking, there is no doubt that Barack Obama is an absolute workout fiend. His chest and waist measure 43 and 33 inches, respectively.
What Barack Obama's Diet Plan Looks Like
Apart from a decent workout routine, Brack Obama incorporates a healthy diet plan. While we cannot rule out his good genes, there is no doubt that a proper diet plays a crucial role in the good health he enjoys. Coffee has never been a part of his breakfast and sugar, carbs, and fats are completely out of his meals. He consumes more salads and fruits.
For breakfast, he often takes eggs, potatoes, and wheat toast. This helps to keep his cholesterol level low, boosts metabolism, and keeps him away from the risk of being obese. However, he has a fondness for burgers and Nicorette gum.