It does not matter if you are an average Joe or a celebrity; every human can get a scar. However, celebrities who always appear on TV and think of themselves to be perfect have a negative impression of their scars. This is why they may go all out to hide their scars with make-up and plastic surgeries while others proudly embrace theirs.
Here, we will walk you through 20 popular celebrities and famous people with scars, an overview of their biographies, occupations, and what part of their body is scared. Also, we will highlight what effort they have made to remove the scar in terms of surgery, scar creams, or wearing clothes to cover it. We would also be mentioning those who have proudly embraced their scars.
Top Celebrities With Scars On Their Bodies
1. Tina Fey
Date of Birth: May 18, 1970
Age: 53 years old
Place of Birth: Upper Darby, Pennsylvania, United States
Occupation: Actress, Comedian, Writer, and Producer
Body Scar Location: Face
Tina Fey is an American actress, comedian, writer, producer, and playwriter. In 1992, the year she graduated from college, she moved to Chicago to pursue a career in comedy. The comedy training ground Second City is a renowned program where many Saturday Night Live performers started from. Fey is also a successful scriptwriter and the co-creator of Unbreakable Kimmy Schmidt, which got introduced in 2015 and gained strong reviews. As a multi-talented writer, she has won awards, accolades, and earned notable recognitions that make her stand out.
Tina Fey didn't allow her scar to control her life. Growing up in the suburbs of Philadelphia, at age five, she had an unforgettable encounter that left her with a scar on the face. A stranger walked into the front yard of her home in Upper Darby and attacked her. Fey said in an interview with the Chicago Tribune that she went about her life unaware of it. She was a very confident little kid and was able to forget about it until she started appearing on-camera.
From her achievements and how far she has gone in life, it's obvious she has not allowed the scar to deter her progress. Also, there isn't any physical effort to get rid of her scar in terms of plastic surgery, scar cream, etc. Instead, she shoots scenes with her right side to the camera, making the scar less visible to the public. It is only when you take a closer look at her face that you would notice she has a scarred face. Tina is also one of those celebrities with scars who put on heavy makeup to cover up the scar.
2. Harrison Ford
Date of Birth: July 13, 1942
Age: 80 years old
Place of Birth: Chicago, Illinois, United States
Occupation: Actor, Pilot, Environmental Activist
Body Scar Location: Chin
Harrison Ford took minor acting roles in movies and television after attending Ripon College in Wisconsin, where he studied English and Philosophy. Ford later learned how to fly both fixed-wing aircraft and helicopters. He began his flight training in the 1960s at Wild Rose Idlewild Airport in Wild Rose, Wisconsin.
The actor and part-time private pilot got his scar on the chin in 1968 one morning while driving to work. As the story goes, when he tried to "buckle up", he lost control of the car and crashed into a telephone pole, slamming his head into the steering wheel.
Ford's scar has not in any way affected his career, it only added to his sex appeal. As a result, he has done nothing to get rid of them. His scars have been a part of his life and have journeyed with him all through his career and achievements.
3. Sharon Vonne Stone
Date of Birth: March 10, 1958
Age: 65 years old
Place of Birth: Meadville, Pennsylvania, USA
Occupation: Actress, Film Producer, and Model
Body Scar Location: Neck
Sharon Stone studied in Saegertown High School, Pennsylvania, before enrolling at Edinboro University of Pennsylvania, where she graduated with a degree in creative writing and fine arts. In 1977, she moved to New York where she joined the Ford Modeling Agency and became one of its top models. She later went on to launch her acting career, featuring in many popular movies and earning numerous award nominations for her performances.
As a child, Sharon Stone injured herself while horse-riding; she ran into a taut rope that cut her neck, leaving her with a permanent scar. The actress said the cut was 16th of an inch from her jugular vein. While the scar slowed down her career for several years as she was self-conscious about it, she was soon able to get back on track. Sharon's scar has since then not deterred her from progressing in her career. She carried on with her life and didn't see the need for cosmetic surgery to cover it up. The most she does is conceal the scar when in public and during movies where it is not necessary to show it.
4. Joaquin Phoenix
Date of Birth: October 28, 1974
Age: 48 years old
Place of Birth: San Juan, Puerto Rico
Occupation: Actor, Producer, and Animal Rights Activist
Body Scar Location: Upper lip
Joaquin Phoenix is an American-born actor who is known for playing dark and unconventional roles in independent films. Some of his works include Kids Don't Tell (1985), Gladiator (2000), The Master (2012), Unity (2015), Joker (2019), and many others. His spectacular acting talent has won him many accolades, including an Academy Award, a British Academy Film Award, a Grammy Award, and two Golden Globe Awards.
Contrary to what many people take to be a repaired cleft lip, the scar on Phoenix's lip is a birthmark. The scar is known as a mild cleft palate – called microform cleft. Phoenix's scar seems to add to his good looks and so he has done nothing to stop him from rising to stardom. The actor has come to accept his scar/birthmark as God's gift to him. His religious upbringing has given him a profound understanding of its origin. Thus, as one of those celebrities with scars, he has embraced his own and boldly speaks of it.
5. Parminder Kaur Nagra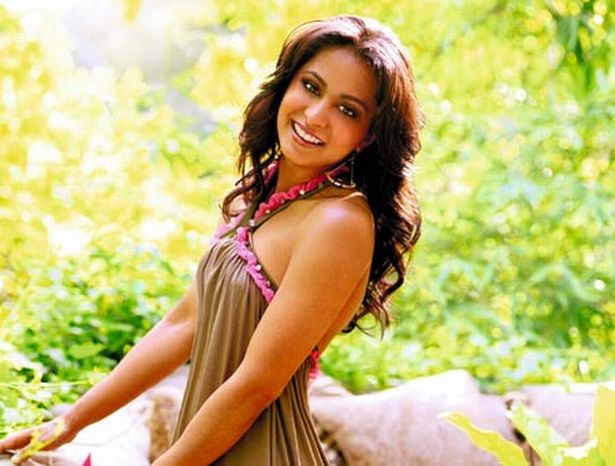 Date of Birth: October 5, 1975
Age: 47 years old
Place of Birth: Leicester, United Kingdom
Occupation: Actress
Body Scar Location: Thigh
Parminder is an English actress of Indian origin who started acting in her teens (17). Against her parent's wish, she left school and started working in theater full-time. Some of her acting credits are in films like Bend It Like Beckham (2002), ER (2003 to 2009), Agents of S.H.I.E.L.D (season 4), and many others.
Nagra has a burn scar on her thigh that occurred when she was 7 years of age. Her love for cooking endeared her to the kitchen which became her regular visiting place. It was during one of her routine meal preparations that fire caught her trousers, burnt her thigh, and left her with a scar.
Parminder Kaur Nagra's scar story was included in the movie Bend it Like Beckham. This seems to mean that she has no need to hide it; it's a part of her career. From all indications, it can be concluded that Parminder didn't allow her scar to interfere with her career. She neither went for plastic surgery nor did anything to conceal it.
6. Kaley Christine Cuoco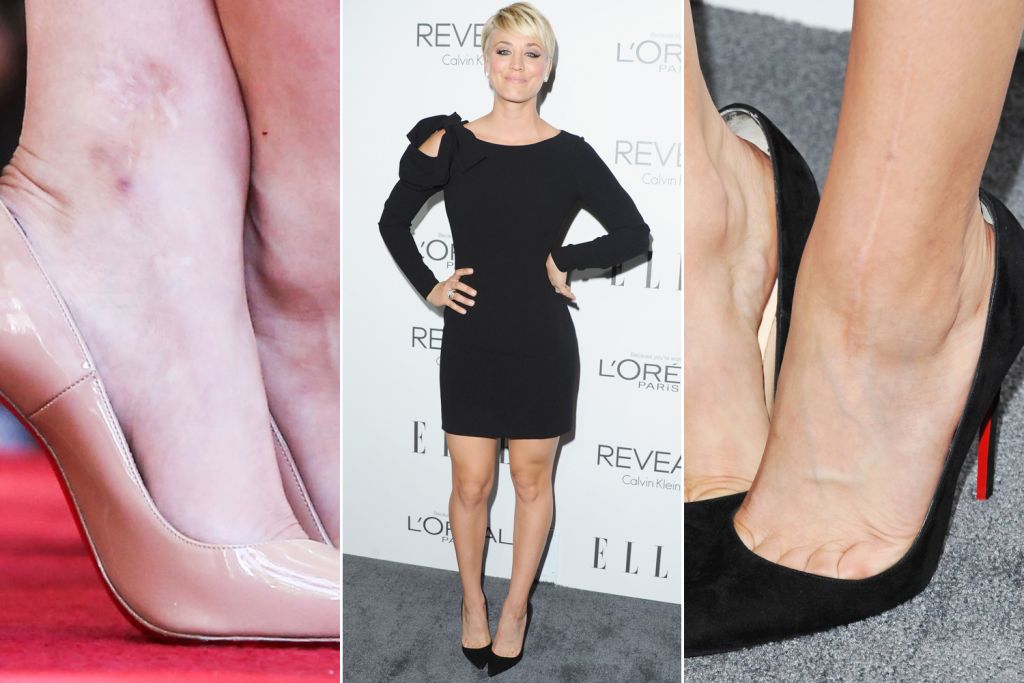 Date of Birth: November 30, 1985
Age: 37 years old
Place of Birth: Camarillo, California
Occupation: Actress and Film producer
Body Scar Location: Foot
Kaley is the eldest daughter of her parents. She was homeschooled throughout her early years and earned her high school diploma when she was 16. She started out as an actress when she was a child and has steadily grown in her career with regular appearances in movies and TV shows. She is currently one of the highest-paid actresses on television.
In addition to acting, Kaley is an avid horseback rider. In 2010, while riding a horse, the actress fell off and got her leg crushed. She feared losing her leg because of the injury and so had to miss the filming of two episodes of The Big Bang Theory to receive treatment. Kaley had to undergo two surgeries to fix her leg. Fortunately for her, she recovered from the injury with only a long scar. The actress has never tried to hide it as it is always there for everybody to see when she appears on the red carpet.
7. Tommy Flanagan
Date of Birth: July 3, 1965 (age 55 years)
Age: 57 years old
Place of Birth: Easterhouse, Glasgow, United Kingdom
Occupation: Actor
Body Scar Location: Face
Tommy Flanagan served as a faithful church altar boy before starting his career as a DJ in Scotland. The successful Scottish actor landed the Chibs Telford role in Sons of Anarchy after a two-decade-long successful acting career. This role fetched him lots of fans in the United States and around the world.
Flanagan is one of the actors whose facial scar sets him apart. As a young boy growing up in a rough neighborhood in Glasgow, he worked at a local nightclub as a DJ. During one of his shifts, he was attacked by a group of armed robbers whom he tried to fight off. Unfortunately for him, he got stabbed in his face by those robbers, leaving him with a scar. Tommy luckily survived the attack and went on to become a successful actor, popularly known around the world today. Tommy didn't allow this experience to affect his ambition, even if it can be said that the scar aids some of the roles we have seen him play in films and television series.
8. Catherine Zeta-Jones
Date of Birth: September 25, 1969
Age: 53 years old
Place of Birth: Swansea, Wales
Occupation: Actress
Body Scar Location: Neck
Catherine Jones is a pretty actress who loved performing in theatres as a child. From this early exposure, she secured the starring role in her troupe's production of Annie. Due to her love for acting, at age 15, she quit school and moved to London to pursue her career. Thus far, she has won an Academy Award.
The Welsh celebrity, who is undeniably pretty, isn't flawless. She has a scar on her neck which isn't that visible but can be seen when closely observed. When she was a child, she had an incision/surgery on her neck called tracheotomy, to improve her breathing. This left her with a scar on her neck.
Catherine chose not to get rid of the scar by sanding it through surgical procedures. Rather, she sees the scar as a life-changing event to be remembered. In her words; "makeup artists are always trying to cover it up, but I don't want to hide it. I wouldn't be here today if I didn't have this scar."
9. Jason Momoa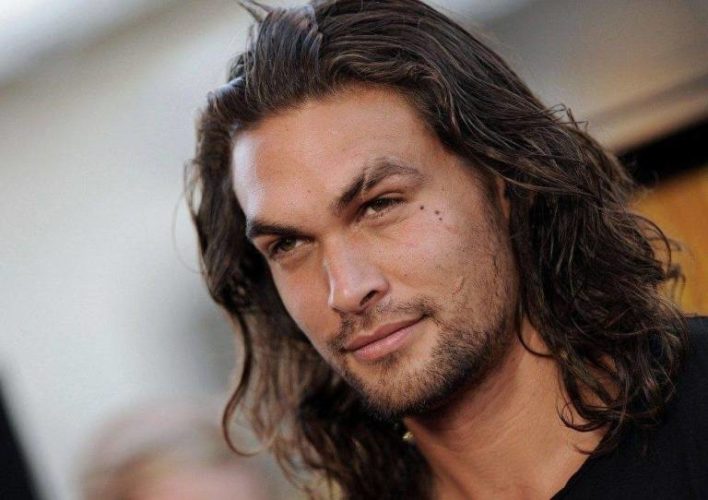 Date of Birth: August 1, 1979
Age: 43 years old
Place of Birth: Hawaii
Occupation: Actor and Producer
Body scar Location: Face/Eyebrow
Jason Momoa started out his career in 1989 after high school when he landed a leading role in the TV series, Baywatch. After the role ended, he continued with his acting career by taking many more roles that made him a famous actor. Some of his projects include North Shore, Game of Thrones, The Lego Movie 2: The Second Part, Once Upon a Time in Venice, and Aquaman.
Momoa has a scar on his face that came about after a patron smashed a glass across his face in a Los Angeles bar. The actor is said to have received 140 stitches as a result. The scar is one of the most noticeable things one can see on the actor's face. It might surprise you to know that Momoa didn't give room for self-pity as he forged ahead in his career, feeling proud of his scar even in public.
10. Carlos Alberto Tevez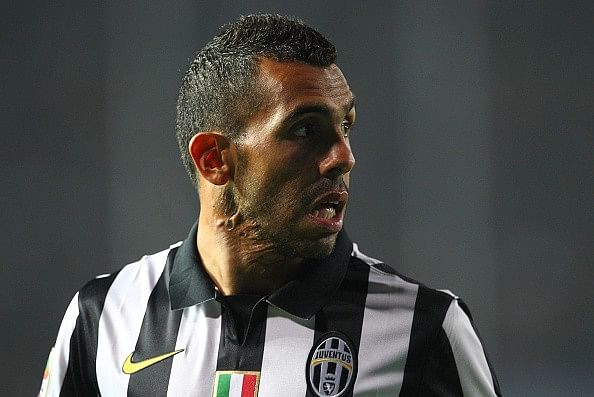 Date of Birth: February 5, 1984
Age: 39 years old
Place of Birth: Ciudadela, Argentina
Occupation: Footballer
Body Scar Location: Ear to Chest
Carlos Tevez is a professional footballer who began his career at the age of 16. He has recently played for Boca Juniors in the Argentine Primera División. Previously, he represented clubs like West Ham United, Manchester United, Manchester City, Bayern Munich, and Juventus. Tevez is an excellent goal scorer who has done exceptionally well in his career.
It may interest you to know that the athlete was hospitalized for two months of his life in the intensive care unit. This was as a result of a burn he suffered from his right ear to his chest, caused by a scalding incident. Though the burn came to be one of his most distinctive features, it didn't in any way mar his health.
Tevez refused to undergo cosmetic surgery to remove his scar, as he had the opportunity to do so when he joined Boca Juniors as part of his medical sponsorship. He considered it a part of his life and will proudly live with it for the rest of his life. Aside from the facial and chest burn, Tevez also has broken teeth which he got from one of the several fighting incidents he participated in while growing up.
11. Perrie Edwards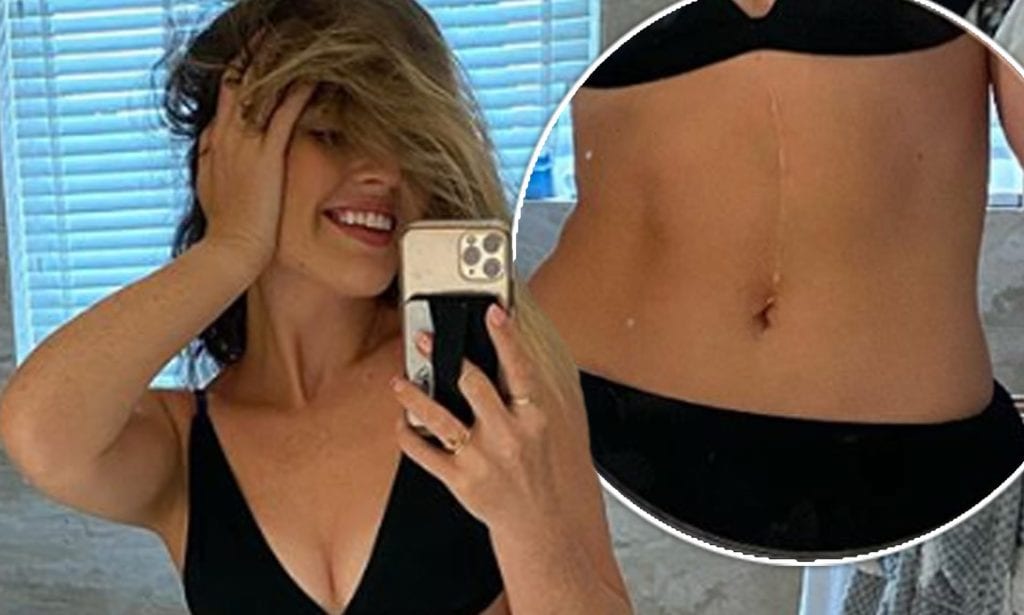 Date of Birth: July 10, 1993
Place of Birth: South Shields, United Kingdom
Age: 29 years old
Occupation: Singer
Body Scar Location: Stomach
Perrie is a singer from South Shields, Tyne and Wear in England. She graduated from Newcastle College with a BTEC in performing art. Perrie's popularity as a singer started when she became a member of the ace girl group, Little Mix. The group has won several awards, including two MTV Europe Music Awards.
Though beautiful and gorgeous, Perrie Edwards is not flawless as she's got a scar too. The bisectional scar is a result of several surgeries she had when she was a child. The singer's esophagus was too small and so she needed to expand it to make it easy for her to eat.
Perrie didn't allow this experience to hinder her progress in life. She is also not shy about her scar as she readily flaunts it whenever she puts on skimpy outfits.
12. Michael Kenneth Williams
Date of Birth: November 22, 1966
Age: 56 years old
Place of Birth: Flatbush, New York, United States
Occupation: Actor and Dancer
Body Scar Location: Face
Michael K Williams started his career as a professional dancer at age 22 and appeared in more than 50 music videos. Following these appearances, he decided to try out acting. He is best known for his outstanding work as Omar on The Wire, which ran on five seasons on HBO.
Of all the celebrities on this list, Michael is one with a significant mark on his face. The incident that led to him getting this mark happened on his 25th birthday when he and his friends got into a fight with a group of men. His face was sliced with a blade, almost resulting in his death. It may interest you to know that Michael sees this scar as a life-changer for him. He has received several attentions, calls to play minor roles in movies as a result of his scar.
13. Mickey Rourke
Date of Birth: September 16, 1952
Age: 70 years old
Place of Birth: Schenectady, New York, United States
Occupation: Actor and Boxer
Body Scar Location: Face
As a teenager, Mickey Rourke took up self-defense training at the Boys Club of Miami. Here, he learned boxing and so decided to launch an amateur career. After recording about 27 wins, he was advised by a doctor to take a year off boxing. His winnings had come at a great cost as his face was marred with several scars, some of which he got in the ring. To salvage his face, Mickey, who has featured in several small roles in movies, has gone under the knife many times but still, the scars on his face tell tales of the price he had to pay.
14. Padma Lakshmi
Date of Birth: September 1, 1970
Age: 52 years old
Place of Birth: Chennai, India
Occupation: Model and Actor
Body Scar Location: Right-arm
Padma Lakshmi is a model and actor who has worked for famous designers and appeared in several movies. She was one of the first Indian models to have a career in Paris, Milan, and New York. Her modeling led to offers in acting and so she has gone on to appear in television shows filmed in Hollywood, Bollywood, and Europe.
When Padma was 14, she was involved in an accident that led to a seven-inch-long scar on her right arm. She talked about the accident when she wrote an essay for US Vogue. Padma didn't hide the scar from her fans, rather she's always ready to talk about it. She mentioned that she had to undergo several painful treatments to lighten it, and so today she does not need to cover it up with makeup.
15. Amy Schumer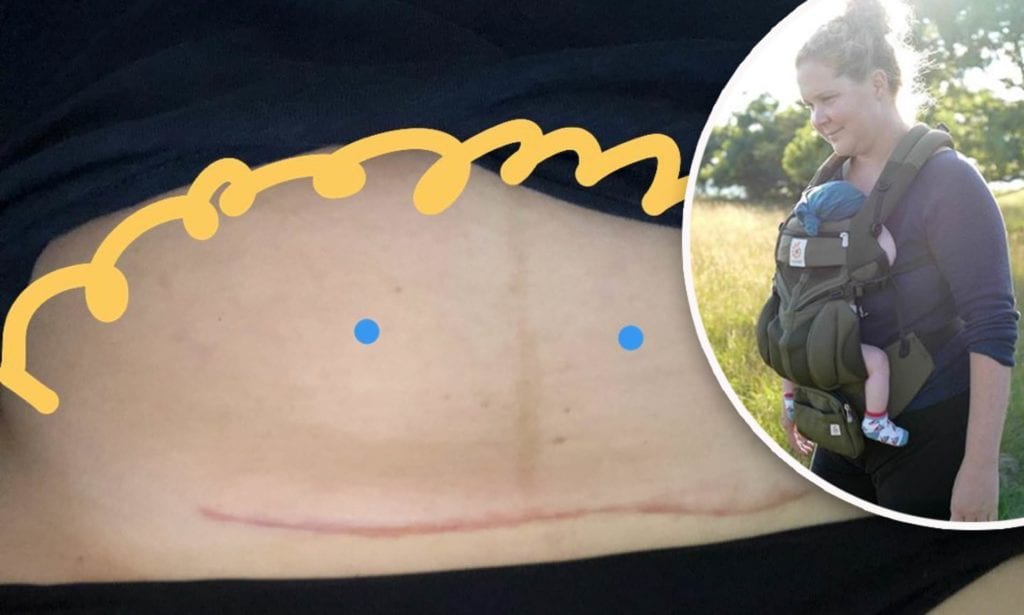 Date of Birth: June 1, 1981
Age: 42 years old
Place of Birth: Manhattan, New York City, U.S.
Occupation: Comedian and Actress
Body Scar Location: Abdomen
Amy Schumer is a comedian who has featured in so many films and TV shows, including the NBC TV reality show, Last Comic Standing, and Comedy Central's Inside Amy Schumer. The latter made her a household name.
This young and outspoken celebrity, like many other celebrities here, also has a body scar. She gave birth to her son via cesarean section, leaving her with a huge scar on her abdomen. Amy addressed the issue of her scar on her Instagram page saying: "I'm really sorry if I offend anyone with my hospital underwear, except I'm just kidding." Amy has come to terms with her scar, publicly talking about it, making jokes, and showing it off.
16. Selena Gomez
Date of Birth: July 22, 1992
Place of Birth: Grand Prairie, Texas, United States
Age: 30 years old
Occupation: Singer and Actress
Body Scar Location: Abdomen and Right Leg
Selena's performance as Gianna on the popular children's program, Barney & Friends, was the beginning of her career. The actress went on to play Alex Russo in the Disney Channel television series, Wizards of Waverly, which launched her to fame. She has since grown and featured in many more movies and TV shows
Selena Gomez is an astonishing beauty even though she has her very own scar. The actress has lupus and as a result, had to receive a kidney transplant in 2017. This left her with a scar on her abdomen. Though Gomez gets emotional about this sometimes, she has come to accept her scar for life. She took to Instagram to speak about it, posing confidently in her swimsuit.
17. Princess Eugenie
Date of Birth: March 23, 1990
Age: 33 years old
Place of Birth: Portland Hospital, London, England
Occupation: Artist
Body scar Location: Back
Princess Eugenie is a graduate of Newcastle College where she received a Bachelor's degree in English and History of Art. As an artist who has a great love for art, she works in London as a director of Hauser and Wirth, a contemporary art gallery.
Princess Eugenie was 12 years old when she underwent back surgery to correct scoliosis in October 2002. Two 12-inch titanium rods were put in her back, leaving her with a scar. As a result of her social standing, she often wears clothes that cover most parts of her body but she does not cease to speak about her scar whenever there is a need to, especially as regards to the medical condition behind it.
The princess has not been hindered in any way in the execution of her duties by her scar. Instead, as a result of what she went through, it made her compassionate and she is now an advocate creating awareness about scoliosis.
18. Jose Rene Martinez
Date of Birth: June 14, 1983
Age: 39 years old
Place of Birth: Shreveport, Louisiana, United States
Occupation: Actor, Motivational Speaker, and Soldier
Body scar Location: Several Body Burns
J. Martinez joined the army after high school, proudly serving as a soldier. He was deployed to an army infantry in Iraq in February 2003 and it was during his stay in Iraq that he suffered severe burns on about 34% of his body. The incident happened when the humvee he was driving struck an explosive. He was quickly evacuated for immediate medical care in Ramstein AB, Germany before being transferred to Army Institute of Surgical Research Burn Center at Brooke Army Medical Center (BAMC) in San Antonio, Texas. It took a total of 34 months with about 33 plastic surgeries and skin grafting treatments for Martinez to have recovered the much he has.
Today, he is a highly sought-after motivational speaker who travels to various countries spreading the message of optimism. In 2008, he kicked off his acting career with ABC's All My Children as Brot Monroe.
19. Sanaa Lathan
Date of Birth: September 19, 1971
Age: 51 years old
Place of Birth: New York, New York, United States
Occupation: Actress
Body Scar Location: Right Cheek
Sanaa Lathan graduated from the University of California with a degree in English. Her love for acting made her enroll at the Yale School of Drama and she featured in many of Shakespeare's plays where she impressed the audience a lot. On the big screen, she has credit for starring in films like Miracle in the Woods (2007), Contagion (2011), Native Son (2019), and many others.
The exceptional actress isn't flawless although her body scar is hard to notice despite it being on her face. The actress has a smooth scar on her right cheek. She told Esquire that she got the scar as a result of an encounter with an oven and a lump of Play-Doh she was playing with when she was a child. Sanaa was lucky the incident left a minor scar on her face which isn't that noticeable when compared to that of other celebrities with scars on this list.
20. Curtis Jackson (50 Cent)
Date of Birth: July 6, 1975
Age: 47 years old
Place of Birth: South Jamaica, New York, United States
Occupation: Rapper, Actor
Body Scar Location: Face
50 Cent gained fame as a rapper. He became popular after his single, "Wanksta" appeared on the soundtrack of the film, 8 Mile. He has since then written many top songs and produced albums that have constantly kept him in the press, making him an open book.
As you may have heard, the musician was shot nine times in May 2000. He was shot in his arm, hip, chest, and face, but was able to survive. With regard to the bullet that hit him in the face, it has left him scarred but somehow, the scars blend with whom we have come to know the musician as. Unlike many other celebrities with scars, 50 Cent has not deemed it necessary to cover his scars with plastic surgery and perhaps he will never.
Recap of the 20 Most Popular Celebrities and Their Scars
Tina Fey – Face
Harrison Ford – Chin
Sharon Vonne Stone – Neck
Joaquin Phoenix – Upper lip
Parminder Kaur Nagra – Thigh
Kaley Christine Cuoco – Foot
Tommy Flanagan – Face
Catherine Zeta-Jones – Neck
Jason Momoa – Face
Carlos Alberto Tevez – Ear to Chest
Perrie Edwards – Stomach
Michael Kenneth. Williams – Face
Mickey Rourke – Face
Padmar Lakshmi – Right-arm
Amy Schumer -Abdomen
Selena Gomez – Abdomen
Princess Eugenie – Back
Jose Rene Martinez – several body burns
Sanaa Lathan – Right cheek
Curtis Jackson, 50 Cent – Face