Susan Mikula is an American artist, photographer, and published author who was born on March 7, 1958. Susan Mikula is best known as the partner of television host, political commentator, TV personality, and author, Rachel Maddow from The Rachel Maddow Show
Susan Mikula Bio and Profile Summary
| Age/Date of Birth: | 64 years old (7 March 1958) |
| --- | --- |
| Height: | N/A |
| Ethnicity/Race: | French-Native North American |
| Nationality: | American |
| Husband or Boyfriend: | Rachel Maddow (Partner, 1999–present) |
| Parents: | N/A |
| Net Worth: | N/A |
 Although she started her career taking photographs, Mikula has over time consolidated her authority in the photo art arena through books and other high-value exhibitions that attract some of the brightest minds of her field.
The talented artist organized her first solo art exhibition in the year 1998, and since then, she has gone on to organize many other exhibitions in different parts of America.
It is quite imperative to note that Susan has largely distinguished herself following her style of art and photography. She uses older technology such as pinhole cameras and Polaroid cameras to produce photographs.
Aside from her artworks, one thing that has made Susan Mikula even more popular is her long-term relationship with the TV star, Rachel Maddow. Learn more interesting facts about the artist below.
How Susan Mikula Began Her Career
It all started many years ago when Susan was very young. She was born on 7th March 1958 in New Jersey, United States, and while she was growing, she taught herself photography.
While nothing much is known about her family, including her parents and siblings, we do know that she spent a better part of her childhood in New Hampshire. After high school, Susan decided to pursue a career in photography, and as a result, she enrolled at the Hampshire College in Amherst, Massachusetts to hone her skills.
Soon after graduation, Susan Mikula began her art career, serving in an art jury. Although she spent several years at the jury, Mikula has always cherished the idea of organizing an exhibition for her works. Her big opportunity came in 1998 when she held her first solo exhibition ever. 
In the years that followed, her photo collections have found their way into solo and group exhibitions in major cities in America, including Miami, New York City, Los Angeles, and San Francisco.
In 2007, the talented artist began adding the government to her clientele. That year, she exhibited digital Duraflex large-format prints at the New York State Government House. The following year, Mikula organized her first art show in the bustling city of New York. 2009 saw the dawn of more exhibitions for Mikula.
That year, she held an exhibition at the prestigious TJ Walton Gallery, Provincetown. In attendance were art lovers such as Suzanne Westenhoefer and her future partner, Rachel Maddow. It is believed that her supposed first meeting with Rachel marked the beginning of their relationship that has stood the test of time.
How Did

Susan Mikula

Become So Famous?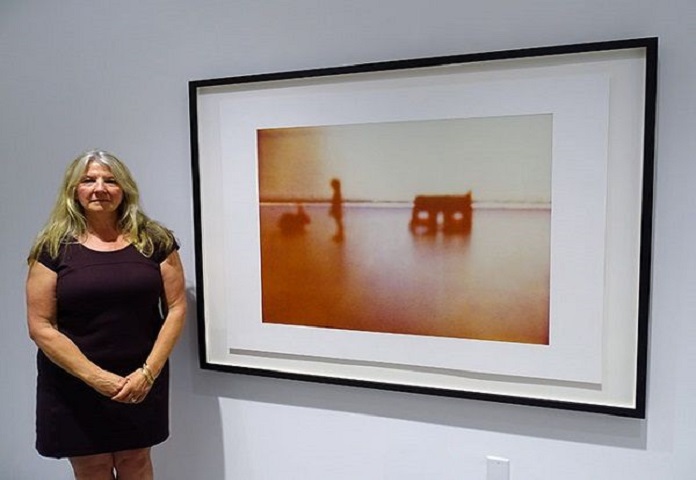 Susan Mikula moved a notch in her career in 2010; this time, she organized her first photography show tagged American Device Recent Photographs in San Francisco. The photographer also featured a mix of other forms of art in her exhibitions, mostly from other artists. After the successful art show, Susan further unveiled what she called American Bond in 2011.
American Bond is a three-part industrial landscape series, which featured images from prominent US cities such as California, Massachusetts, and Texas. Interestingly, Mikula's work often tries to reveal the progress of light through time.
That meant her photos being taken with vintage cameras, as well as old forms of technology used in photography. Two years later, she released a series of photos she said was a touch of arts from the Lascaux cave paintings.
By 2015, seventeen years since her first solo exhibition, Mikula unveiled Photo Book, a series of psychologically puzzling pigment prints. In the years that followed, Mikula has been at the forefront of taking works of art into diplomatic spaces.
Since 2017, she has been a part of Art in Embassies program for the US Consulate in the city of Nuevo Laredo, Mexico. Amazingly, the United States Embassy Art in Embassies (in Mexico) has acquired a good number of Mikula's artworks, which are featured in their Permanent Collections.
Susan Mikula's

Relationship With Rachel Maddow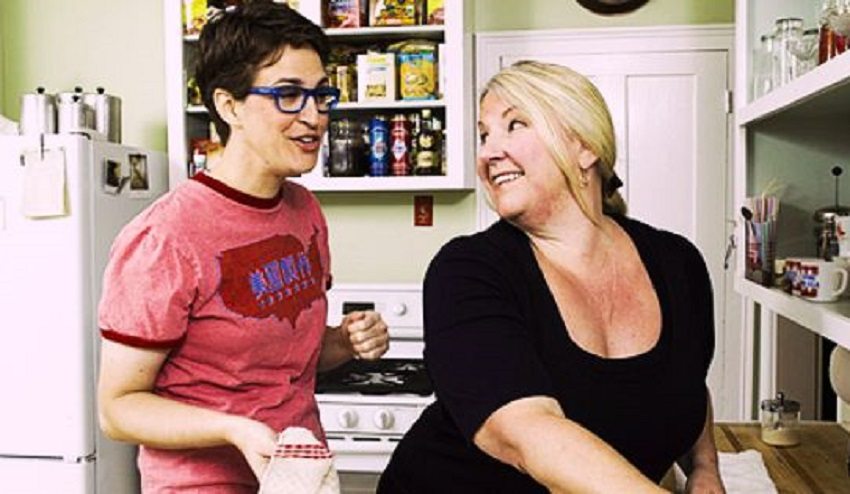 Before she was ever known for her incredible roles in The Ides of March (2011) or the TV series House of Cards (2013), Rachel Maddow has been partners with Susan Mikula for a pretty long time. The earliest sparks of their relationship began in 1999, a year after Mikula's first solo exhibition.
At the time, Maddow, who was a Doctoral student of politics at the University of Oxford, was hired by Mikula to work in her yard. According to Maddow, that was where she fell in love with the photographer.
However, it took Mikula, who had always identified as a lesbian, to express to Maddow just how much admiration she has for her, and how much she wants them to be partners.
Like all straight relationships, the two subjected their love tango through the test of a first date. This time, it was at an event hosted by the National Rifle Association, Ladies Day on the Range. After the date, they kicked off a romantic relationship.
Are They Still Together? 
It's been over two decades now, and the two are still together. The bond between them has continued to grow stronger even more than when they first met. Beyond being a couple, Rachel Maddow's relationship with Susan Mikula has been a living inspiration for millions of LGBTQ couples.
Now, an influential TV show host and writer, Maddow has spared no words in lending her voice to the gay course. Aside from openly identifying as a lesbian, the Emmy award-winning show host has been America's first openly lesbian anchor, hosting a major primetime news program.
Although not married, the couple shares their time between Berkshires, West Cummington, Massachusetts, and Manhattan, New York.
When and How Did Susan Mikula Contract Covid?
It is believed that Susan got coronavirus at the beginning of November 2020, because it was around that time that Rachel took time off work after being in "close contact" and tested positive for Covid-19.
This, however, was not confirmed until November 20, 2020, when Rachel returned to her show on MSNBC.
Maddow: Don't get this thing. Do whatever you can to keep from getting it.

Rachel Maddow reveals that her partner, Susan, tested positive for Covid-19 and is still recovering, and implores viewers to consider their loved ones when they calculate their own Covid-19 risk. pic.twitter.com/oUz2DBLG63

— Maddow Blog (@MaddowBlog) November 20, 2020
In a video she shared, Maddow spoke about how important her relationship with Mikula is and the fact that she has been battling COVID-19. She described Susan as "the center of her universe".
Other Interesting Facts To Know About Susan Mikula
1. Although it's standard practice to attend a fancy photography school and burn thousands of dollars on learning the art, Susan did not take that path. The New Jersey-born taught herself the art of photography as she looked up to established names such as Joan Mitchell, Julian Schnabel, Gerhard Richter, Agnes Martin, and Cy Twombly.
2. Asides her exploits as a photographer, Susan Mikula has since expanded her portfolio to include writing. The photographer has so far published four art collection books, including Photographs (2008), American Bond (2011), u.X. (2013), and Kilo (2017).
3. As of 2020, sources put Susan Mikula's net worth at $5 million. Understandably, most of her wealth comes from her arts, while others come from the sale of her books and other business endeavors. However, her partner, Rachel Maddow has a net worth of $20 million, and she makes an annual income of about $7 million.
4. Susan Mikula was born in New Jersey on March 7, 1958. However, her date of birth puts her fifteen years older than her partner, Rachel Maddow, who was born on 1st April 1973.
Profile Summary
First Name:
Susan
Last Name:
Mikula
Also Known As:

Susan
Sex/Gender:

Female
Profession:

Artist, photographer
Famous For:
Photography
Colleges/Universities Attended:

Hampshire College
Educational Qualifications:

N/A
Religion:

Unknown
Birthday & Zodiac

Age/Date of Birth:

64 years old (7 March 1958)
Zodiac Sign:
Pisces
Birth Place:

New Jersey, U.S.
Nationality:
American
Ethnicity/Race:

French-Native North American
Country of Residence:

United States of America (USA)
Physical Attributes

Height:

N/A
Weight:

N/A
Eye Colour:

Green
Hair Color:

Blonde
Other Body Measurements:

N/A
Relationships

Marital Status:

Dating
Spouse/Partner:

Rachel Maddow (1999–present)
Family and Relatives

Father:

N/A
Mother:
N/A
Children:

N/A
Siblings:
N/A
Other Relatives:

N/A
Net Worth
Estimated Net Worth:

N/A
Salary:
N/A
Source of Wealth:

N/A