The Weeknd's ethnicity is black-African as he is of Ethiopian origin. He was born to Samrawit Hailu and Makkonen Tesfaye, who are both of Ethiopian descent. The music icon, whose real name is Abel Makkonen Tesfaye, is from Scarborough, Toronto, Canada, and is a Canadian national. 
The Weeknd is a well-known name in modern popular music and is renowned for his unorthodox music production, creative reinventions, and distinctive usage of the falsetto register. He has made history as the first black singer whose album, Starboy, surpassed 10 million streams on Spotify. Based on his fame and success, the public has been keen on knowing the Weeknd's ethnicity, nationality, and where he is from.
Dissecting The Weeknd's Ethnicity
The Weeknd is of Ethiopian origin, which can be traced down to East Africa. He inherited his Ethiopian roots from both his mother, Samrawit Hailu, and his father, Makkonen Tesfaye. With the singer's physical looks, it can be spotted that he is of Ethiopian roots.
The Weeknd has proven to be proud of his ethnicity on several occasions, as he sings in his native language in some of his songs, including The Hills. Despite being born and raised in Canada, he speaks his native language, Amharic, fluently as he grew up with his grandmother, who could not communicate in English.
The singer attended a French school where the English language was not allowed, and he made it his second language. He learned the English language, which he tagged as his third language because he grew up in an English-speaking country and through watching TV programs.
He has also embraced his real name, Abel Makkonen Tesfaye, and has also made the same changes to his social media names, while the handles have the same name. His two musical influences, Aster Aweke and Mulatu Astatke, both share the same ethnicity as him.
The singer, out of his love for his roots, collaborated with Blue Bottle Coffee to produce Samra Origins to honor his mother and homeland. The Weeknd also revealed in an interview that there aren't many Ethiopian artists, and as such, he needed to make a name for himself to represent his culture and where he comes from.
Is The Weeknd Black?
The Weeknd is Black as his ethnicity traces down to Ethiopia in East Africa, which is dominated by blacks. Both his parents are of black Ethiopian heritage, and his black roots are evident in his physical looks, including black curly hair and brown eyes. The singer has a light skin color, and though many think that he is dark, the singer revealed that he is not dark, but his art is dark.
Is The Weeknd From Canada?
The Weeknd is from Canada and is a Canadian national, as he was born in the country. The singer's parents migrated to Canada in the late 1980s to avoid civil strife and extreme drought, as well as the massacre of thousands of people known as the Red Terror. Shortly after they got to Canada, they gave birth to The Weeknd, but due to unknown reasons, they called it quits. The singer was raised in the city of Toronto, Canada, by his mother, who took up menial jobs to fend for the family and was looked after by his grandmother when his mother was away.
Despite the difficulties that the singer faced while growing up, he still ventured into music and excelled due to his mother's support. Meanwhile, Weeknd attended West Hill Collegiate Institute and Birchmount Park Collegiate Institute but dropped out to pursue a career in music. Today, he has grown to become a force to be reckoned with in the global music industry.
Where Is The Weeknd From?
Weeknd is from Scarborough, Toronto, Canada. He was born in Scarborough, Toronto, Canada, on February 16, 1990. The Scarborough native was born under the Aquarius birth sign and was raised in a strict Ethiopian Orthodox family. As stated earlier, Weeknd was born to Samra and Makkonen Tesfaye, whom he inherited his strong Ethiopian roots from.
Who Are The Weeknd's Parents?
The Weeknd's parents, Samrawit Hailu and Makkonen Tesfaye are of Ethiopian ethnicity. While the singer grew up without a father figure, his mother has been his rock and shield throughout his musical pursuits.
The Weeknd's Mother Is Of Ethiopian Heritage
The Weeknd's mother, Samrawit Hailu, is an Ethiopian citizen who is of Black African ethnicity. There are no records of her month, year, or date of birth, which has made her age and zodiac sign unknown. Meanwhile, aside from the fact that she is famed for being The Weeknd's mother, little is known about her. The names of her parents are not known, though her mother was present and active in raising Weeknd.
Samrawit Hailu is not a lone child, as Weeknd mentioned that he had uncles; however, their names and what they are up to are not known. The singer's mother spent her formative years in Ethiopia and migrated to Canada when she became an adult.
Though Samrawit Hailu attended her primary and high schools in Ethiopia, the names and exact locations of the schools were not mentioned. However, she acquired higher education while in Canada, as her son made it known that she did about three to four jobs while schooling at the same time.
The Weeknd and his mother have a close-knit relationship, as he was raised under her care. The singer revealed that his mother strived to ensure that he was comfortable while growing up. He made it known that she was the reason he quit taking hard drugs and began doing music, as she looked at him like she had failed. Samrawit Hailu has been all smiles and a proud mother since her son's success, and she does not hesitate to flaunt him on her social media handles.
The Weeknd and His Father Have Been Estranged Since He Was Little
The Weeknd's father, Makkonen Tesfaye, is an Ethiopian who migrated to Canada during the Red Terror. Details about his month, date, and year of birth are not known, but all that is known is that he was born in Ethiopia. Aside from the fact that he is famed for being the father of the ionic singer, nothing is known about him. In this vein, there are no details about his family, including his parents and siblings.
He spent his childhood in Ethiopia and moved to Canada when he became an adult. It is assumed that he had his primary and high school education in his home country, though the names of the institutions were not mentioned.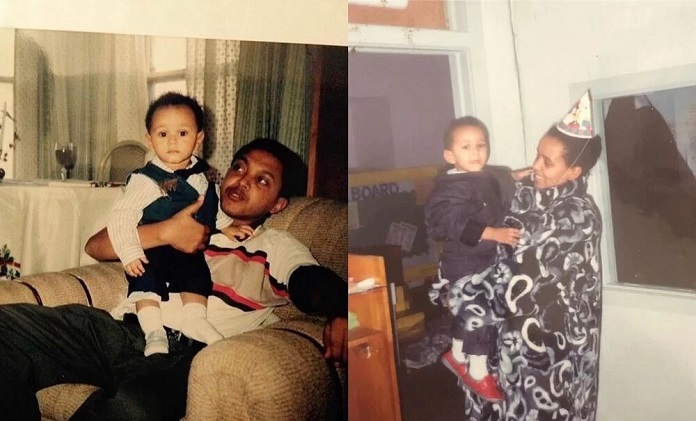 Meanwhile, Makkonen Tesfaye and Weeknd's relationship cannot be tagged as perfect for a father and son, as the singer grew up without him. The Weeknd revealed that he met with his father when he was six and eleven, but they did not spend much time together. However, the singer still thinks his father is a great guy, but just wasn't there.
The Weeknd's Parents Were Never Married
The Weeknd's parents were dating at the time that he was born and were never married. When and how they met are not known, but they began dating and eventually migrated to Canada, where they had the singer. However, they broke up after some time, though the reason was never mentioned, and Samrawit Hailu took up the sole responsibility of raising her son.
While Makkonen Tesfaye moved on, got married, and had a family, Samrawit Hailu worked hard to give her son the best. She did not get married to anyone or date anyone that is known to the public.