Paula White is an evangelical preacher who has made a name by traveling around the world and preaching the gospel of Jesus Christ. She is currently married to Jonathan Cain with whom she tied the knot in 2015. Before then, she was married twice, first to Dean Knight (1985 – 1989) and later to Randy White (1990–2007).
Paula White is a televangelist, a non-denominational pastor who is often referred to as "a prosperity preacher" with some criticizing what she stands for and arguing that Christianity is not all about the prosperity she preaches.
She preaches the doctrine that God will bless his people with emotional, financial and spiritual blessings if they take part in kingdom activities. White was the senior pastor of New Destiny Christian Center, a multicultural, non-denominational church in Apopka, Florida but has since moved on to other churches and endeavors.
The televangelist's fame got to a new height through her association with the Trump administration which has not done much to alleviate the arguments her teachings often raise. She is often referred to as President Trump's pastor especially after she delivered the invocation at his inauguration and made history as the first female clergy to ever partake in such state matters.
All of the speculations about the regard Trump has for Paula white came to a head when he finally appointed her as Special Advisor to the Center for Faith and Opportunity Initiatives.
A Look at Paula White's Troubled Early Life 
Born in Tupelo, Mississippi on April 20, 1966, Paula was the daughter of Myra Joanelle and Donald Paul Furr, and they owned a toy and craft store. Her birth name was Paula Michelle Furr and her childhood was by no means easy. Her parents' marriage turned sour, prompting her mother to move to Memphis, taking her along. The situation drove her father to suicide and Paula was just five years old at the time. The death of Donald and the subsequent struggles to take care of herself and her daughter led Paula's mom, Myra to become an alcoholic. Paula grew up being looked after by babysitters some of who she claims sexually and physically assaulted her between the time she was six and when she turned thirteen.
At the age of nine, Paula's mother remarried to a two-star US Navy admiral and moved to Washington D.C along with Paula and this is where she spent most of her educative years. White graduated from Seneca Valley High School in Germantown, Maryland and in 1984, she converted to Christianity while she was living in Maryland. She claimed that it was at about this time that she received a vision from God that asked her to preach the gospel and this is what she has spent a huge chunk of her life doing.
Who Is Paula White's Husband?
Paula White has been married three times. She was first hitched after she got pregnant as a teenager and went on to marry the father of her unborn child, Dean Knight who was a local musician at the time. The pair had a son together but got divorced soon after. This was in 1984, the year she became a born-again Christian. Following her divorce, she met Randy White while he was visiting a church where she volunteered as a janitor.
Paula and Randy became friends, saw each other for a couple of months and spent time working together on the ministry. During a tour to Israel, less than a year after meeting him, Randy proposed to Paula and she accepted.
Soon after, they moved to Tampa, Florida and founded South Tampa Christian Center in 1991. The ministry was later renamed Without Walls International Church. For the first eight years of the church's existence, it changed location three times before arriving at its main site.
In the first two years, the church struggled financially as could be expected but it would later begin to grow due to various outreach programs. It expanded on all sides as it grew, however on August 23, 2007, Randy White announced that his marriage to Paula was over. While they went through what has been termed a very amicable divorce, Paula White remained a part of the church's leadership and eventually its senior pastor when her ex-husband Randy stepped down over health challenges.
In 2011, she also became the senior pastor of the church's second location in Florida but could not keep up the work and soon the church folded over its inability to pay utility bills.
The very next year in 2012 when the senior minister of New Destiny Christian Church in Apopka, Florida, Zachery Tims died, Paula White was appointed to succeed him by the board of trustees. While she pastored here, she met musician Jonathan Cain who she got engaged to in 2014, just after he finalized his divorce from his wife. The two got married the very next year on April 27, 2015.
How Long Has Paula Been Friends with Donald Trump?
The televangelist's close relationship with Donald Trump became apparent at his inauguration ceremony where she was chosen to deliver the invocation to the surprise of many. A further look showed that the two have been friends for a while before Trump became the president of the United States. White and Trump have known each other from way back during Donald Trump's 2011 shot at the White House when he went to her to seek divine counsel.
When Trump made what proved to be a successful bid at the presidency in 2016, she continued to intercede on his behalf. Trump on his part has been very vocal in showering praise on the televangelist as the best pastor he knows. In 2019 she was appointed chair of the evangelical advisory board of President Trump's administration and is to date, one of his most trusted spiritual advisers.
Paula White's Controversial Friendship With Benny Hinn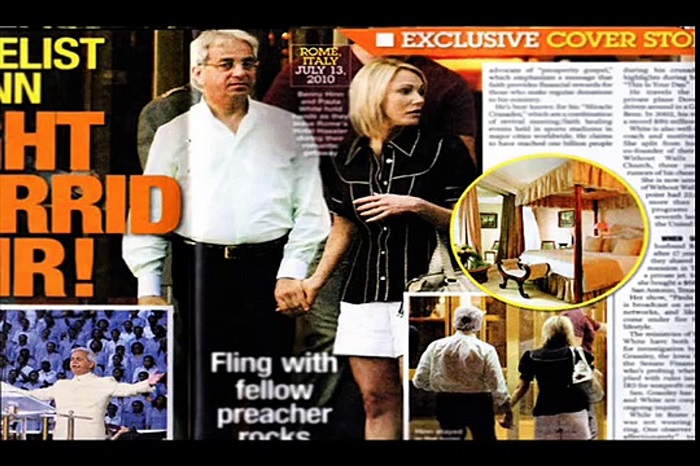 Sometime in 2010, Paula White was hit with a scandal that rocked the entire Christian community when she was pictured stepping out of a hotel in Rome holding hands with fellow respected televangelist, Benny Hinn. This happened just a few months after Hinn's wife had filed for a divorce citing irreconcilable differences. The magazines which ran the story claimed the pair were having an affair but both parties firmly denied any form of wrongdoing whatsoever.
Pastor Benny Hinn did later say that they were friends but firmly rejected the notion of adultery. He has since reconciled with his wife who admitted that the divorce was a cry for help as she was struggling with some health issues and Hinn was often away preaching the gospel. He would later admit also that in his bid to preach the gospel, he did not prioritize his wife and that led to all of the issues they had.
How Much Is Paula White's Net Worth?
Paula White is well known as a prosperity preacher. She strongly believes that God demonstrates his love for us by prospering us on earth. She has demonstrated this quite well by the flamboyant life she lives too. Besides being a pastor, White also earns from her work as a televangelist and an author of several books. She hosts her own popular television show, Paula White Today.
Besides all of the above, she scored a new source of income in 2019 when President Trump appointed her a Special Advisor to the Center for Faith and Opportunity Initiatives. From her various streams of income, she has amassed a net worth estimated at $5 million.