Nick Vujicic has been married to Kanae Miyahara since 2012. The Australian American Christian evangelist and motivational speaker has a total of four children with his wife; sons Dejan Levi Vujicic and Kiyoshi James Vujicic, and identical twin daughters, Olivia Mei Vujicic and Ellie Laurel Vujicic.
No matter how many times it is told, the story of how Nick Vujicic who was born without limbs became a renowned motivational speaker remains very inspiring. He is best known for his best-selling book, Life Without Limits: Inspiration of a Ridiculously Good Life. Vujicic overcame the rare physical condition called tetra-amelia to make the best out of himself.
His journey which included bouts with depression and even attempted suicide was far from an easy one, but fortunately, Vujicic overcame the greatest challenge of his life to become an inspiration to millions all over the world. Against all odds, Nick Vujicic was able to find the woman of his dreams and has successfully built a family with her. Their love story is as inspiring as the story of his journey to the top.
Nick Vujicic's Wife Fell In Love With Him At First Sight
Nick Vujicic was able to overcome the odds against him as a result of being born with a disability to make a life and career for himself as a motivational speaker and an inspiration to millions over the world, however, the idea of finding a life partner was something that was daunting to him… Vujicic's path would later cross with the love of his life while he was going about his business of motivating people.
It was 20010 and Nick was in Dallas for a speaking engagement and his future wife, Kanae Miyahara was in the crowd. She was immediately enamoured by the limbless preacher and listened attentively. They locked eyes a couple of times and Nick could tell that there was something more to her. The couple narrated their love story in their book Love Without Limits which they co-authored. In it, Nick revealed that he had to force himself to look away when they first made eye-contact. Kanae at the time was not single but in a relationship with someone, however, it was a toxic one that looked like it had no future.
Kanae had been in a relationship with someone who was physically blessed but it was giving her a lot of troubles, thus, she was done with looking out for just physical attributes. When she saw Nick dazzling on stage, she was immediately attracted to his good humour. At the end of the Dallas event, Nick got the chance to speak with Kanae and became even more sure that there was something more between them. Nick, at the time, had a friend who was trying to matchmake him with someone and after meeting Kanae, he texted him, saying that he had just laid eyes on the most beautiful God-fearing woman ever.
Kanae also had a lot to think of Nick, though it was not an attraction in terms of romantic feelings like it was for Nick, she was amazed at his story and determination to touch hearts and change lives through the gospel of Jesus.
They Had Their Fair Share of Troubles At The Initial Stages
Despite their initial attraction, it was not smooth-sailing for them, before they hit things off, they had personal issues that they needed to sort out. Kanae had to pray about the struggles she was going through in her relationship at the time and as a result, was convinced that the man she was dating at the time was not the right fit for him. With this burden past her, she became more open towards Nick and they began speaking and texting more frequently. The couple writes in their book that they first tried to establish a friendship before taking things to the next level.
A year into their relationship, Nick popped the question with a touch of humor. In order to reach her hand, he told Kanae that he wanted to kiss her hand, and then he asked her to marry him and she said yes. Nick took to his Facebook page to reveal the big news to fans writing in his caption that Kanae was the most perfect gift he has received after "life," "salvation" and a relationship with God.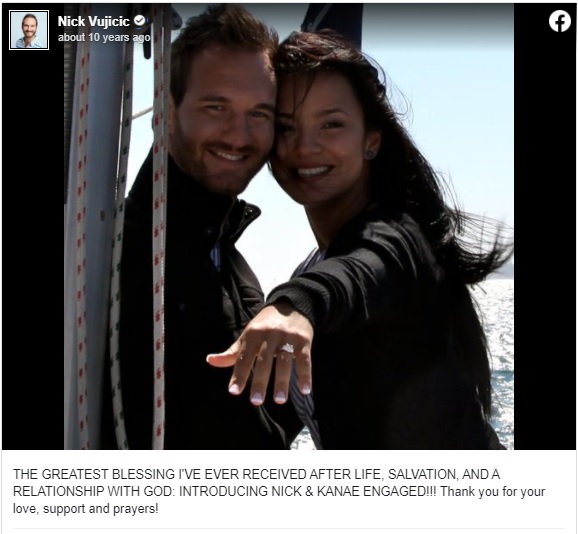 The other challenge the couple had to face was staying celibate before they got married. Nick revealed that it was not at all an easy task and for this reason, he recommends for intending couples that they keep their engagement short. The couple also revealed in their book that sex outside of marriage was like the devil's wine and that it was counterfeit. They added that they were happy to wait until their wedding night and that it was worth it. On the 12th of February 2012, Nick and Kanae were married.
Nick revealed that he felt the need to tell his wife that having sex would not be an issue. Though he said that she did not ask, he felt the need to clear it with her that everything was fine and that his disability did not affect his sexual performance.
He made reference to a time when a curious interviewer asked him how it was possible that he and Kanae were able to make babies, Nick was flustered by her question and told her how everyone knew that arms and legs were not needed, however, the interviewer insisted, wanting a more detailed explanation, instead of feeling bad about it, Nick added humor to his response by saying that arms and legs do get in the way.
Nick Vujicic's Wife Is A Stay-Home Mom
Kanae Vujicic was born in Mexico to a Mexican mother and a Japanese father who was an agricultural engineer. She has a sister named Yoshie (pictured above). Her family relocated to Texas with her family when she was younger. Not much is known publicly about Kanae's background, however, it is known that at the time when she met Nick, she was a student studying to become a nurse. However, it is unclear if she has worked ever since marrying Nick.
Kanae seems to have become more involved in catering for Nick, he revealed to the Christian Post that after they got married, that his caregivers stopped sleeping over. However, he also said that he did not want the duty of taking care of him to solely become his wife's job. Nick's wife does keep an active Instagram account where she has over 150 K followers. In her bio, she invites her followers to take a peek into her family life with Nick.
The Couple Share Four Kids Together
Nick and Kanae have four kids. Their first child, a son named Kiyoshi James Vujicic was born on the 13th of February 2013. Not long thereafter, they welcomed their second son, Dejan Levi Vujicic; he was born on the 7th of August 2015. They also have an identical set of twin daughters named Ellie Laurel and Olivia Mei. All of their kids were born without medical disorders.
Nick Vujicic's family resides in Southern California. The man adores his wife and kids a great deal. He often shares their family pictures on his social media pages.