Godfrey Baguma is a 50-year-old Ugandan cobbler, singer, and comedian born in 1973 and widely known as the ugliest man in the world.
Looking at Godfrey Baguma now, it is quite difficult to believe he used to look normal. The man who attained his own fame for being ugly was actually born a normal child to an extent but a rare condition changed his looks as well as his story. His ugliness turned into a blessing when he entered for and won the contest for the ugliest man in the world. Baguma has since married three women and has a lot of children in his household, shuting down the naysayers who thought he couldn't go far in life due to his appearance.
Summary of Godfrey Baguma's Bio
Full name: Godfrey Baguma
Nickname: Ssebabi
Gender: male
Date of birth: 1973
Godfrey Baguma's Age: 50 years old
Ethnicity: African
Nationality: Ugandan
Sexual Orientation: Straight
Marital Status: Married
Godfrey Baguma's Wives: Kate Namanda and 2 others
Godfrey Baguma's Children: Sharon Naiga and Brian Twinamatsiko
Godfrey Baguma's Net worth: $5,000
Famous for: winning the ugliest man contest
Godfrey Baguma is 50 Years Old
The 50-year-old Ugandan man was born in 1973 to parents whose names have not been made public. He was born in is home country of Uganda but the particular town where his mother gave birth to him is not known. However, Baguma is a native of Mbarara, Uganda.
Godfrey is the only child of his parents and it was a shock to his mother to see him turn into a monster. Thus, she abandoned him, refusing to take care of his needs as her child. Subsequently, it was Baguma's grandmother who took the responsibility of raising him. What became of his mother and father afterward is not known.
Banguma had a tough childhood, growing up as perhaps the ugliest person in his community. This must have subjected him to bullying and affected his educational progress. There is no trace of acquiring any form of formal education by the Ugandan ugly man but he has attained celebrity status as a result of a health condition that led people, including his own mother to condemn him.
What Is Godfrey Baguma's Medical Condition Called?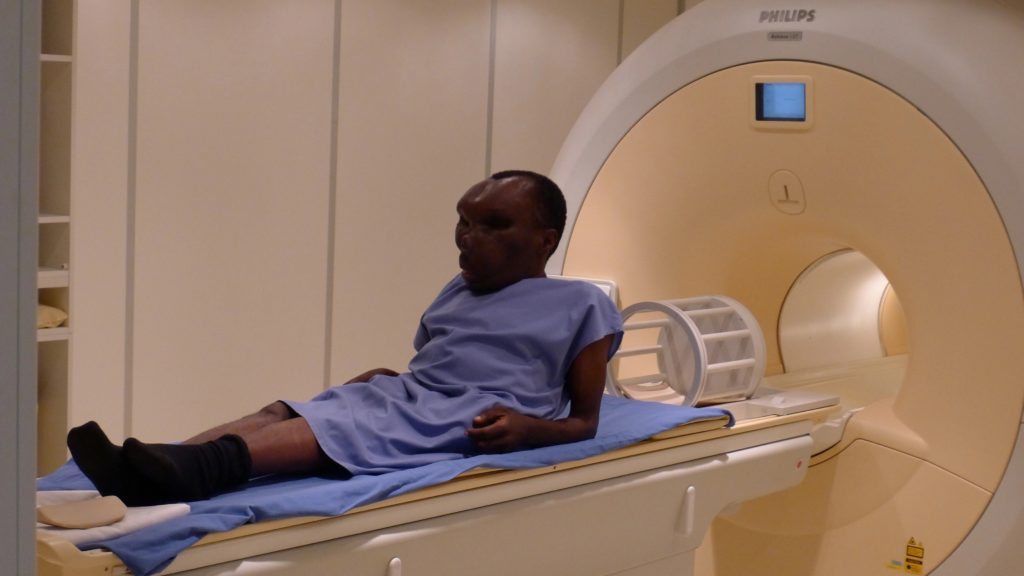 Godfrey Baguma was born with a rare condition known as Fibrodysplasia but it didn't manifest until he was around ten years old. This is a rare condition that causes fibrous tissue to become ossified. It can be managed with medication but a cure is far from being found. Luckily, it cannot be transferred to your offspring.
There are different ways the disease can affect the sufferer and for Godfrey Baguma, his growth and placement of cells and tissue were affected. Reports say the shoemaker was born with relatively normal features until his head began to swell up due to the disease. His face was eventually disfigured but according to Baguma, he does not feel pain in the disfigured parts of his body.
Several attempts were made to fix his face by experts in the United Kingdom but nothing good came out of the trials. They eventually left him to live with the condition.
He is a Musician, Shoemaker, and Comedian
Being so ugly that people often run away when they see him was a big challenge for Baguma but he found a way to earn a living. Before he became known as the ugliest man in the world, Baguma earned a living as a cobbler who repaired shoes for people in his community.
He is also known as a comedian and singer. The singer is not on any social media platform but his music is garnering views on YouTube. One of his popular songs is Pra Quem Reclama da Vida. He has been called to perform in different countries, including Russia and his physical appearance has helped his career in ways nobody imagined. Interestingly, Baguma has not abandoned his shoemaking business.
"I am also a musician and because of how I look, people come and ask me to sing at their events," said Baguma.
Who is the Ugliest Man in the World?
Godfrey Baguma takes the trophy as the ugliest man in the world and has not been rivaled since he won the competition in 2002. The cobbler's journey to fame began in his shop where he repairs shoes in Uganda.
It was in 2000 when he met a man identified as Abtex who admonished him to take advantage of his physical features and join as a contestant in the ugliest man competition. The day Abtex walked into his shop with that idea marked a turnaround in the life of Godfrey.
He accepted the offer and according to him, when he came on the stage for the contest, people literally ran away, showing how ugly he looks. Howbeit, he won the contest and today he is a celebrity.
Godfrey Baguma's Net Worth
Following the media attention brought upon him after the contest, Baguma's financial status improved. He is reported to have a net worth of $5,000 which he acquired through his different endeavors in the entertainment industry.
Godfrey Baguma is Married To Three Wives
In yet another prove that love conquers all things, a Ugandan comedian, Godfrey Baguma aka Ssebabi who has been dubbed as the world's ugliest man, recently got married to his third wife in a grand style. https://t.co/s1r9eaKO4h pic.twitter.com/9mVytA62dO

— mochnews (@mochnews1) September 4, 2020
It is on record that one of his wives saw him on television and fell in love. Kate Namanda is the first and known wife of the world's ugliest man. Their love story is an interesting one as many people were against the union. Kate's family vehemently kicked against the marriage and her friends advised her against it too but she turned deaf ears to all that.
The opposition they faced delayed their wedding for a while but they eventually tied the knot after four children. According to Kate, Baguma is a loving husband and a wonderful father. She has also made it known that she is sticking with Baguma for love and not fame and money.
Godfrey Baguma now has three wives according to reports. Photos going rife on the internet show the ugliest man in the world and his third wife. Though her name is not yet known, she is another beautiful lady added to his household as wife number three. They also look happy together.
There is no specified number of children Baguma has had but he has a lot of them. Interestingly, none of them inherited his rare health condition. It is on record that the disease that affected the singer cannot be inherited by his children.