Lil Meech recently attracted the spotlight for the wrong reasons after he was arrested for allegedly stealing a $250k Richard Mille watch. He is now facing charges of grand theft and organized fraud.
Lil Meech (full name: Demetrius Flenory Jr., born April 22, 2000) is the star of the Black Mafia Family storyline, where he plays a younger version of his dad Big Meech. While the actor is famous for his exceptional acting abilities and musical skills, he also made headlines for being on the wrong side of the law. Here's the real truth about Lil Meech's arrest and fraud charges.
Why Lil Meech was Arrested
On March 14, 2022, Lil Meech was arrested for allegedly stealing a Richard Mille watch, reportedly worth around $250k. Several accounts of the events that led up to the BMF star's arrest all specify that the rapper and actor tried to swap his $80k platinum Rolex wristwatch for the significantly more expensive Richard Mille at Miami's Haimov Jewellers back in February.
Including his Rolex, Lil Meech was still required to pay the balance of $200k, but reports claim that he had failed to do so, which led to his arrest. To make matters worse for the rapper, police officers also alleged that he had tried to fence the watch for another Richard Mille at a different store. Haimov had then alerted the authorities, who promptly arrested Lil Meech.
What were Lil Meech's Charges?
Lil Meech has been charged with 2 counts of first-degree grand theft and a separate count of organized fraud. The grand theft charges derive from the fact that the rapper had failed to pay the outstanding $200k balance for the watch he had gotten from Haimov.
He had reportedly returned to Haimov on February 14 to do some work on the watch he was buying, and Haimov had been magnanimous enough to lend him an even more expensive Richard Mille because he had claimed that he needed it for a photo shoot with GQ. Lil Meech had proceeded to sign a memorandum that required him to return the watch he borrowed within 3 days.
His refusal to do so within the allotted time contributes to his grand theft charges. The additional charge of organized fraud was put in there because of Lil Meech's conduct which included attempting to swap the borrowed Richard Mille for another one at a different shop.
Haimov, who made a fortuitous discovery of Lil Meech's attempts while he was browsing Timepiece's IG page the next day, quickly informed the police of the actor's criminal attempts.
Haimov further vented his frustrations at Lil Meech's behavior in the comments he made after the arrest was made. He essentially expressed his disappointment at what the rapper did in spite of the fact that he was yet to pay the $200k he owed. Furthermore, Lil Meech is facing up to 60 years in prison if the charges against him are proved, and he is convicted.
The reason is that the state of Florida, where he allegedly committed the crimes, takes the crime of grand theft and organized fraud quite seriously. Sources close to the case have also revealed that it has become increasingly likely that the feds will take over the case.
Is Lil Meech Still In Jail?
While his case is still active and pending, Lil Meech is no longer in jail. He has his co-star on the Big Mafia Family series Da'Vinchi to thank for his release. After his arrest and detention, Lil Meech's bail bond was reportedly set at $150k, but Lil Meech's colleague is alleging that he paid $1.4 million cash to get his friend and colleague out of jail so they could finish shooting.
Before spending time in jail, Lil Meech had declined two phone calls from authorities requiring him to turn himself in. After unceremoniously dropping the call on the cops, they had been left with no option but to prepare a warrant for his arrest. Lil Meech ultimately turned himself in at the Turner Guilford Correctional Facility. How long he spent in jail has not been made public, but the fact that he is out is no longer in question.
So far, there has not been word on when he is supposed to show up in court, and there has also been no indication that he will be absent from Season 2 of the BMF series, which will begin shooting in Atlanta anytime soon, because of the legal troubles he is facing at the moment.
Lil Meech himself seems unperturbed by the recent troubles he has faced in his life and career as he has carried on living his life as if nothing happened in the past few months. He has also not said anything about the case and charges brought against him by the police and Haimov.
The Rapper's Family Has a Criminal History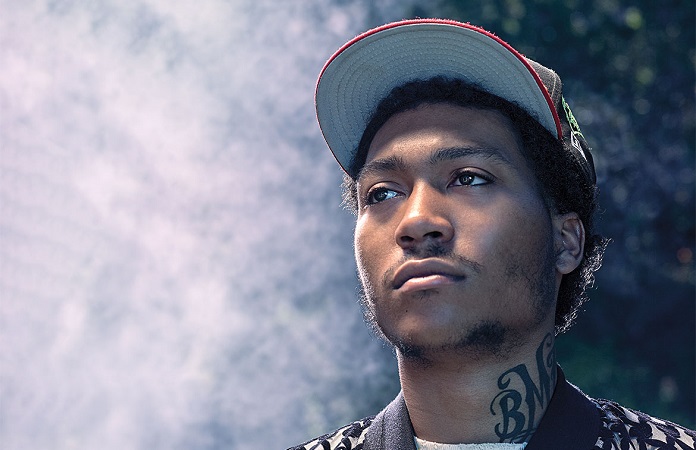 This might be Lil Meech's first real involvement in a criminal act, but his family's history indicates that this may very well not be the last time we will hear about Lil Meech for the wrong reasons.
Lil Meech is the star of Starz Big Mafia Family, a show produced by iconic African American rapper, actor, and producer Curtis Jackson, aka 50 Cent. The rapper plays the role of infamous drug lord Big Meech, who was sentenced to serve 30 years in prison for drug-related offenses in 2008.
If you haven't figured it out yet, the real Big Meech (real name: Demetrius Flenory Sr.) is Lil Meech's biological father. 50 Cent hand-picked him to portray his father for that particular reason. Lil Meech's dad, Big Meech, led the Big Mafia Family, one of the most feared drug families during the 1980s.
Big Meech had started the drug syndicate with his brother Lee "Southwest T' Flenory when they were in high school, and as the years went by, the brothers consolidated their status as one of the top drug crime families in the United States. The business peaked between 2003 and 2004, during which time the siblings were responsible for bringing several kilograms of cocaine into Atlanta.
They eventually met their Waterloo when they were arrested by the Drug Enforcement Agency in 2005. Aside from the obvious drug charges, Lil Meech's dad and his brother were also charged with money laundering, a feat they achieved through several businesses, including the BMF record label, which they established in 2000. The label was responsible for putting high-profile artists such as Trina, Young Jeezy, and Fabolous on the hip-hop map.
Lil Meech's uncle was released under house arrest in May 2020, while his father saw his release date reduced by three years after the sentencing guidelines amendments revised all drug offenses that happened before November 2014. Those revisions mean that Big Meech is expected to be out in 2028 as opposed to the initial 2031 release date.