How tall is Tyler1? Tyler1's height is listed at 5 feet 6 inches or 1.68 m. This makes him 3 inches shorter than the average American man whose height is given as 5 feet 9 inches (1.7 5 m)
Tyler1 is hands down one of the most popular Twitch streamers in the world, but he didn't attain that status without enduring some scrapes on his way to the top. The Missouri native, who has been hailed as a genuine jerk for his skill at League of Legends, has had his account banned and unbanned on several occasions. This was thanks to a well-documented history of verbal abuse, intentional feeding, account sharing, and purchase, as well as player harassment.
Another area of controversy that also surrounds Tyler1 is his height. One look at the famous streamer would show that he is not particularly tall, and this has remained a major talking point with fans. His peers also routinely needle him over that fact, and it has gotten to the extent that he once became a viral internet meme. Despite all this, Tyler1 refuses to take his eye away from the ball and has continued to soar.
What is Tyler1's Height?
The popular Twitch streamer is 5 feet 6 inches or 1.68 m tall. This makes him 3 inches shorter than the average American man whose height is given as 5 feet 9 inches (1.7 5 m) tall. It also means that Tyler1 is only about 2.5 inches taller than the average American woman whose height is about 5 feet 3.5 inches (1.61 m) tall. Such a reality means that Tyler1 often appears quite short when standing near tall folks and this has spurned various internet conversations. It has also led to the creation of a viral online meme that dates back to the year 2018.
According to details gleaned from Instagram, Tyler1 had attended the 2018 edition TwitchCon held at the San Jose Convention Center in October. He was scheduled to participate in a show match and prior to the match, he was interviewed by one of the employees of Riot Games, makers of his preferred League of Legends. The employee in question, Mel Capperino-Garcia, is naturally 6 feet tall but on that auspicious occasion, she complimented her outlook with 4-inch heels. This further boosted her height to 6 feet 4 inches and so when she was interviewing the 5 feet 6 inches Tyler, she towered over him and he was forced to look up at her.
Of course, both Mel and Tyler1 didn't even notice anything so special about the whole interview but it was a different thing when the internet got its hands on the pictures. People quickly ran with it and before you could say Jack Robinson, Tyler1 and Mel became unwilling participants in a viral internet meme. The memes of course focused on the glaring height disparity between the two and many took several shots at Tyler1's height. Mel however escaped unscathed as people choose to focus on her good looks as well as the fact that she is quite tall, even without the heels.
The memes and viral moments have since cooled down and Tyler1 has gone back to doing what he knows best, accumulating thousands of views and subscribers with his gaming dexterity. You can be sure however that his height will remain a front-burner issue and it will only be a matter of time before someone brings it up again. Of course, the gamer couldn't care less and even finds it fun needling people over it. For instance, back in January 2018, he uploaded a video where he proceeded to measure his height with a big ruler. The result showed that he was 6 feet 5 inches tall and he boosted accordingly. Fans were however quick to point out that the ruler was obviously not accurate but had been tampered with.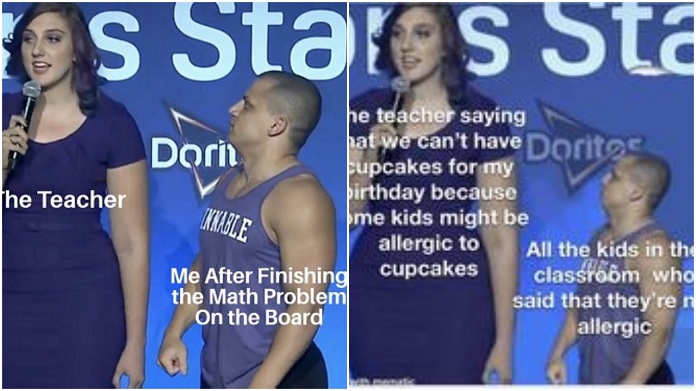 Who is Taller Between Tyler1 and Shroud?
Tyler1's relatively short height has seen him face lots of quips from not only fans but his peers as well and one of them is Shroud. Real name Michael Grzesiek, Shroud is a Canadian gamer who specializes in playing shooter and battle royale games such as PUBG, Apex Legends, Valorant, and Escape from Tarkov. He has amassed nine million followers on his channel and is one of the best aimers.
Apart from his favored games, Shroud has been known to try his hands at less challenging games. While streaming Minecraft in August 2020, he and his playing partner found themselves stuck in a cave. As they tried to find their way out, a fast-moving baby zombie set upon them, and Shroud promptly tagged him Tyler1. Of course, this was done entirely in humor as Shroud is exactly the same height as Tyler 1 and can't afford to throw shade in that direction.
Dr. Disrespect or Tyler1 – Who is Taller?
Another Twitch streamer who often utilizes any chance he gets to poke fun at Tyler1's height is Dr. Disrespect. Real name Herschel Guy Beahm IV, Dr. Disrespect grew to become one of the most popular streamers on Twitch, playing titles such as PUBG, Black Ops 4: Blackout, Call of Duty: Warzone, Apex Legends, H1ZI, and Fortnite. He amassed millions of followers but was banned permanently from Twitch around January 2020. The Cal Poly alum has since taken his talents over to YouTube but he still taunts Tyler1 regularly.
For instance, while streaming a game in June 2020, Dr. Disrespect repeatedly claimed that Tyler1 was only 4 feet 11 inches and referred to him as a nub. He also compared him to his toe and described him as that guy who never got picked for any PE activity in school, including backstroke swimming. Of course, Dr. Disrespect can afford to say such things because he is famously 6 feet 8 inches (2.08 m) tall and even played basketball while in college. Another motivating factor may be his long-running feud with Tyler1 which dates back to early 2018.
Tyler1 had just come back from his ban and had amassed a record 386k concurrent streams. This record stood for barely a month before Disrespect broke the same by recording 388k concurrent streams after a two-month hiatus. Some sources however disputed Disrespect's figures though and this further added fuel to the fire between the two gamers.
Meanwhile, Tyler1 hasn't stayed quiet in face of all the taunts from Dr. Disrespect. He has described the latter as skinny and weak as well as an old man who shouldn't be on Twitch.
Tyler1's Height Compared To Girlfriend Macaiyla
Tyler1 may have been mocked severally for his height but he can at least take solace in the fact that he is taller than his girlfriend Macaiyla who is also a fellow Twitch streamer. While the couple's romance has been rocked by allegations of cheating on both sides, they have managed to sustain it. When it comes to height, Macaiyla is 5 feet 5 inches (1.65 m) tall which makes her one inch shorter than her boyfriend.
This fact has not proved problematic for the couple though and they joke good-naturedly about it. For instance, while carving pumpkins for their annual Halloween celebrations once, Tyler1 complained that it was quite a hard task. The discussion soon progressed to his ability to touch the ceiling and Tyler1 jumped up several times to do that. He finally succeeded but his girlfriend revealed that he had stood on a raised platform to be able to do that.