Shroud is a video game player who rose to prominence when his twitch stream and talent in playing video game became popular. The retired Canadian Counter-Strike: Global Offensive (CS: GO) player is also known for playing PlayerUnknown's Battlegrounds and has displayed his talent in ESEA-M with Slow Motion, as well as with Manajuma and Exertus in ESEA Invite.
There is so much to know about Shroud; his career success, net worth, girlfriend…including the fact that he was nominated for the Game Award for Trending Gamer. Here, you will learn all there is to know about him including how he rose to the top.
Shroud Biography(Age)
Born on June 2, 1994, as Michael Grzesiek, in Ontario, Canada, Shroud, as he is professionally known, is of Polish descent. Although he was raised in Mississauga, Shroud has long moved to Orange County, California, the United States where he is currently a full-time streamer on Twitch.
Mostly known for his clutching, lurking ability, and weapon accuracy, Shroud was in Manajuma before he was acquired as a stand-in by compLexity Gaming. After the American based esports club was acquired by Cloud9 on August 1, 2014, he was signed as a permanent player where he was the second longest standing member of the team. He announced his intentions to retire from Cloud9 on August 16, 2017, but would remain a backup player on the bench with one of his teammate, n0thing. So far, he has only stood in for the team once since then.
The following year, precisely on April 18, 2018, he retired from playing CS: GO entirely to explore new opportunities. He participated in PlayerUnknown's Battlegrounds "Twitch Rivals" tournament, with his duo team and won the second place to earn the prize money of $5,450.
Although Shroud has been on the game since 2013, his achievements as a video game player count from 2015-2017, based on the numerous tournaments he has participated in. These include: ESL ESEA Pro League Season 1 – North America (June 22, 2015) of which he emerged 1st place and took home $18,000 in prize money; ESL Pro League Season 4 – Finals (October 30, 2016) where he finished 1st place to win $200,000; and Esports Championship Series Season 3 – Finals. In all, the streamer has competed in 10 tournaments and has earned a total $613,000 in prize money.
The highlights of his videos since 2014 as listed include: HLTV.org highlights shroud vs AlienTech (Oct. 31, 2014); HLTV.org highlights shroud vs LDLC.com (Oct. 25, 2014); TheDemoVault highlights shroud vs Titan (Aug. 14, 2014); HLTV.org highlights shroud vs Exertus eSports (June 26, 2014); HLTV.org highlights shroud vs NetCodeGuides (May 21, 2014); Best of Shroud (2016); and Shroud vs Renegades (2016).
Net Worth
Shroud's net worth is estimated at $2 million. It is known that Top Twitch Partners makes roughly $3,000 a month per 1000 subscribers. Besides that amount, Shroud earns a substantial amount in income from advertisements, sponsorships and user donations on his Twitch platform. He also generates extra revenue from affiliate links like G2A, Amazon Association, Hyper X, Loot Crate, among others.
Girlfriend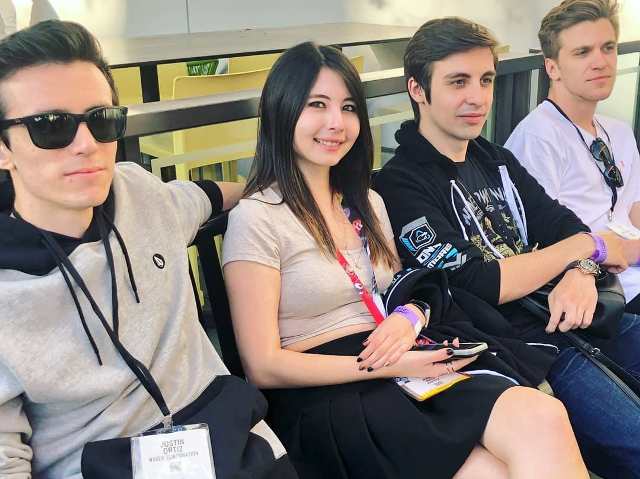 Shroud's girlfriend, Jessica Rago is an Esports Marketing Manager at HyperX and also a streamer who's active by the name Dachhei. The duo lives in Orange County California and it isn't certain if they live together, but each one of them loves and own a dog. Jessica has also shared pictures of both along with other CS: GO Pro member during the Dreamhack Las Vegas in March 2017, as well as on several other hangouts.
See Also: 5 Facts To Know About Taymoo – The Twitch Gamer
Height and Other Facts About The Twitch Streamer
1. The Twitch Streamer's height is estimated at 5 feet 6 inches (168cm). Obviously, he is of average height but a mighty kind of guy with a bright future ahead of him.
2. He has a YouTube channel which has over 2.7 million subscribers. He's also on Twitter and Instagram and commanding more than 700k and 500k followers respectively. The YouTube channel which he created on December 2014, features highlights from his Twitch account
3. He is among the most popular players whose active streaming is pulling in thousands of viewers. Shroud entices over 40000 viewers on regular bases.
4. His self-titled Twitch account has grown famous with more than 4.3 million followers and over 207 million total views across the globe.
5. Shroud's former name on Twitch was mEclipse but he later changed to 'Shroud' due to its close synonym to eclipse.
6. He has also played for teams like Evil Geniuses Counter-Strike 1.6 where he's a fan of teammate n0thing.
7. His connection to Cloud9 and compLexity Gaming was through former Manajuma teammate, Derek "dboorN" Boorn.
8. He was selected to be in the "All Star" MLG Columbus match for the American side.