Eniko Parrish Hart is the beautiful wife of comedian and actor Kevin Hart. Kevin Hart and Eniko Hart have been married since 2016 and share two kids
Eniko's husband isn't someone who needs any introduction as he has been able to establish himself in Hollywood. The same can't quite be said about Eniko Parrish herself who was once a model and aspiring actress, but given all the success Kevin Hart has enjoyed in his career, it is only natural that his fame has rubbed off on his life partner.
Profile Summary of Eniko Parrish
Full Name: Eniko Parrish Hart
Place of Birth: Baltimore, Maryland
Date of Birth: August 18, 1984
Age: 39 Years Old
Occupation: Model and Social Media Personality
Marital Status: Married
Eniko Parrish Hart Husband: Kevin Hart (m. 2016)
Eniko Parrish Hart Children: 2 (Kenzo Kash Hart and Kaori Mai Hart)
Height: 5 feet 6 inches
Weight: 58 kgs
Eniko Parrish was Born in Baltimore, Maryland
Eniko Parrish is a citizen of the United States of America; she was born in Baltimore, Maryland. Records have it that she was born on the 18th of August 1984. This means that the 39 years old is five years younger than her husband who was born on the 6th of July 1979.
Much of her early life and upbringing are yet to be uncovered but we can tell she was born to Jamaican-American parents of African and Chinese descent. The whereabouts of her parents aren't a piece of information that is available to the public just as it is not known if she is an only child or has siblings. What she did for a living before she met Kevin Hart isn't also clear but it has been reported in some quarters that she was an aspiring actress and model.
From what we gather, she left Boston for Los Angeles to build a career in the aforementioned paths and got to walk the runway in BET's 2013 Rip The Runway. It seems nothing significant came out of her quest to become an actress, however, she has been seen in several television shows, including multiple episodes of Entertainment Tonight between 2018 and 2020. She has also been a part of shows like Celebrity Game Face and E! Live from the Red Carpet.
Eniko Parrish once related that she is working towards establishing and running a bridal store. There are also reasons to believe she is in some form of partnership with Fabletics, an activewear brand co-founded by Adam Goldenberg, Don Ressler, and Kate Hudson. She has a link to the Fabletics site attached to her Instagram profile as of this writing and through the pictures she shares, one can tell she is very much into working out and staying fit.
Parrish does not have much going for her career-wise at the moment. It has been assumed that she is focused on being a mother and running her family; that seems to be the case.
She Met Kevin Hart in 2009 and They Have Been Married Since August 2016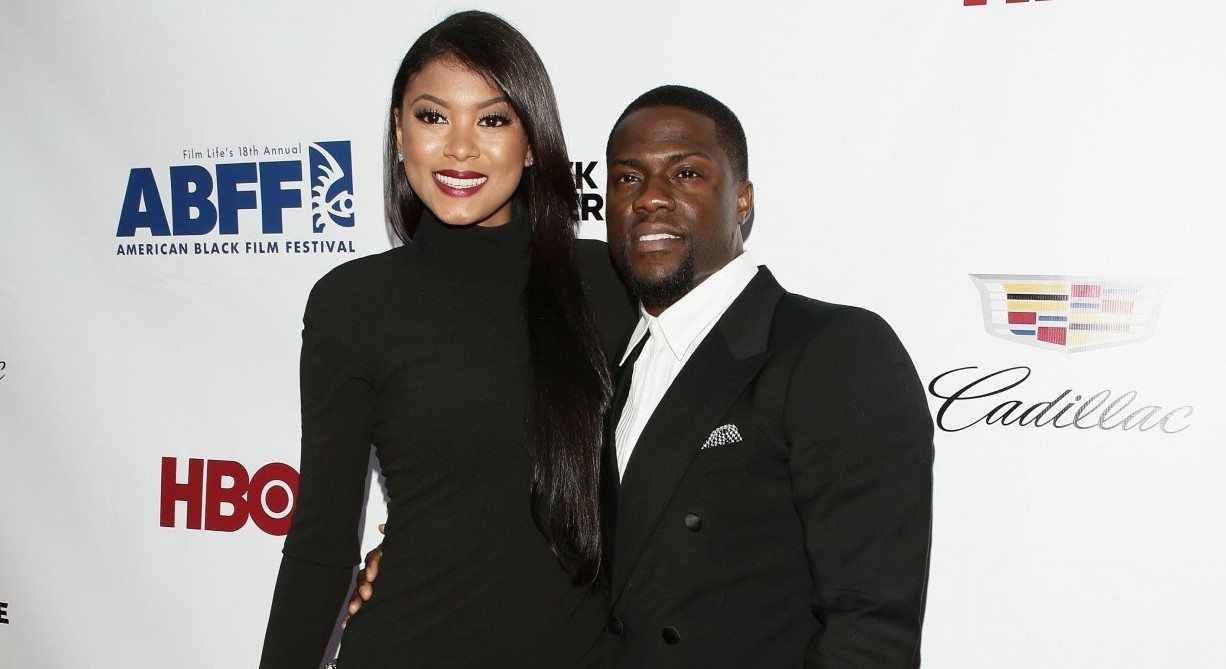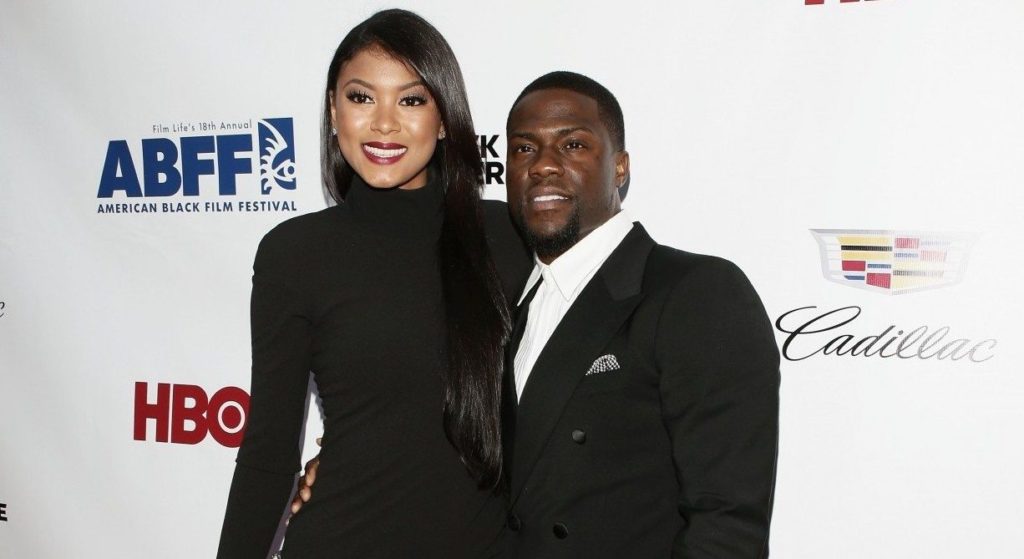 It is no secret that Eniko Parrish and Kevin Hart's relationship started on a controversial note. At the early stage of their relationship, gossip sites relentlessly pursued developing incidents from the rumors that claimed Eniko contributed in some ways to the end of the comedian's first marriage. Parrish and Kevin's first wife had a rough time and dragged each other online to the delight of those that enjoy such drama.
Somehow, they managed to get past that stage and do get along even though they are not necessarily fond of each other. What has been left unresolved for some people who followed the story is the ultimate question: Did Eniko contribute to the end of Kevin's first marriage?
Obviously, the answer to that lies in determining when Eniko started dating Kevin Hart but as you would soon learn, it is a piece of information best known to only Eniko and the famous comedian. Be that as it may, it is believed that the two met for the first time sometime in 2009. Details of how they met and the circumstances surrounding the beginning of their relationship have largely been a secret.
But in a recent Netflix special, Eniko Parrish shared some insight, disclosing that they met at a nightclub in D.C. Although she avoided specifying when they began dating, what she said related that they were instantly attracted to each other. According to her, she fell in love with the comedian cum actor because he easily made her laugh.
Amid speculations, Eniko and Kevin didn't confirm anything until they made their first public appearance as a couple; this was in 2011 after Kevin finalized his divorce from his first wife. Having made their relationship public, Eniko toured with Kevin as he performed stand-up comedy in various venues across the United States. Their relationship grew stronger in the years that followed and Kevin introduced Eniko to his friends and relatives.
For many, it became apparent that the Hollywood star wanted something serious with Eniko Parrish when he introduced her to the two kids he had with his first wife and made her a part of their lives. Roughly five years after they met, Kevin Hart was ready to take the relationship to the next phase, thus he proposed marriage.
Kevin Proposed to Eniko on Her 30th Birthday
Because of the drama that followed the end of his first marriage, it was probably imagined in some quarters that Kevin would really take his time before he makes another commitment towards marriage. But for those that followed how things were between him and Eniko after they publicly acknowledged their relationship, it was only a matter of time before they start working towards getting married.
Kevin and Eniko have always been a fun-loving couple. They vacationed together several times and shared pictures online to the admiration of their millions of fans. Eniko was always seen beside Kevin in public and industry events. More so, she got along with the two kids he had had with his first wife.
The couple was seen everywhere together, and people could hear wedding bells. This came to pass When Eniko Parrish marked her 30th birthday as Kevin Hart asked her to become his wife. He surprised her at a gathering meant to celebrate her birthday with the proposal, describing it as his "most perfect decision".
Eniko shared a video of the proposal in an Instagram post wherein she described Kevin as "the most amazing man in the world". As one would expect, people started looking toward their wedding but it would take roughly another two years for this to happen.
Eniko Parrish and Kevin Hart eventually got married on the 13th of August 2016 and the memorable event took place in Santa Barbara, California, and was witnessed by 200 guests, including several popular figures. His two kids with his first wife were also part of the occasion with his son Hendrix as his best man.
Eniko has now been married to the comedian for half a decade and everything seems to be alright with their union despite and infidelity scandal they faced. Eniko marked their fifth wedding anniversary on Instagram, proclaiming that her love for Kevin remains the same as she expressed hope of being with him for the rest of her life.
Their Union Has Been Blessed With Two Kids Thus Far
Being married for five years is a great feat, especially for this couple who overcame an infidelity scandal, something that has brought about the end of marriages that had lasted for many years in the first year of their marriage. So, like his wife did, Kevin Hart also took to Instagram to mark the milestone.
He also proclaimed his love for Eniko, calling her "hot momma cheesecake". It is no secret that Eniko is now a mother of two. She had her first child with Kevin a year after they got married and the second about three years later.
1. Kenzo Hart
Full Name: Kenzo Kash Hart
Date of Birth: November 21, 2017
Age: 6 Years Old
Occupation: Undetermined
While Kenzo Hart is the third child and second son of Kevin Hart, he is the first child of Eniko Parrish. Kenzo has a lot of growing up to do and is only known for being one of his parents' kids. It was in May 2017 that the couple announced they were expecting Kenzo. Eniko was particularly enthused about this, she shared that she was overjoyed and ready for motherhood.
2. Kaori Hart
Full Name: Kaori Mai Hart
Date of Birth: September 29, 2020
Age: 3 Years Old
Occupation: Undetermined
In the midst of the COVID-19 chaos in March 2020, Kevin Hart's wife divulged that they were expecting another child. She shared a thirst trap picture of her pregnancy and announced that they would soon become a family of six. On the 29th of September that same year, they welcomed a daughter named Kaori Mai. While Kaori is the first daughter and second child of Eniko Parrish, she is the fourth child and second daughter of Kevin Hart.
Eniko is also a stepmom to Heaven Leigh and Hendrix, Kevin's kid with his first wife.
Did Kevin Hart Really Cheat on Eniko Parrish?
It was quite a surprise for many when it emerged a year into the Eniko-Kevin union that the comedian cheated on his wife. On the 17th of September 2017, Kevin shared a video of himself on Instagram; he apologized to his wife and kids for some bad judgment and stated that he would rather own up to his mistakes than let anyone make a financial gain from it.
With time, it was revealed that he was being blackmailed for $10 million with an explicit video of him and a model named Monita Sabbag. In an episode of the Netflix series, Kevin Hart: Don't F**k This Up, Eniko related that she learned through a direct message on Instagram that Kevin cheated on her.
Eniko narrated that the message instantly left her heartbroken. She felt publicly humiliated as the whole drama played out online and even threatened to leave him at some point. She was heavily pregnant with their first child and decided to focus on the pregnancy which happened to help her live through the difficult time.
Eniko eventually decided to forgive Kevin and the comedian has vowed several times to not take that for granted. He described the pain he caused Eniko and having to talk to her about his indiscretion as one of the most difficult things he has ever faced. It fueled a desire to be a better husband and father to his wife and kids.
While the couple survived the scandal, it is a common opinion that Eniko deserved Kevin's infidelity because she contributed to the end of his first marriage to Torrei Hart.
What Role Did Eniko Play in Kevin's Divorce From Torrei Hart?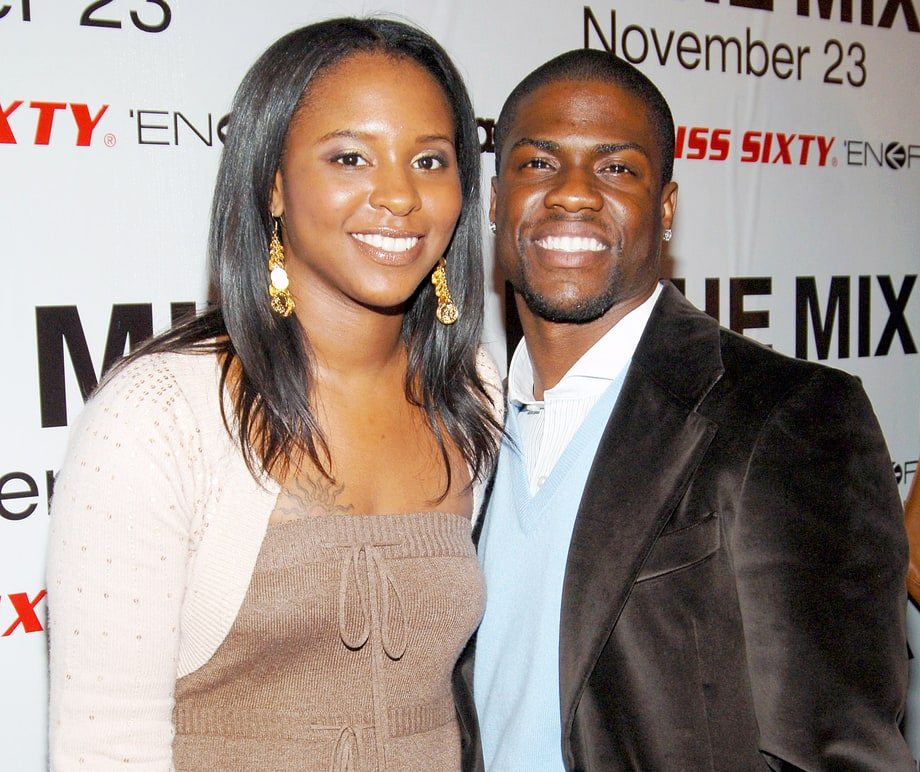 Born on the 28th of February 1978 in North Philadelphia, Torrei Hart is an actress, television personality, and producer. Nonetheless, she is mostly known as the first wife of Kevin Hart, the mother of his first two children. As you would easily find, Torrei attended Community College of Philadelphia where she studied acting and met her ex-husband, Kevin. They were both passionate about having a career in entertainment and would later decide to drop out of college to pursue their dream career.
2003 came and they became life partners and then welcomed two kids: Heaven and Hendrix Hart. Their union began to collapse at some point and they filed for divorce citing irreconcilable differences in February 2010. A settlement was reached and the divorce was finalized in November 2011. That same year, it was confirmed that Kevin is dating Eniko Parrish.
Although Kevin strives to maintain a good relationship with his ex-wife, and the two are even counted among Hollywood's friendliest exes, Torrei and Eniko were once unfriendly towards each other. Torrei believes Kevin cheated on her with Eniko but Eniko has maintained that the comedian and the actress were already separated when they began dating. As stated above, we can only confirm that Eniko met Kevin in 2009, while he was still married to Torrei.
What is Eniko Parrish Hart's Net Worth?
Eniko Parrish has an estimated net worth of $2 million. This pales in comparison to the net worth of her husband which is estimated at $200 million.
Who is Eniko Parrish Hart's Husband?
Eniko Parrish Hart's husband is Kevin Hart, an award-winning actor and comedian best known for his work in films like Think Like a Man (2012), Central Intelligence (2016), Jumanji: Welcome to the Jungle (2017), etc.
How Many Kids Does Eniko Parrish Have?
Eniko Parrish Hart has two children; a son named Kenzo Kash Hart born on November 21, 2017, and a daughter named Kaori Mai Hart born on September 29, 2020.
What is Eniko Parrish's Age?
Eniko Parrish Hart is 39 years old. She was born on the 18th of August 1984 in Baltimore, Maryland.
How Tall is Eniko Parrish?
Eniko Parrish is 5 feet 6 inches tall, which means she is at least 2 inches taller than her husband whose height is reported to be between 5 feet 2 inches and 5 feet 4 inches.