How tall is Joe Rogan? Joe Rogan's height is between 5 feet 6 inches (1.71 m) and 5 feet 8 inches (1.768 m) according to UFC, even though online rumors indicate the podcaster's height is only 5 feet 3 inches. Google search on the other hand shows his height to be 5 feet 8 inches
Once an actor, comedian, TV host, and UFC color commentator, Joe Rogan has morphed into arguably the most popular podcaster in the world with celebrities and presidential candidates alike jostling for a spot on his show. Popular streaming service Spotify has also shelled out $100 million for exclusive broadcast rights to his show and part of the reason behind such success is his innate ability to keep conversations lively and going.
Another fact is that the former Fear Factor host is not afraid to make jokes at his own expense and he often does so about his height. Rogan has previously claimed to be quite tall but that claim has since been discredited by people who have had the opportunity of bumping into him in real life. They point out that the famous podcaster is shorter than the average American male out there and that it may have been that fact that nipped his Hollywood career in the bud.
What is Joe Rogan's True Height?
Prior to becoming a world-famous podcaster and UFC interviewer, Rogan started out as a comedian in the Boston area in the 80s. During that period, he officially listed his height as 5 feet 10 inches. This listing would remain stable and unchallenged as the New Jersey native went from comedy to acting in Disney TV shows and then commentating for the UFC. There was also no attempt to discredit the same during the six years that Rogan spent as the host of the popular stunt game show, Fear Factor. Rogan would quit Fear Factor in 2006 and by 2009, commenced his popular podcast.
The Joe Rogan Experience now ranks as one of the most popular in the world and attracts millions of views per episode. It has also hosted high-profile guests and Rogan has become a household name in his own right. That fact comes with several advantages but it has also had the public picking apart several aspects of his life, including his height.
Several people are of the view that Joe Rogan is shorter than he previously claimed and he has been forced to come out and downgrade his height from 5 feet 10 inches to 5 feet 9 inches and presently 5 feet 8 inches. Even this clarification has not appeased some sections of the public as they still insist that the podcaster is shorter than 5 feet 8 inches. One Redditor claimed that he once saw Rogan in the VIP parking lot of The Comedy Store. The podcaster was in front of him and he could see atop his head meaning that he, the Redditor, is taller than Rogan. He then went on to reveal his height as 5 feet 6 inches, meaning that the podcaster is less than 5 feet 5 inches.
Some other online speculators have even been kinder to Joe Rogan. The Sherdog MMA Forum has it that the podcaster is about 5 feet 6 inches tall. In coming to this conclusion, the forum compared pictures of Rogan standing with popular singer and presenter, Henry Rollins. In the picture, Rollins, whose height is 5 feet 9 inches, appears much taller than Rogan, meaning that there is no way the podcast host is just one inch shorter than him i.e. 5 feet 8 inches.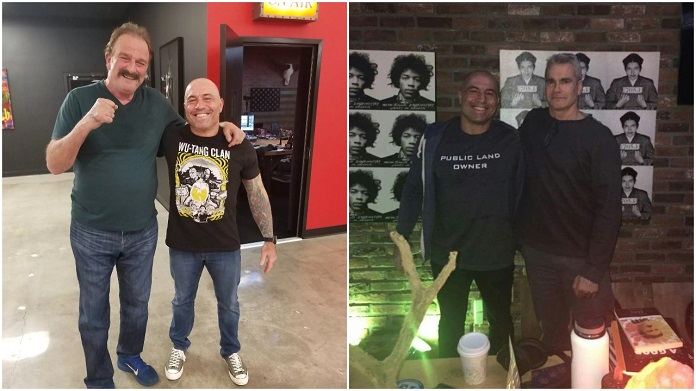 Joe Rogan is Shorter Than The Average UFC Fighter
Given all the above speculations, it is quite difficult to pinpoint what Joe Rogan's actual height is. However, if we go by his assertion that he is 5 feet 8 inches tall, it then means that he is one inch shorter than the average American male as Data from the National Centre for Health Statistics has it that the average American man is 5 feet 9 inches tall (1.75 m).
It is also the same case when we get to the UFC. Rogan is only taller than male fighters in the bantamweight category whose average height is put at 5 feet 7 inches. He is then much shorter when his height is compared with the average height of fighters in the other categories such as featherweight (5 feet 9 inches), lightweight (5 feet 10 inches), welterweight (5 feet 11.5 inches), middleweight (6 feet 1 inch), light heavyweight (6 feet 2 inches), and heavyweight (6 feet 3 inches).
If we are to believe the speculations that Joe Rogan's height is closer to 5 feet 6 inches, it will mean that he is much shorter than the average American male out there as well as the average UFC fighter of any category.
Who Is Taller Between Joe Rogan and Alex Jones?
Both Joe Rogan and Alex Jones are of the same height, i.e. 5 feet 8 inches. The two have also courted controversy for pandering to right-wing views. Back in October 2020, Jones, who is a right-wing radio show host and conspiracy theorist that had been banned from major social media platforms, joined Rogan on his podcast. He used that occasion to query the safety of covid-19 vaccines and his comments led to a small storm as many queried Spotify and Rogan for allowing such views on their platform.
Is Joe Rogan Really Taller Than Dana White and Ben Shapiro?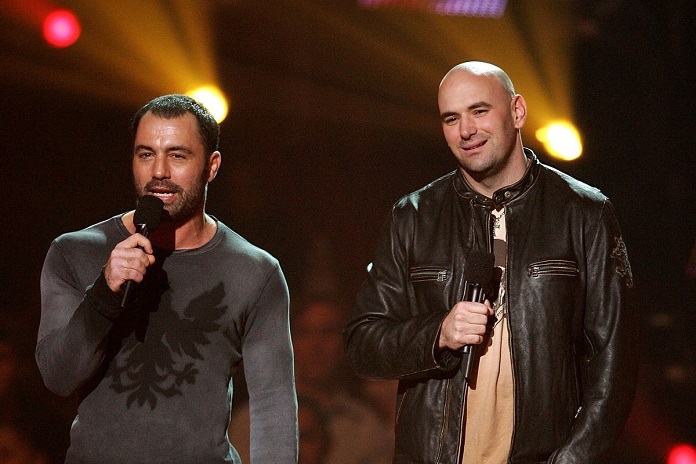 Whether we go by his claimed height of 5 feet 8 inches or the online speculation that he is closer to 5 feet 6 inches, one thing that is certain is that Rogan is shorter than UFC president Dana White, as the latter is 5 feet 9.1 inches (1.8 m) tall. It is however a different ballgame when it comes to the conservative commentator, Ben Shapiro, as there are also controversies over his height.
Shapiro has claimed that he is 5 feet 9 inches tall, meaning that he is one inch taller than Rogan. Some online speculators have done some comparisons though and asserted that Shapiro is 5 feet 4 inches tall which would mean that Rogan is about four inches taller than him.
Bill Burr or Joe Rogan: Who Is Taller Between The Comedians?
Bill Burr is 5 feet 8 inches tall, meaning that he is as tall as Rogan's claimed height. If we are to go with speculations that Rogan is 5 feet 6 inches, it will mean that Burr is two inches taller than him. Meanwhile, Burr is one of the few guests who have attracted praise for their comments on the podcast. The comic, actor, and podcaster, appeared on the show in June 2020 and took Rogan to task for his skepticism towards wearing face masks. The latter tried to describe wearing face masks as emasculating but Burr was having none of that and made it clear.
How Tall is Joe Rogan's Wife?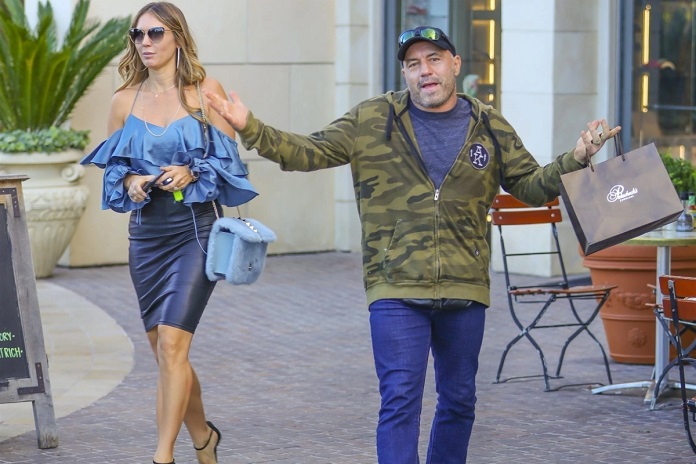 Another clue that can help us decipher Joe Rogan's true height is by looking at his wife, Jessica Ditzel. Ditzel is a native of Colorado and has variously worked as an account executive (Robert Half Tech), a management assistant (Rent A Car) as well as a product analyst (for Volvo). She was also a model back in the day meaning that she is naturally tall. Ditzel's height is put at 5 feet 10 inches and pictures of her together with her husband would clearly show that she is noticeably taller than him. Some may attribute this to high-heeled shoes but in some of those pics, she is not wearing heels, meaning that those who say that Rogan is nearer to 5 feet 6 may have a point after all.