Jessica Ditzel is Joe Rogan's wife, as well as a former model and cocktail waitress. She has been married to the entertainer since 2009 and together they have two biological daughters named Lola and Rosy Rogan. The couple are also parents to Kayja Rose Rogan, Jessica's daughter from a previous relationship who Joe adopted after he got married to her mother.
Jessica Ditzel's husband is famed as a UFC color commentator and the host of the Joe Rogan Experience podcast. He was once a standup comedian, a bit of an actor, and a television presenter. Rogan describes himself as a psychedelic adventurer and it is a phrase that personifies his career and journey to stardom.
The mixed martial arts fanatic considered becoming a kick boxer before he embraced a career in stand-up comedy in 1988. A few years down the line, he moved to Los Angeles and subsequently became a TV presenter and actor. The year 1997 came and he began working for UFC as a post-fight interviewer before he was later hired as a color commentator.
Rogan's podcast became so popular that it earned him a licensing deal with Spotify in 2020, estimated at a massive $100 million. All of these are the reasons Joe is celebrated and his fame has left many curious about the woman to whom he's married. Unlike her husband, Jessica Ditzel is not a public figure. This means that most of the facts people are eager to learn about her are not readily available, leading to a lot of misinformation about her identity.
Profile Summary of Jessica Ditzel
Full Name: Jessica Sloan Ditzel
Date of Birth: July 18, 1975
Age: 48 Years Old
Nationality: American
Place of Birth: Sugar Land, Texas, U.S.
Ethnicity: White American
Occupation: Former Model
Husband: Joe Rogan
Duration of Marriage: 2009 – Present
Number of Kids: Three Daughters (Kayja Rose, Lola, and Rosy Rogan)
Joe Rogan's Wife Has Been Falsely Reported To Be The Daughter of Robert Schimmel
Unlike most spouses of popular figures who would milk every attention they get from being married to a celebrity, Joe Rogan's wife has relentlessly been evasive of publicity. Because of this, most things about her have been left to speculations, and somehow, many have come to believe and uphold that she is the daughter of the late popular American blue comedian, Robert Schimmel. This is, however, not true. Robert has a daughter named Jessica, Jessica Lynne Schimmel, but she isn't the one Rogan has been married to.
The confusion possibly emanated from the fact that Jessica Schimmel and Jessica Ditzel both got married in 2009. Also, since Jessica Schimmel's father was a stand-up comedian, a path Joe Rogan once towed, people probably came to imagine that Joe met his wife through her supposed father, Robert Schimmel.
Anyway, Jessica Schimmel got married to Benjamin Katz on the 14th of November 2009, and not to Joe Rogan. Schimmel works in the entertainment industry; she served as an assistant producer in multiple episodes of The Simpson. But as you would soon learn, Joe Rogan's wife has had no business with the industry. So, if Joe Rogan's wife isn't the daughter of Robert Schimmel, who is she?
Jessica Ditzel is a Texan Who Worked as a Model and Cocktail Waitress
Joe Rogan's wife was reportedly born in Sugar Land, Texas, on the 18th of July 1975. Nonetheless, it seems she spent her childhood in Colorado as it has been claimed that she graduated from Doherty High School located in Colorado Springs in 1993. If this report is true, then the 48 year old is college-educated as she proceeded to California State University in Long Beach where she furthered her studies.
From what we gathered, she had been doing some modeling while in college and decided to focus fully on it when she graduated. She became one of the girls that worked with EM Model Management at some point and it had her feature in several advertisement campaigns. It is said that she also took up other jobs to augment her income, including working as a cocktail waitress.
Joe and Jessica Began Dating in 2001 and Got Married in 2009
To a large extent, the facts surrounding the beginning of the Joe-Jessica relationship are not known, but it has been reported in some quarters that the couple met in a popular bar in Los Angeles where Jessica Ditzel worked as a cocktail waitress. It is believed that they subsequently started dating in 2001.
Many years later, sometime in 2008, the two were convinced they were meant to be together, thus they got engaged. Joe and Jessica didn't wait for long to walk down the aisle; it happened the following year. The couple has completely kept their love life away from the public, so even the exact date they got married is yet to be confirmed. However, reports suggest they had already started building a family together before they got married.
Jessica Ditzel is a Mother of Three Daughters
Joe Rogan's wife became a mother for the first time in 1996, many years before she met the UFC color commentator and subsequently became his wife. Her first child, Kayja Rose, is a musical artist born on the 23rd of August 1996. Kayja's biological father, Keven Conner, was also a musical artist fondly called Dino who served as the lead singer of the R&B music group, H-Town.
Keven and Jessica had a relationship that led to the birth of Kayja. The duo would later part ways as Keven began dating another lady named Teshya Rae Weisent. On a fateful day in early 2003, Keven and Teshya were involved in a car crash that claimed their lives. Joe Rogan adopted Kayja after he got married to her mother.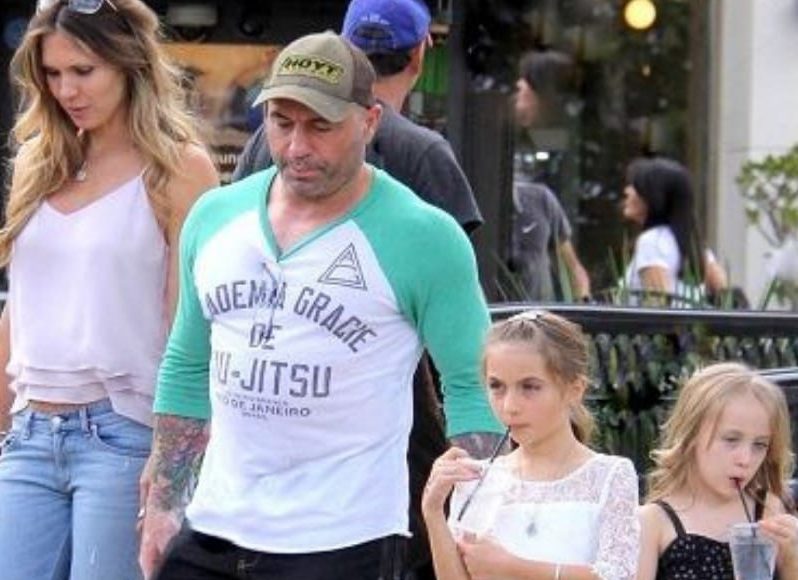 Apart from Kayja, the UFC commentator and his wife have had two daughters together; Lola and Rosy. They had Lola before they got married in 2008 and welcomed Rosy a year into their marriage in 2010. The couple has been super protective of their girls, it is hard to tell anything about them.
The Secret of The Enduring Marriage Between Joe and Jessica
It was quite a surprise when it emerged that Joe Rogan was getting married. People expressed that his bride must be someone really special and the reason for that isn't far-fetched. Rogan had stated several times that getting married is a dumb thing to do.
Because of his convictions about marriage and reputation as a party-freak, it is a remarkable feat for many that his marriage has survived over a decade. In an interview with Rolling Stone, Rogan shared that his marriage to Jessica Ditzel has been crisis-free because she allows him to do whatever he does.
Based on what he said, he still visits strip clubs but admitted that having kids have ruined the fun for him. Joe also disclosed that they signed a prenuptial agreement before they got married.