How Tall is Shaq? Shaq's height is listed at 7-foot-1-inch (2.16 m), making him 6 inches taller than the average NBA player and 1 foot 4 inches taller than the average American male
The American former professional basketball player hardly needs any introduction as he is one of the most popular faces of the sport, with tall achievements to brag of. Shaq has been inducted into the College Basketball Hall of Fame, FIBA Hall of Fame, and Basketball Hall of Fame. As much as his height stood him out during his active days as a professional basketball player, his astounding accomplishment thereof has kept him relevant over the years with a big charisma he has carried on to his subsequent endeavors following his retirement from the NBA.
From Orlando Magic where his professional career began to the Los Angeles Lakers, Miami Heat, Phoenix Suns, Cleveland Cavaliers, and the Boston Celtics, The Big Shamrock dominated the NBA for 19 years and it has been hard for history to forget his reign. It's been a decade since Shaq retired but he remains a favorite subject for conversation in the NBA community as analysts and pundits often compare him with active players in the league, especially those who have towering height and massive weight.
Shaq's Height and How Much It Helped His NBA Career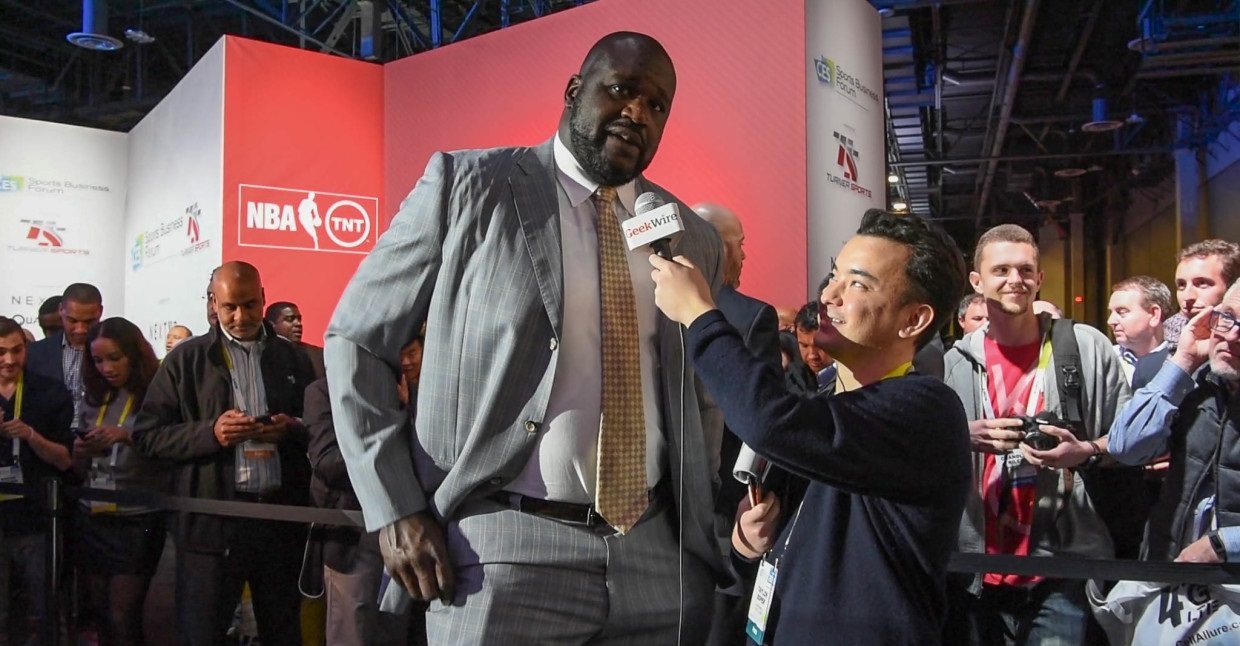 Whenever Shaq's exploits in the NBA are discussed, it is often suggested, albeit subtly, that the Hall of Famer might not have been as great as he is without his sky-high physique. But as you'd soon learn, NBA has seen taller players than Shaq who haven't equaled his career attainments.
The 7-foot-1-inch basketball legend undeniably had the height advantage. It's no secret that taller players in basketball are believed to have an advantage. Apart from the fact that they can easily block the shots of shorter players, it is also easier for them to reach the basket. While it'd be mischievous for one to deny that Shaq had this advantage, it wasn't all he had going for him. He was a talented and skilled player: his physical frame was at best, only a very appealing bonus.
Complementing Shaq's height was his sturdy built which also gave him a power advantage over opponents. So unlike other tall NBA players whose lanky nature denies them the quickness of smaller players and are generally known to lack coordination, Shaq had an overpowering presence and agility. In all, it was a combination of his height, strength, talent, and skills that makes him the most accomplished player taller than 7 feet in NBA's history.
How High Can He Reach?
Shaq's career records are quite too many to count and he began setting them during his college career. While he was getting set to join the NBA, during the pre-draft workout, he recorded the highest vertical reach. From a standing position, the former professional basketball player leaped to 12 feet 5 inches.
With this, he held the record for highest documented NBA vertical reach for years. Several reports have claimed that Dwight Howard pulled off a jump reach of 12 feet 6 inches to break the record.
The Average Height of Basketball Players Compared to Shaq's 
From point guards to shooting guards, small forwards, power forwards, and centers, the desired height for a basketball player largely depends on the position he plays. While center players are typically the tallest as they are relied on for protecting the rim and rebounding, point guards are often the least tall. But according to various studies, the average height of a basketball player in the NBA is 6 feet 7 inches (2.01 m).
By extension, it means that the average NBA player is 10 inches taller than the average American male – the average height for men in the United States is 5 feet 9 inches. It also means that Shaq is 6 inches taller than the average NBA player, and 1 foot 4 inches taller than the average American male. Being that tall, to the best of our knowledge, has not had any negative impact on Shaq and what he does for a living.
Since he retired from NBA, he has been involved in the media and other sectors. Also a rapper with at least four albums, Shaq has featured in numerous films and television shows. He hosts a podcast, has been involved in mixed martial arts, professional wrestling, and is known to be a versatile businessman and relentless investor. In all of these endeavors, it has never been said that Shaq's height posed a problem for him.
Between Shaq and Yao Ming, Who Is Taller?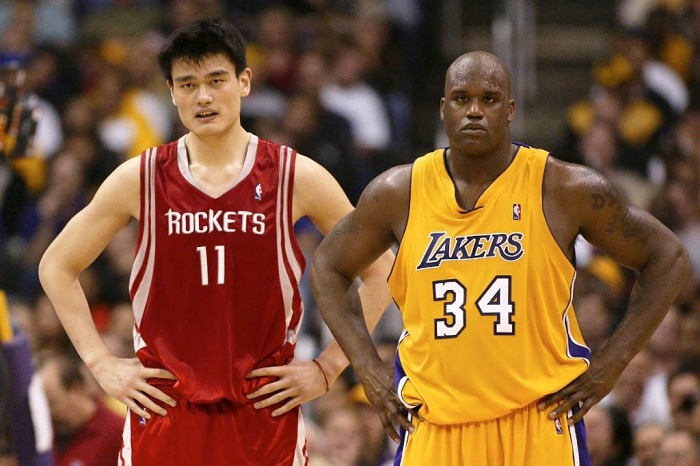 Among other 7-foot NBA players, Shaq is often compared to Yao Ming and the reason for this is not far-fetched. First, they played in the same era in the NBA, and Ming was also an outstanding player, even though he never got to become an NBA champion. The Chinese basketball executive played for the Shanghai Sharks of the Chinese Basketball Association (CBA) from 1997 to 2002.
In the latter year, he joined the NBA and played for the Houston Rockets until 2011, the same year Shaq also retired. In 2006, Shaq and Ming alongside Allen Iverson were inducted into the Basketball Hall of Fame. Yao Ming is 7 ft 6 in (2.29 m) tall, so he is 5 inches taller than Shaq who is a four-time NBA champion.
Shaq's Height Compared to Some of The Greatest Basketballer Players
The NBA has seen so many phenomenal players from different backgrounds throughout its history. LeBron James and Stephen Curry have dominated the sport in recent years with the latter going a long way to prove that one doesn't have to be exceedingly tall to dominate the league. Below is a look at Shaq's height compared to that of some of the finest players in NBA history.
Shaq: 7 feet 1 inch (2.16 m)
LeBron James: 6 feet 9 inches (2.06 m)
Stephen Curry: 6 feet 3 inches (1.91 m)
Kobe Bryant: 6 feet 6 inches (1.98 m)
Michael Jordan: 6 feet 6 inches (1.98 m)
Magic Johnson: 6 feet 9 inches (2.06 m)
Larry Bird: 6 feet 9 inches (2.06 m)
Hakeem Olajuwon: 7 feet (2.13 m)
Scottie Pippen: 6 feet 8 inches (2.03 m)
Charles Barkley: 6 feet 6 inches (1.98 m)
Jerry West: 6 feet 3 inches (1.91 m)
7-foot NBA Players Taller Than The Four-Time NBA Champion
Based on the foregoing, it wouldn't be out of place for one to assert that Shaq is taller than most of the best players that have graced the NBA. Nonetheless, he is not the tallest NBA player ever as the league has seen multiple players taller than him. They include:
Gheorghe Mureșan: 7 feet 7 inches (2.31 m)
Manute Bol: 7 feet 7 inches (2.31 m)
Slavko Vraneš: 7 feet 6 inches (2.29 m)
Shawn Bradley: 7 feet 6 inches (2.29 m)
Chuck Nevitt: 7 feet 5 inches (2.26 m)
Tacko Fall: 7 feet 5 inches (2.26 m)
Sim Bhullar: 7 feet 5 inches (2.26 m)
Pavel Podkolzin: 7 feet 5 inches (2.26 m)
Mark Eaton: 7 feet 4 inches (2.24 m)
Rik Smits: 7 feet 4 inches (2.24 m)