Carol Held Knight is best known to the public as the second wife of renowned American naval aviator, space hero, astronaut, test pilot, and astronautical engineer Neil Armstrong. Until Neil's death in the year 2012, Held was his best friend, an amiable wife, and the only woman in whom he found true love and friendship. The couple met at a breakfast table and got married two years later. They remained inseparable until 2012 when the distinguished astronaut passed away.
Despite being the second woman Neil got hitched to, Carol made a lot of impact on the astronaut's life and became so much a part of his history that not many remember much about Neil's first wife. Since the passing of her husband, however, many have often wondered what Carol has been up to and how she spends her time. Here are all the details you need to keep you up to date with her life.
Carol Held Knight's Life Before Neil
Before she became the wife of the famous Neil, the media had no inkling who Carol was but since her relationship with the Space star came to light, details have been unearthed about where she was and what she was up to before she met him. Carol was born in the year 1945 in the United States of America, she is the daughter of Rosario Cota (mother) and Victor Held (father). Apart from the information provided above, further details about Carol's background, childhood, early life, and educational attainments have not been shared with the public. Prior to meeting Armstrong, Carol was previously married to Ralph Knight, a native of Cincinnati, Ohio, who died in a plane crash in Lantana, Florida in 1989.
Ralph, a roofing company owner, had survived the crash but was later pronounced dead five days after; he had suffered a massive stroke. Their single-engine was preparing to land in rain and heavy fog at Daytona Beach Regional Airport when it, unfortunately, crashed near the Tomoka Correctional Institution, west of Daytona. Carol and Knight had two children together, daughter Molly Knight and son Andrew Knight.
Carol Held Knight at a Glance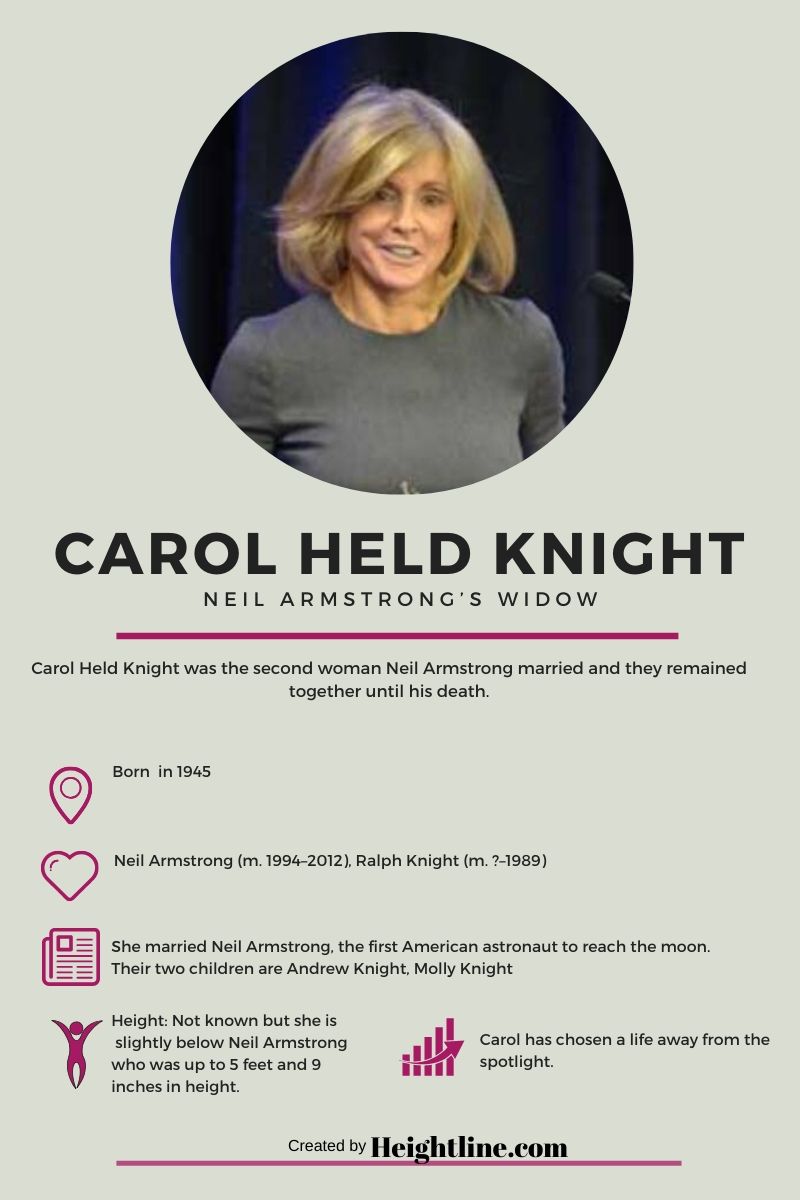 About Her Relationship with Neil Armstrong
Carol's relationship with Neil has often been described as love at first sight, even though it took the couple more than one year to finally get around to getting married. They met for the first time in 1992 at a golf tournament Armstrong had been invited to as a celebrity participant while Carol Held Knight was also in attendance for the game. As pre-planned by their friends Sally and Paul Christiansen, the two were seated beside each other at the pre-tournament breakfast table in the hopes that a conversation would ensue and lead to a relationship.
While their conversation lasted, Knight didn't speak much to Neil because she was nervous to have such a great man around her and she left shortly after to be with her sick mother. A few weeks later, Held received a call from Neil, who also helped her to cut down a cherry tree in her house.
On June 12, 1994 – after the astronaut's divorce from his first wife was finalized, Carol and Armstrong had their marriage ceremony in Ohio. The occasion was later followed by a second ceremony at the San Ysidro Ranch in California. After their marriage, the couple decided to move to their home in California, where they lived for several years before relocating to Indian Hill, Ohio where Armstrong spent his last years.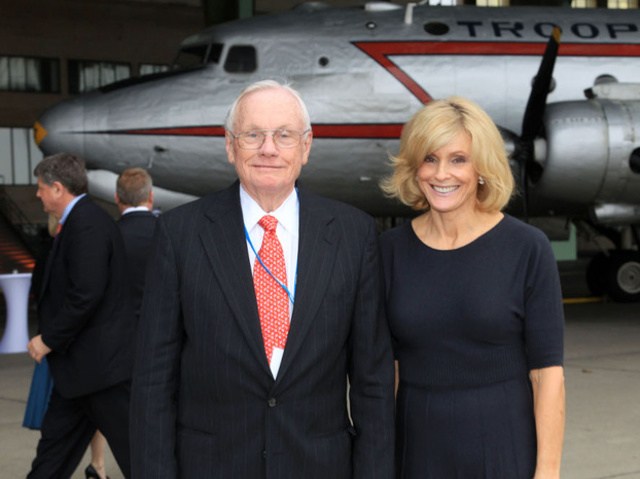 Carol Held Knight and Neil Armstrong spent almost eighteen years together as husband and wife. Sadly, the latter passed away at the age of 83 from complications of a cardiac surgery on 25th August 2012 in Cincinnati, Ohio. Besides holding the record as the first person to step on the moon on 20th July 1969, Carol's husband is best remembered as a space hero who proudly served the United States of America as a test pilot, navy fighter pilot, and an astronaut.
Neil and his first wife, Janet Shearon spent 38 years and had three kids together before their marriage ended in a divorce. The two got married at the Congregational Church in Wilmette, Illinois in 1956, separated in 1990, and formally divorced in 1994. Their first offspring, Eric Armstrong was born in 1957, their only daughter who died of pneumonia due to weakened immunity in 1962 was born on 13th April 1959 while Mark, their last child was born in the year 1963.
Where is Carol Knight Now?
Since the death of her beloved husband, Carol Held Knight has been missing from the spotlight, making it difficult to tell exactly where she is at the moment or what she has been up to. Nevertheless, if Carol should be anywhere, it would be in their home in Indian Hill, Ohio, where she is supposedly living a quiet life.