Zlatan Ibrahimovic is a former Swedish footballer whose achievement in the world of football will always be remembered. The former striker has won 32 trophies in his career which puts him second in the list of the most decorated football players in the world. Ibra of Ibracadabra as his is often called has a swag that is unique to him. He exudes an air of superior confidence and believes he is the finest football player alive. He refers to himself as a 'king', a 'lion', and even, a 'god'. Of course, you would want to know more about the great footballer and there is more…
Who is Zlatan Ibrahimovic
Zlatan Ibrahimovic was born on October 3, 1981, in Malmö, Sweden. His parents were inter-religious as his father, Šefik Ibrahimović, was a Muslim while his mother, Jurka Gravić, was a Catholic. His siblings (some of which are half-siblings) include two brothers and three sisters – Sanela, Sapko, Aleksander, Monika, and Violeta Ibrahimovic. The former Barcelona and Manchester United star started playing football when he was given a pair of football boots at the age of six. There is no information about his high school or college education.
Ibrahimovic started his football career as a child, playing with local junior clubs in his hometown, including Malmö BI. He stole other peoples bicycles just to aid his quick transportation to football training sessions taking place far away from home. But he was not always that fired up as he quit football at some point (What a waste of talent that would have been). Ibrahimovic decided to get a job at the docks in his hometown, a move that will see him quit football entirely in 1996, at the age of fifteen. On hearing that, his then team manager at his hometown club, Malmö FF, advised him against the decision and urged him on in the sport while offering him his first professional contract. His commitment at that young age made him a regular in the starting line up for the team. Three years later, he joined the club's senior side for the 1999 football season, which was his first season in the Swedish top-flight league. After two seasons in the top flight, he moved to AFC Ajax for a fee of £6.5 million.
Zlatan Ibrahimovic is a national hero in his home country, Sweden. So huge is his impact in world football that his name is now a verb and can be found in the Urban dictionary. To "Zlatan" means to be insanely awesome at everything and for everyone, have a big ego for it, and be physically or verbally slick. He can speak five foreign languages fluently including Italian, English, and Spanish. His native home language Swedish and Bosnian completes the number.
What is his net worth and how much does he earn as salary?
Ibra has amassed enormous wealth over the years through his beloved sport. Having played in Italy, Spain, England and the United States, the journey has been a money-spinning ride for the superstar. For instance, his one-year contract which he signed with Manchester United, England in 2016 was worth almost £19 million. However, he took a huge pay cut (95%) to make the switch to the US with LA Galaxy where his annual salary is $1.56 million (£850,000) which translates to $29,400-a-week (16,000-a-week).
His wealth does not only come from playing on the pitch, the former Juventus forward also earns through his several endorsements with companies such as Volvo and sportswear giant, Nike. His sponsorship deal with Nike worth over $2 million per year is set to run for four years (2015-2019). In 2016, he launched his own sportswear brand – A-Z Sportswear. Ibrahimovic also has a free-to-download Android game called "Zlatan Legends" available for in-app purchases.
Apart from the above listed, Zlatan Ibrahimovic also has his own brand of perfume and aftershave which he unveiled through his Instagram handle. He lavishes his money on fast cars and properties. Ibrahimovic owns a Lamborghini Gallardo, a Maserati Grand Tourismo, a Ferrari Enzo and an Audi S8 with all four cars costing well over $2.8 million. He has properties in his hometown Malmö, in Paris, New York, Miami, and in Stockholm.
In 2015, he was worth $39.1 million according to Forbes but that has risen astronomically as his net worth presently stands somewhere between $110 million to $160 million.
Who is Zlatan Ibrahimovic's Wife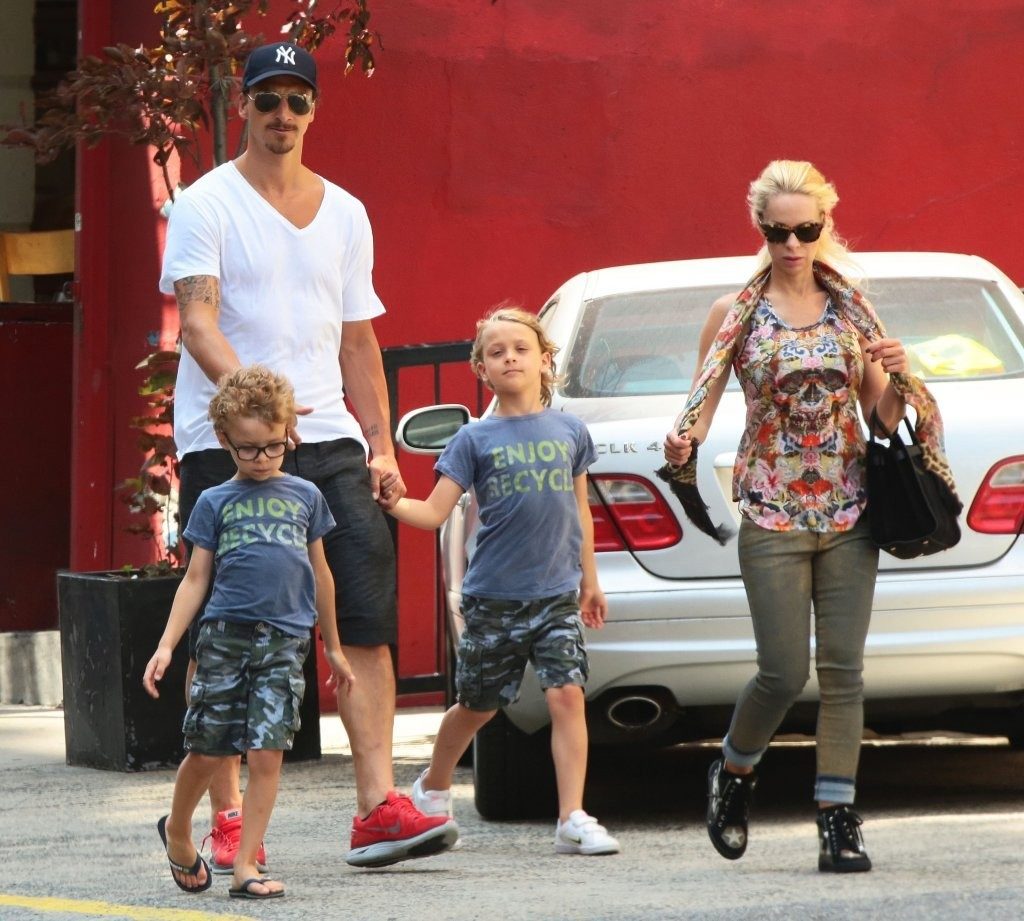 Zlatan Ibrahimovic has been with his longtime partner, Helena Seger since 2002 and she is the mother of his two sons – Maximilian Ibrahimovic and Vincent Ibrahimovic born September 22, 2006, and March 6, 2008, respectively. Ibrahimovic is 11 years younger than Seger but that has not come in the way of their love. Reports say the couple had gotten married in a secret wedding (which will be quite unlike Zlatan Ibrahimovic), but there has not been a public mention of that by the lovebirds except in interviews where Seger refers to Ibrahimovic as her 'husband'.
Helena Seger is a Swedish model and business executive born August 25, 1970, in Lindesberg, Sweden. She was relatively unknown until her association with the enigmatic football star, Zlatan Ibrahimovic. The millionaire businesswoman who started her career as an actress is a graduate of economics. She worked as a bartender when she was 17 and when she realized she gets a lot of compliments on her looks, she went into modeling. She also became an actress at some point before getting a job at Bonnier Presenta. Seger has two siblings, a brother, Henrik, and a sister, Karin.
His body measurements: Height and Weight
Zlatan Ibrahimovic is a Swedish giant! He is a boss on the football field because of his sheer height. He has an athletic build and that is something he keeps working on to keep himself fit. Little wonder he is still able to play at such an age. His workout routine is such that he concentrates on the upper and lower body every week and takes it even farther during the off-season. Ibra's height is measured at 6 ft 5 in (195 cm) and his body weight is 91 kg (201 lbs). His other body measurements are 42½ in (Chest), 15¼ (Biceps) and 35½ (Waist)
Does Ibrahimovic have Tattoos?
The former Swedish striker has several tattoos inked on almost every part of his upper body – abdomen, arms, back, wrists, etc. While most of them are permanent inkings, some others have been inked temporarily to create the desired effect. But the underline is that all his tattoos have their meanings. The numbers tattoed on Ibrahimovic's right wrist are the birthdates of every male member of his family which includes his father, brothers and two sons. He refers to them as the "Zlatan Ibrahimovic code". On the upper part of his right arm is the name of his father "Sefik" and the names of his sons in Arabic letters.
Read Also: Cristiano Ronaldo Wife, Son, Gay, Girlfriend, Net Worth, Salary, House
In a rather dramatic fashion, he has the opposite of the tattoos he has on his right hand on the left. On his left wrist is inked the birthdates of his mother and sister, Sanela. His mother's name "Jurka" is inked in Arabic letters on his left biceps. When asked why he chose to tattoo the women on the left, he answered that it is because the women are closest to his heart.
Just under his right arm are two playing cards and a dragon tattooed in red ink which seems to refer to the warrior side of his personality. On his left shoulder is a koi fish inked in grey. The koi fish is known to wade through obstacles as it swims in water and Ibra says he has learned to wades through the obstacles in his life. The choice of grey rather than orange for the koi fish is because the grey koi fishes are normally the wild ones, unlike the orange koi fishes which can be found in ponds. The eagle feather on his right shoulder symbolizes endurance and strength.
Ibrahimovic has a 'clap back' tattoo. For the media and tabloids who could report and write whatever they want about him or the fans who could boo him whenever they like, his response is the tattoo on his stomach which reads "Only God can judge me". While at Manchester United, he got the image of a fierce looking lion's head inked on his back. Also on his back is the Leonardo da Vinci's 'Vitruvian Man', the Maori tribal symbol, and a Buddhist monk image.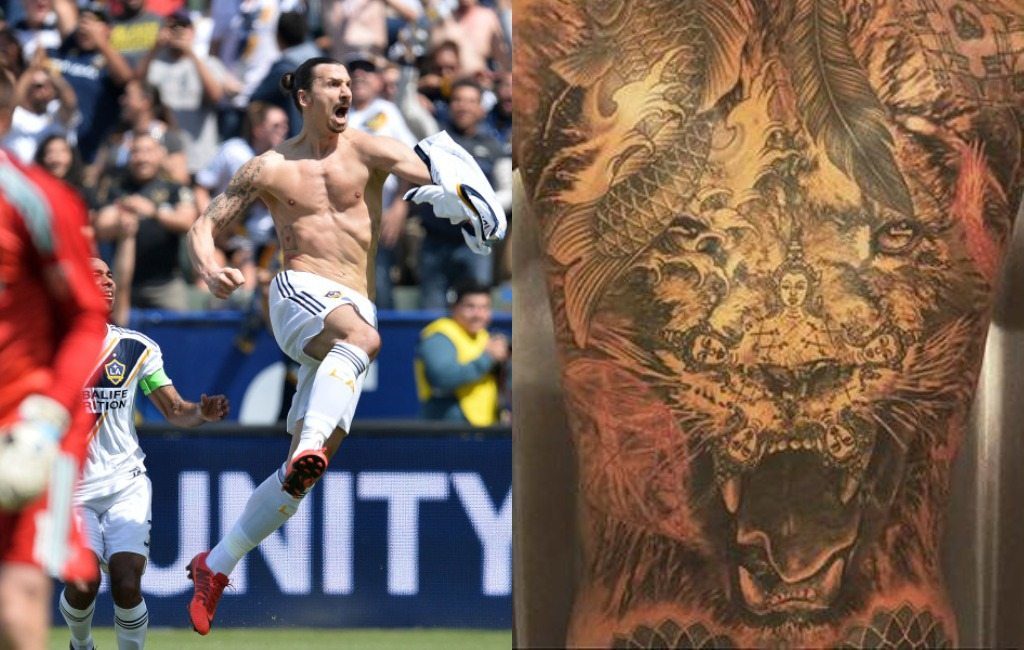 On February 14, 2015, while playing for Paris Saint-Germain in a Ligue 1 match against French club side, Caen, Ibrahimovic pulled off his shirt to reveal 50 names of people who were famished inked temporarily on his abdomen. He said he did it to draw the world's attention to the 805 million people in the world battling with hunger. His plan succeeded because the next morning the names of the persons were on every French newspaper of note.
What are the football records only Zlatan Ibrahimovic holds?
These are not Zlatan Ibrahimovic's only records in football but these are the records which he alone holds for things which he alone has done. The records are from his time in all the different leagues (five of them) he played in during his illustrious career.
Zlatan Ibrahimovic is the highest goalscorer for his country, Sweden, and the only Swedish player to score in three UEFA European Championships consecutively.
He has won 13 league titles in four different leagues: Eredivisie, Serie A, La Liga, Ligue 1. The only player to have achieved such feat.
Ibra has scored in nine different derbies across six leagues. The only player to have done so.
Moving to the English Premier League, Ibra scored the league's 25,000th goal and became the oldest player to score 15 goals in one season. He was 35 years and 125 days old when he scored the 15th goal.
He scored in his first three EPL matches for Manchester United and is the only player to have done so in the club's history.
Having played for Paris Saint-Germain in French Ligue 1, he became the only player to be the league's highest goal scorer for three seasons and also Ligue 1's all-time top scorer.
He is the only player in French Ligue 1 to score up to 38 goals in one season. He also holds the record for the fastest hat-trick in Ligue 1 which stands at 9 minutes.
In Barcelona, he became the only player to have scored in his first five Spanish La Liga matches.
He is the only player to line up for seven different teams in the UEFA Champions League and score for six of them. The teams are Ajax, Juventus, Inter Milan, Barcelona, AC Milan, Paris Saint-Germain and Manchester United. He did not score a UCL goal for Manchester United.