Helena Seger is a Swedish model and business executive but she is famous as the spouse of a famous football player, Zlatan Ibrahimovic. Helena Seger was born on August 25, 1970 in Lindesberg, Örebro County, Sweden
Helena Seger first met her husband Zlatan Ibrahimovic in 2002 as she was working at FlyMe. In 2005 she quit her job in Sweden and moved to Italy to join her partner who was then playing for Juventus.
You don't have to be a soccer fan to know that Ibrahimovic is one of the most talented and controversial players in the history of the sport. The striker currently plays for Serie A club, AC Milan, and of course the Sweden national team. Often counted among the best strikers of all time, his career has seen him score over 570 goals.
He began his senior career with Malmo FF in Sweden and has played for teams across the major football leagues in the world, from Eredivisie to Serie A, La Liga, Ligue 1, Premier League, and Major League Soccer.
Zlatan's skill, brash persona, and controversial remarks have earned him the admiration of soccer fans across the globe. This means most things about him and his family are considered to be newsworthy. At some point during his spell at Barcelona, his friendship with player Gerard Pique had people speculating he was gay. But as far as anyone knows, he is straight and has been in a relationship with Seger for almost two decades. Their relationship has thrived despite the over a decade age gap between them and they are parents to two sons.
Biography and Profile Summary of Helena Seger
Full Name: Helena Noell Seger
Nationality: Swedish
Place of Birth: Lindesberg, Örebro County, Sweden
Date of Birth: August 25, 1970
Age: 52 Years Old
Occupation: Businesswoman, Actress, and Model
Mother: Margareta Seger
Father: Ingemar Seger
Children: Two sons (Maxmilian and Vincent Ibrahimovic)
Siblings: Karin and Henrik Seger
Seger Was Born In Lindesberg, Sweden, and Is 11 Years Older Than Zlatan  
As you would easily find, Zlatan Ibrahimovic was born to a Muslim Bosniak father and a Catholic Croat mother on the 3rd of October 1981. This means he is 41 years old and eleven years younger than his spouse who was born on the 25th of August 1970.
Helena Seger was also born in Sweden, precisely in Lindesberg located in Orebro County. She was born to Margareta Segar and her husband Ingemar Seger. Helena isn't their only child but the first of her parents' three children. She has a younger brother named Henrik Seger and a younger sister named Karin.
Although Helena was already a successful and accomplished woman before she met Zlatan, it was her relationship with him that brought her to the limelight. Given that and the fact that she prefers to live a private life, a lot of facts about her upbringing and family background are yet to be learned. Nonetheless, Helena once offered a rare insight into her upbringing, disclosing that she was a bit of a rebel.
Helena Seger Bagan Her Business Career Journey When She Was Only 13 Years Old
Reports have it that Zlatan Ibrahimovic's wife took up the responsibility of caring and providing for herself when she was 13-years-old. Based on some accounts, she left home at that age and began working with a Swedish company called Gul & Bla. Growing up, she enjoyed and played football which probably led to her relationship with a footballer named Johan Salle. When Seger was about 17 years old, Salle got signed to play for Malmo Redhawks and she relocated with him to Malmo where she took up several jobs.
It is said that she worked as a marketing and sales rep, a barmaid, and other jobs of that sort. All the while, Helena didn't forsake her education. Although details of her educational background are yet to be divulged, we can confirm that she is college-educated; she has at least a degree in economics. This afforded her the qualification to go for more reputable jobs which saw her work for multiple multinational corporations.
From being a sales rep and modeling for some popular fashion brands, she became a marketing manager and took on other managerial roles with firms like Corona and Hooch, Diesel, FlyMe, Austria Tabak, and much more. She is also a bit of an actress; you will find her as Annika in the popular children's show, Solstollarna, and its spin-off, Cozmoz.
She Met The Famous Footballer In 2002 and They Have Been Together Ever Since
Helena Seger and Zlatan Ibrahimovic's relationship began with a row in 2002 when they met for the first time in Malmo. As the story goes, they met in a parking lot in Malmoe where the striker had parked his Ferrari so badly that Helena couldn't drive out with her Mercedes.
The business executive was pissed about this and she didn't hold back, expressing the feeling towards the footballer. Surprisingly, Zlatan liked the way he asked her to get his car out of way and it marked the beginning of their relationship. Helena initially rejected Zlatan's advances but eventually gave in and they have been together ever since. Their relationship has seen almost two decades and it has never been reported that they are having issues. Despite the massive age gap between them, the couple have been able to not just get along but thrive.
Helena Seger and Zlatan Ibrahimovic Are Not Married But They Have Two Kids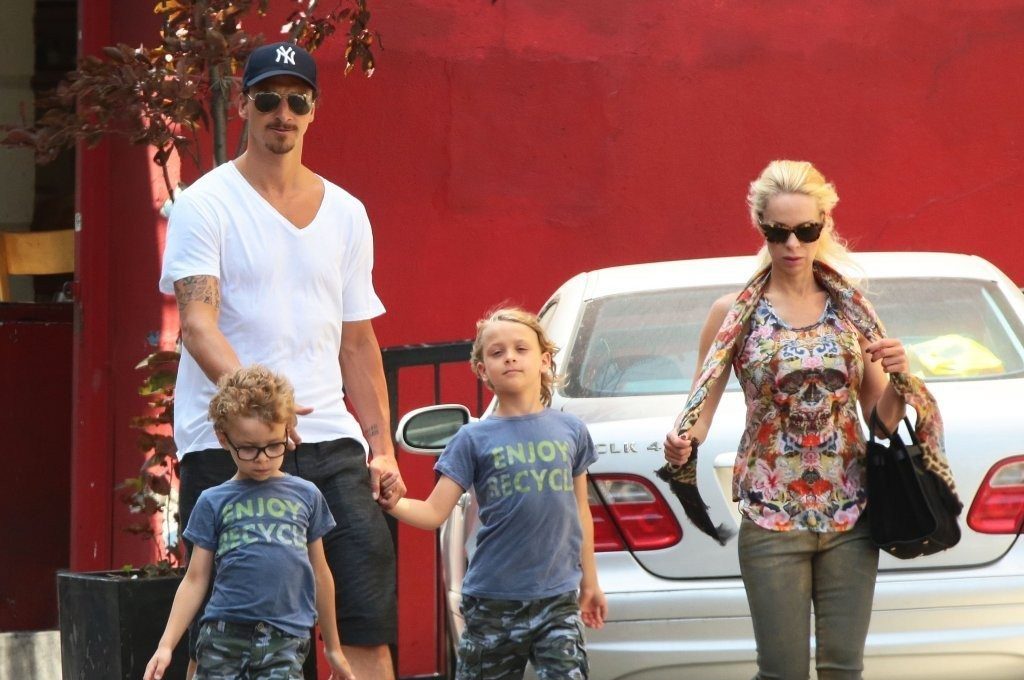 Helena Seger is widely and often described as Zlatan Ibrahimovic's wife but as far as we know, they are not married. This does not mean their relationship is in any way less than what married couples have. In fact, it wouldn't be out of place to assert that they have been happy together, more than many married couples.
Commenting on their decision to remain unmarried, Seger related that marriage would distort her sense of independence. According to her, she wants to be seen for who she is and not as the wife of a soccer star. Not being married hasn't stopped them from starting a family together. They are parents to two sons named Maxmilian and Vincent Ibrahimovic.
Seger and Ibrahimovic were together for about four years before they welcomed their first son, Maximilian; the 16 years old was born on the 22nd of September 2006. He is over a year older than his younger brother who was born on the 6th of March 2008; Vincent is 15 years old.