Woody Harrelson is an American actor whose amazing performances have earned nominations for some of the most coveted awards in the movie industry. His role in Cheers won him a Primetime Emmy Award for Outstanding Supporting Actor in a Comedy Series; this was way back in 1989. He has also been nominated thrice for Academy Awards and four times for the Golden Globe. Most recently (in 2018), he won the Screen Actors Guild Award and as well bagged nominations for other gongs; these were for his role as Sheriff Bill Willoughby in 2017's Three Billboards Outside Ebbing, Missouri. The actor attended Lebanon High School in Ohio and earned a scholarship to Hanover College, a Presbyterian institution in Indiana. By 1983, he had bagged a Bachelor's degree in English and Theatrical Arts; thereafter, he moved to New York City to pursue a career in acting.
Disregarding his career and his accomplishments thereof, there are so many interesting facts to know about the family life of the Hollywood actor. Woody was born in Midland, Texas, to Diane Lou and Charles Harrelson on July 23, 1961. He grew up in Lebanon, Ohio (his mother's hometown) with two brothers, Jordan and Brett Harrelson. It is said that his father didn't play any major role in his upbringing and his mother had a hard time raising him and his siblings. Harrelson's father was sent to prison on a murder conviction when the actor was only seven. Charles would later die of a heart attack at the Supermax federal prison in 2007 while serving two life sentences for the murder of a federal judge. With his wife Laura Louie, the actor has built a successful family of his own.
Meet Woody Harrelson's Current Wife, Laura Louie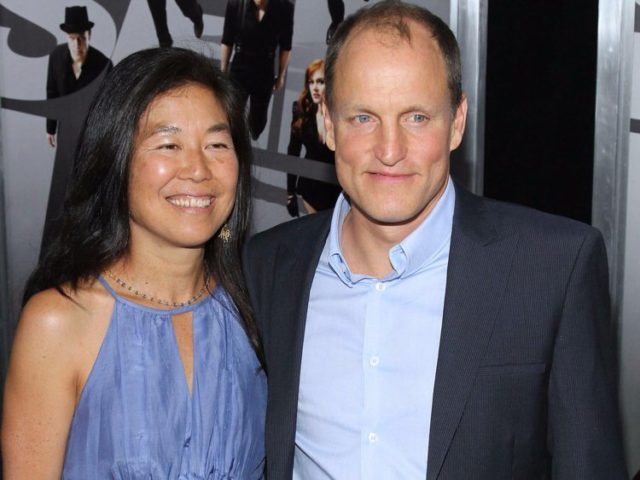 The award-winning American actor has made two trips to the altar and the second one seems destined to last forever. Woody Harrelson is happily married to the love of his life, Laura Louie. While there is minuscule information concerning Laura's background available to the public, it is known that she is American by nationality, but of Asian ethnicity. And despite being the wife of an A-list actor, Laura lives a laid-back and very private life. She is not active on any social media platforms and there are no pictures of her on Woody's accounts either.
Because of her relentless effort to stay away from the limelight, much is yet to be learned about her life outside being the wife of a famous actor. It has also been difficult to keep up with whatever she's up to. Nonetheless, we can tell that Laura Louie is a businesswoman and college-educated. She has a degree in business management and environmental sciences. It is said that she contributed towards the establishment of Eco-Village, a community of people who advocate and encourage people to be eco-friendly conscious.
She is also a co-founder of one of the leading organic food delivery services in the US called Yoganics. Laura and her husband share a passion for green initiatives in an effort to encourage and imbibe healthy living. The company is an extension of this lifestyle. Yoganics is doing favorably well and as such, she is worth a significant sum. However, Laura's actual worth is unknown to the public.
The Couple Met In 1987 When Laura Worked As Woody's Assistance and Started Dating About Three Years Later
Woody Harrelson and Laura Louie have been married for over a decade now. However, their relationship has lasted way longer than that. Harrelson met his kindhearted and wonderful wife to be in 1987. At the time, he was working on the set of the hit sitcom, Cheers, and Laura served as his assistant – a duty she carried out for about two years before they decided dating to kindle a romantic relationship.
Details of how their work relationship bloomed into a romantic one are hard to come by but from the little facts we have gathered, they both tried to keep things professional until one of them couldn't take it anymore. As the story goes, about three years after the actor hired Laura Louie as his assistance, it dawned on him that he had fallen in love with her. According to him, he was on a vacation in Africa when this happened. He couldn't stop thinking and fantasizing about her, and ultimately decided to do something about it.
To express his feeling, the actor wrote a song for Laura wherein he confessed his feelings. It was probably a delightful surprise for him after Laura listened to the song and confessed that she had been in love with him for over two years and a half. This marked the beginning of their relationship.
Woody and Laura Dated for Over 18 Years Before They Got Married
For reasons that are not certain, the couple really took their time before they got married. This might have something to do with the actor's way with women before he met Laura. Woody Harrelson was known as a notorious womanizer. In the late 80s and early '90s, the actor was called "Wicked Woody" because of his philandering ways. Reports have it that he was sleeping with three women in a day.
Woody has hinted that these reports are true a few times. In one of such instances, a 2018 interview with Jimmy Kimmel, the actor recalled that his wayward ways kicked in after he realized that the Bible was man-made and designed to control humans. Based on what he said, he studied theology with the hope of becoming a minister. But then, he became disillusioned with the church as he came to believe the Bible isn't God's words, thus he shelved the plan to become a minister and decided to have fun to the extreme.
The actor was linked with multiple women in a go and reportedly said he felt trapped being with a particular woman for as little as three hours. Because of this, his friends discouraged him from asking Laura out after he told them how he felt about her. So, it's possible the actor took all the time to be certain he was ready for a lifetime commitment before getting married. From what we gathered, Woody Harrelson and Laura Louie were romantic partners for over 18 years before they decided to walk down the aisle.
They Had a Simple Wedding That Cost Them Only $500 In December 2008
Eventually, on the 28th of December 2008, the prolific actor was joined in holy matrimony to his beautiful girlfriend and baby mama, Laura Louie. Their simplistic wedding took place on a scenic Maui beach. The guest list for the wedding was quite short, with only a few of their closest friends and relatives in attendance.
The wedding was a very private affair. However, it was witnessed by some notable figures, included the likes of Willie Nelson, Sean Penn, Owen Wilson, and Alanis Morissette – who performed during the afternoon ceremony.
Interestingly, the wedding only cost the couple $500, excluding the rings, flight, hotel accommodations, and other external costs. Considering their financial status, this was unexpected. However, according to Harrelson, he and Laura didn't feel the need to do anything over the top that would require a ton of cash. They just wanted a cluster of good friends hanging out together and having fun in Maui.
Laura Has Been Very Supportive of Woody, Even When He Cheated On Her In a Foursome Scandal 
Laura is adept at juggling her personal and professional life. She has been incredibly supportive of her husband's career in all the ways she can. She has also been collaborating with him since the launch of Voice Yourself, their online eco-friendly initiative in 2001. Through this platform, they encourage people to fight against various kinds of pollution.
Although their marriage is in a great place right now, things haven't always been sunshine and roses for these two. Back in 2002, Harrelson made a terrible transgression. While in London, he had a wild night that ended in a foursome with three women. And even though Harrelson and Laura weren't married at the time, this threatened to obliterate their relationship.
After Laura found out about it, she chose the path of compassion instead of breaking up with him as many expected her to. Since then, their relationship has only gotten stronger. In fact, it comes as a surprise to many that the actor has been able to stay faithful to Laura since then.
Meet The Three Daughters of Woody Harrelson and Laura Louie
The couple lives in a small eco-friendly community comprised of 200 people located in Maui, Hawaii. They are parents to three daughters named Den, Zoe, and Makani Harrelson. Woody and Laura had all their three kids before they got married. It was over two years after they had their youngest child that they tied the knot.
Deni Montana Harrelson
Date of Birth: March 5, 1994
Age: 27 Years Old
Occupation: Undetermined
Their oldest, Deni was born on November 28, 1993, in Malibu. It is hard to tell what the 27 years old is up to in recent times but she was homeschooled for a while as a kid. Like her mother, Deni has been very evasive of the spotlight. As such, almost nothing is known about her, apart from the things that are obvious. In one of his many interviews, the actor related that Deni and his sister are strong and tough. He said he strives to be a great example for them on what not to do.
Zoe Giordano Harrelson
Date of Birth: September 22, 1996
Age: 25 Years Old
Occupation: Actress
They welcomed Zoe three years later on September 22. During Zoe's early years, she became interested in the movie and music industry. She debuted in U2's short film Song for Someone alongside her father. She also appeared on the TV series Entertainment Tonight in 2015. Like her parents, Zoe prefers to keep her personal life away from the media. She doesn't grant interviews and seldom appears in mainstream media, so only a tad of information is available about her.
Sometime in 2015, a video of giving a talk in a TedxYouth gathering at Seabury Hall, a private college preparatory school in Makawao, Hawaii, circulated online. She talked about the need to disconnect from phones which are removing us from reality and incredible moments to experience.
Makani Ravello Harrelson
Date of Birth: June 3, 2006
Age: 15 Years Old
Occupation: Actress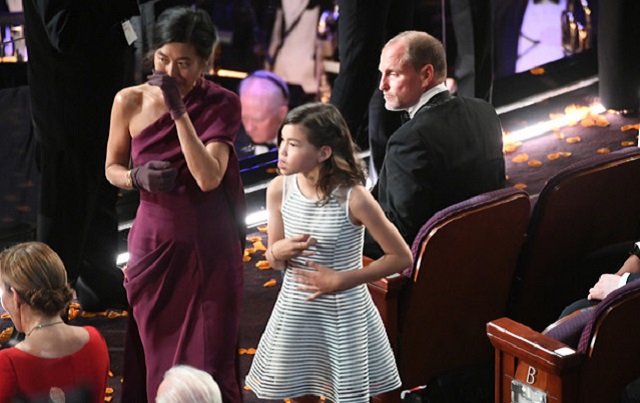 Woody Harrelson and Laura's last kid, Makani was born on the 3rd of June 2006. Like her older sisters, Makani also stays away from the spotlight. However, we can tell that she is interested in pursuing a career in entertainment. In fact, she is considered an actress in some quarters. This is so because had an uncredited role in LBJ, a 2016 political drama film starring her father alongside Michael Stahl-David, Richard Jenkins, Bill Pullman, Jeffrey Donovan, and Jennifer Jason Leigh.
The following year, she played Deni in Lost in London, an American comedy film her father wrote and directed. Despite his busy schedule, Harrelson makes out time to spend with his kids and family. The actor and his wife have been very protective of their kids, keeping them away from the public scrutiny that comes from Woody's career. They are very fond of their girls, often referring to them as the "Goddess Trilogy".
Why Did Woody Harrelson's Marriage With First Wife Nancy Simon End?
Given the many years the actor has been with Laura Louie, one might be mistaken to think she has always been the only woman in Woody's life. As hinted earlier, the Zombieland actor was a serial womanizer before Laura came along. That's not all, he was married briefly to Nancy Simon, the daughter of the popular playwright Neil Simon.
Nancy used to work in the movie industry and is known for her roles in productions like Chapter Two (1979) and 60 Minutes (1992). The marriage between Woody and Nancy Simon lasted for only ten months, from the 29th of June 1985 to the 20th of January 1986. Interestingly, it was not even meant to last that long.
Woody and Nancy got married in Tijuana as some joke and planned to get a divorce the following day. When they went for the divorce, the divorce parlor was closed and they eventually legally stayed married for ten months before they could end the joke of a marriage.