Woody Harrelson is an American actor whose amazing performances have earned not just an Academy Award nomination but Emmy Awards.
Woody Harrelson's Bio
Woody was born in Midland, Texas, to Diane Lou (Oswald) and Charles Harrelson on July 23, 1961. He grew up in Lebanon, Ohio (his mother's hometown) with two brothers, Jordan and Brett Harrelson,
He attended Lebanon High School. Due to his strong Christian background and upbringing, after High School, Harrelson earned a scholarship to Hanover College, a Presbyterian institution in Indiana. By 1983, he had bagged a Bachelors' degree in English and Theatrical Arts from the college and headed off to New York City to pursue an acting career.
Also See: Nicolas Cage Son, Wife, Dead, Net Worth, Height, Wiki, Family, Bio
Career
He first began as an understudy in the Neil Simon play Biloxi Blues and as an extra in various films and television shows. His breakthrough came in 1985 when he starred as a bartender in the television sitcom Cheers, for which he earned five Emmy Award nominations, winning one in 1989. He remained on the show till its eight seasons.
In 1991, he starred in Doc Hollywood (this gave him his first widely-seen movie role) this was followed by White Men Can't Jump in 1992,  then Indecent Proposal (1993) and Natural Born Killers (1994).
He has starred in the following movies  No Country for Old Men, Zombieland, Friends with Benefits and 2012 acclaimed HBO movie Game Change. In the same year,  Harrelson began playing Haymitch Abernathy in the Hunger Games, reprising the role in subsequent films in the franchise.
His most recent roles include 2014, HBO series True Detective where he played Detective Marty Hart opposite Matthew McConaughey, ( both actors actually served as executive producers). The crime drama pulled in a whole new crop of fans for Harrelson and also earned him an Emmy nomination for Best Actor.
In 2017, Harrelson played the Colonel in War for the Planet of the Apes and as President Lyndon B. Johnson in Rob Reiner's political drama LBJ. That same year, he also starred in the black comedy Three Billboards Outside Ebbing, Missouri, a smaller-budget film that made a huge splash on the awards circuit and has earned him an Oscar nomination for Best Supporting Actor.
Also in 2017, Woody Harrelson signed on for the Han Solo's untitled film Star Wars as Han's mentor. In The Tonight Show with Jimmy Fallon, Harrelson confirmed his role as Garris Shrike – a character who mentored Han in one of the Star Wars novels.
Woody Harrelson is currently working on a 2018 movie project, Solo: A Star Wars Story, which is a spin-off of the popular movie franchise directed by Ron Howard.
He has also done some stage plays like Brooklyn Laundry by James Brooks and drama Furthest From the Sun (1993), a play which he both wrote and directed.
Also See: Jim Carrey Daughter, Wife, Girlfriend, Net Worth, Height, Wiki, Death
Net Worth
Woody Harrelson's net worth is estimated to be $65 Million. His wealth is from his acting career and his business ventures. Woody is the owner of Praire Paper Ventures – a company which produces paper from crop wastes and not trees
Father, Wife, Daughters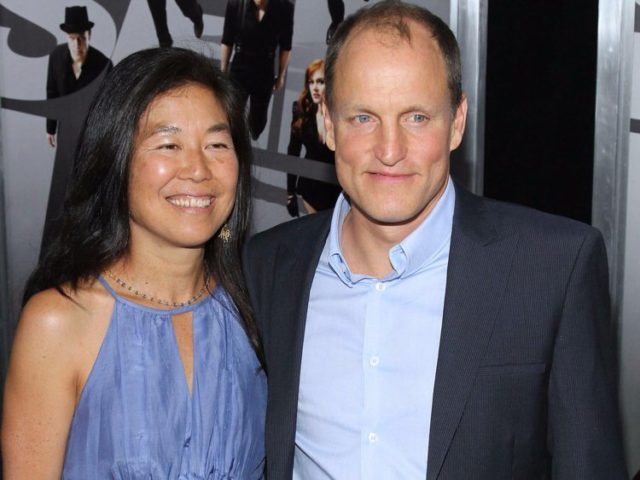 Harrelson was briefly married to Nancy Simon (daughter to playwright Neil Simon) for just 10 months. the couple divorced in 1986.
He got married again in December 2008, this time to his longtime girlfriend and former assistant Laura Louie in a private ceremony in Costa Rica and they have three daughters. He lives reside in Maui, Hawaii with his family.
Harrelson's father was sent to prison on a murder conviction when he (Harrelson) was only seven, this explains why Woody and his two brothers were raised by their mom in her hometown – Lebanon, Ohio.
Charles Harrelson, who was serving two life sentences for the murder of a federal judge, died of a heart attack in the Supermax federal prison in 2007 at the age of 69.
Woody Harrelson – Dead Or Alive?

Woody is one of the many Hollywood actors that has been killed by celebrity death hoax but he is fortunately very much alive and not dead.
He Is Also An Activist
In addition to acting, Harrelson is also an activist. He has been an outspoken advocate for the environment for which he has received an honorary degree from York University for his contribution to protecting the environment.
He has also been actively involved in the American Oceans' Campaign and legalization efforts for the use of industrial hemp. Harrelson challenged the constitutionality of the Kentucky state law that does not distinguish between industrial hemp and marijuana by planting several hemp seeds.
Also See: Finn Wolfhard Wiki, Girlfriend, Parents, Relationship With Millie Bobby Brown
He won the case and became an advisor for NORML, the National Organization for the Reform of Marijuana Laws. He has also worked with international organizations like UNICEF and PETA.
Woody has been a vegan all his life.