Having a mother who is an actress, it wouldn't be wrong to say, Wil Wheaton is one of those who acting runs in their veins. His first appearance on TV was when he starred alongside Bill Cosby in a Jell-O Pudding Pops commercial. After this came his role as Wesley Crusher on the television series Star Trek: The Next Generation.
Interestingly, Wil is not just an actor but also a blogger and writer.
Bio
A little about his background – Wil was born July 29, 1972, in Burbank, California, as Richard William Wheaton III. As earlier mentioned, his mother Debra Nordean (née O'Connor) is an actress and his dad William Wheaton, Jr. is a medical specialist. He has two siblings Jeremy and Amy who were also featured on one episode of Star Trek: The Next Generation. Amy also appeared in the 1987 film The Curse alongside Wil.
Career
Wheaton's debut in a television film was in 1981 when he starred in A Long Way Home, his first cinema appearance came the following year when he played Martin Brisby in The Secret of NIMH (movie adaptation of Robert C. O'Brien's 1971 book Mrs Frisby and the Rats of NIMH).
In 1984, he played a minor role in The Last Starfighter as Louis's friend. Wil gained popularity in 1986 when starred as Gordie Lachance in Stand by Me (a film adaptation of Stephen King's novella The Body) 
From 1987 to 1991, he portrayed the character Wesley Crusher in Star Trek: The Next Generation. After leaving Star Trek in 1991, Wil moved over to Topeka, Kansas where worked for New Tek, developing the Video Toaster 4000, doing product testing and quality control. He also served as a technology evangelist for the product.
After his time at New Tek, Wil returned to LA and spent the next five years in acting school. His career didn't stop here as he subsequently starred as Joey Trotta in Toy Soldiers and appeared in several independent films, including the award-winning The Good Things (2001), in which he portrays a frustrated Kansas tollbooth worker.
His role as Dick Smith in 2002 comedy movie Jane White Is Sick & Twisted earned him the Best Actor award at the Melbourne Underground Film Festival. He also starred as Bennett Hoenicker in Flubber and was in Teen Titans as Aqualad. His other movies include 13 Thirteenth Avenue, Long Time Gone, She's Having Baby, The Big Bang Theory, Leverage, Eureka, etc.
Asides acting, Wil does voice-over, writes, and hosts games. He did the voice-over in Grand Theft Auto: San Andreas. He is also a member of the internet communities Slashdot (slashdot.org) and Reddit (reddit.com).
Wheaton has been running his own blog Wil Wheaton Dot Net. for some years now. He is a regular contributor on LA's based blogging site – Metroblogging and a featured Tech writer for the SuicideGirls Newswire since 2005.
Wil founded an independent publishing company called Monolith Press in 2003 and subsequently released a memoir entitled Dancing Barefoot. Most of his entries are usually extended versions of his blog entries.
Dancing Barefoot was a huge success – selling out three printings in four months. After Dancing Barefoot came Just a Geek in 2004, The Happiest Days of Our Lives in 2007 and Sunken Treasure: Wil Wheaton's Hot Cocoa Box Sample in 2009.
Wil Wheaton is also a political critic. In 2006 he criticized former U.S President George W. Bush for planning to suspend habeas corpus and to use torture instead.
Also Read: Jaden Smith Bio, Is He Dead, Gay? Height, Girlfriend, Family
He caused a media stir when in a 2005 article he wrote for Salon.com titled The Real War on Christmas, where he attacked and accused conservative commentators like Rush Limbaugh, Sean Hannity and  Bill O'Reilly of influencing the political views of his parents, with whom he can no longer discuss political matters during Christmas and family get-togethers.
His parents got so offended by the article that he had to write a very lengthy apology and also did an interview in which his parents clarified their political views.
Wil Wheaton's Family Wife, Son
Wheaton has been married to Anne Prince since November 1999. The couple has been together for almost 23 years and been married for close to 20 years.
Wil and Anne met back in 1995 at a New Year party at friend's place and after almost four years, they tied the knots in 1999 and have been together ever since.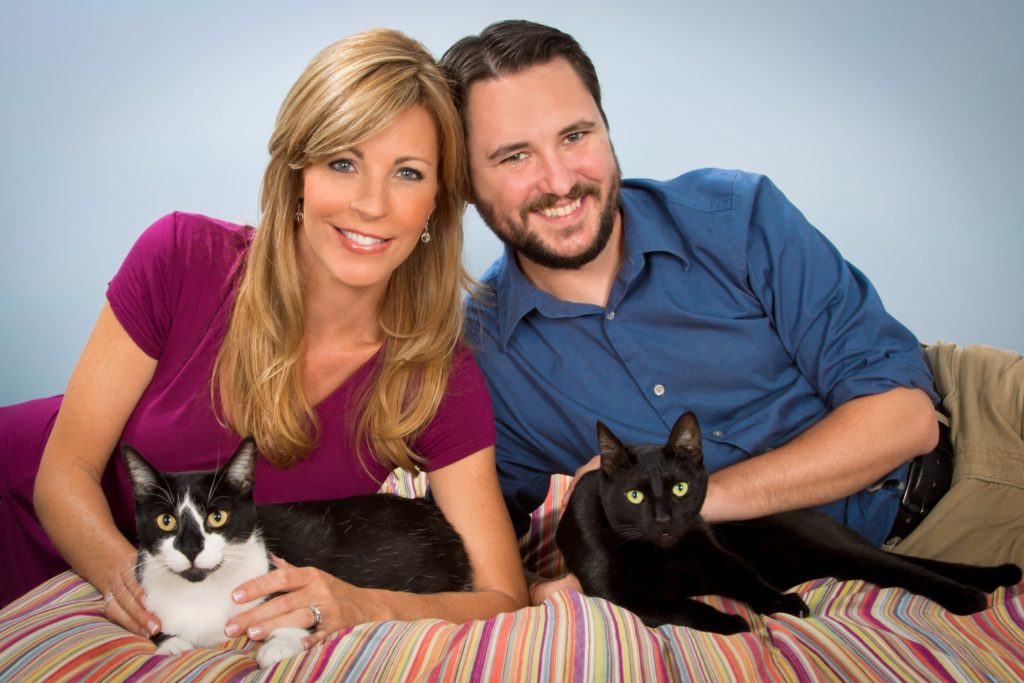 They don't have any children of their own but do have two children from Anne's previous relationship who Wil adopted after one of the boys asked him if he (Wil) would love to adopt him as his, which he did.
Is He Gay?
Being married to beautiful Anne for almost two decades with two stepchildren should have answered the above question but for those who didn't bother reading through the entire article, No Wil is not gay.
How Tall Is Wil Wheaton? Any Tattoos?
The former child actor stands at 5ft 9 ½ (176.5 cm) and yes he does have tattoos. Wil had his wife's heartbeat tattooed on his left forearm.
Explaining on his blog, he said he chose Anne's heartbeat because he wanted to carry her wherever he went and that he chose the left forearm because he is left-handed and that it made him feel she was guiding him.
And to why he chose inside of his arm, he said because he wanted to be able to look at it whenever he thought about her, and he wanted to be able to lay her heartbeat against his whenever he missed her.
On his right forearm, Wil got a fairly large octopus tattooed there and when asked why he chose that particular tattoo, Wheaton says it is personal and that he would keep it as a secret.