Kay Flock is currently in jail awaiting trial for the suspected shooting and killing of a 24-year-old man on December 16, 2021, in Harlem, New York. The Bronx native was arrested on December 23, 2021, on a charge of first-degree murder.
Flock, whose birth name is Kevin Perez, is an American rapper who made his debut with the mixtape The D.O.A on November 5, 2021. The 20 year old rapper had a fast climb in his musical career, as his debut album hit the number one spot on the Heatseekers Albums Chart. However, his growing career and fame got stained by the murder charge he is currently facing.
When was Kay Flock Arrested?
The rapper was arrested on December 23, 2021, for allegedly shooting a man after a dispute outside a Harlem, New York barbershop. The incident happened 7 days before he turned himself in to the New York Police Department.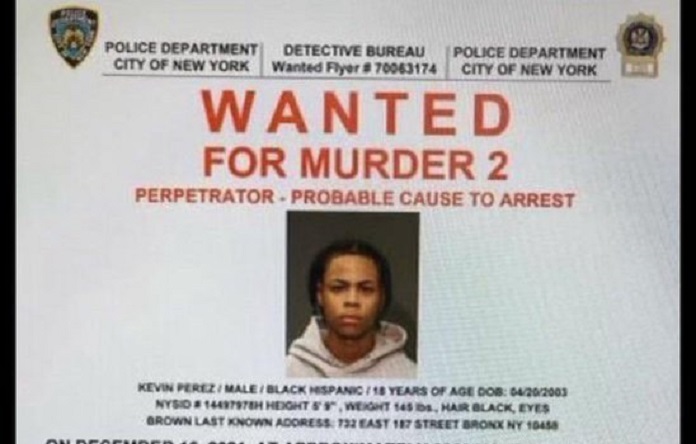 Having learned that he was the prime suspect in the Harlem murder case, Kay Flock decided to self-surrender himself to the authorities. From then to this date, the rapper has been behind bars waiting for the outcome of his case.
Kay Flock Faces Criminal Charges of First Degree Murder
Kay Flock's fast-rising reputation got hung up in the balance because of the recent misfortune that has paused his musical career. The rapper's current legal charges are the last any upcoming rapper on his pace will wish to be roped in.
Although his story looks a bit complicated, as different sources provided different reasons for his charges, one fact in all this is that the rapper was arrested for allegedly killing a 24-year-old man on December 16, 2021. According to the reports, he was arrested and is facing murder charges after shooting a man outside the Harlem Barber Shop.
It was disclosed that the deceased victim, Hernandez, was in a barber shop at W.151st St, Amsterdam Avenue, a few minutes before 10 am to get a haircut. When Kay Flock stepped in and inquired about what Hernandez was looking at. This resulted in an argument that led to Hernandez stepping out of the barber's shop to confront Kay Flock.
They further disclosed that the police confirmed that Kay Flock decided to walk away but turned, pulled out a gun, and shot at Hernandez on his neck and back. Hernandez was rushed to Mt. Sinai Morningside hospital, but unfortunately, he couldn't make it alive. The case subsequently became complicated as the deceased family disclosed that their son's his killing was a case of mistaken identity, also stressing that Hernandez didn't know the gunman.
The killing, according to police sources, is believed to be gang-related, as it was disclosed that Hernandez was a member of one of the Bronx-based Thirdside gangs. The family is claiming that Hernandez was a victim of mistaken identity, as he was in the wrong place and at the wrong time. The surveillance video released on Instagram showed that the death of Hernandez may be a result of gang activity, as reported by the NYPD.
However, there are high hopes that the security footage will help bring out the hidden truth behind the shooting, and probably exonerate Kay flocks from the crime.
Is Kay Flock in Jail?
Kevin Perez, otherwise known as Kay Flock, is currently in Jail for safe keeping as he awaits the court's judgment. With the help of his attorney, Scott E. Leemon, he turned himself in to the NYPD on December 23, 2021. Following the gravity of the alleged charges levied on him, he was sent to Rikers Island under the New York City Department of Correction.
What Jail is Kay Flock in?
Since the rapper is not yet sentenced on the alleged charges, he is currently in the general prison section at Rikers Island under the New York City Department of Correction, pending the conclusion of all investigations and legal actions. The prison is used to house inmates that require extensive protective custody, special health attention, the mentally deranged, and those undergoing drug detoxification. The rapper is seen to fall into the category of inmates with extensive protective custody following his reputation.
What is Kay flock's Sentence?
Currently, there is no court sentence yet on Kay Flock, as he is still in jail waiting for the court judgment. He is awaiting trial for the proper judiciary process to be ready and to allow further investigations to be concluded before legal actions, if any. Again, if the information source about the size of an unregistered firearm in his possession is true, then he is sure to get a court sentence, a fine, or both.
Meanwhile, the rapper is said to face first-degree murder charges if found guilty of the crime. Based on the United States law for murder, first-degree murder and felony murder are taken very seriously. Anyone charged with a first-degree murder charge is likely going to get a life sentence of hard labor without parole for 20 to 25 years in jail. Hopefully, justice will take its cause when the truth about the murder surfaces in no time.
What Gang is Kay Flock in?
It is unclear which gang Kay Flock is associated with, as there are lots of conflicting claims about which gang the rapper belongs to. Some sources claim that he is associated with the Bronx-based Thirdside gang, while others claim that he is associated with either the OY or OGz gangs which are dominant in the Bronx neighborhood.
All that has remained very clear is that the rapper grew up in the Bronx, which is a very tough neighborhood in New York. They are strongly characterized by gang activities and, in recent times, gang shootings.
The reason why Kay Flock is said to be associated with either the OY or the OGz gang is because of the presence of some popular rappers in the gang. Some of these popular rappers are Sha Ek, Edot Baby, and B Lovee. B Lovee has been Kay Flock's friend since childhood, and they both appeared on Kay Flock's debut mixtape, The D.O.A. 
The rapper, in most of his music videos, displays some level of gang attributes, which is why a lot of people, including the NYPD department, believe that the alleged charges are based on gang activities.
How Long is Kay Flock in Jail For?
Kay Flocks has been in the Rikers Island Correctional Center since December 23, 2021, after turning himself in. The rapper has stayed behind bars since that time, pending when there will be a final court decision on his alleged crime.