Lucas Hedges is not totally gay. Neither is he completely straight nor bisexual as he disclosed during an interview in 2018. The actor's relationship status is also unknown.
Lucas Hedges is, without a doubt, one of the fast-rising actors in Hollywood. This is backed up by the fact that he has featured in several highly-acclaimed movies and collected many accolades in the course of his short career. Beyond his career, however, Hedges has also received a good dose of fame from the many speculations that have come up concerning his sexuality.
The talk in many circles among his fans is that he is gay and the rumor has spread like wildfire prompting a closer inspection of his private affairs to determine what the truth is and why his fans seem to think so.
Is Lucas Hedges Actually Gay?
While it seems that only Hedges can tell the truth about his sexuality, the answer that many seek has not been forthcoming as it seems the star is not sure where he stands either. Hedges has been quite open concerning his confusion about his sexuality and has admitted that he envies people who are confident about theirs.
He disclosed that he exists on a spectrum and as such, is not totally straight, but neither is he gay nor necessarily bisexual. According to his admissions, he used to have crushes on people of both genders in the early stages of his life, and this fluid interest has not changed.
In that vein, Hedges is a strong ally of the LGBTQ community. He was also in a budding relationship with fellow fast-rising Hollywood star, Taylor Russell as of 2018. Russell is a native of Vancouver, Canada, and was born on the 18th of July 1994. She has thus far appeared in several movies and tv series including Escape Room, Strange Empire, Falling Skies, Lost In Space, Down a Dark Hall, and Before I Fall.
Hedges and Russell commenced their romance in mid-2018. They have been quite taciturn and have not dished out many details on how their romance started or even how they met. They have however been spotted together at several public events including the Gucci Cruise 2020 fashion show.
Hedges and his supremely talented girlfriend also co-starred in the acclaimed 2019 drama, Waves. From all indications, they work well together and are likely to be on many more projects together.
Why Do His Fans Think Lucas Hedges Is Gay?
Hedges has faced several questions about his sexuality and this is not unconnected with his movies and TV shows. The New Yorker has portrayed gay characters in several movies including Lady Bird, a 2017 comedy/drama which revolves around Christine 'Lady Bird' Macpherson, a high school senior who is determined to rise above her family's ordinary circumstances.
Hedges portrayed the role of Danny O'Neill, a rich teen who initially dates Lady Bird but, later comes out as gay and endures a harsh reception from his family. His performance earned him rave reviews from the critics but also made some fans wonder if he was gay given the sheer brilliance, rawness, and passion with which he portrayed the role of Danny O'Neill.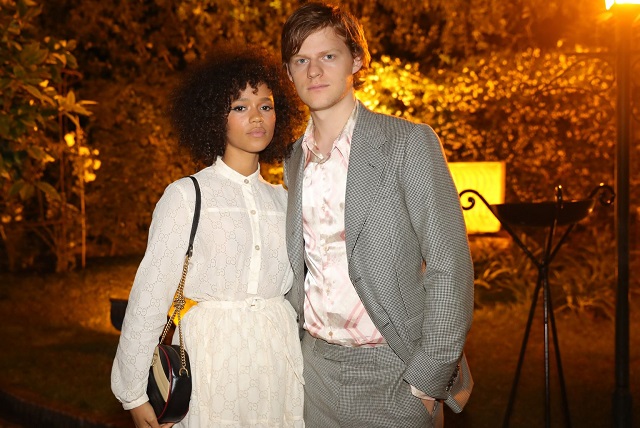 The actor, however, quelled these rumors and moved on with his life. Lucas Hedges also added more fuel to the fire by portraying another gay character in the 2018 movie, Boy Erased. Boy Erased, is a biopic drama that revolves around Jared, a gay college student who is outed by his religious parents.
The young man is subsequently sent to a gay conversion therapy where he endures several scientifically-unproven methods of conversion but would later leave and move to New York with his boyfriend. Hedges' excellent portrayal of the gay character fetched him a Golden Globe nomination for best actor.
It also did nothing to quell the raging questions about his actual sexuality as fans pointed to his expertly-delivered performance as another evidence of their gay conspiracy. The New Yorker, however, remained unruffled and concentrated on consolidating his thriving career.
Is Lucas Hedges Gay?
Lucas Hedges has openly admitted that he is confused about his sexuality. Speaking during a 2018 interview with Vulture he revealed that he exists on a spectrum and as such, he is not completely straight, nor is he gay nor necessarily bisexual.
Is Lucas Hedges Dating Now?
There is no information at the moment that shows that Lucas is dating anyone now. However, he has been rumored to be involved with actress Taylor Russell with whom he co-starred in Waves.
Who is Lucas Hedges's Girlfriend?
As it stands now, it appears Lucas is single. In 2018, there were speculations that the actor had a budding relationship with his Wave co-star Taylor Russell but how that ended remains unknown.
What is going on between Lucas Hedges and Tommy Dorfman?
In June 2021, Lucas Hedges was seen hand in hand with Tommy Dorfman on a Saturday afternoon in New York City. They appeared to be best of friends as they held hands while trotting around the downtown area. And before you think they might be in a relationship, that may not be the case as Dorfman is married to Peter Zurkuhlen and has been since 2016. So whatever Lucas and Hedges share is most likely platonic.