If you remember, Sister Mary Clarence from Sister Act, Oda Mae Brown from Ghost or the TV show, The View, then Whoopi Goldberg isn't much of a stranger to you. The award-winning actress, comedian, writer, and television host has been in the show business for nearly forty years. Having achieved so much within that time, it is safe to place Goldberg in a class of her own. With over 115 films, 97 TV shows, 9 theatre acts, 10 musical releases, 11 books, 89 nominations and 56 awards under her belt, Whoopi Goldberg is one woman to look out for as, despite her dyslexia condition, she rose to the peak of her career. This piece zooms the lens on her achievements and also how she got her name.
Who is Whoopi Goldberg?

Goldberg was born Caryn Elaine Johnson on November 13, 1955, in Manhattan borough, New York City, the United States, to parents Robert James Johnson Jr and Emma Johnson. Her father was a Baptist clergyman while her mother worked as a nurse and teacher. As Goldberg recounts, she, alongside her elder brother, Clyde, was raised by their single mother in the Chelsea-Elliot Houses. This came after her parents got divorced. Growing up, Whoopi Goldberg attended a Catholic school and is also believed to have dropped out of Washington Irving High School. She went on to attend the Tisch School of the Arts and HB Studio which is a drama school.
How She Got Her Name

Whoopi Goldberg began her career back in 1982 when she appeared in the movie Citizen: I'm Not Losing My Mind, I'm Giving It Away. What followed was her first theatre act in 1984 in the eponymous production, Whoopi Goldberg. Years earlier, that wouldn't even qualify as a stage name. As she puts it, her stage forename "Whoopi" comes from a whoopee cushion. She adds that when performing on stage, she never really got the time to go into the bathroom and close the door. So when she got a little gassy, she had to let it go. People began to liken her to a whoopee cushion and that's when the name stuck. As for her last stage name, Goldberg, she insists that it is part of her original name from her family and heritage. Although Goldberg identifies herself as Jewish, studies traced part of her ancestry to Guinea-Bissau; among the Papel and Bayote ethnic groups.
Notable Acts and Accomplishments
Come 1985, she landed her first big role starring as Celie Harris Johnson in The Color Purple. In the same year, she scored big when her The Spook Show was taken to Broadway as Whoopi Goldberg, it was shown on HBO. The show later earned the actress her first and only Grammy. At the turn of the early nineties, Whoopi Goldberg etched her name in gold for her stunning performance as Oda Mae Brown in the 1990 movie Ghost. She won an Academy Award, a BAFTA, a Golden Globe, an NAACP Image Award and a Saturn Award for her performance. Other blockbuster performances include Sister Act (1992), Sister Act 2: Back in the Habit (1993), How Stella Got Her Groove Back (1998), Good Fences (2003) and The View (2007-Present). For these and many more performances, Whoopi Goldberg has racked up over 56 awards and 89 nominations. Some of them include:
Golden Globe Award for Best Lead Actress in a Motion Picture – Drama (1986)
Grammy Award for Best Comedy Recording in 1986
Academy Award for Best Supporting Actress (1991)
British Academy Film Award, Best Supporting Actress (1991)
Golden Globe Award, Best Supporting Actress in a Motion Picture (1991)
Saturn Award, Best Supporting Actress (1992)
People's Choice Award, Favorite Comedy Motion Picture Actress (1993)
Santa Barbara International Film Festival Award, Ruby Award (2000)
Asides movies, Whoopi Goldberg has several songs to her credit. However, her musical career somewhat passes for a subset of her work as an actress. She provided songs and soundtracks in movies such as Sarafina (1992), Sister Act (1992), The Long Walk Home (1989), Corrina Corrina (1994), Call Me Claus (2001), among others.
Whoopi Goldberg has since branched out her expertise to writing too. Since 1992, the award-winning actress has authored no less than eleven books, seven of which are children's books. As of the time of this writing, her last book release was in 2015 and it's titled Whoopi's Big Book of Relationships: If Someone Says "You Complete Me," RUN!
So far, Whoopi Goldberg is the second black woman to win an Academy Award for acting and has received no fewer than thirteen Emmy nominations. She remains one of the elite entertainers who have won a Grammy Award, an Emmy Award, a Tony Award, and an Academy Award. All of that has surely translated into tons of Benjamins for the veteran actress. Let's see more about that.
How Rich is Whoopi Goldberg?
Without any doubt, Goldberg is in a class of her own in the show business. As of the time of this writing, she is believed to be worth over $45 million. This is no surprise at all. It would be recalled that Goldberg was, at some point in the 1990s, the highest-paid actress in the world. Shortly after details of her net worth was released, the actress sold her property, the pink Pacific Palisades mansion for a whopping $8.8 million. She had bought the mansion back in 1993 at $2.55 million. This added no small fortune to her overall net worth.
All the Men She Married in the Past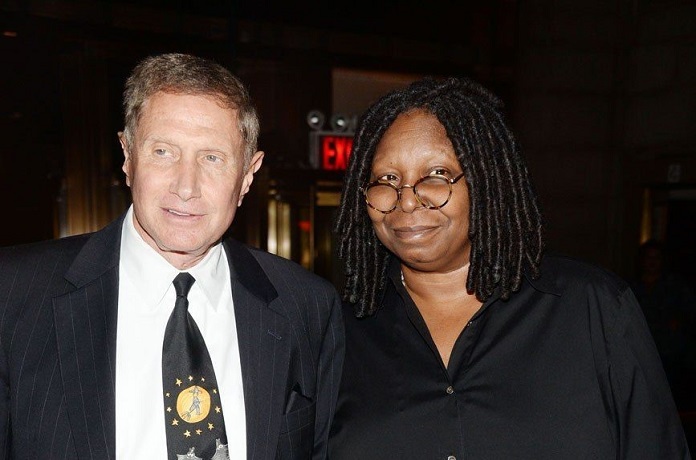 Contrary to rumours tagging her gay, Whoopi Goldberg has maintained that she is anything but part of the LGBTQ population. If anything, Goldberg has been in several relationships with men and has been married before. Her first recorded marriage was in 1973 with Alvin Martin. The marriage ended in a divorce only six years later, after producing a daughter.
By the late 80s. Whoopi had healed from her previous marriage and was ready to give love another chance. This time she married cinematographer, David Claessen in 1986. But that too ended in divorce in 1988. Next came Lyle Trachtenberg in 1994, but only a year later, the relationship sank in another devastating divorce. All the while, Goldberg has been notoriously silent about the reasons surrounding her split from three different men. While many allude it's all linked to her busy schedule as an actress or mismatched priorities, others insist that it had been cases of infidelity on the part of the men she's been with. However, until confirmed, these are only rumours and would remain so.
Since her last marriage ended in 1995, Whoopi has not been married again. The only valid reason for the splits was in her own words in which she confessed to being responsible for all her failed marriages because she never gave enough. As she puts it, she has never truly loved before and she realized that she was not cut out to be in a relationship.
Other Love Interests
Nonetheless, she has dated several men including David Schein with whom she had a fling in the 1980s. Others include Timothy Dalton, Jeffrey Cohen, Eddie Gold, Frank Langella, and Ted Danson. Having gone down the matrimonial road three times, one would expect multiple children from her but that's not so with Whoopi Goldberg. So far, she has only one daughter, Alex Martin.
Who Is Whoopi Goldberg's Daughter?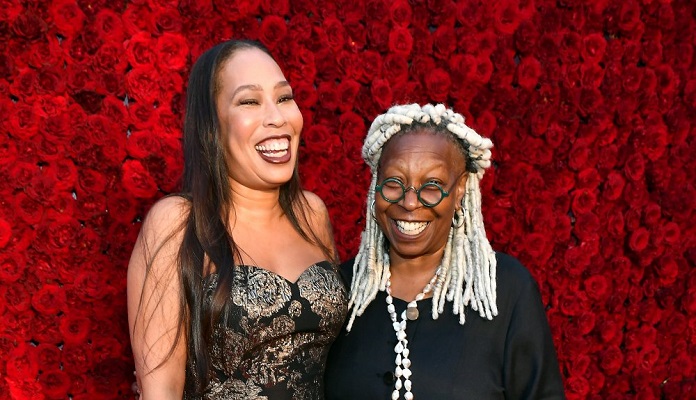 Whoopi Goldberg has a daughter from her marriage to Alvin Martin. Alexandrea Martin was born on 9th May 1973. Like her mother, Martin is also an award-winning actress and movie producer known for being Miss Golden Globe at the Golden Globe Awards in 1994. Martin has been married to Bernard Dean since 2011. She has three lovely children: daughters -Amarah Skye (b. 13th November 1989) and Jerzey (b. 1995) and a son Mason (b. 1998). Her first child came from an unknown father while her second and third children were born through her husband, Bernard Dean. Although together today, Martin and Dean were once divorced but later came back together on 15th October 2011. Alex Martin herself has a granddaughter, Charli Rose Burr-Reynaud, through her first daughter, Amarah Skye. That makes Whoopi Goldberg a great grandmother.