Yainee Alonso is the wife of Manny Machado, the MLB star. They met through Yainee's older brother and tied the knot in November 2014. They are parents to one son. 
Born on November 24, 1990, Yainee Alonso is a 33-year-old Cuban-born American socialite. Her husband is a six-time MLB All-Star who is currently plying his trade for the San Diego Padres. His recent 10-year $300 million contract made him one of the athletes with the most lucrative contracts in the history of sports. Here's more about his celebrity wife.
Summary of Yainee Alonso's Bio
Full Name: Yainee Alonso
Gender: Female
Date of Birth: November 24, 1990
Yainee Alonso's Age: 33 years old
Place of Birth: Havana, Cuba
Ethnicity: Latin American
Nationality: Cuban American
Zodiac Sign: Sagittarius
Sexual Orientation: Straight
Religion: Christian
Marital Status: Married
Yainee Alonso's Husband: Manny Machado
Yainee Alonso's Children: 1 son
Yainee Alonso's Parents: Luis Alonso (Father), Damarys Alonso (Mother)
Siblings: 1 – Yonder Alonso (Brother)
Yainee Alonso's Height in Inches: 5 feet 9 inches
Yainee Alonso's Height in Centimeters: 175 cm
Yainee Alonso's Weight: 58 kg (128 lbs)
Eye Color: Dark Brown
Hair Color: Blonde
Famous for: Being the wife of MLB superstar Manny Machado
Yainee Alonso's Instagram: @yaineealonso
Yainee Alonso was Born in 1990
Yainee Alonso was born on November 24, 1990, in Havana, Cuba. She is currently 33 years old, and her birth sign is Sagittarius. She belongs to the Latin American ethnic group and is a Cuban citizen due to her birth status.
Yainee is the youngest of two children born to Cuban American immigrants Luis and Damarys Alonso. Her father was a baseball coach, while one can assume that her mother was a traditional homemaker as there are not enough details about her beyond her name and identity.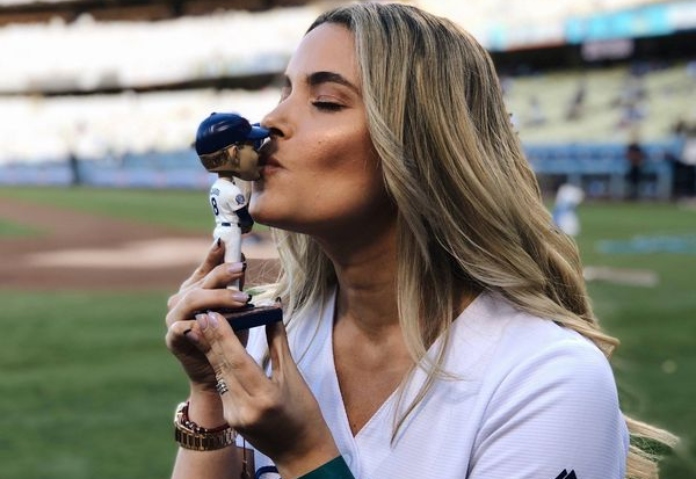 She grew up with an older brother named Yonder Alonso. Yonder (born April 8, 1987, in Havana, Cuba) is more than three years older than Yainee and was a former professional MLB star who played in the position of the first baseman for more than half a dozen MLB teams over a near decade playing career in the MLB. His last team in the MLB was the Colorado Rockies. As of the time of writing, Yainee Alonso's older brother worked as an MLB Network analyst.
Political unrest meant that Yainee Alonso only spent the first six years of her life in her home country before her parents decided to move their family of four to the United States. It was an arduous journey that required them to smuggle themselves into the country in a cramped plane that had other immigrants. Yainee's family avoided detection by local authorities and settled in Miami, Florida, where she completed her journey to adulthood.
Yainee, who has since become a naturalized American citizen and enjoys dual citizenship, attended the local high school before proceeding to the University of Miami, where she bagged a Bachelor's Degree in Psychology in 2012. Her college activities included distinguishing herself as a cheerleader for the Miami Hurricanes, her university's baseball team.
Yainee Alonso Met Her Husband Through Her Brother
Yainee Alonso met her husband, Manny Machado, through her older brother. Recall that Yainee's brother Yonder used to play professional baseball, and providence orchestrated things so that he became friends with the man that would eventually marry his sister.
Yainee's husband's friendship with her brother grew to the point that he became a regular visitor to the Alonso household and also a guest at some of their family activities.
It didn't take long for Manny to be integrated into the family and by extension into Yainee's life. The sparks between them were flying with reckless abandon, and it seemed almost inevitable that they would become a couple. Manny, however, took the traditional route to ask her out by asking her big brother's permission.
The move could be considered corny and outdated in some quarters, but the respect shown to her older brother by Manny convinced Yainee that he was the man for her. Yonder, on the other hand, gave his permission and assured Manny that their friendship would endure even if things didn't work out with his sister in the long term.
At this point, we would like to disclose the not-so-obvious fact that Yainee is about 2 years older than her husband, who was born on July 6, 1992. That trivial fact did not stop them from pursuing a relationship with each other, and they officially started dating in 2011.
Yainee Alonso Became Manny Machado's Wife in 2014
Yainee Alonso and Manny Machado tied the proverbial knot in November 2014. This was after Manny had popped the question on the eve of Valentine's day 2013. Before he proposed to her, Yainee and Manny had been dating for around 2 years since they returned from a family (Yainee's family) vacation in Spain.
The wedding date was initially slated for December 6, 2014, and all plans were made with that date in mind. While the preparations were coming together, the couple, who couldn't wait to begin their lives together, decided to jump the gun with a destination wedding that reportedly took place in Paris on November 23, 2014, just a day before Yainee's 23rd birthday.
Machado's anniversary-related Instagram posts showed that they eventually got a do-over on the initially proposed date of December 6, 2014.
The main picture of the event featured Manny in a black tuxedo while Yainee was decked in an off-shoulder white dress with the couple holding placards that read Mr. and Mrs. Yainee has been married to Manny for more than eight years, a period that has been characterized by bliss, love, companionship, and every other couple goals one can think of as the couple can't seem to get enough of each other.
Yainee and her husband welcomed their first child in 2015. The child in question is a son who the public and media became aware of after Manny posted a picture of the family of 3 on Christmas Day 2015. That remains the most recent picture of the celebrity child whose parents seem to prefer raising away from the scrutiny that comes with the spotlight.
Yainee Alonso's Hubby is a Professional Baseball Player
Beyond the fact that she is Manny Machado's wife, Yainee Alonso's professional affairs have been conducted away from the limelight. This has invariably resulted in not much being known about what she does for a living and how successful she is at it. On the other hand, her husband, Manny, doesn't need much of an introduction.
Born Manuel Arturo Machado in Miami, Florida, Manny Machado will go down in history as one of the greatest players to play the game of baseball, and not just in his position of third baseman/shortstop. He was drafted 3rd overall by the Baltimore Orioles in the 2010 MLB draft. He made his debut for the Orioles on August 9, 2012, and spent the next six years until 2018.
A brief stint with the Los Angeles Dodgers followed in 2018 before he signed his current mega contract with the San Diego Padres in February 2019. Manny Machado's impressive career has seen him pick up a lot of major accolades. He is a six-time All-Star (2013, 2015, 2016, 2018, 2021, and 2022), All-MLB First Team (2020), 2-time Golden Glove Award winner (2013, 2015), Platinum Glove Award winner (2013), and several other team achievements which includes helping the Los Angeles Dodgers reach the World Series in his solitary year with them.
His success on the baseball field has also translated to more money in Manny's bank account. As of 2022, his net worth was estimated to be beyond the $50 million mark. Being that he is just over 30 years old and with his new $300 million contract with the Padres for over 10 years, everyone expects his net worth to be much more than what it is in 2022.