Xolo Maridueña does not have any girlfriend at the moment but he previously dated his Cobra Kai co-star, Hannah Kepple. The romance lasted for about two years before they split in 2021.
Since then, Xolo Maridueña has been linked with a social media influencer named Jayka Noelle. He is also alleged to have dated another of his Cobra Kai co-stars in the person of Mary Mouser. Mouser was his onscreen love interest in Cobra Kai and their romance was so passionate that many fans wished that it would transcend the screens into real life. This does not seem to be the reality though.
Mary Mouser Has Been Rumored to Be Xolo Maridueña's Girlfriend
One of Xolo Maridueña's rumored girlfriends is Mary Mouser, an American actress who has appeared in several movies and TV series. They include Scandal, Body of Proof, Life is Wild, Ball Don't Lie, Bride Wars, Medeas, and Alexander and the Terrible, Horrible, No Good, Very Bad Day. She has been nominated for some awards, including best performance in a TV series by a supporting young actress at the 2008 Young Artist Awards.
The Two Thespians were One of the Major Couples in the Hit Netflix Series, Cobra Kai
The romance rumors surrounding Xolo Maridueña and Mary Mouser started swirling after they portrayed major love interests in the hit Netflix series, Cobra Kai. In the series, Maridueña played the lead role of Miguel Diaz, a young man who is tutored in martial arts by a sensei named Johnny. On the other hand, Mouser played the role of Samantha, a young lady who is the daughter of Johnny's former arch-enemy named Daniel.
Such a fact naturally pits Maridueña's character against Mouser's and they inevitably experience strong chemistry between them. By the time season one of Cobra Kai was over, the two commenced a heavy romance. The love story between Xolo Maridueña and Mary Mouser's characters forms a major story arch as Cobra Kai progresses to Season Four. Though the two split up and get entangled with other people along the way, they always find their way back to each other.
Maridueña and Mary Mouser Have Never Dated in Real Life
The strong romance between Xolo Maridueña and Mary Mouser's characters in Cobra Kai formed a major arch in the series and many fans started shipping their romance. Many fans hoped that Xolo Maridueña and Mary Mouser would go on to date in real life but that never materialized. First was the fact that they were dating other people at the time. There was also the fact that they had no chemistry between them. Mouser even described their kissing scene as similar to kissing a brother.
Xolo Maridueña Dated His Cobra Kai Co-Star Hannah Kepple from 2019 to 2021
Xolo Maridueña may have not dated his Cobra Kai onscreen love interest, Mary Mouser, but he did date another of his co-star, Hannah Kepple. Kepple played the minor role of Moon and they became pals during the first season of the show in 2018. They later started dating around 2019. The romance lasted for about two years and in 2021, the couple broke apart. Xolo Maridueña has been officially single since then.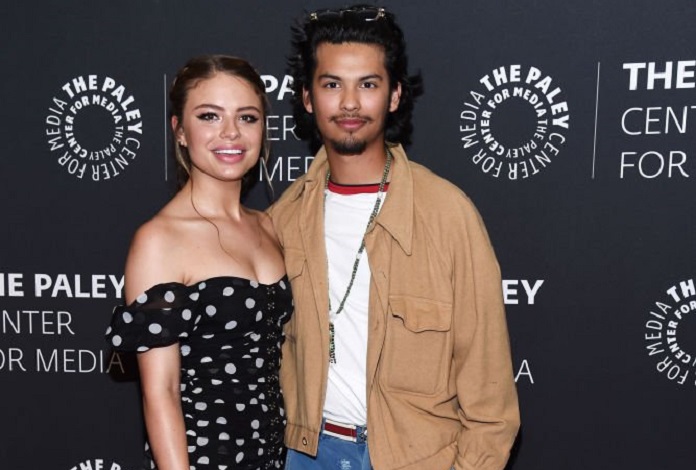 The Actor Has Been Linked with Instagram Influencer Jayka Noelle
Another person that Xolo Maridueña has been romantically linked with is Jayka Noelle. Noelle is an American teen model and social media personality. She counts a quarter of a million followers on Instagram. She has also featured in YouTube series such as Teens React and Kids React.
Xolo Maridueña and Jayka Noelle have not really been spotted together on many occasions but they did attend prom together back in 2018.
This is the one reason why people believe that they may have dated in the past even if they are not dating now. It must however be pointed out that there is no proof that Xolo and Jayka Noelle were in a relationship.